Crab Rangoon are wonton shells filled with fresh crab and cream cheese, then fried to a crispy golden brown.  They are the ultimate party appetizer and one of my favorites.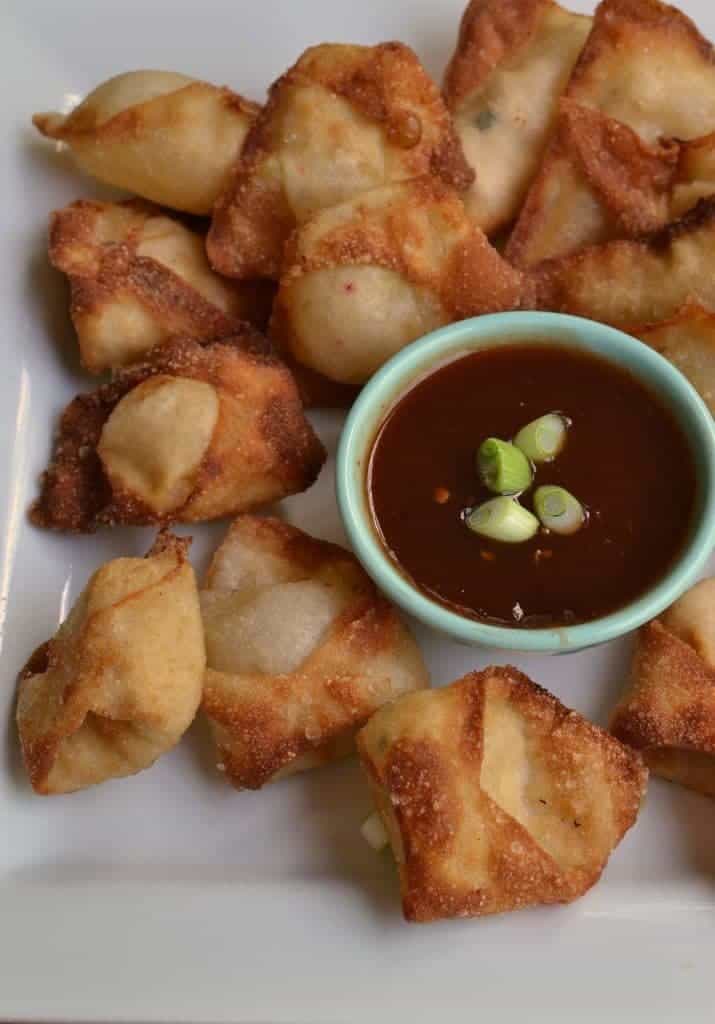 Have you ever tried Crab Rangoon?   They are so amazingly delicious.  I would bet to say that most of you have tried them although you were probably wondering where the crab meat was. As most of the Chinese restaurants either omit the crab or use imitation crab. I used King Crab for these which I usually purchase from Costco.  This time it was a little over 1/2 pound of crab meat after I removed it from the shell however you can use anything from 1/4 to a full pound.  It will make a slight difference in the number of wontons the mixture will fill but you have to do what is right for your budget.
Do you like to entertain?  Hubby and I love to.  Here are some more delicious party appetizers!!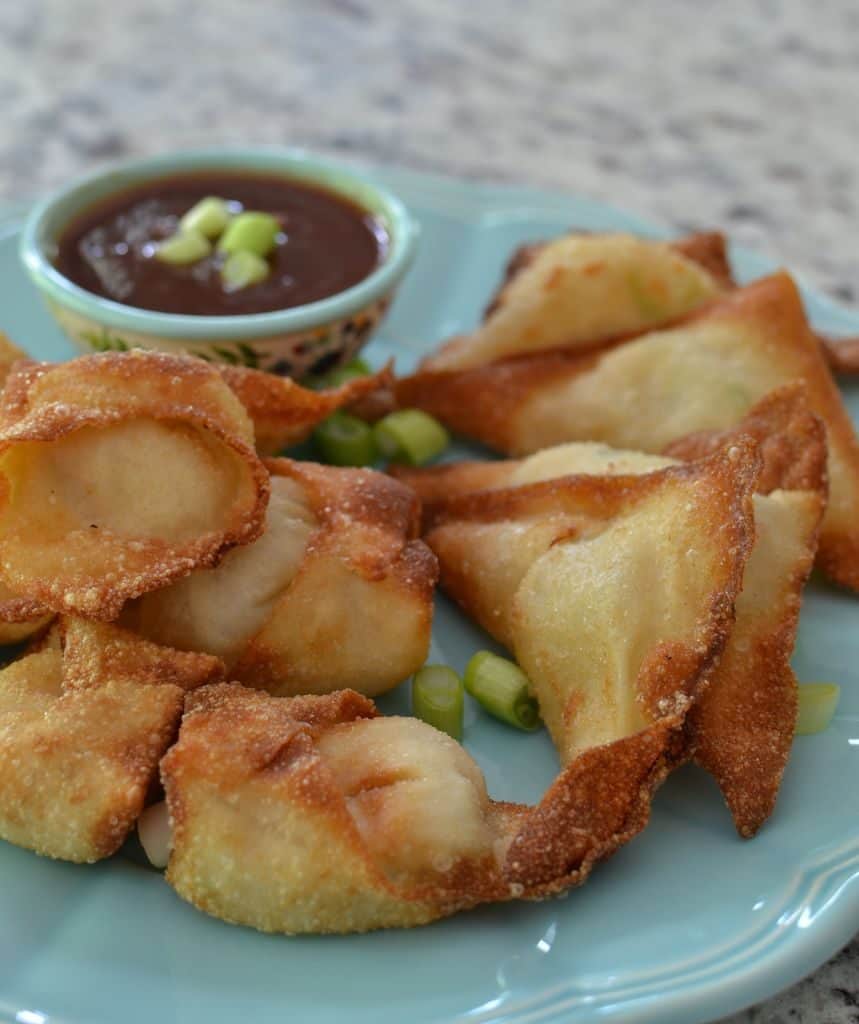 These Crab Rangoons are a friend and family favorite.  You can mix the filling up to two days in advance.  Here are several tips to make this one AMAZING appetizer.
Use a high temperature thermometer to try to maintain the frying oil at 375 degrees or use a deep fryer if you have one.
Seal the edges of your Crab Rangoon as tightly as you can.
Work in small batches and do NOT crowd the fryer.
Remove to paper towels to drain and serve immediately.
These may be baked.  Lightly spray with cooking spray.  Place on cookie sheet and bake at 425 degrees for 12-14 minutes.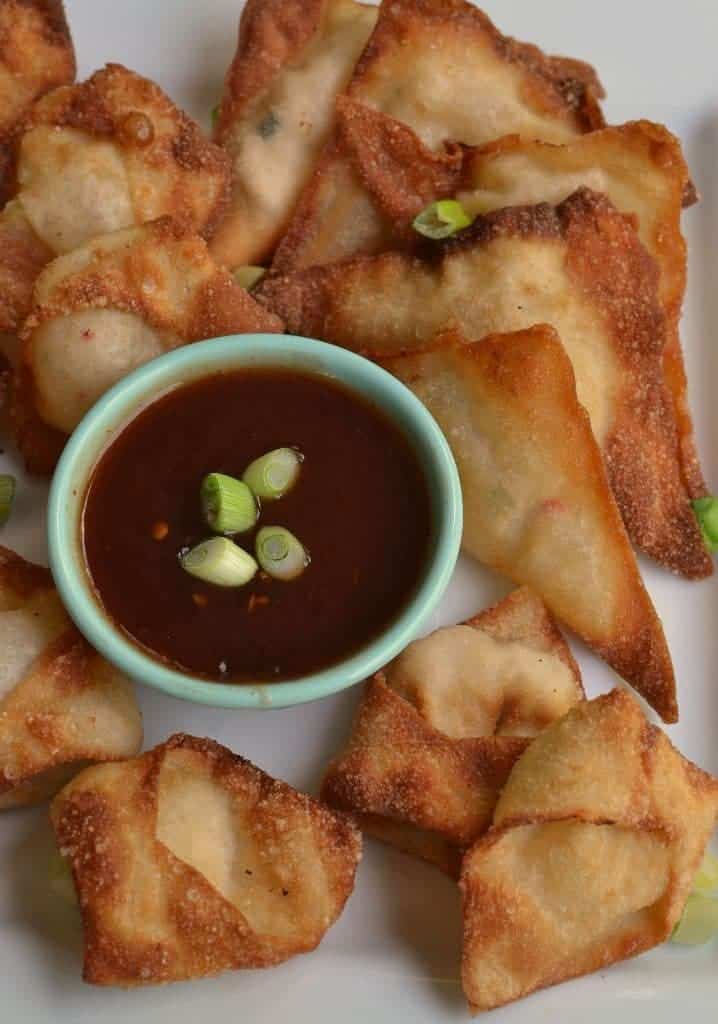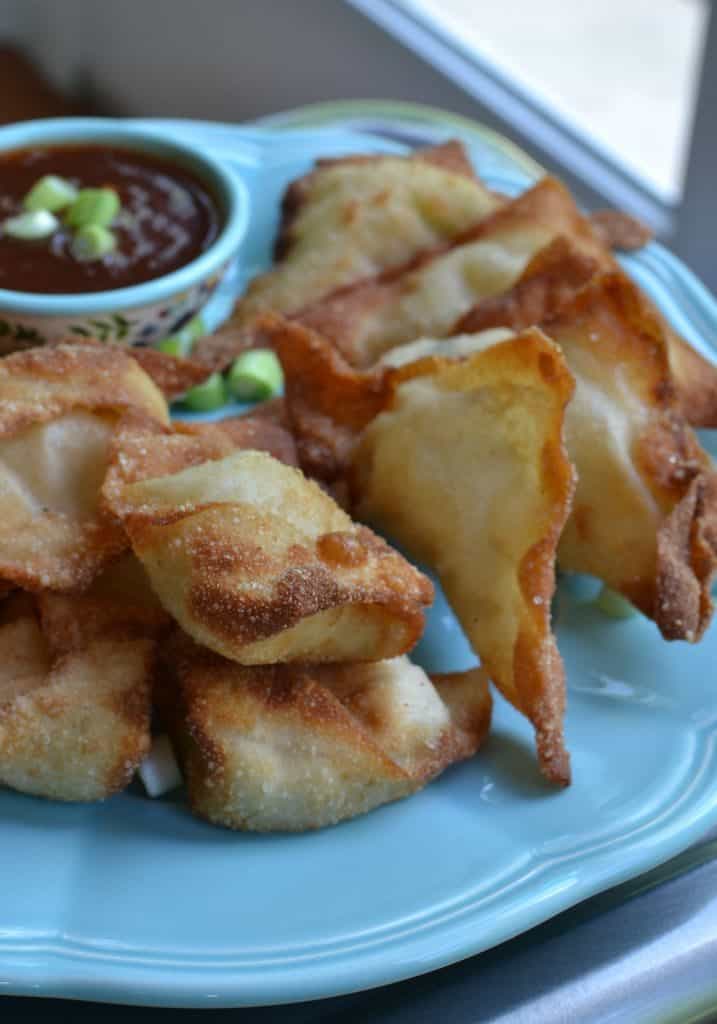 Put the ingredients for these Crab Rangoon on your shopping list this week.  Wow your family and friends with this amazing appetizer.
Crab Rangoon
Scale
Ingredients
2 (8 ounce) boxes cream cheese
1 1/2 tablespoons Worcestershire sauce
1 teaspoon garlic powder
1/2 teaspoon onion powder
3 green onions chopped
1/2 lb fresh white cooked crab meat flaked or diced
1 package (12 ounces) wonton wraps
Vegetable oil for frying
Instructions
In food processor pulse cream cheese Worcestershire sauce, garlic powder, onion powder and green onions several times until mixed. Stir in crab meat.
Holding the wrapper in one hand with a point towards you, dip your index finger on your free hand in cold water. Moisten the edge of 1/2 of the wrap that is furthest from you. Now place a rounded teaspoonful of the cream cheese mixture in the middle. Fold over and gently seal one end to the other; pressing the wrap together to close tightly shaping it into a triangle. Repeat until cream cheese mixture is gone; placing them on a cutting board and covering with moistened paper towels.
Heat about one inch oil in heavy stock pot (dutch oven) to 375 degrees. Working in small batches cook stuffed wontons for about 45-60 seconds or until golden brown: turning halfway through. Drain on paper towels.
Notes
When folding you can also bring the the two farthest corners of the wontons together (after shaping the triangle) and using a dab of water moisten one corner to the other.
When working with the wraps cover non-stuffed and stuffed ones with cold wet paper towels to keep them from drying out.
Other seafood recipes you will love!!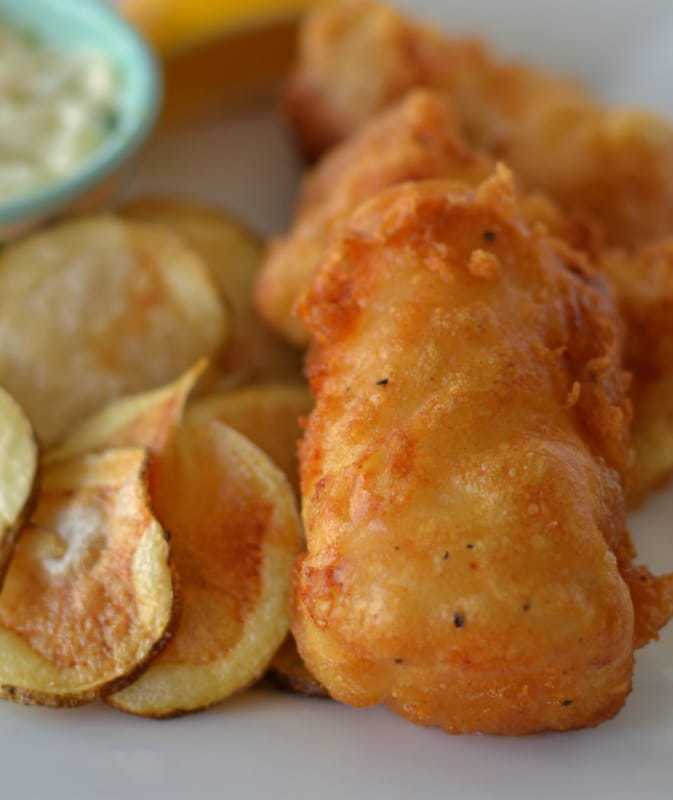 Beer Battered Fried Cod with Fresh Chips