This delectable and easy Homemade Garlic Hummus Recipe is made in less than ten minutes in a food processor.  If you have never tried it you really must treat yourself.  Store bought hummus pales in comparison.
I love to serve this delicious dip with fresh vegetables or toasted pita triangles.  This is one of mine and hubby's favorite indulgences as we can feel good about it's all natural ingredients and nutrition. This recipe, Crispy Fried Mushrooms, Bacon Wrapped Shrimp, and Smoked Salmon Dip are a few of my favorite go to recipes for entertaining friends.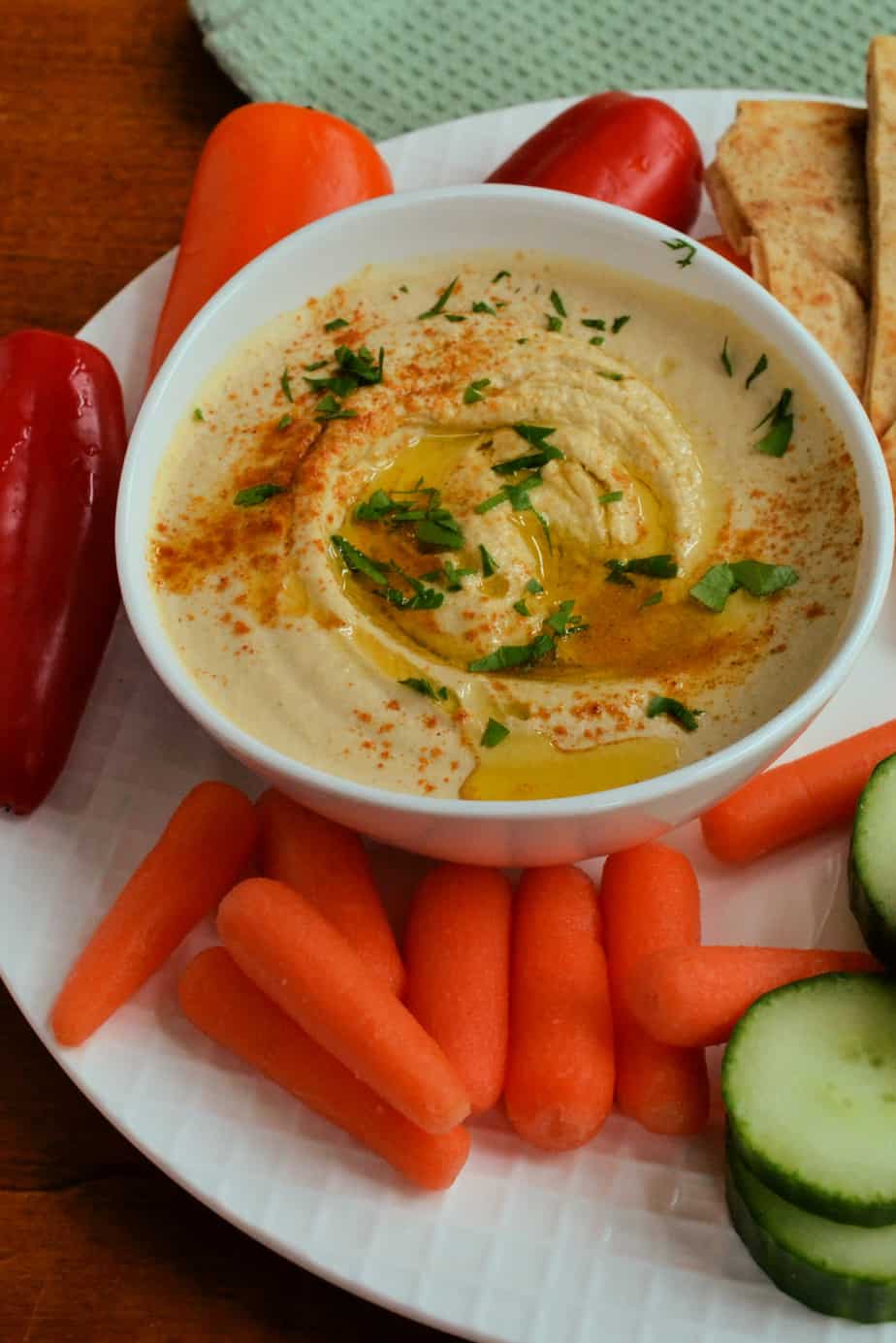 How to make garlic hummus recipe
First in the bowl of a food processor puree the tahini and lemon juice for 1-2 minutes. Then add the ground cumin, sea salt, garlic, and about half the olive oil and puree until smooth.  Now add the water and chickpeas and puree until super creamy and smooth.  This may take several minutes and a few more tablespoons of water.  Finally drizzle with the remaining olive oil and sprinkle with paprika and fresh chopped parsley.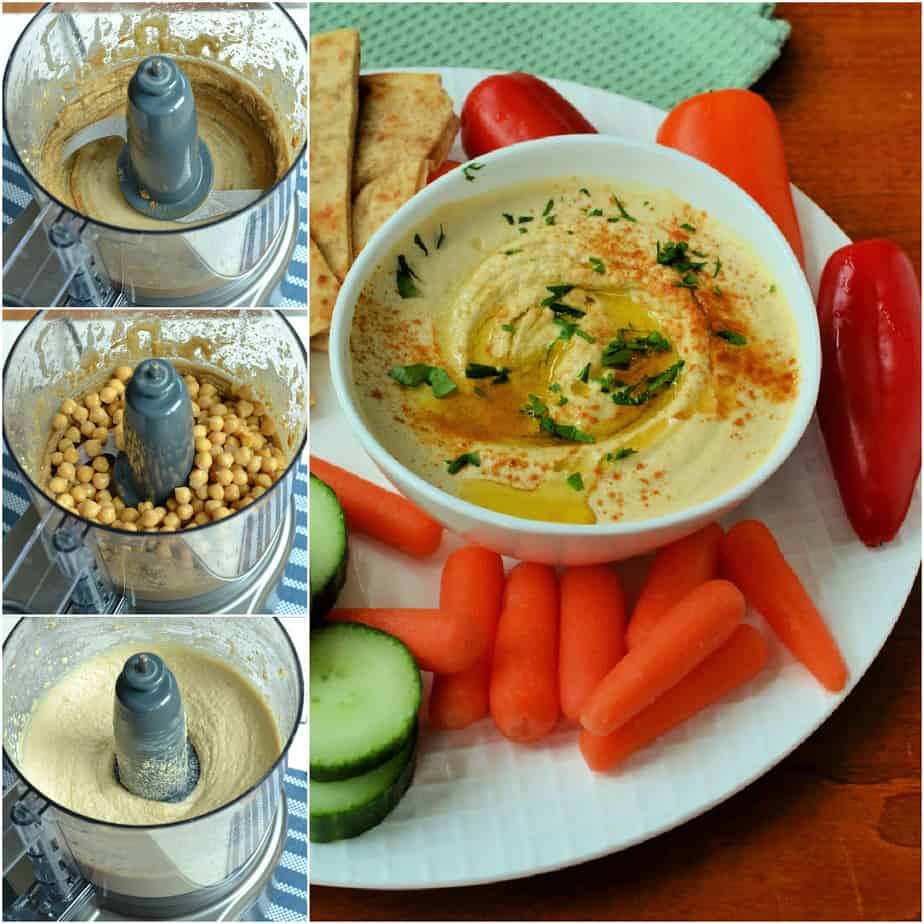 Ingredients to make hummus
Tahini – paste made from sesame seeds.
Ground cumin – for flavor.  One of my true loves!
Sea salt – or kosher salt.
Garlic – in this instance fresh peeled.
Lemon juice – fresh squeezed please.
EVOO – extra virgin olive olive.
Chickpeas – a (15.5 ounce) can of good quality organic ones
Paprika – just a sprinkle of a smoky one
Parsley – a bit of fresh chopped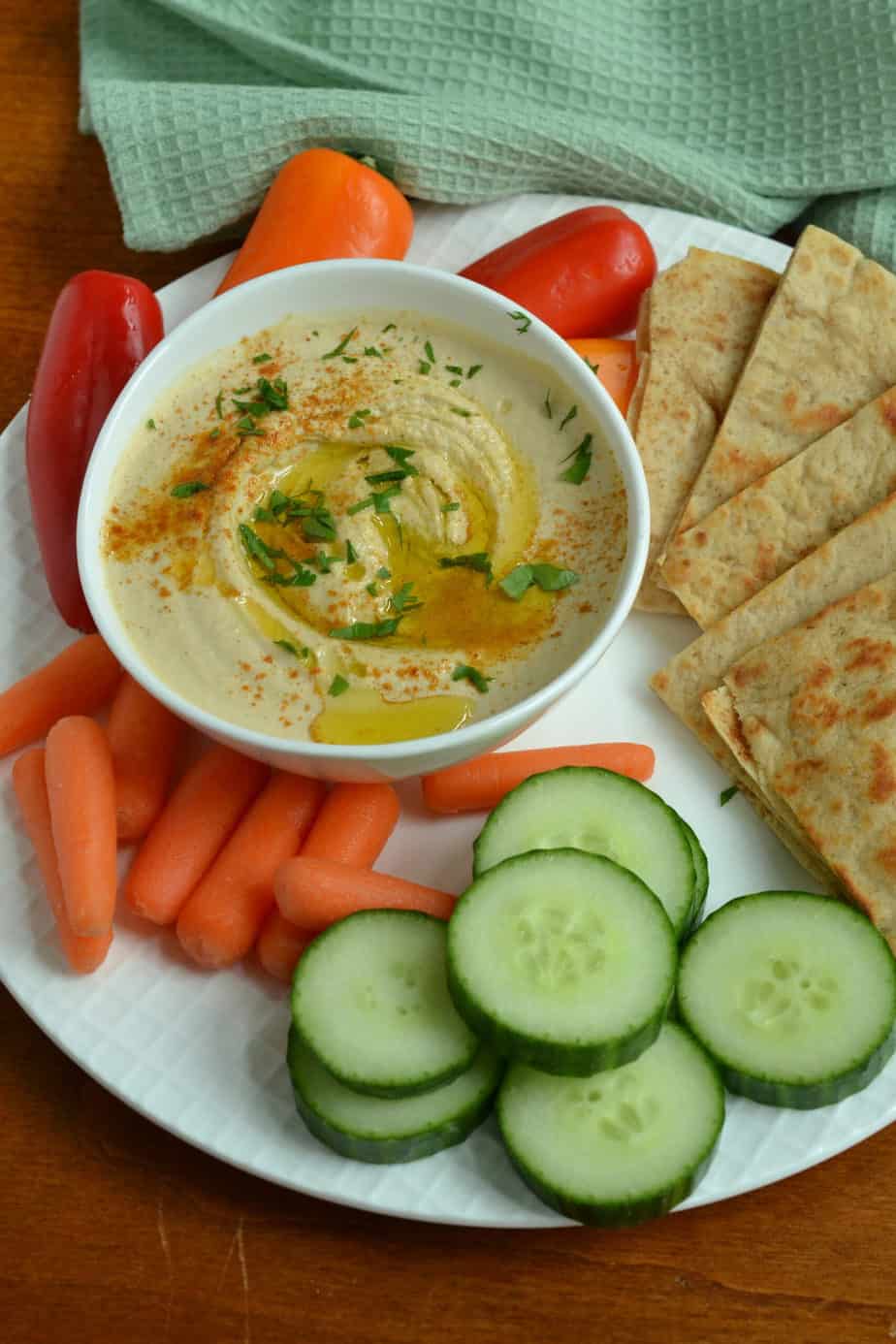 Recipe notes and helpful tips
Purchase good quality tahini as it really does make a difference.  You will find it either with the gourmet olives and other Mediterranean goodies or with the cashew, peanut, and other nut butters.
Use canned or freshly cooked chickpeas.  Super soft chickpeas will produce the creamiest hummus.
If the mixture is too thick for you to work with than simply add a couple tablespoons of water at a time pulsing in between until desired consistency.
It takes several minutes in the food processor to cream the hummus and produce a nice smooth finish.  You can also make it in a high powered blender and it produces a nice creamy finish as well.
Store in an airtight container in the refrigerator for up to 3-4 days.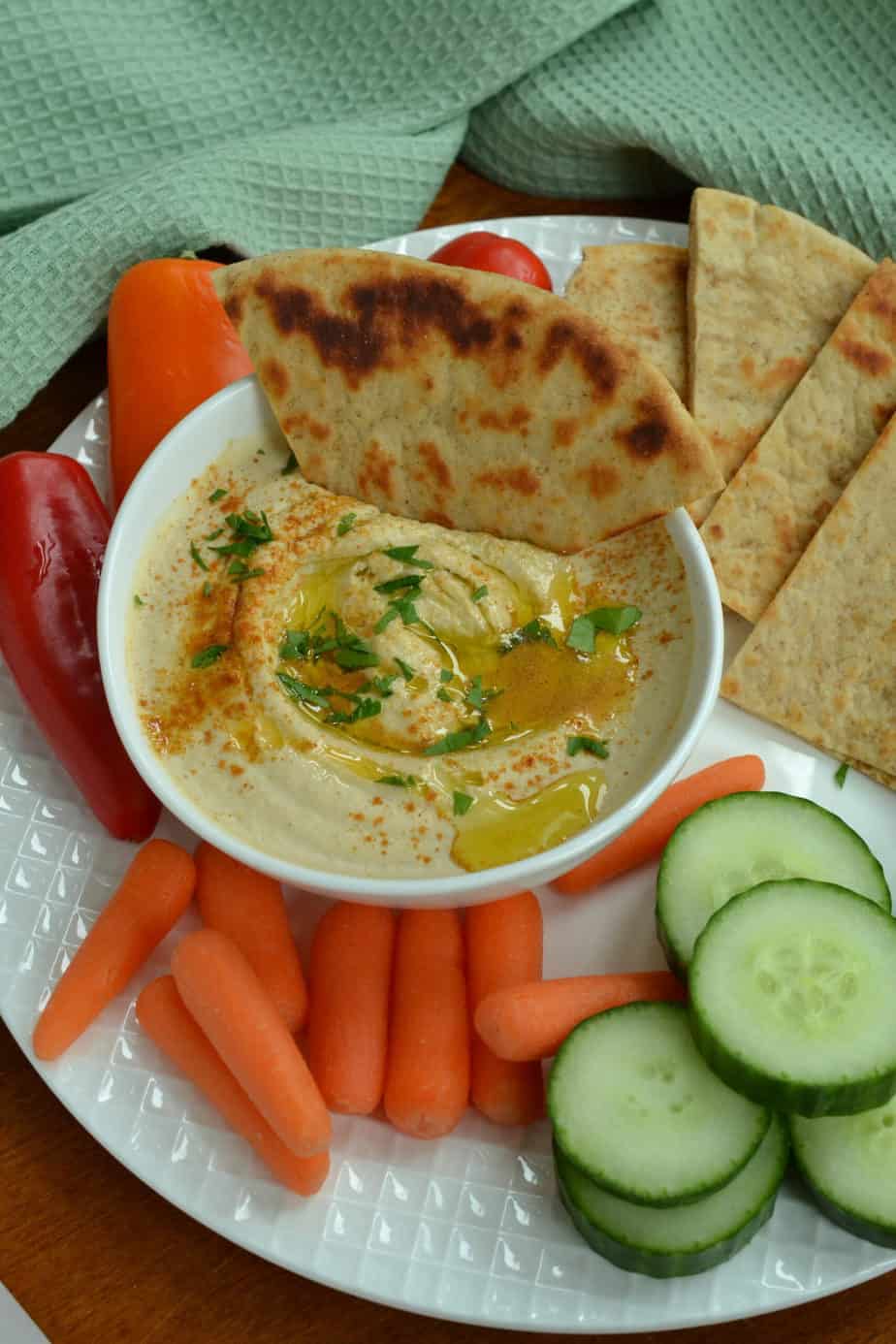 Recipe variations for hummus
Roasted Red Pepper Hummus – add 3/4 cup jarred or homemade roasted red peppers at the same time as you cream the chickpeas. If desired top the hummus with finely diced roasted red peppers.
Spinach and Artichoke Hummus – add 2/3 cup baby spinach and 2/3 cup drained artichoke hearts at the same time as the ground cumin, sea salt, and garlic (the second pulsing).
Sundried Tomato – add 1/2 cup oil packed sundried tomatoes (drain the excess oil) at the same time as the chickpeas. Pulse until smooth  Add 2-3 tablespoons fresh basil and pulse just until minced into the hummus.  Skip the parsley on the top and sprinkle with just a little bit of chopped basil.
Other Mediterranean recipes you will love!
Print
Garlic Hummus Recipe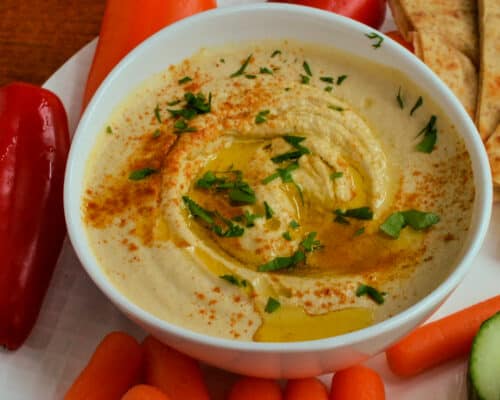 A no fail smooth and creamy Garlic Hummus Recipe that is made in a food processor or blender in less than ten minutes.  Serve with toasted pita triangles and fresh vegetables or as a spread on wraps and sandwiches.
Author:
Prep Time: 10 minutes
Total Time: 10 minutes
Yield: About 2 cups 1x
Category: appetizer
Method: food processor
Cuisine: Mediterranean
⅓ cup tahini
1 lemon juiced
¾ teaspoon ground cumin
½ teaspoon sea salt
2 cloves garlic peeled
¼ cup olive oil
2–4 tablespoons water
1 (15 ounce) can chickpeas drained and rinsed
⅛ teaspoon smoked paprika
1/2 teaspoon finely chopped fresh parsley
Instructions
In the bowl of a food processor puree the tahini and lemon juice for 1-2 minutes.
Add the ground cumin, sea salt, garlic, and 2 tablespoons olive oil. Puree until smooth; approximately 2 minutes.
Add 2 tablespoons water and chickpeas and puree until super creamy and smooth.  This will take several minutes.  If needed add 2 teaspoons of water at a time until desired consistency.
Drizzle with remaining olive oil.  Sprinkle with paprika and fresh chopped parsley.
Keywords: how to make garlic hummus, garlic hummus recipe, homemade hummus, how to make hummus
On the hunt for more delicious recipes?  Follow Small Town Woman on Facebook, Pinterest, and Instagram.
https://www.smalltownwoman.com/wp-content/uploads/2019/05/Beth-1.pdf