Easy Mexican Coleslaw is bursting with the fresh flavors of tomatoes, roasted corn, jalapeno and cilantro. This simple coleslaw is so quick to come together and complements so many main courses making it one of my favorite sides.
I love to serve it with tacos or my Dry Rub Sweet Barbecue Pork Tenderloin or my Balsamic Vinegar Barbecue Pork Ribs.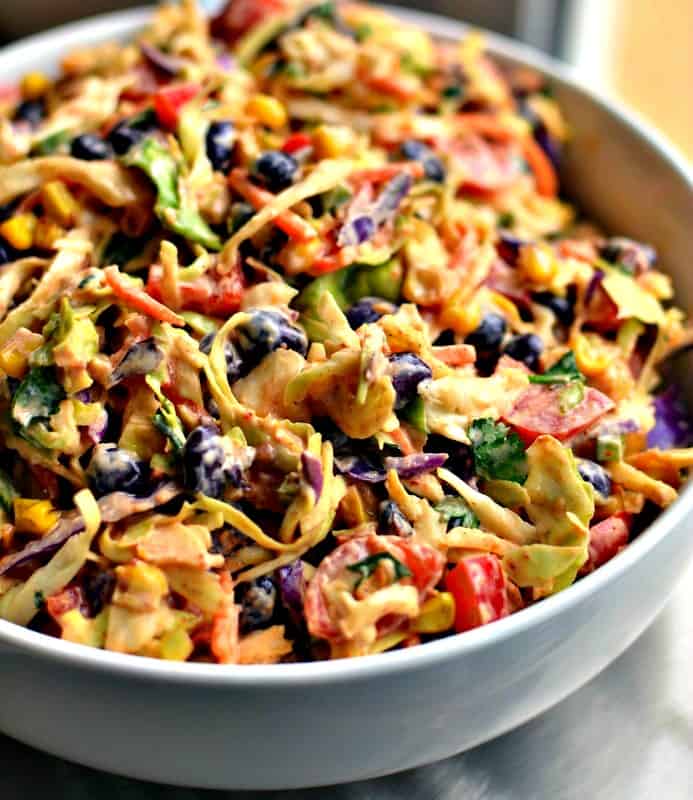 This Easy Mexican Coleslaw can be prepped in about twenty minutes making it the perfect side dish. It brings all those wonderful Tex Mex flavors together in a coleslaw that is bursting with deliciousness. This recipes takes full advantage of pre-shredded cabbage giving you more free time for doing the things that you want to.
Mexican and Tex Mex cuisines are family favorites. With all of the complex flavors in Tex-Mex dishes our taste buds are tantalized and our appetites are satisfied. Because of all the wonderful flavors melding together in this Easy Mexican Coleslaw the jalapeno and the taco seasonings are quite mellow. This dish can be prepared either the morning of or up to several days in the fridge although the sauce will become a little thinner as the slaw and tomatoes exude moisture.
How do you make Mexican Coleslaw?
First in a small bowl stir together the mayonnaise, sour cream, lime juice and taco seasoning. Next in a large serving bowl add the coleslaw, red pepper, grape tomatoes, black beans, corn, jalapeno and cilantro. Gently stir in mayonnaise mixture. Finally cover and refrigerate for 30 minutes to let all the delicious flavors meld together.
How do you choose mild jalapenos?
With just a little bit of understanding and patience you too can pick jalapenos that are flavorful yet mild. Look for the young peppers that are green and smooth all over with no striations or blemishes. These young green peppers are more mild. Stay away from peppers with white lines, flecks and red ones as these peppers are older and much hotter. Always take your time picking the peppers and before mincing remove the veins and seeds.
This is a dependable delicious recipe that you can feel great about feeding your family. What are you waiting for? Put the ingredients for this Easy Mexican Coleslaw on your shopping list today. Your family and friends will be singing your praises.
Other Tex-Mex recipes you will love!
Print
Easy Mexican Coleslaw
This Tex-Mex styles coleslaw is bursting with flavor from tomatoes, black beans, corn, jalapeno and cilantro. It is a family friendly quick and easy side dish that goes great on top of tacos or with grilled chicken, pork tenderloin or grilled flank steak.
Author:
Prep Time: 10 minutes
Total Time: 10 minutes
Yield: 8 servings 1x
Category: Tex-Mex side
Method: no cook
Cuisine: Tex Mex
1 cup mayo
2/3 cup sour cream
3 tablespoons lime juice
2 tablespoons taco seasoning
1 bag (16 ounce) tri-color coleslaw
1 diced red pepper
1 1/2 cup grape tomatoes halved
1 can (15.25) ounce black beans drained and rinsed
1 1/2 cups grilled or blackened corn
1 jalapeno seeded and minced
1/2 cup chopped cilantro
Instructions
In small bowl stir together mayo, sour cream, lime juice and taco seasoning.
In large serving bowl add coleslaw, red pepper, grape tomatoes, black beans, corn, jalapeno and cilantro. Gently stir in mayo /sour cream mixture.
Cover and refrigerate for 30 minutes.
Notes
You can easily blacken corn by placing it a in large nonstick skillet over medium high heat and toss every couple of minutes. Do not use any oil. You can use canned corn but drain well.
Keywords: Mexican style coleslaw, Mexican coleslaw with mayo, coleslaw Mexican
On the hunt for more delicious recipes? Follow Small Town Woman on Facebook, Pinterest, and Instagram.
This post was originally published March 27, 2018 and was republished December 26, 2019 with new content.
https://www.smalltownwoman.com/wp-content/uploads/2019/05/Beth-1.pdf