These delectable Mexican pizzas are double decker crispy fried corn tortilla pizzas stuffed with taco seasoned beef, refried beans, cheddar and Monterey Jack Cheese.  They are then topped with more cheese, green onions, black olives, tomatoes and jalapenos.  These pizzas are fun for weekend dinners with extended family and friends yet easy enough for weeknights.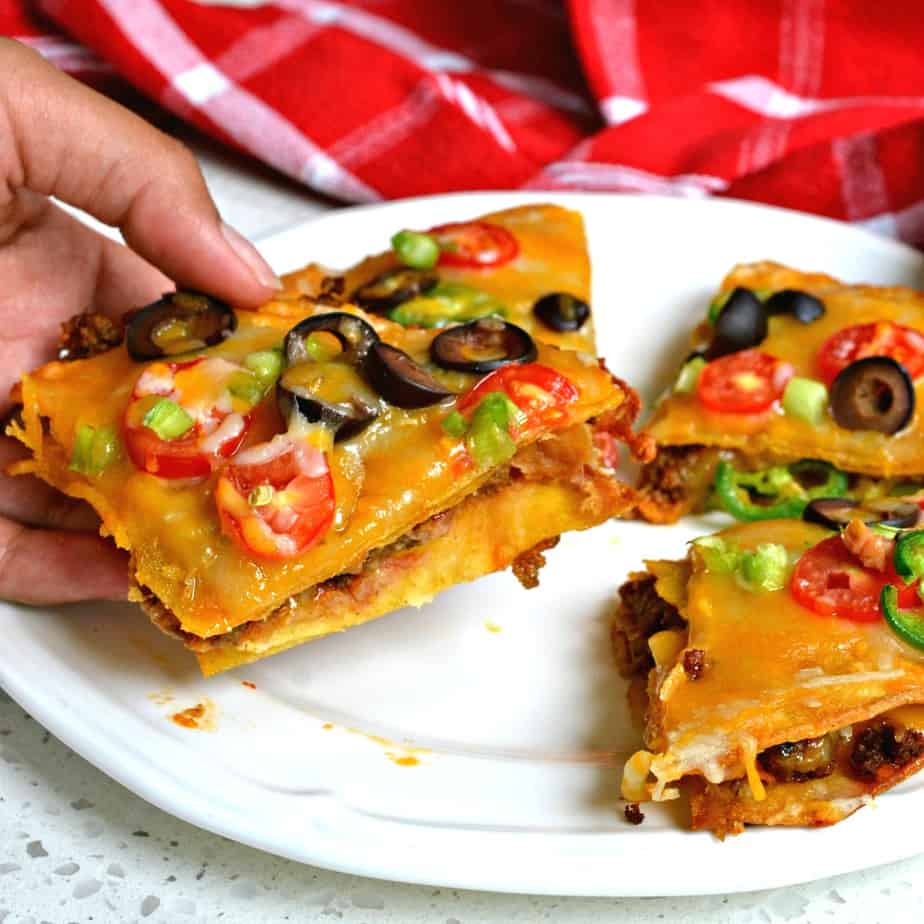 These flavorful Tex Mex pizzas are a favorite at our house.  We just love tacos and all things with that Mexican American Flare.  Have you tried any of my other Mexican recipes?  Mexican Shrimp Cocktail, Queso Fundido, and Barbacoa Tacos are just a few of our favorites. Customize the toppings on these crispy pizzas to suit your family's taste.
How to make Mexican Pizzas
Start by frying the corn tortillas in about 1/2 inch of oil flipping halfway through.  Place on paper towels to drain.  Go ahead and stack them with paper towels in between each.  While they are frying brown the ground beef in a large skillet adding the chopped onion about halfway through the browning process.  Once fully browned drain any excess fat and add the taco seasoning and water.  Now simmer for a few minutes.
Then spread a thin layer of refried beans on top of six of the corn tortillas.  Next spread a couple of heaping tablespoons of the taco seasoned ground beef over the beans, and a layer of both cheeses.  Then top with another crispy fried corn tortilla.  Place on parchment covered baking sheets.  Finally sprinkle each with another layer of both cheeses, black olives, tomatoes, green onions and jalapenos.  Bake until the cheese is melted and the pizzas are heated through.  For best results serve promptly.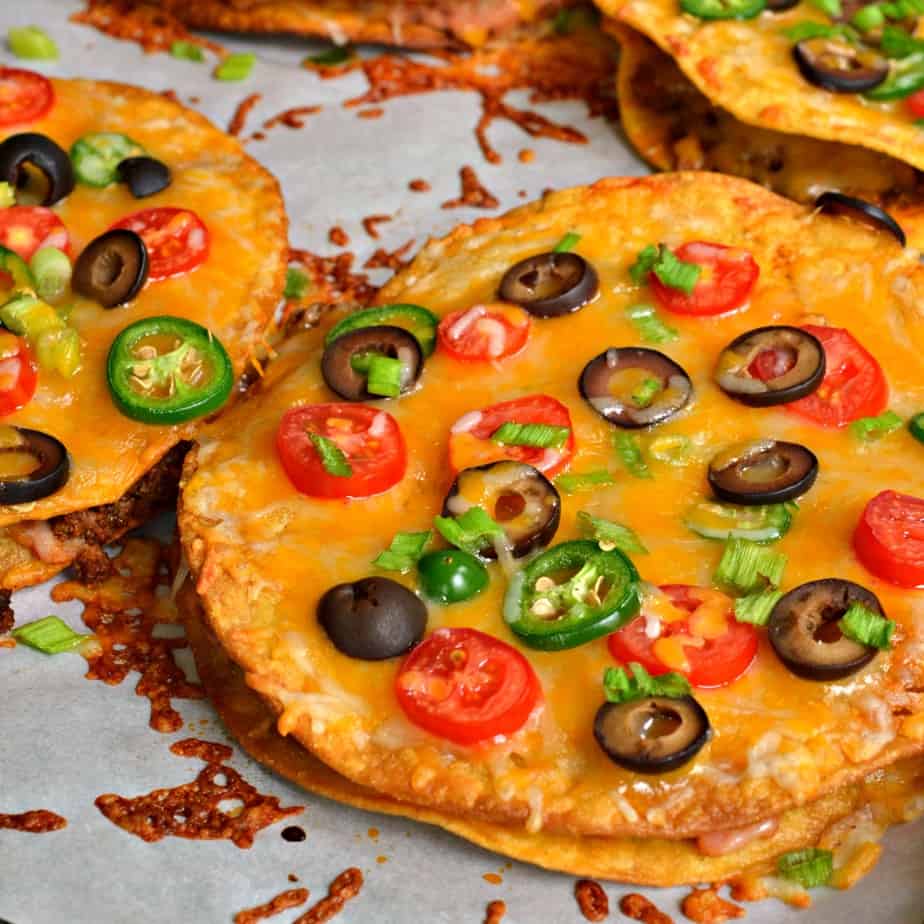 Recipe notes and tips
To fry corn tortillas simply heat 1/2 inch canola or vegetable oil in a heavy skillet or Dutch oven. It should be about 350-375 degrees.  If you don't have a thermometer it is hot enough when a drop of water added to the pan crackles and pops.  Fry for about 15-20 seconds on each side.  The corn tortilla should be fairly crispy so they hold up well after the refried beans and seasoned beef are added.  Remove the tortillas to paper towels to drain.
You can fry the corn tortillas up to 3 hours in advance. Stack with paper towels between each.
Use your favorite taco seasoning for the ground beef.  I personally like Spice Islands that I purchase from Costco.
You can substitute a Mexican cheese blend for the cheddar and Monterey Jack.
Top with whatever you and your family like.  Everyone has different tastes.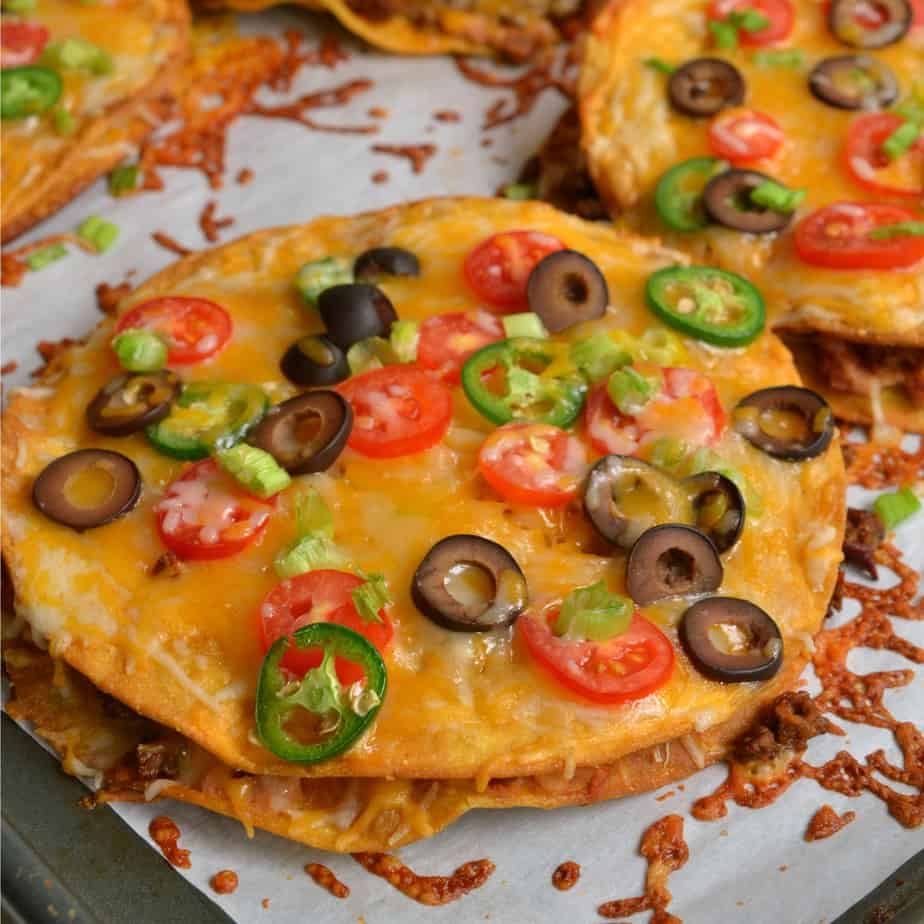 What to top Mexican pizzas with
black olives sliced
avocado peeled and sliced
sour cream
grape tomatoes sliced
green onions sliced
jalapenos thinly sliced
guacamole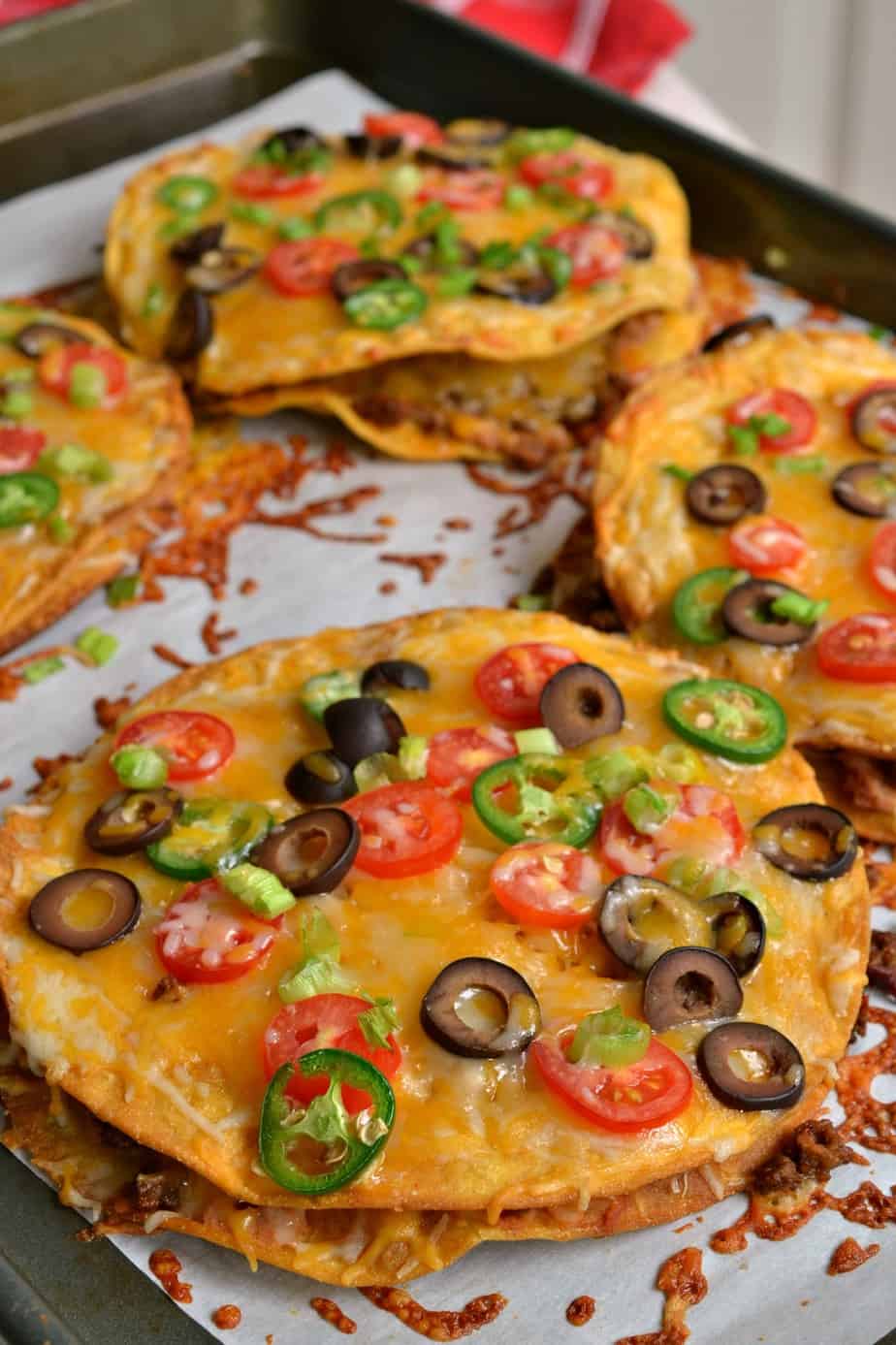 Print
Mexican Pizza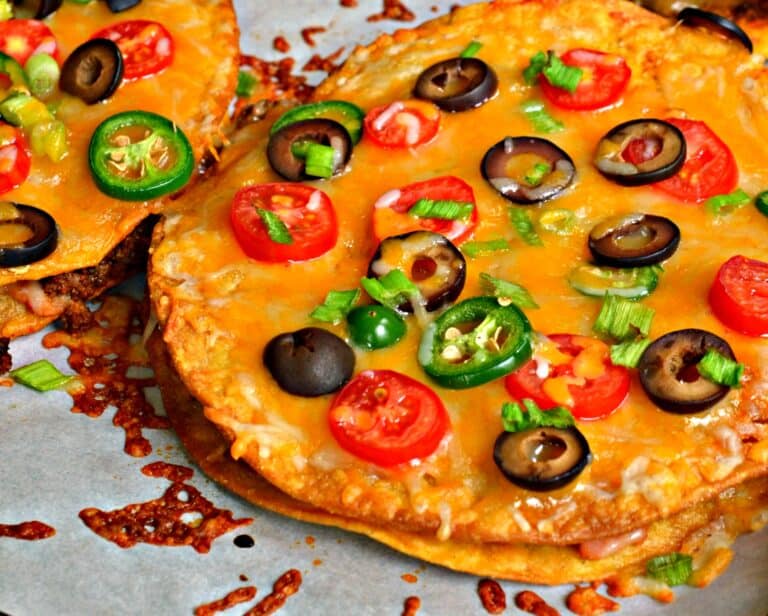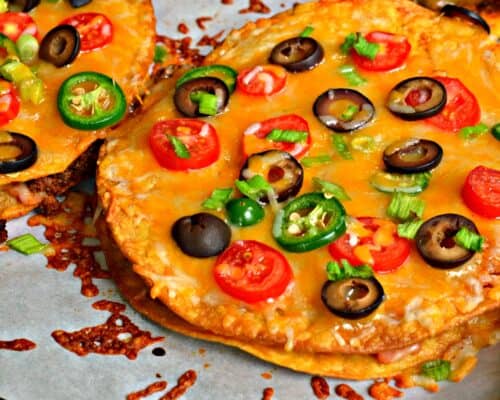 Family friendly Mexican Pizzas stuffed with refried beans and taco seasoned ground beef then topped with oddles of cheese, sun ripened tomatoes and spicy jalapenos.
Author:
Prep Time: 10 minutes
Cook Time: 20 minutes
Total Time: 30 minutes
Yield: 6 pizzas 1x
Category: main meal beef
Method: stovetop/oven
Cuisine: Tex Mex
Scale
Ingredients
12 (six inch) corn tortillas
canola or vegetable oil
1 lb ground beef
1/2 medium onion finely chopped
3 tablespoons taco seasoning
3/4 cup water
1 can (16 ounces) refried beans
3/4 cup finely shredded cheddar cheese
3/4 cup finely shredded Monterey Jack cheese
6 grape tomatoes sliced
1 small jalapeno sliced
1/3 cup sliced black olives
1 green onion chopped
Instructions
In a Dutch Oven or heavy skillet heat 1/2 inch oil to 350-375 degrees.  Add one tortilla at a time and fry until crispy (about 1 minute) flipping halfway through the frying process. Remove to paper towels to drain.
Meanwhile in a large skillet brown ground beef; breaking it up as it browns.  Halfway through the browning process add the chopped onion.  Once the ground beef is full browned and onions have softened add the taco seasoning and water.  Simmer 10 minutes.
Spread refried beans over 6 corn tortillas.  Equally divide seasoned ground beef over the beans.  Top with half of each cheese.  Top each with another crispy corn tortilla and place on parchment paper covered baking sheets.  Top each pizza with remaining cheese, sliced tomatoes, jalapeno, black olives and green onions.
Bake at 400 degrees for 7-10 minutes or until cheese is melted.
Keywords: how to make Mexican pizza, homemade Mexican pizza, Mexican style pizza
https://www.smalltownwoman.com/wp-content/uploads/2019/05/Beth-1.pdf