Chicken Kiev is crispy breaded fried chicken breasts that are stuffed with garlic lemon butter.  The end result is amazingly tender flavorful chicken with a delicious butter sauce.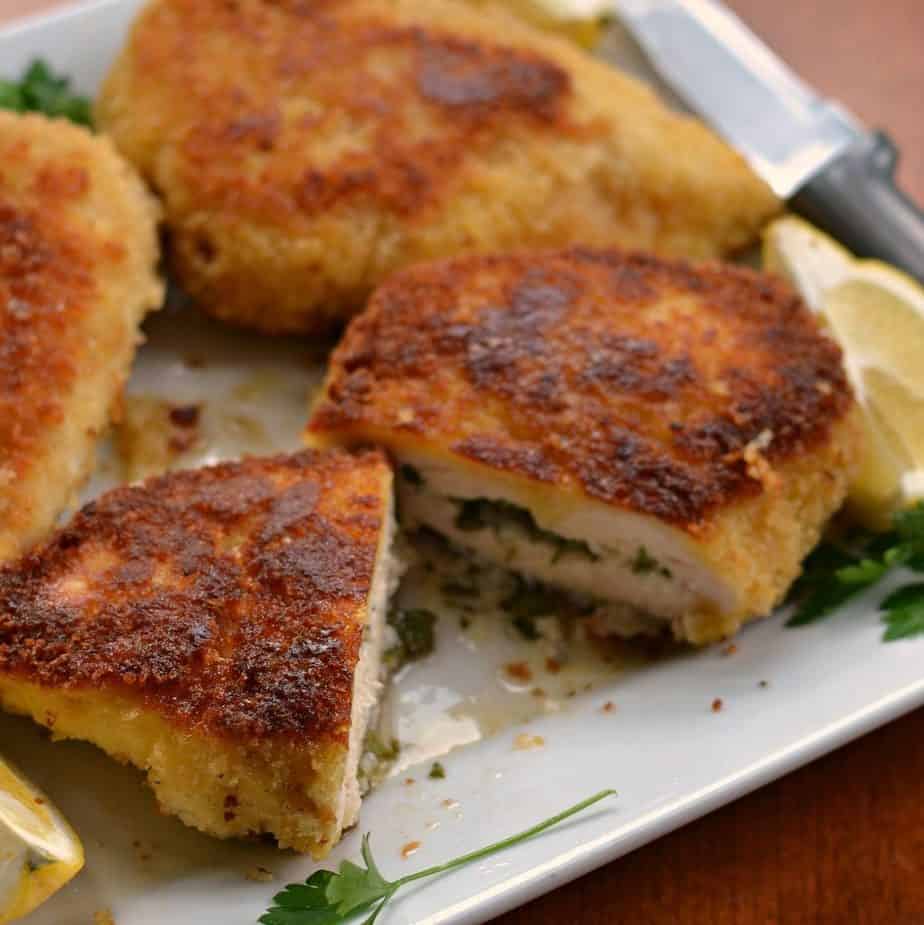 Why make chicken kiev?
Chicken Kiev is one of my favorite chicken recipes.  It is absolutely scrumptious and absolutely doable at home.  I mean honestly who isn't going to love a chicken breast that is crispy on the outside, so tender on the inside and full of drool worthy butter sauce.  Now take that knife and slice it open and let the butter sauce run all over the plate. Sounds so delicious doesn't it?  Are you hungry yet? Dip a slice of that chicken into that butter sauce.  Can you taste it yet?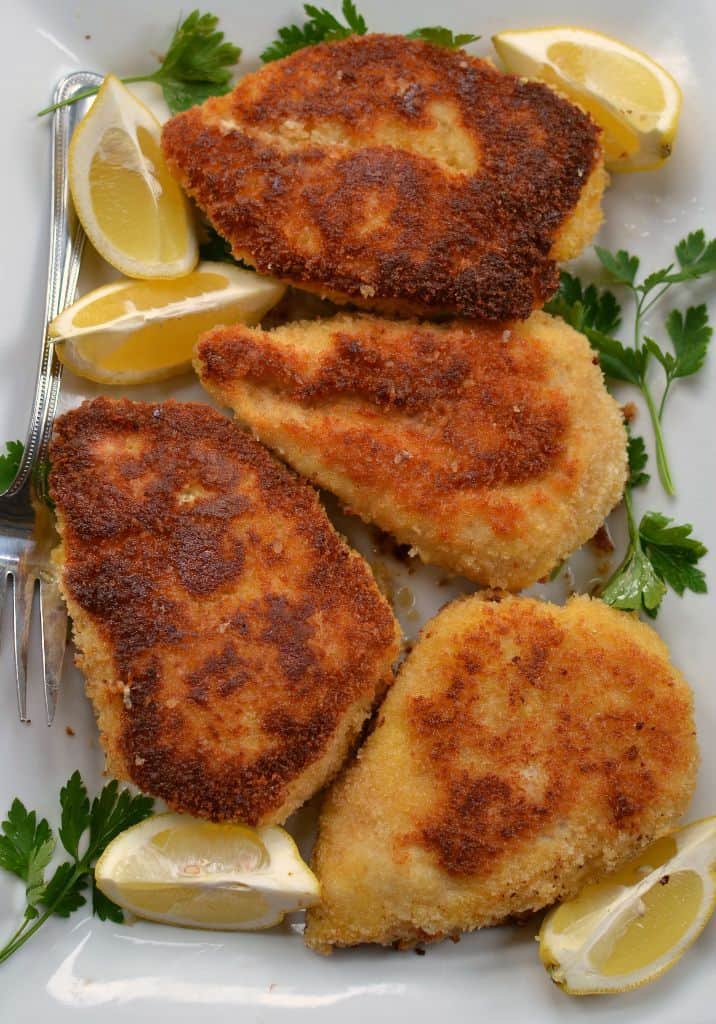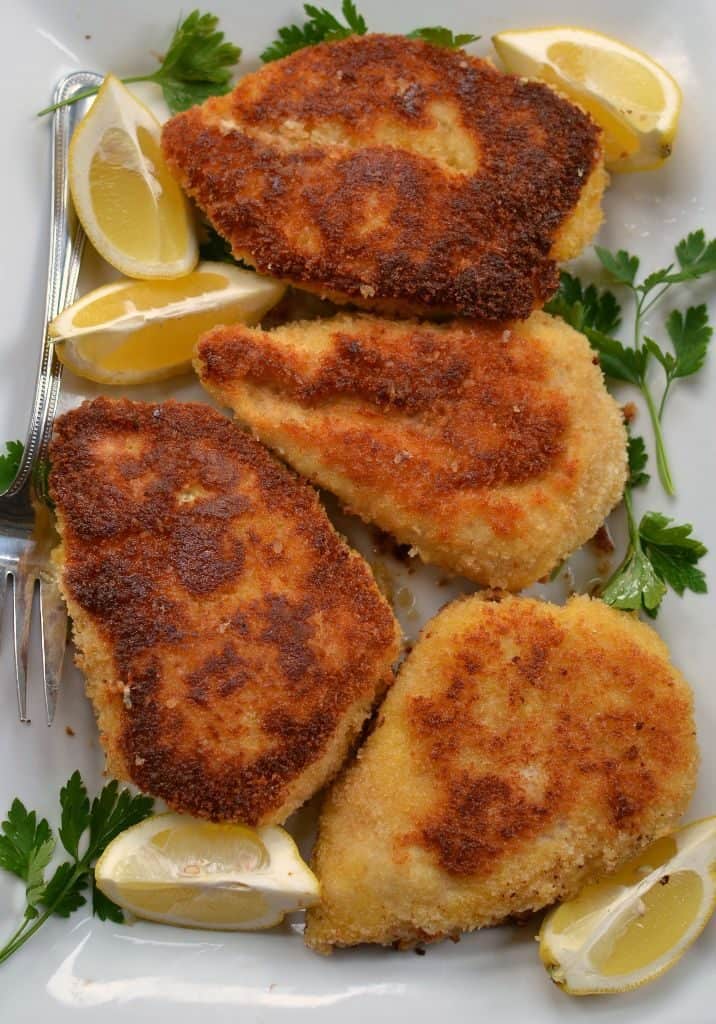 Chicken is a must have around here.  We eat chicken at least twice a week.  Chicken is so incredibly versatile, easy to work with and less expensive than a lot of other choices.  Here are some more fabulous chicken recipes for your repertoire.
Other chicken recipes you will love!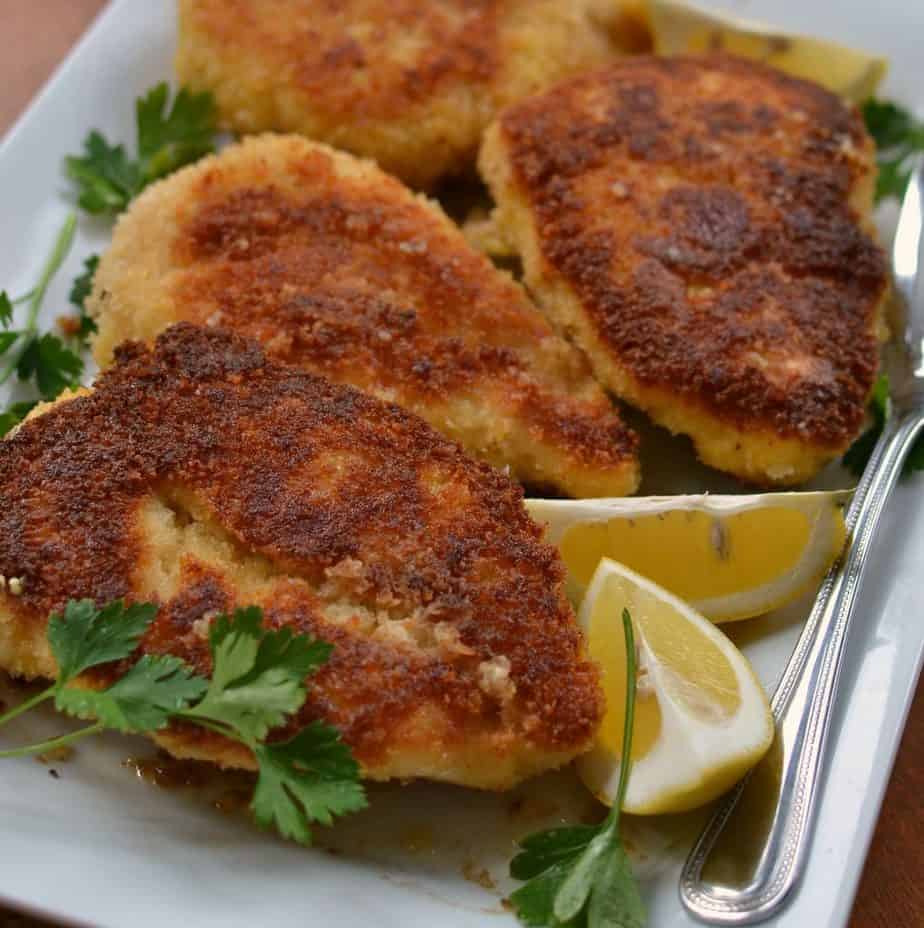 Here are some helpful hints to make this Chicken Kiev epic.
You want chicken breasts that aren't too thick or too thin. Too thick and they won't cook all the way through.  Too thin and you won't be able to slice a pocket for the butter.
Double bread the chicken breasts for extra crispy crunchy crust.  It is well worth the effort.
Use fresh parsley.  It just tastes better in this recipe.
The most difficult part of this recipe is cutting the pocket into the chicken breast.  You don't want the pocket to be cut through the bottom or the top because your delicious butter sauce will leak out.  Take your time and put your glasses on.  🙂
Secure the opening to the pocket with a toothpick or two.  It helps to keep that butter contained.
Chicken Kiev is so exquisite.  A little slice of heaven in an other wise crazy world!!
Print
Easy Chicken Kiev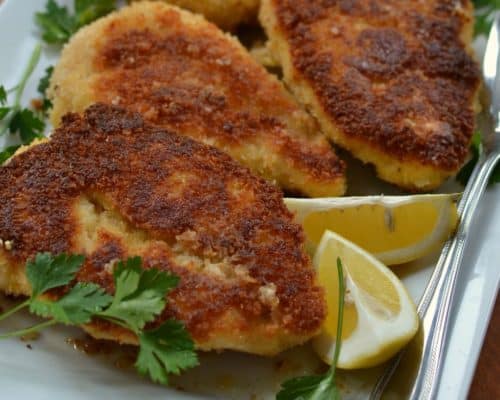 Chicken Kiev is crispy breaded fried chicken breasts that are stuffed with garlic lemon butter.  The end result is amazingly tender flavorful chicken.
Author:
Prep Time: 30
Cook Time: 10
Total Time: 40 minutes
Yield: 4
Category: Chicken
Method: Stovetop
Cuisine: Russian
4 chicken breasts
1/2 cup butter (1 stick)
2 cloves garlic crushed
3 tablespoons chopped fresh Italian parsley
1 tablespoon lemon juice
1/2 teaspoon sea salt
1/2 teaspoon fresh ground black pepper
3/4 cup flour
3 large eggs beaten
2 1/2 cups panko bread crumbs
Vegetable oil
Lemon wedges for garnish
Chopped Italian parsley for garnish
Instructions
In medium bowl using fork mash together butter, garlic, parsley, lemon juice, salt and pepper. Cover and place in refrigerator for thirty minutes.
Cut small pocket (about 1.5 x 2.5 inch) in each chicken breast being careful not to cut through the top or the bottom or all the way through. Place 2 tablespoons of the butter in each chicken pocket and secure edge with toothpick.
Dredge each chicken breast in flour, then in egg mixture, then in breadcrumbs, back in egg mixture and into the breadcrumbs once more. Place on cookie sheet, cover and put in freezer for 30 minutes.
Heat about 1/2 inch of oil in large stockpot or dutch oven over medium heat until a bread crumb dropped in sizzles.. Add chicken breast and cook until golden brown about 4-5 minutes per side. (please see notes)
Drizzle with lemon wedges and garnish with extra chopped Italian parsley.
Notes
Some thicker chicken breasts may require additional time in the oven loosely covered at 375 degrees until no longer pink.
Be careful cutting into them as they come out of the frying pan as they are stuffed with hot butter.
Keywords: BREADED CHICKEN, BUTTER SAUCE, CHICKEN, CHICKEN BREAST, CHICKEN KIEVE, DINNER, FRIED CHICKEN, STUFFED CHICKEN BREAST
https://www.smalltownwoman.com/wp-content/uploads/2019/05/Beth-1.pdf