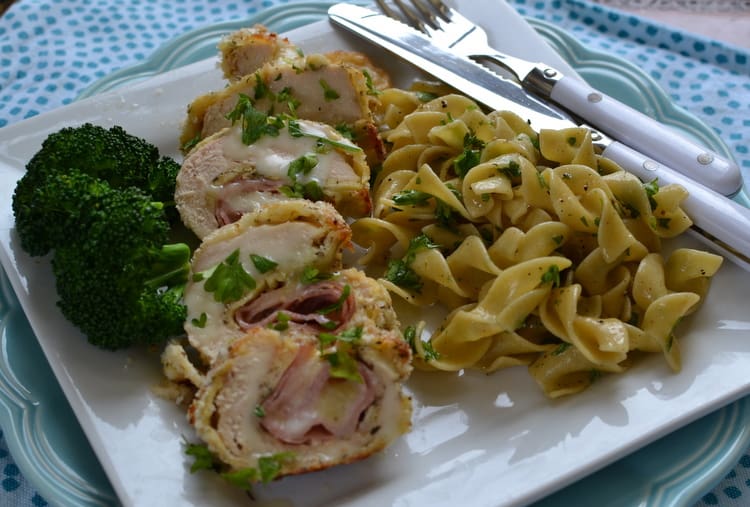 This recipe is so easy and so divine that you will definitely be making it for your sweetheart, your sweethearts friends and your friends sweethearts! Gotcha there, didn't I?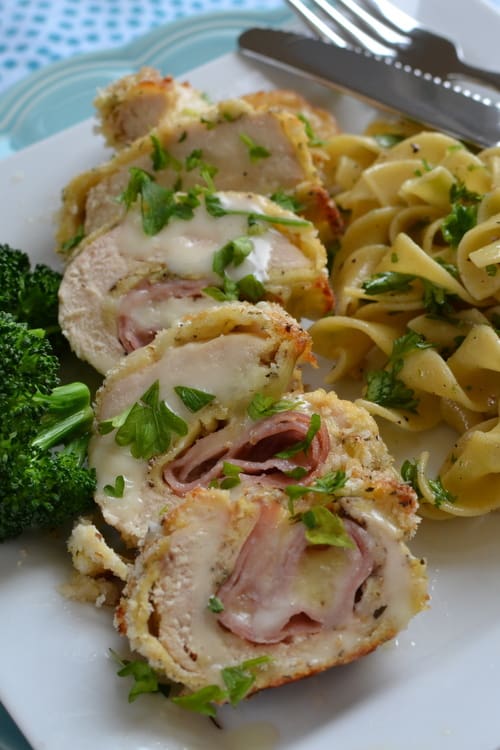 See what I mean!! Doesn't it look savory and scrumptious? It is so easy your teenage daughter could make it!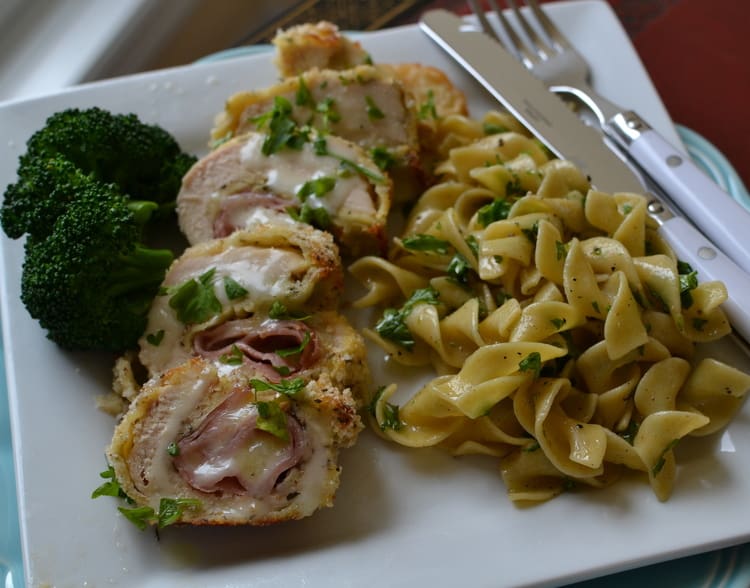 Of course if you would rather just let your teenage daughter play her ipod and text than I am sure you can handle it. You will be so glad that you did!
Chicken Cordon Bleu Rollups
2015-02-06 12:21:22
Ingredients
2 large chicken breasts cut in half lengthwise to create 4 thinner pieces
2 eggs
1 tablespoon milk
1/2 cup flour
1 1/4 cups panko bread crumbs
1 teaspoon basil
1 teaspoon oregano
4 slices deli size baby Swiss
4 slices deli style ham
1/2 cup provel
1-2 tablespoons milk
Fresh chopped parsley
Instructions
Preheat oven to 375 degrees.
Whisk eggs and 1 tablespoon milk in small bowl. Add flour to shallow plate. Combine panko, basil and oregano on separate shallow plate.
Place one piece of Swiss cheese on each piece of chicken. Top with a piece of ham on each piece of Swiss cheese. Roll up chicken breasts starting on shortest end and secure with tooth pick.
Dip each rolled chicken stack in egg mixture, then in flour, back in egg mixture and then in the breadcrumbs.
Place on cookie sheet and bake for 25 minutes. Remove and allow to cool for 5 minutes.
Combine provel and 1 tablespoon milk in microwave. Melt for 20 second in microwave. Stir and microwave another 10 seconds at a time until melted stirring each time. Add more milk if desired to reach drizzling consistency.
Slice chicken into rounds, drizzle with cheese sauce and sprinkle with parsley.
Small Town Woman https://www.smalltownwoman.com/