Chicken Cordon Bleu Recipe is crispy breaded chicken breasts stuffed with ham, Swiss cheese and drizzled with a mustard Parmesan cream sauce.  They are a family favorite and I love to serve them with Roasted Rosemary Potatoes and Cauliflower Au Gratin.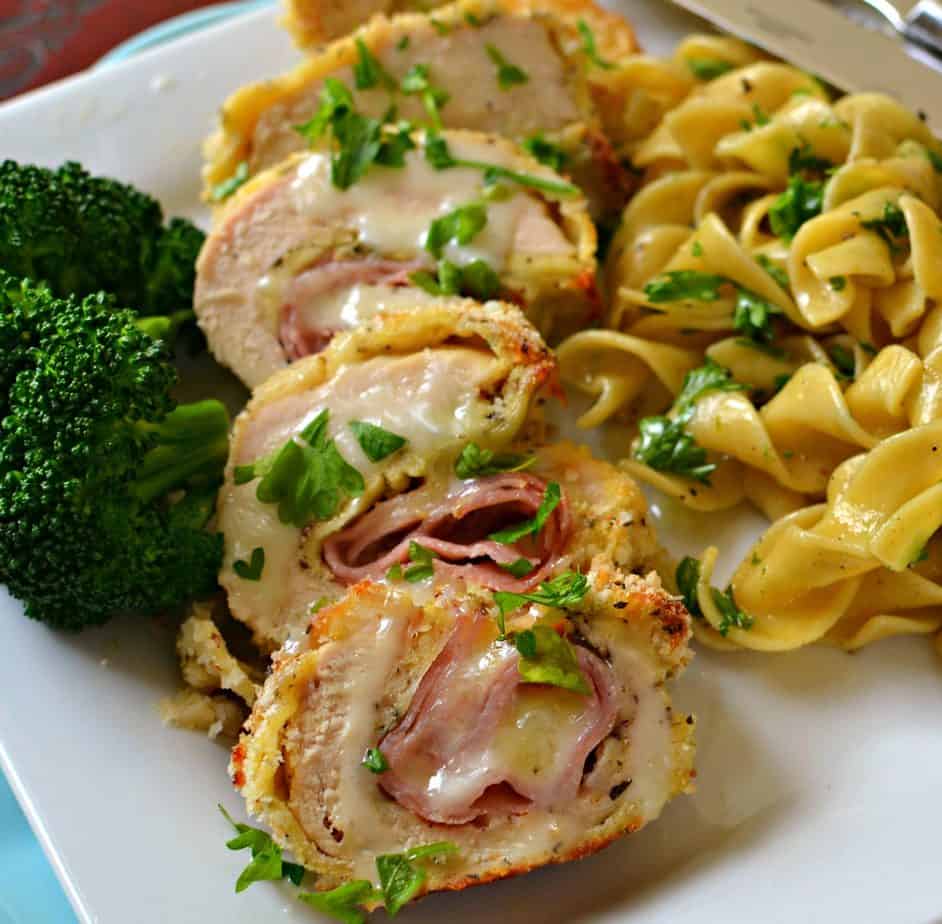 Chicken is by far one of the most versatile meats. We probably eat chicken one way or another at least twice a week.  There are just so many ways to bake it, grill it, stir fry it and saute it.  Everyone needs a large repertoire of great go to chicken recipes. This Chicken Cordon Bleu Recipe is one of my favorites. They are scrumptious, easy and so dependable.
They are simple enough for a weeknight meal yet elegant enough for company.  See what I mean!!  Don't they look savory and scrumptious? The chicken is stuffed with baby Swiss cheese and sweet ham.  Then it is breaded with crispy panko crumbs and baked to a golden brown.  Just before serving drizzle with an easy mustard Parmesan cream sauce.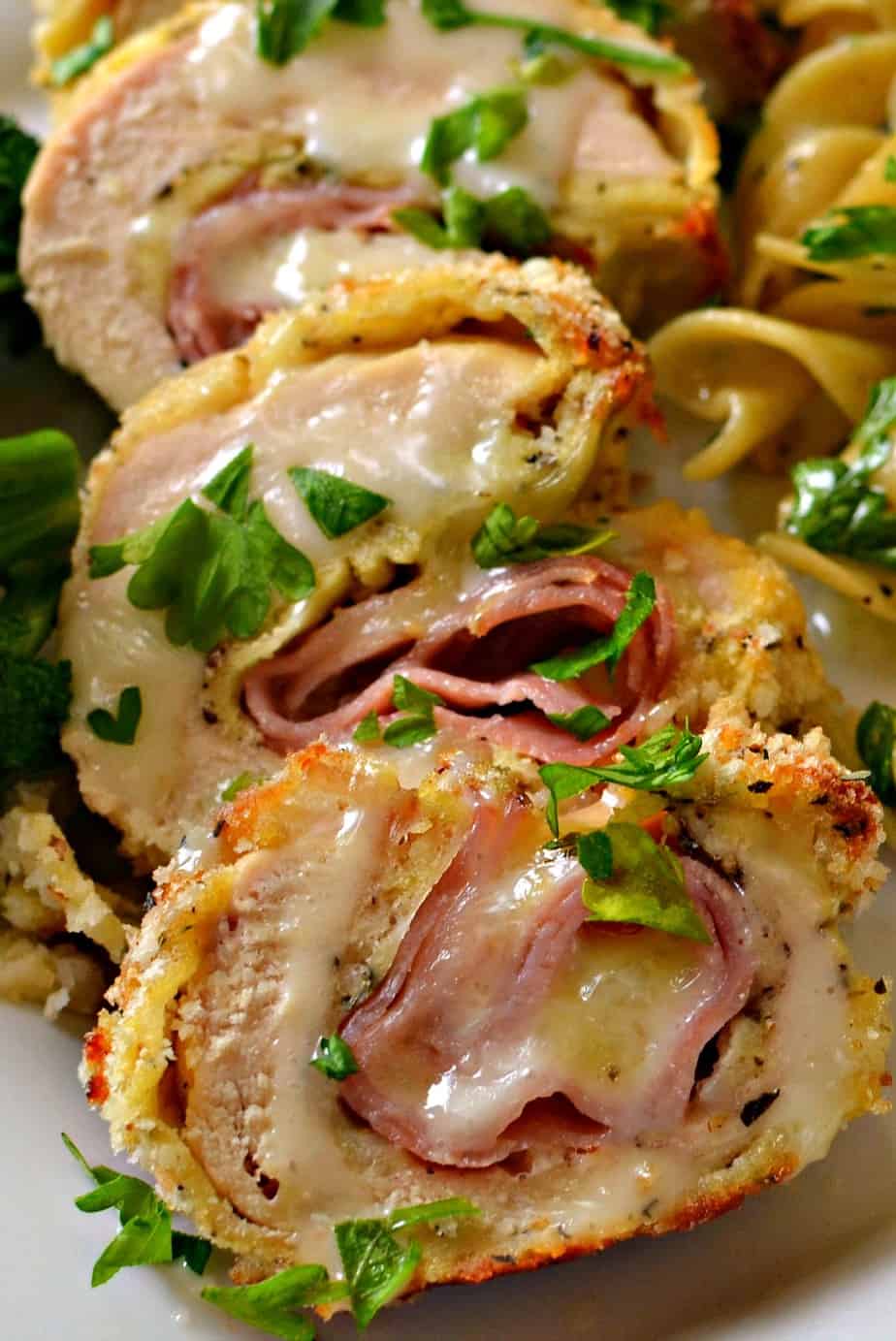 How do you make Chicken Cordon Bleu?
Start by whisking eggs and milk in a shallow bowl.  Next set up two shallow plates. One with just flour and the other with Panko bread crumbs, basil and oregano.  Now split the chicken breasts in half and pound them to a little less than 1/2 inch thick.  Now layer each chicken breast with Swiss Cheese and ham.  Then roll the chicken breast and secure with a toothpick.  Next dip each chicken breast in the egg mixture, then in the flour, back in the egg mixture and then in the Panko bread crumb mixture. Next bake for about 30 minutes or until the chicken cooks through.
Meanwhile melt a little butter in a skillet and add an equal amount of flour.  Now whisk constantly over medium low heat for a few minutes.  Next slowly whisk in the milk and cook until slightly thickened whisking frequently.  Then turn the heat to low and whisk in the Dijon Mustard and Parmesan Cheese.  Continue whisking until the cheese is melted.  Finally carefully remove the toothpicks and slice the baked chicken. Spoon the mustard Parmesan sauce over the top and if desired sprinkle with fresh chopped Italian parsley.  For best results serve promptly.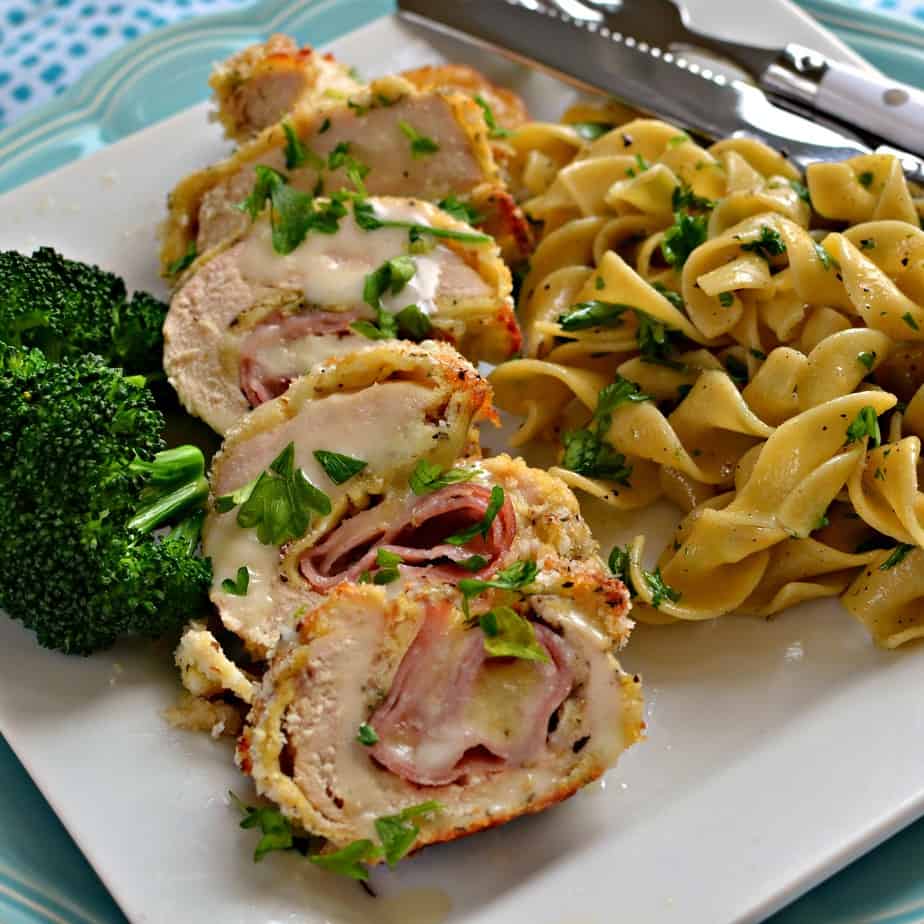 Helpful tips for making this Chicken Cordon Bleu Recipe
If the chicken breasts are still too thick to roll after cutting in half lengthwise pound them a little thinner using a meat mallet.
Use Panko bread crumbs for extra crispiness.
Don't drizzle the sauce until you are ready to serve.
Use freshly shredded Parmesan Cheese in the sauce.  It is so flavor packed and it really does make a difference.
Select a good quality ham. Boars Head sells some fabulous deli hams.  I really like the Tavern Ham and the Pesto Parmesan Ham.
For added crispiness spritz breaded chicken breasts with a little oil before baking.
Use deli size slices of ham and Swiss cheese.  If they are precut square slices of Swiss cheese than get a little extra in case you need them as they might not cover the whole area.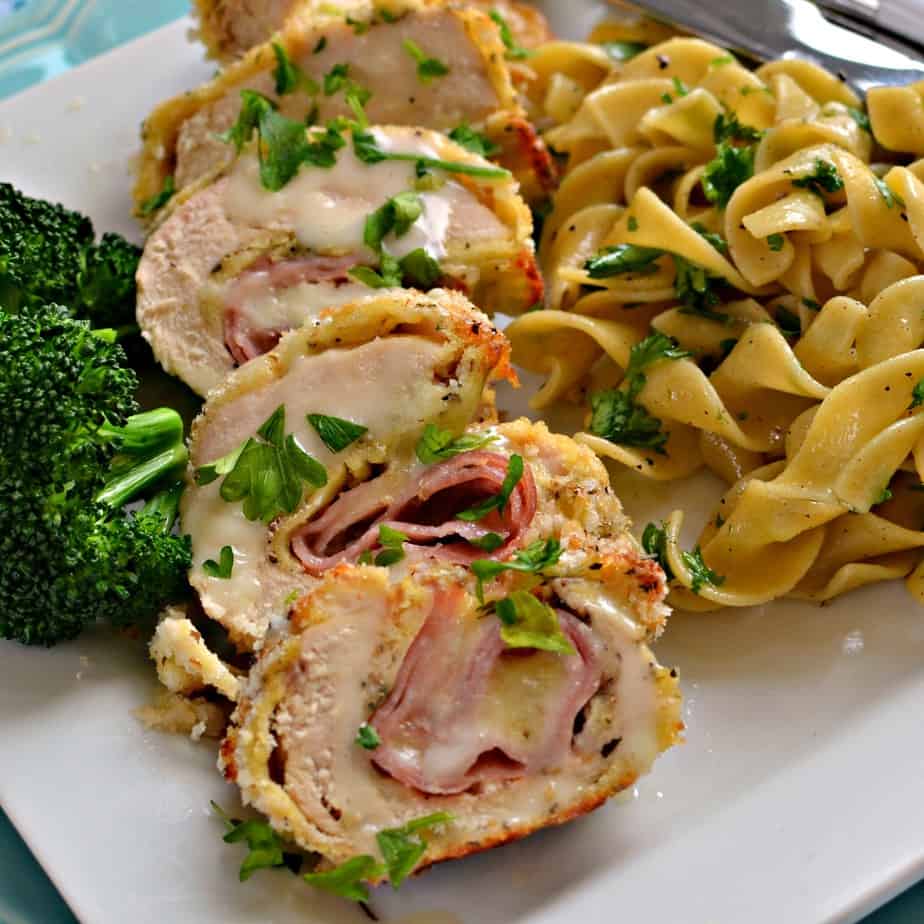 More Chicken Recipes you will love!
Put the ingredients for these Chicken Cordon Bleu on your list today and give them a whirl. Your family will be singing your praises and coming back for seconds.
This post was originally published February 6, 2015 and republished March 31, 2020 with new content.
Print
Chicken Cordon Bleu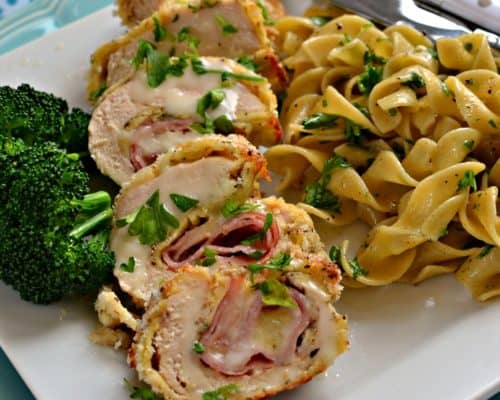 Crispy baked Panko breaded chicken breasts stuffed with Swiss Cheese and ham.  It is all drizzled with a creamy Parmesan mustard sauce.  This dish is easy enough for a weeknight yet elegant enough for company.
Author:
Prep Time: 20
Cook Time: 30
Total Time: 50 minutes
Yield: 4 servings 1x
Category: chicken main meal
Method: baking
Cuisine: American
Scale
Ingredients
2 large chicken breasts cut in half lengthwise to create 4 thinner pieces
2 eggs
1 tablespoon milk
1/2 cup flour
1 1/4 cups panko bread crumbs
1 teaspoon dried basil
1 teaspoon dried oregano
4 slices deli size baby Swiss
4 slices deli style ham
Parmesan Dijon cream sauce
2 tablespoons butter
2 tablespoons flour
1 1/2 cups milk
1 1/2 tablespoons dijon mustard
1/2 cup shredded parmesan cheese
1 tablespoon fresh chopped Italian parsley (optional)
Instructions
Preheat oven to 375 degrees. If necessary pound chicken breasts to 1/2 inch thick using meat mallet.
Whisk eggs and 1 tablespoon milk in small bowl. Add flour to shallow plate. Combine Panko bread crumbs, basil and oregano on separate shallow plate.
Place one piece of Swiss cheese on each piece of chicken. Top with a piece of ham on each piece of Swiss cheese. Roll up chicken breasts and secure with toothpick.
Dip each rolled chicken stack in egg mixture, then in flour, back in egg mixture and then in the Panko breadcrumbs.
Place on a baking sheet. Bake for 25-35 minutes or until cooked through. Cover loosely with aluminum tent.
Meanwhile melt butter over medium heat. Whisk in flour and cook for 2-3 minutes: whisking constantly. Slowly whisk in milk and cook until slightly thickened; about 2 minutes. Turn heat to low and whisk in Dijon mustard and Parmesan cheese. Cook until cheese is melted; whisking constantly.
Carefully remove toothpicks, slice chicken into rounds, drizzle with cheese sauce and sprinkle with parsley.
Keywords: baked chicken cordon bleu, best chicken cordon bleu recipe, chicken cordon bleu, chicken cordon bleu sauce, creamy Parmesan Dijon sauce, easy chicken cordon bleu, how to make chicken cordon bleu, what is chicken cordon bleu
https://www.smalltownwoman.com/wp-content/uploads/2019/05/Beth-1.pdf