Caprese Chicken is golden brown chicken topped with sweet mozzarella, sun ripened tomatoes and fresh basil all drizzled with a mouthwatering balsamic reduction sauce.  It is quick to prepare in one skillet, full of wholesome ingredients and so tasty!

Seems like I am always in a hurry.  Even though summer is fast approaching things are still moving real fast. My sweet daughter graduates from 8th grade this year and there are a ton of activities not to mention all the regular school activities like the spring concert, field day and the parish picnic. All these things add up and that makes it even more important to be able to make quick delicious easy recipes for my family.  This Caprese Chicken comes together quickly in one skillet and tastes amazing.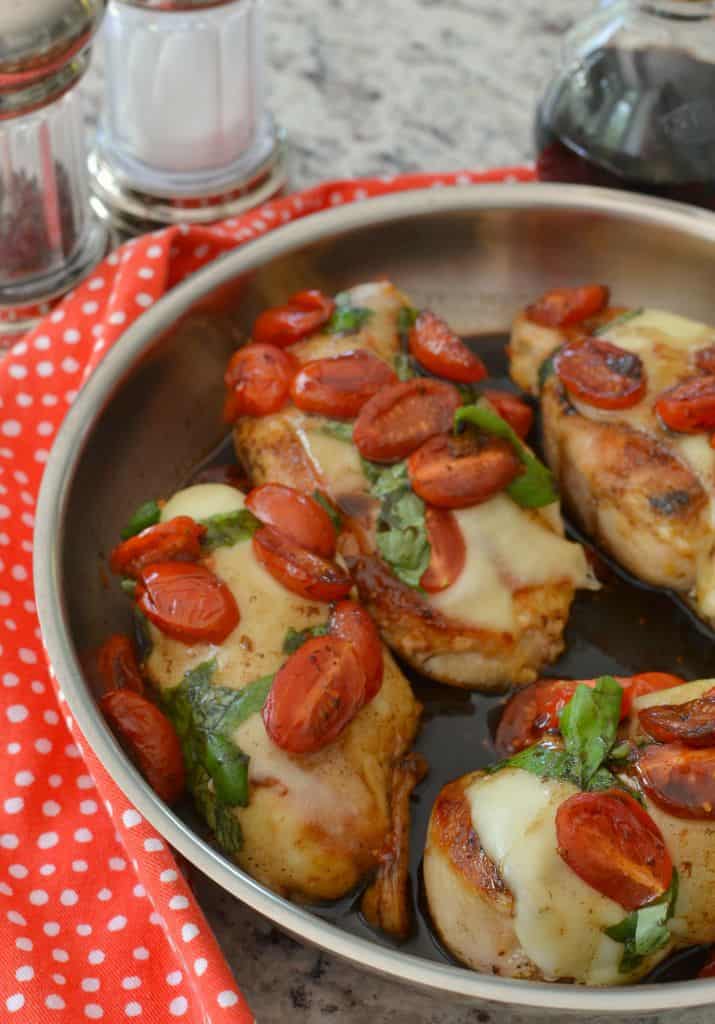 One skillet recipes are pretty common around here since no one really has the time or the desire to do a kitchen full of dishes.  Here are some of our favorite one skillet recipes! Some of the recipes are mine and some are from some of my favorite bloggers.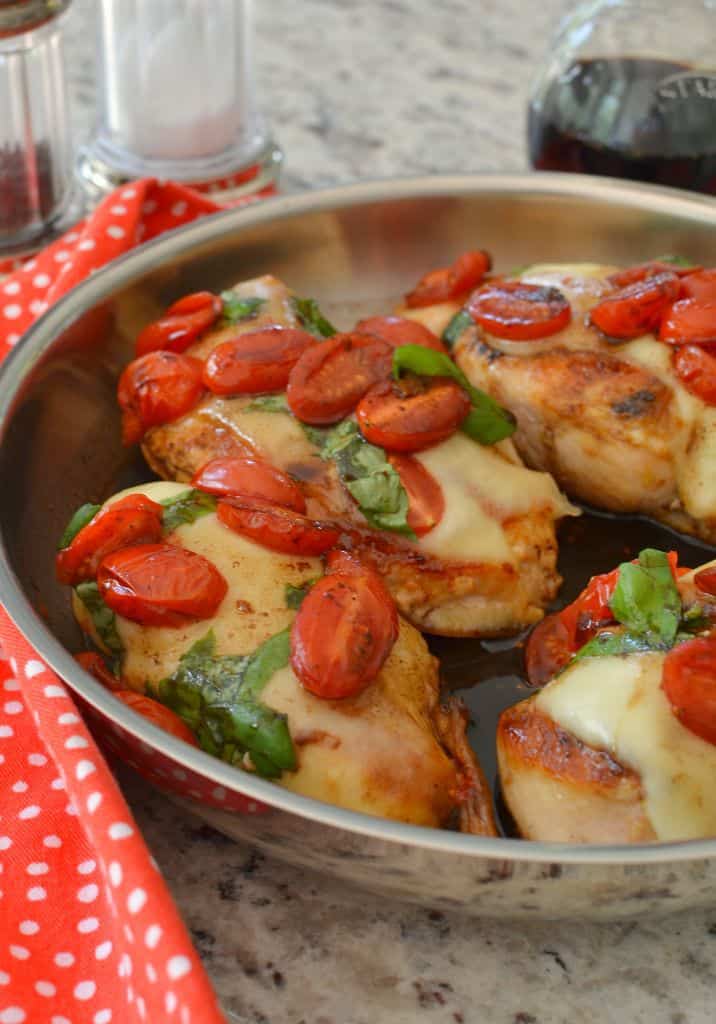 I really like using grape tomatoes on this Caprese Chicken as they look so pretty and right now they are so flavorful but you can use any type of fresh tomato that you like.  I am sure that in a few months the garden fresh tomatoes will be OUTSTANDING.  I had to buy some basil because I have not had a chance to plant my basil yet this year.  In past winters my basil plant made it through and would shoot up from the ground early and start delivering me fresh basil but this past winter was so wicked cold that my plant did not come back.  The AMAZING flavors in this Caprese Chicken are the best with the balsamic reduction sauce sending it over the top.  Put the ingredients for this recipe on your shopping list today and wow your family and your taste buds.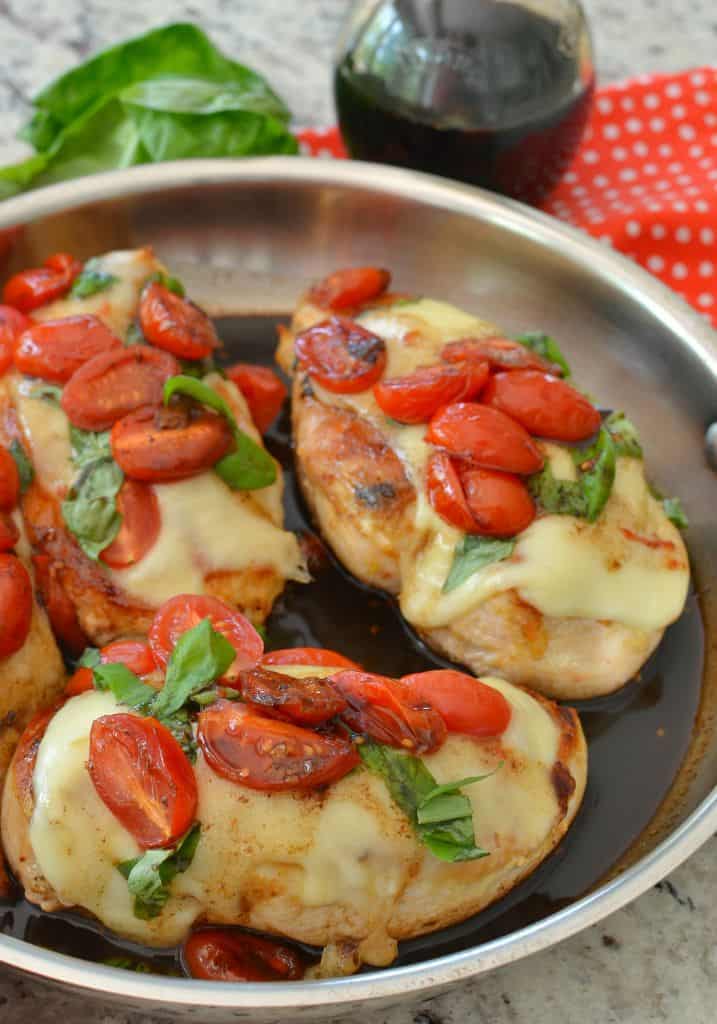 More one skillet recipes you will love!
On the hunt for more delicious recipes?  Follow Small Town Woman on Facebook, Pinterest, and Instagram.
Print
Caprese Chicken
4 chicken breasts
2 tablespoons olive oil
1 cup balsamic vinegar
1/4 cup honey
1 1/2 cups grape tomatoes sliced in half
4 slices whole milk mozzarella (1/4 inch thick)
1/4 cup fresh basil leaves cut in ribbons
Instructions
Preheat oven to 350 degrees
In large ovenproof skillet heat olive oil over medium heat. Add chicken breast and brown each side; approximately 5 minutes per side. Place on oven proof plate, cover with foil and place in oven for 15-20 minutes or until no longer pink (times varies with the size of the chicken breast).
In same skillet whisk together balsamic vinegar and honey. Bring to boil, reduce heat to low and simmer until reduced to about 1/2 cup; approximately 10 minutes. Place chicken in skillet with balsamic sauce. Top each piece of chicken with one piece of mozzarella. Sprinkle grape tomatoes over the chicken. Place under broiler until cheese is melted; approximately 1-3 minutes. Keep a close eye on it as broilers are unpredictable.
Top with basil ribbons. Spoon balsamic reduction sauce over the chicken and serve.
Notes
You can cut two large chicken breasts in half lengthwise if desired reducing the size of the portion and baking time.
https://www.smalltownwoman.com/wp-content/uploads/2019/05/Beth-1.pdf