Easy family friendly Pancake Muffins are scrumptious easy to prepare little muffins. They are perfect for pack and go and for little hands.  I make one batch and split it in half creating blueberry and sausage for both the sweet and savory pancake lovers.  They freeze very well and reheat very easily in the microwave.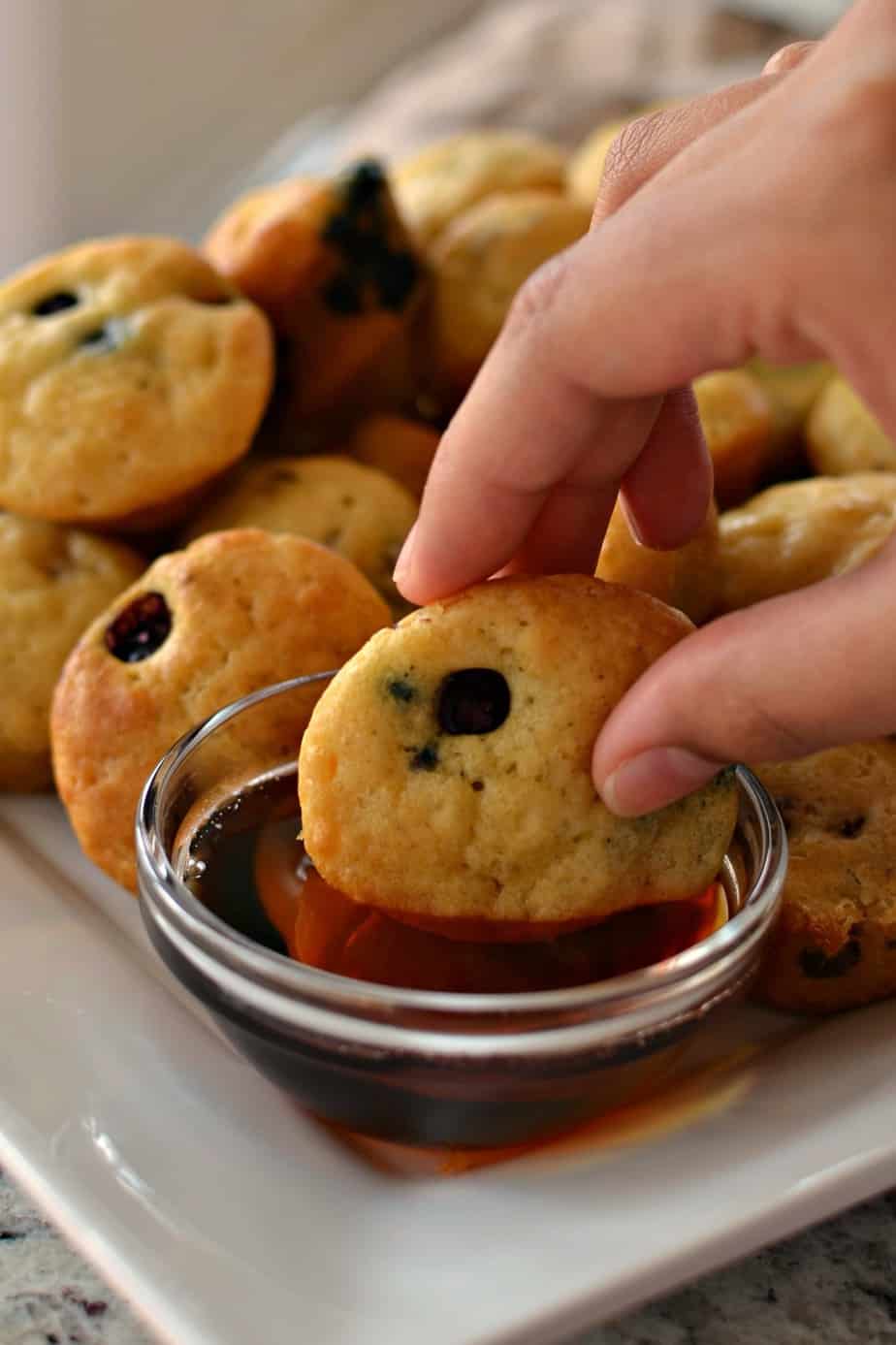 My family is constantly on the go.  Mornings can be just a little insane around here.  I am fortunate enough to work from home so I save on commute time however things are still quite hectic around here.  This morning was going to be even more crazy than usual as it is tax season and I have several other deadlines that are approaching so I baked up a batch of these Easy Pancake Muffins last night. I love to split the batch and add blueberries to half and add cooked crumbled pork sausage to the other half.
They are perfect for the husband that is running late for work.  Just pack a little bit of syrup in a small glad ware container and he is on his way.  No need to cut pancakes for the little ones as they can hold these right in their hands and dip them in a little bit of syrup poured right on their plate.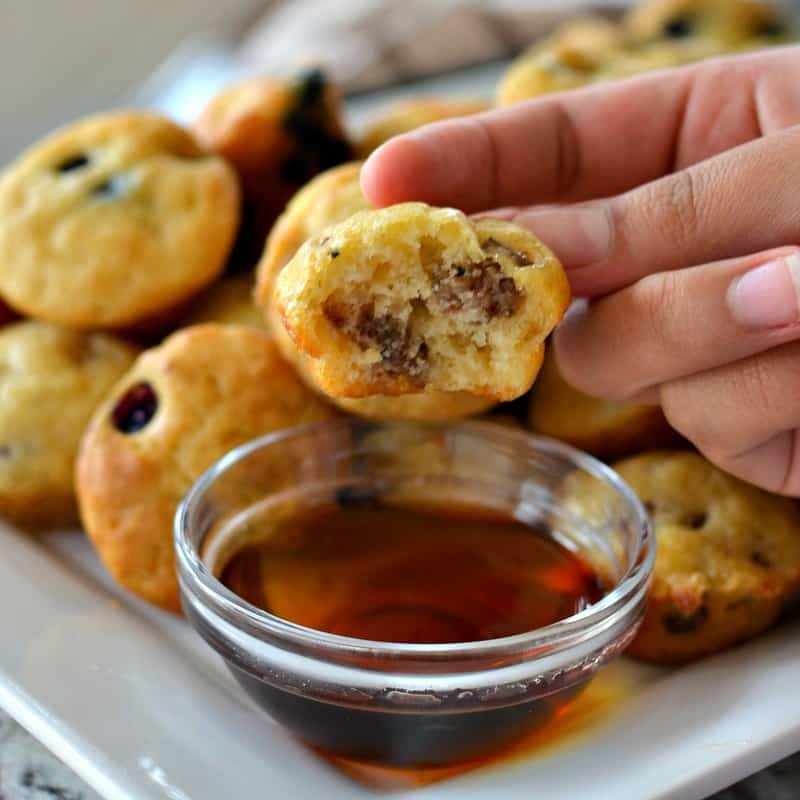 Three things occurred to me while I was making these Easy Pancake Muffins!
I really love these incredibly easy breakfast treats!
I think I like the savory sausage ones better….I think.
I need a new mini muffin pans!  Mine is completely worn out!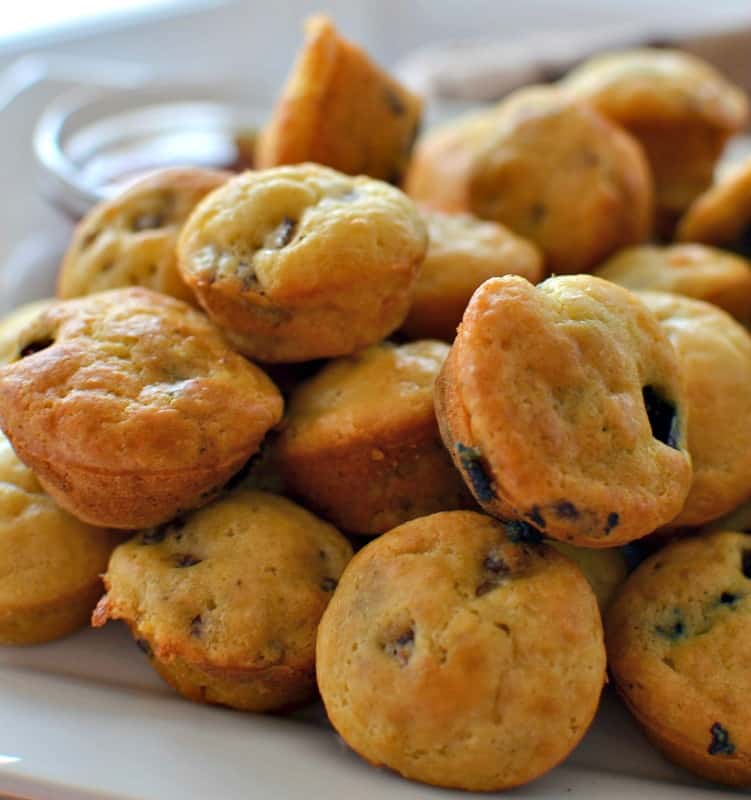 How do you make Pancake muffins?
Start by browning the pork sausage breaking it up well as you do.  Be sure to drain any excess grease.  Now in a medium bowl whisk together the flour, baking powder, baking soda, salt and sugar. Then in a large bowl whisk together the buttermilk, vanilla and egg.  Next working in three intervals stir the flour mixture into the buttermilk mixture just until incorporated.  Stir in the melted butter just until blended.
Spoon about half the batter into a well greased mini muffin pan filling the slots about two thirds full. Top each slot with three small blueberries.  Now stir the drained sausage into the remaining batter.  Spoon the batter into the slots filling them about three fourth full. Bake until set and serve with warm maple syrup.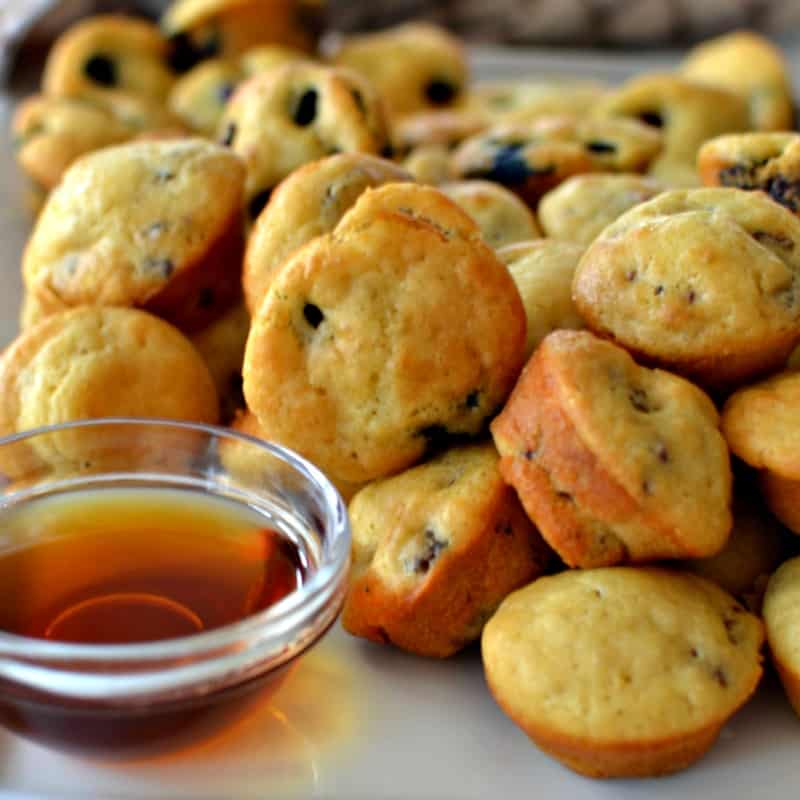 Helpful tips for making Pancake Muffins
Don't over-mix the batter as it can make it tough.
Save yourself some money and make your own buttermilk at home.  You can make your own buttermilk by adding 2 tablespoons of lemon juice or white vinegar to 1 1/2 cups milk. Let sit for five minutes.
To freeze place fulled cooled muffins in a zipper freezer bag.  To reheat remove desired muffins and heat 15-30 seconds at 50% power in the microwave.
Use a standard muffin pan for larger muffins however increase baking time by 3-5 minutes.  If doing so you may want to double the recipe as the number of muffins yielded would be decreased.
For variety substitute chopped pecans or walnuts, finely chopped bananas, finely chopped strawberries, chocolate chips, dried fruit or Easy Cinnamon Sugar.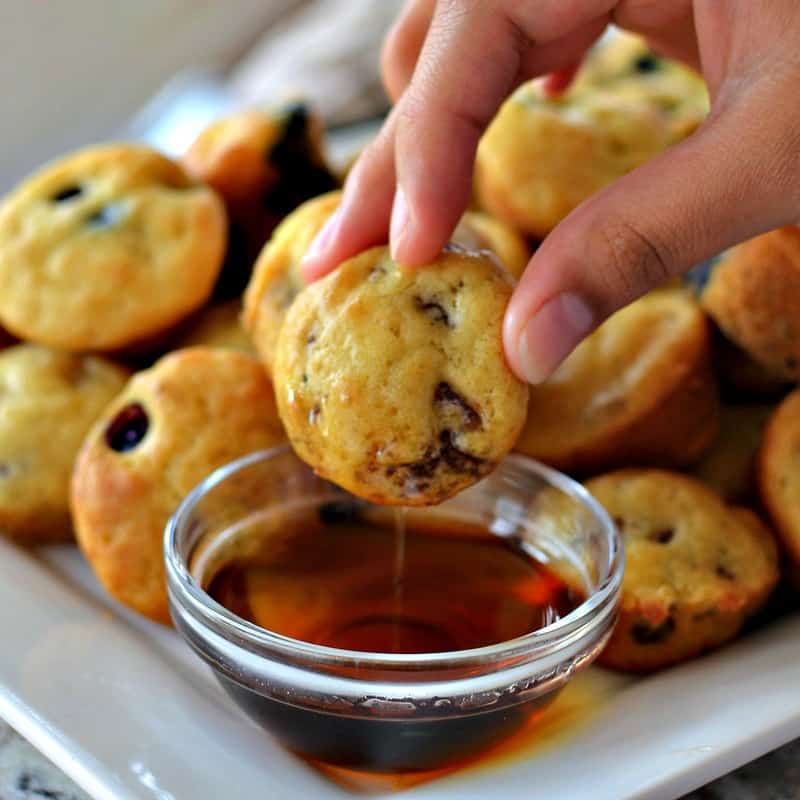 Is your family constantly on the go?  Are you looking for scrumptious homemade treats that you can feel good about feeding your family?  You need to put these AMAZING Easy Pancake Muffins on your to try list today.  Better yet double the recipe and freeze half of them.  You will be glad that you did!
Other breakfast recipes you will love!
This post was originally published April 4, 2018 and was republished March 26, 2020 with new content.
Print
Easy Pancake Muffins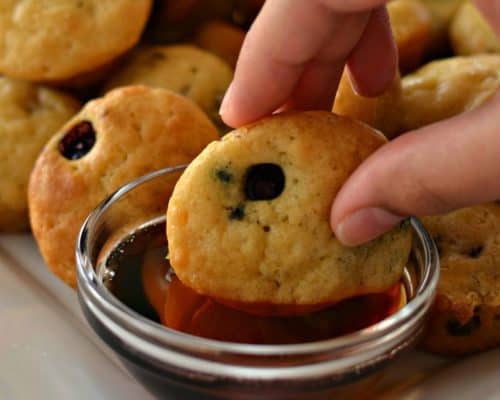 Delectable easy to make mini pancake muffins that are freezer friendly.  They are perfect for little hands and busy on the go families.  Make a double batch today and freeze one for next week.
Author:
Prep Time: 15
Cook Time: 25 minutes
Total Time: 40 minutes
Yield: 36 mini muffins 1x
Category: breakfast
Method: bake
Cuisine: American
Scale
Ingredients
1/3 lb bulk pork sausage
1 1/2 cups all purpose flour
1 1/2 teaspoon baking powder
1 teaspoon baking soda
1/2 teaspoon salt
2 tablespoons sugar
1 1/2 cups buttermilk (see notes)
1 teaspoon vanilla
1 egg
3 tablespoons butter melted
1 cup blueberries
Warm maple syrup
Instructions
Preheat oven to 350 degrees and spray mini muffins pans with nonstick baking spray.
Brown pork sausage breaking up into small crumbles. Drain any excess grease.
In medium bowl whisk together flour, baking powder, baking soda, salt and sugar.
In large measuring cup whisk together buttermilk, vanilla and egg.
Pour liquid mixture into flour mixture. Add butter and stir just until incorporated. Fill one pan full of batter spooning about 2/3's full in each slot. Add three to four blueberries to the top of each one. Take remaining batter and mix in crumbled sausage. Fill second pan filling each slot about 2/3's full.
Bake 13-15 minutes. Serve with warm maple syrup.
Notes
You can make your own buttermilk by adding 2 tablespoons of lemon juice or white vinegar to 1 1/2 cups milk. Let sit for five minutes.
Keywords: muffin mix pancakes, mini pancake muffins, pancakes in muffin tins
https://www.smalltownwoman.com/wp-content/uploads/2019/05/Beth-1.pdf