This delicious Fried Egg Sandwich is so easy and so scrumptious.  You can whip one together in just a few minutes and it tastes like heaven!  They can be easily modified to suit your taste by swapping cheese or adding ham, or cooked sausage patties.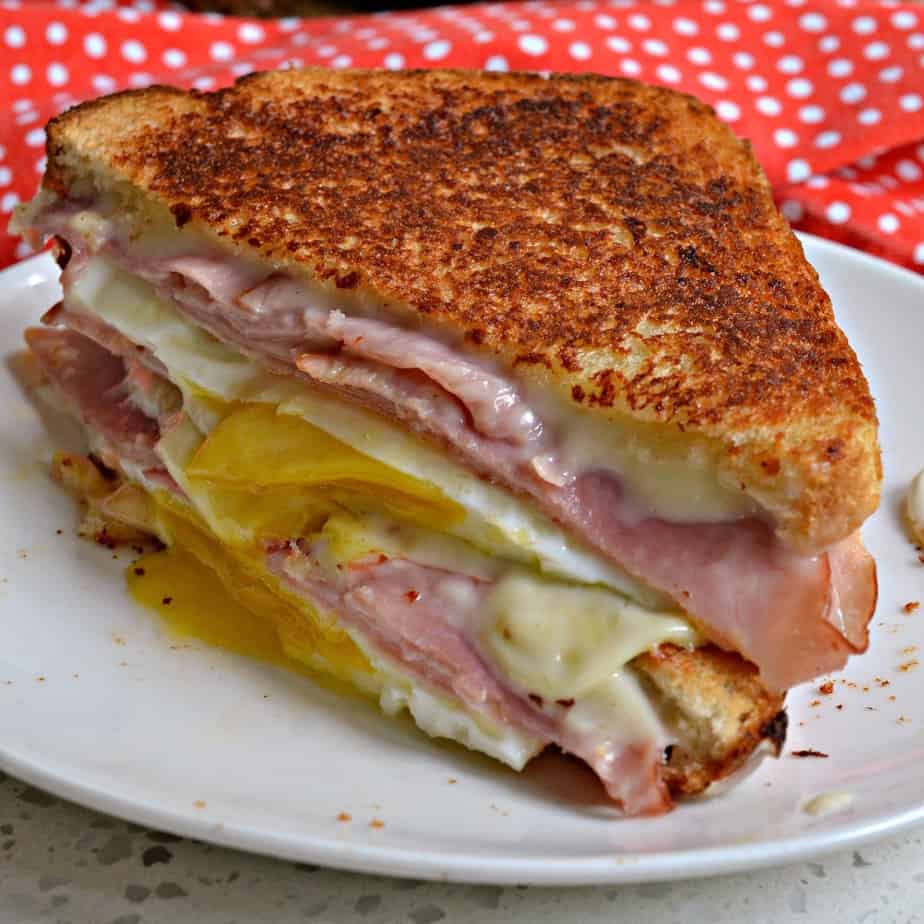 I am a huge breakfast nut.  I just love eggs.  I love them scrambled, easy over, hard boiled, poached, and sunny side up.  I love omelettes, quiches, egg salad, deviled eggs, stratas, fritatas and egg sandwiches. This breakfast sandwich is so quick and simple.  I am sure that even a novice cook can handle this  recipe. I have seen other recipes for breakfast egg sandwiches but they look a little complicated. I am not saying they aren't delectable but in the morning every minute counts!
Do you like eggs?  Do you like your yolks runny or firmed up?  You can adapt this recipe very simply to the way you like your eggs cooked.  You could even scramble them or cook them like an omelette.
How do you make an Egg Sandwich?
First assemble the bread, ham and cheese so when your eggs are ready you can slide them on.  Next place one slice of white American or cheese of your choice on one slice of the bread. Then place one slice of yellow American or cheese of your choice on the opposite slice. Top each side with a thin piece of honey ham.
Now cook one egg per sandwich over easy in a little butter or olive oil.  You can cook it so the yolk is set or runny.  If runny gently put the sandwiches together or the yolk will crack.  Next put thin pats of butter on the top slice and carefully move it to a hot skillet.  Place it in the skillet butter side down. Top the other slice with butter pats.  Cook over medium low heat and cover the skillet loosely with aluminum foil. Flip to brown both sides.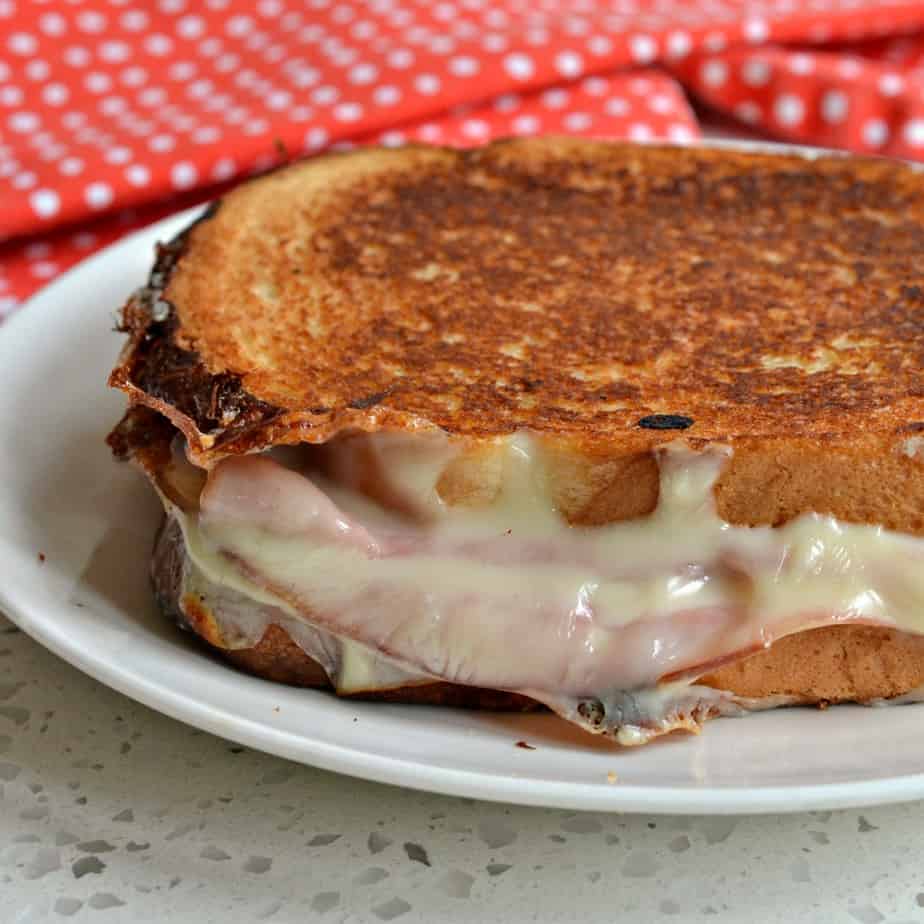 Tips on making awesome Egg Sandwiches!
Use good quality bread.  It really does make a difference.
Don't skip the cheese.  It brings everything together and makes it so tasty.
Butter makes the bread brown so nicely and adds fabulous flavor.  You can use salted or unsalted butter.
If you like your eggs runny don't push down on the sandwich.  It will all come together as everything melts and browns.
Cover the skillet loosely with foil so the cheese melts around the egg and is ready when the bread browns.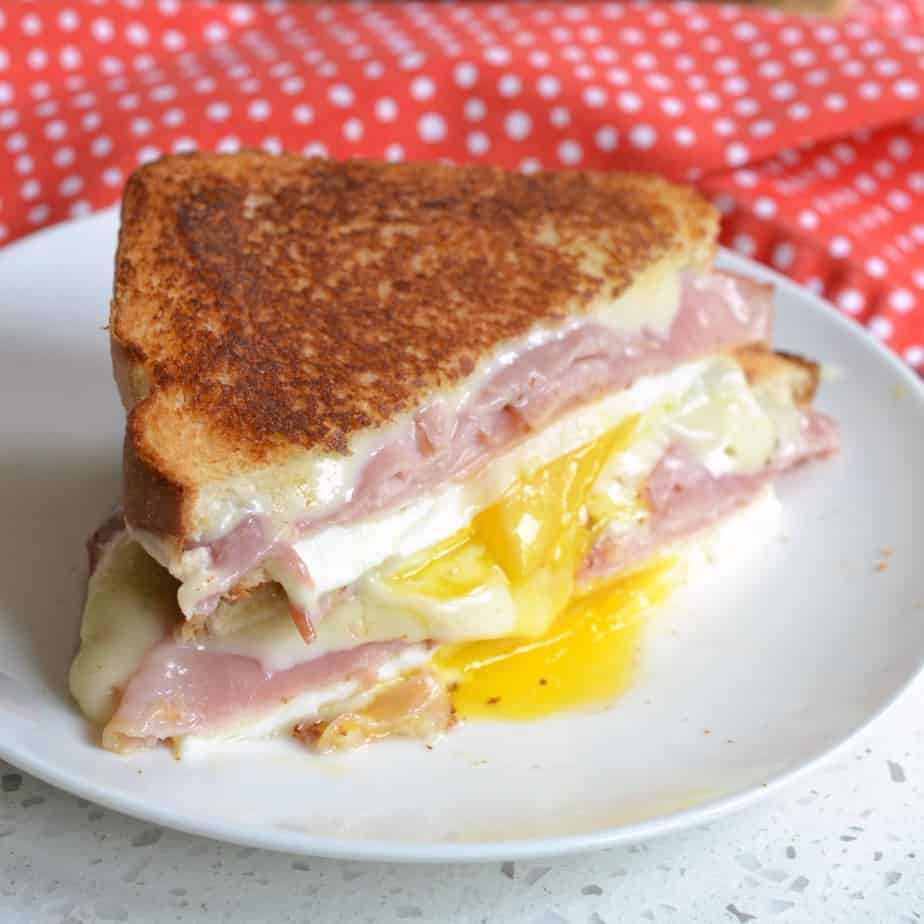 Other delicious Egg Sandwich combinations
Bacon and Monterey Jack
Pepperoni and Mozzarella
Brisket and Swiss
Ham and Cheddar
Leftover Meatloaf and Gruyere
Sausage Patties and Gouda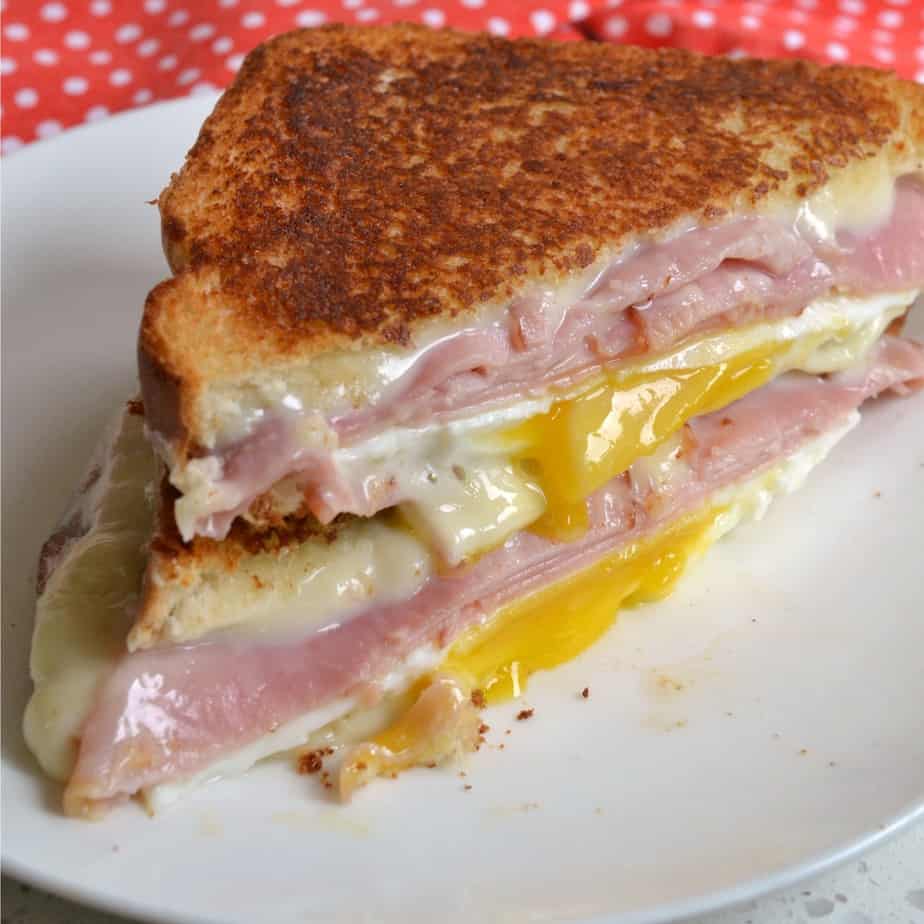 Enough said.  These sandwiches are a shoe in with your family and perfect for school days.   They can be prepared in a matter of minutes. You and yours are going to love them!
Other breakfast recipes you will love!
This post was originally published February 27, 2016 and republished June 5, 2020 with new content.
Print
Fried Egg Sandwich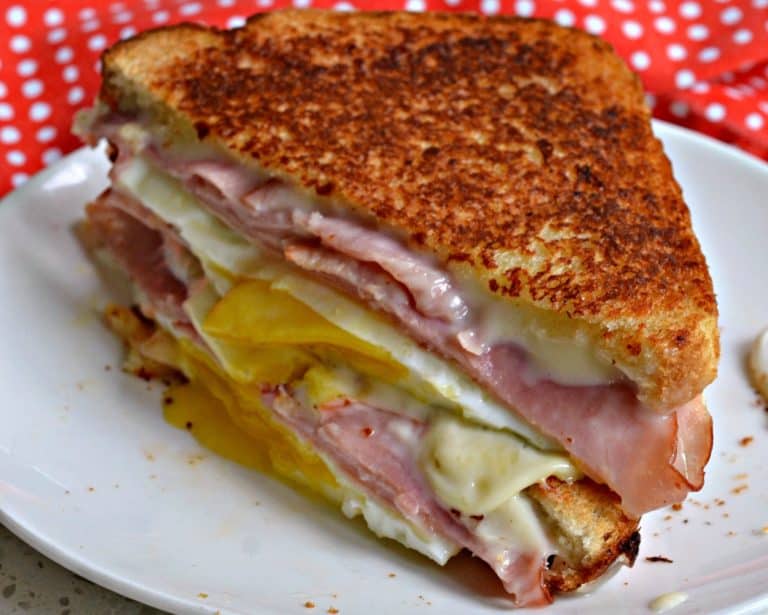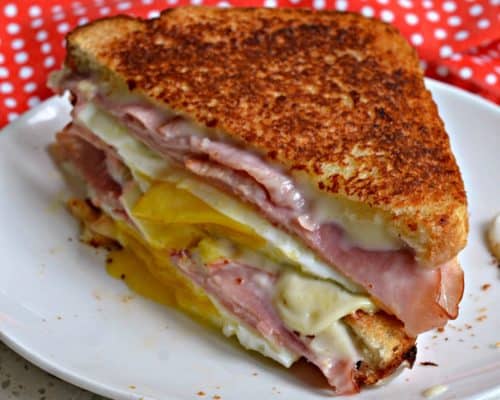 This super easy and quick fried egg, cheese and ham sandwich comes together in less than seven minutes making it a great breakfast for weekday mornings.
Author:
Prep Time: 2
Cook Time: 5
Total Time: 7 minutes
Yield: 1 sandwich
Category: breakfast
Method: stove top
Cuisine: American
Ingredients
White bread
White American cheese slices
Yellow American cheese slices
Sweet Ham deli sliced
Eggs
Butter
Instructions
Place one slice of white American on one side of the bread and place one slice of yellow American on opposite slice. Top each side with a thin piece of honey ham. Have all your bread assembled so as you remove the eggs from the pan you are ready to go.
Cook one egg over easy per sandwich, Remove from the pan without over cooking and gently bring the sides of the sandwich together. DO NOT PRESS DOWN OR YOU WILL BREAK THE YOLK. Heat skillet over medium low heat. Top each sandwich with butter pats. Place butter side down in skillet. Cover loosely with aluminum foil Cook until bread is browned. Add pats of butter to uncooked side. Flip and cook until sandwich is browned and cheese is gooey and melted.
Keywords: breakfast sandwich, breakfast egg sandwich, breakfast grilled cheese, grilled cheese
https://www.smalltownwoman.com/wp-content/uploads/2019/05/Beth-1.pdf