With a few simple ingredients and some easy tips perfect steakhouse oven baked potatoes are a cinch to make.  With crispy salty skins and fluffy insides these are sure to become your new go to recipe for baked taters.
If your family is anything like mine than any potato recipe at any meal is always a hit.  These potatoes, Funeral Potatoes, Twice Baked Potato Casserole. and Roasted Red Potatoes are just a few of our favorites.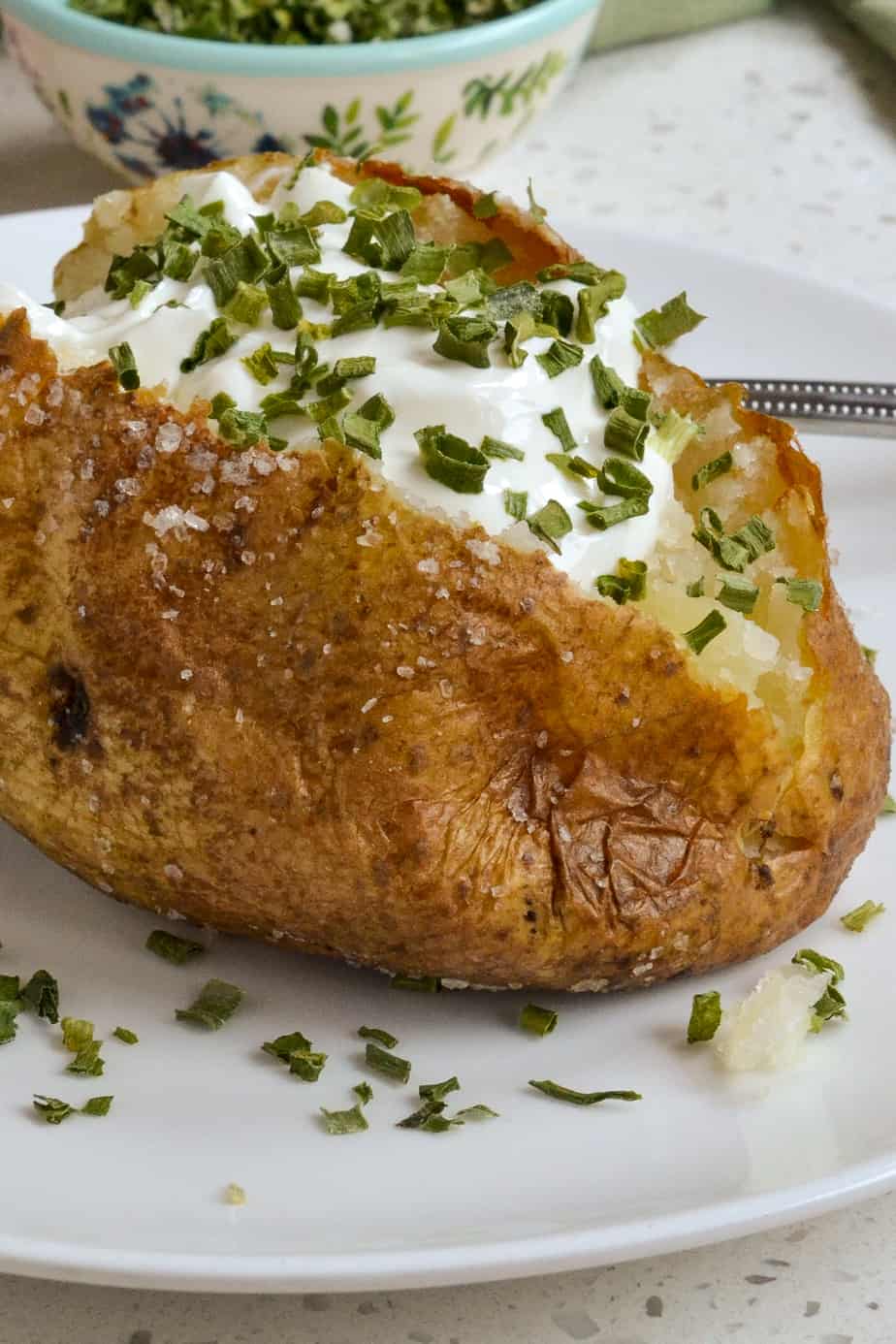 How to cook perfect oven baked potatoes
Start by thoroughly washing and drying those russet potatoes.  Then prick them several times with the tines of a fork.  Now using your hands rub oil all over them.  Then rub coarse salt all over them.  Now place them in a preheated oven right on the rack and cook until fork tender.  Times will run anywhere from 40-60 minutes depending on the size of your potatoes.  Once the potatoes are done simply use a fork (not a knife) to cut across long ways.  Then press the ends of the potato just slightly to open it up.  This technique is known as popping the potato.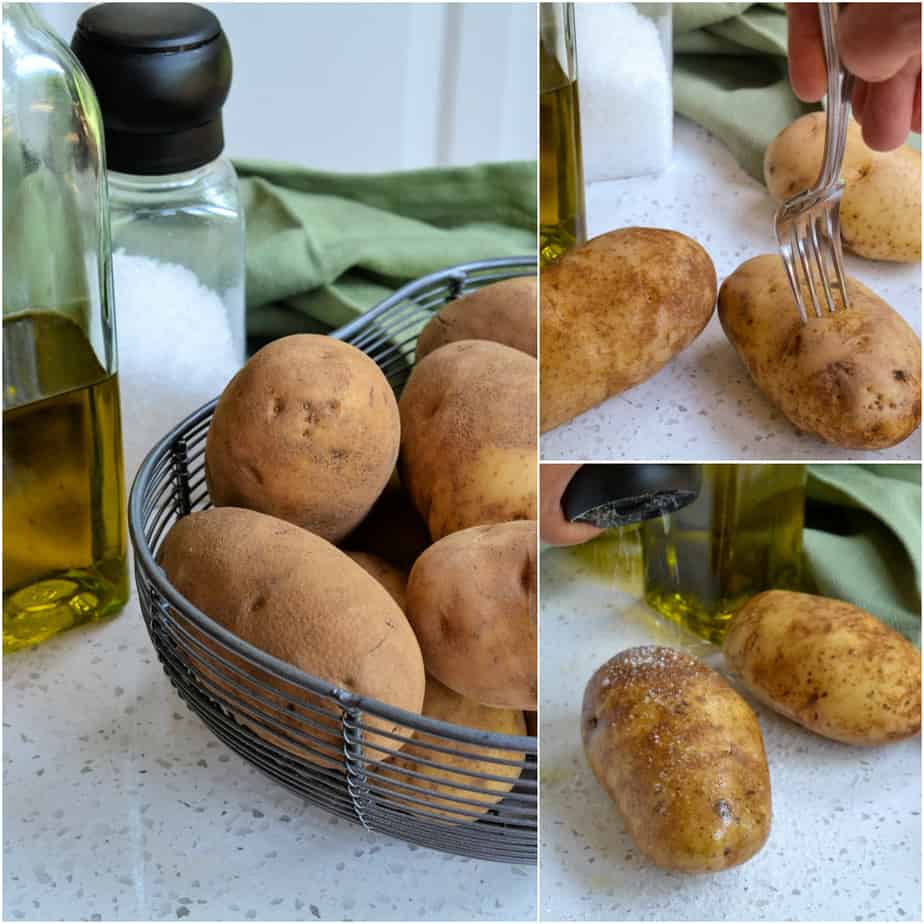 Recipe notes and helpful tips
Hands down russet potatoes are the best for baking.  Their thick skin and high starch content make them the perfect choice.
Use coarse salt.  I have an inexpensive salt grinder that I bought at Costco and it really comes in handy with these baked potatoes.
I have used olive oil and vegetable oil.  Both of them help produce a nice crispy skin.
Baked potatoes are best served promptly so try to coordinate the rest of the meal accordingly.
They are done when they reach an internal temperature of 210 degrees.
Don't slice open your potato.  Instead read below on how to pop open a potato with a fork for a fluffier steakhouse style spud.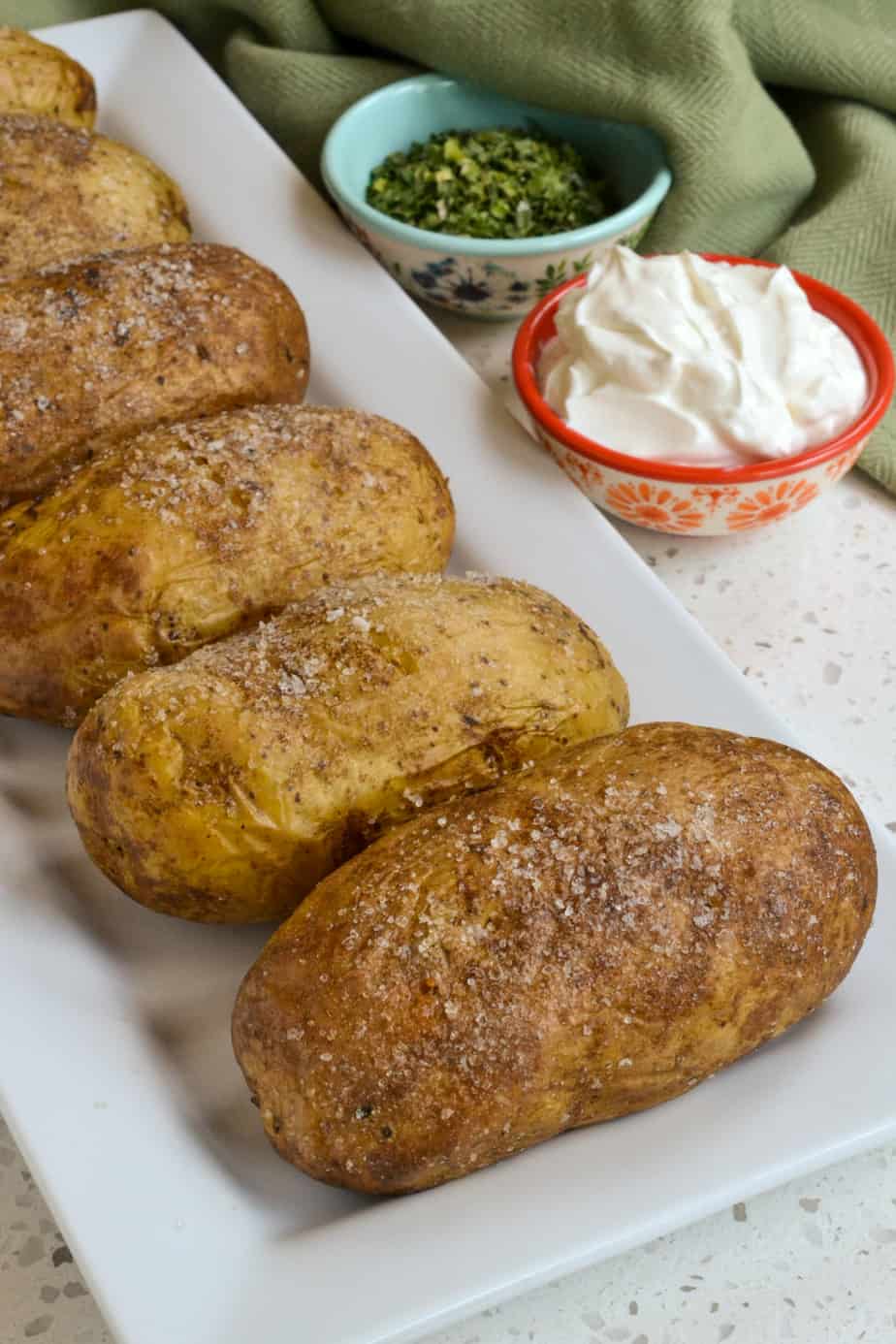 How long to bake potatoes
At 400 degrees medium to large baked potatoes will take anywhere from 45-60 minutes depending on their size.  If you increase the oven temp to 450 degrees the done time will drop to between 40-45 minutes.  If you decrease the oven temp to 350 degrees the done time will increase to between 60-75 minutes. The best way to tell when a potato is done is the internal temperature will have reached 210 degrees and it will be fork tender.
How to pop a potato
Using a fork run the length of the potato poking holes in a straight line .  Then make another short straight line down the center of the width of the potato.  Gently push the sides of the potato together to lightly fluff it up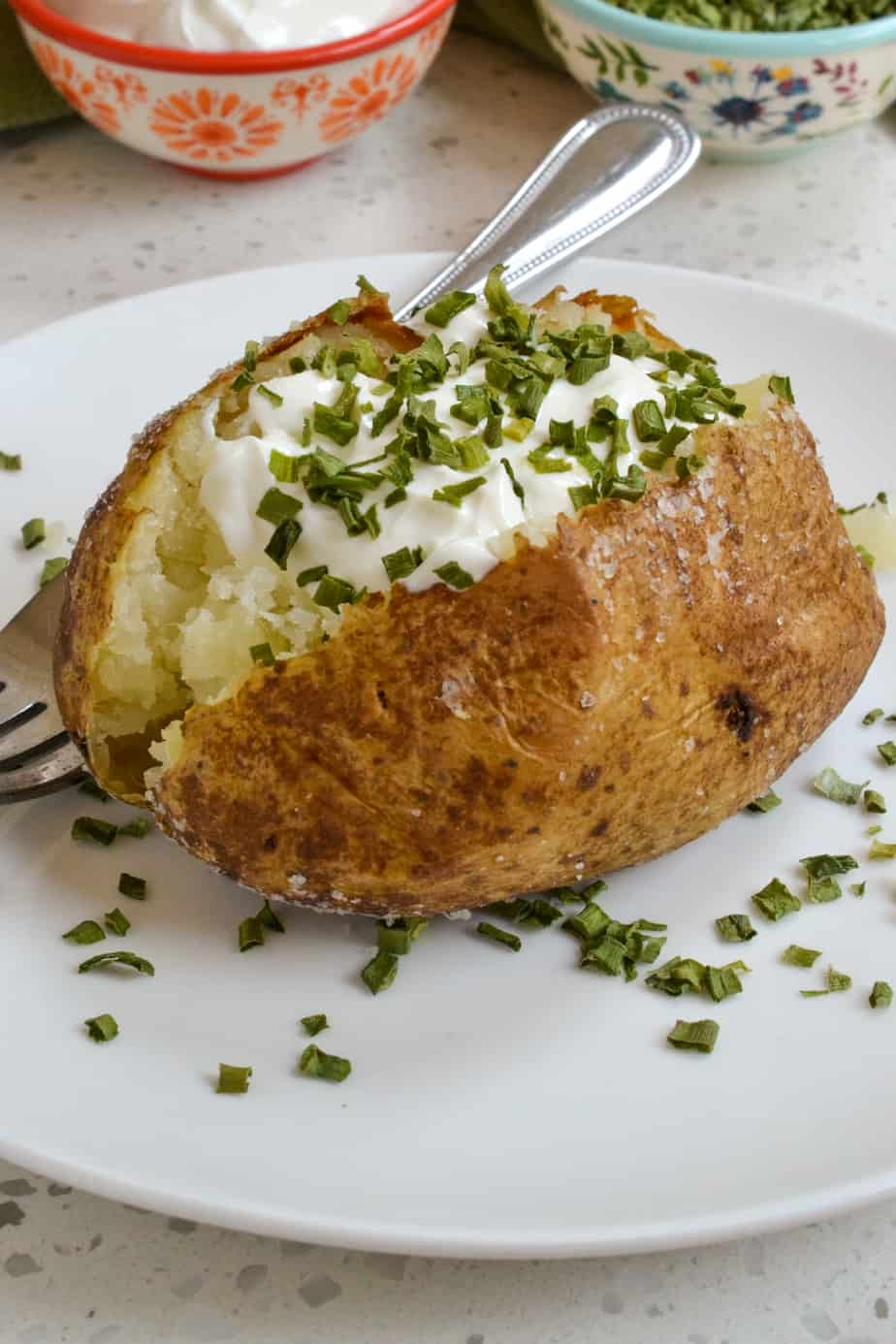 More potato recipes you will love!
Print
Oven Baked Potatoes
Restaurant style oven baked potatoes with crispy skins and fluffy light insides are so easy to make with simple pantry ingredients and a few easy tips.
Author:
Prep Time: 5 minutes
Cook Time: 50 minutes
Total Time: 55 minutes
Yield: 6 serving 1x
Category: side
Method: bake
Cuisine: American
6 medium russet potatoes
olive or vegetable oil
coarse sea salt
Instructions
Preheat oven to 400 degrees.
Wash and dry the potatoes thoroughly.  Prick them several times with the tines of a fork.  Rub with oil and generously with sea salt.
Carefully place right on the oven rack. Bake until fork tender or until the internal temperature reaches 210 degrees; approximately 45-60 minutes.
For best results serve promptly.  See directions above for popping potatoes.
Keywords: how long to bake potatoes in oven, how to make baked potatoes in the oven, baked potato oven temp, steakhouse baked potatoes
On the hunt for more delicious recipes?  Follow Small Town Woman on Facebook, Pinterest, and Instagram.
https://www.smalltownwoman.com/wp-content/uploads/2019/05/Beth-1.pdf