This scrumptious Peanut Butter Cake is a moist tender sheet cake topped with an easy creamy six ingredient peanut butter frosting. The end result is pure peanut butter nirvana and a true friend and family favorite. It stays fresh for days making it the perfect cake for potlucks and family reunions.
With the exception of my son my family just loves peanut butter.  I mean like we adore it.  Peanut Butter Banana Bread, Mini Peanut Butter Cheesecakes, Oatmeal Peanut Butter Cookies, and this recipe are just a few of our favorites.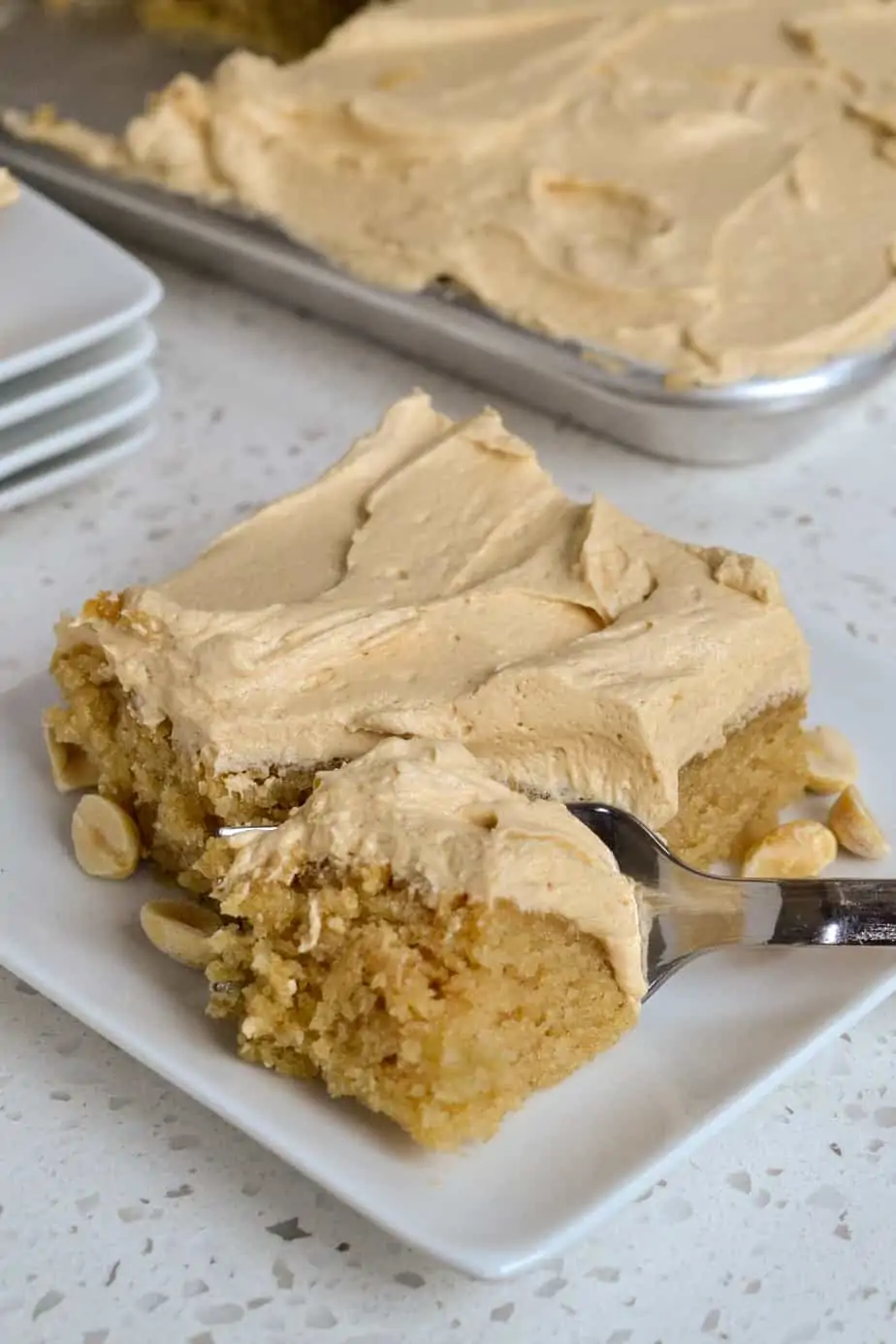 How to make Peanut Butter Cake
Start by whisking together the flour, sugar, baking soda, and salt. Then combine the water and butter in a saucepan.  Bring it to a simmer cooking just until the butter is melted.  Now remove from the heat and whisk in the peanut butter. Let it cool for several minutes. Then add the flour mixture to the saucepan and stir to roughly combine.  Now add the eggs, buttermilk, and vanilla stirring to combine.  Pour the batter into a greased and floured jelly roll pan. Bake until a toothpick inserted in the center comes out clean. 
Once the cake is full cooled use a mixer to beat the butter and peanut butter together until smooth and creamy. Then add the powdered sugar in four increments alternating with a little bit of milk.  Now beat in the vanilla and salt.  Finally spread the frosting on the fully cooled cake.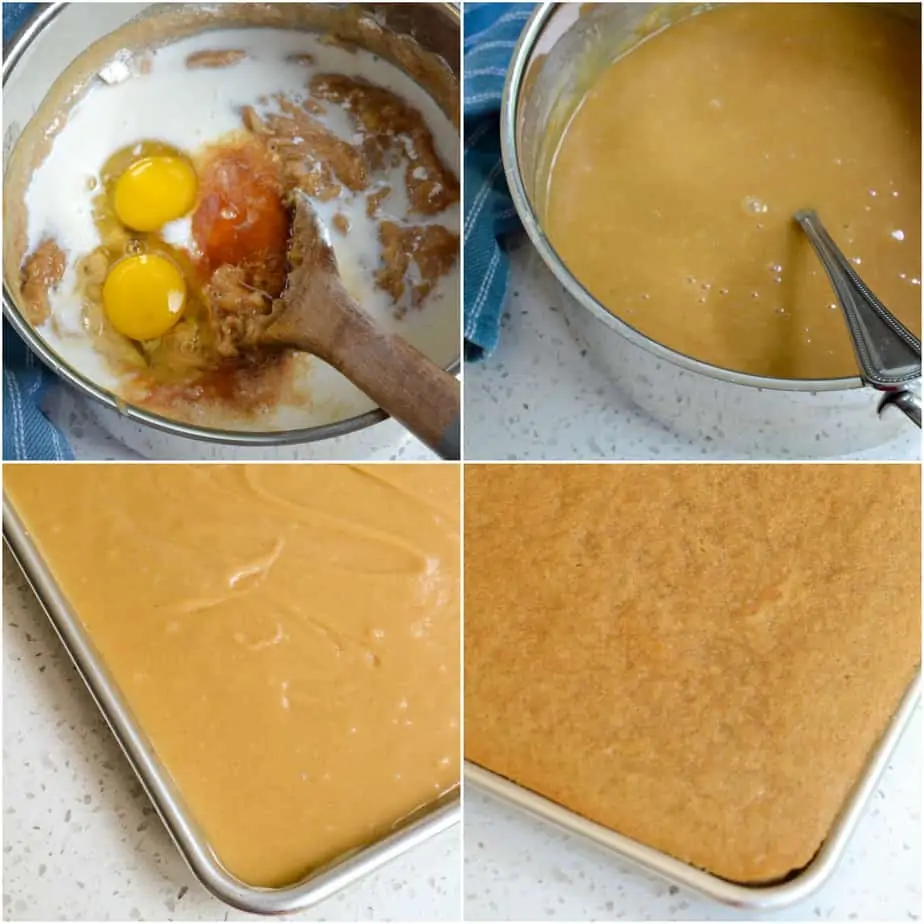 Recipe notes and helpful tips
You can also bake this cake in a 9×13 inch pan but baking time will increase to about 35-40 minutes.
Let the butter, peanut butter and water mixture cool for at least 10 minutes before proceeding with the rest of the cake so your eggs do not start cooking in the hot mixture.
Use the old fashioned peanut butter that does not separate.
Do not overbake the cake.  It is done when a toothpick inserted in the center comes out clean.
With the amount of milk in this frosting it is best to refrigerate the frosted cake.  Cover it well and refrigerate up to 4 days.
When baked in a jelly roll pan this cake feeds about 20. So it is the perfect dessert for potlucks and family reunions.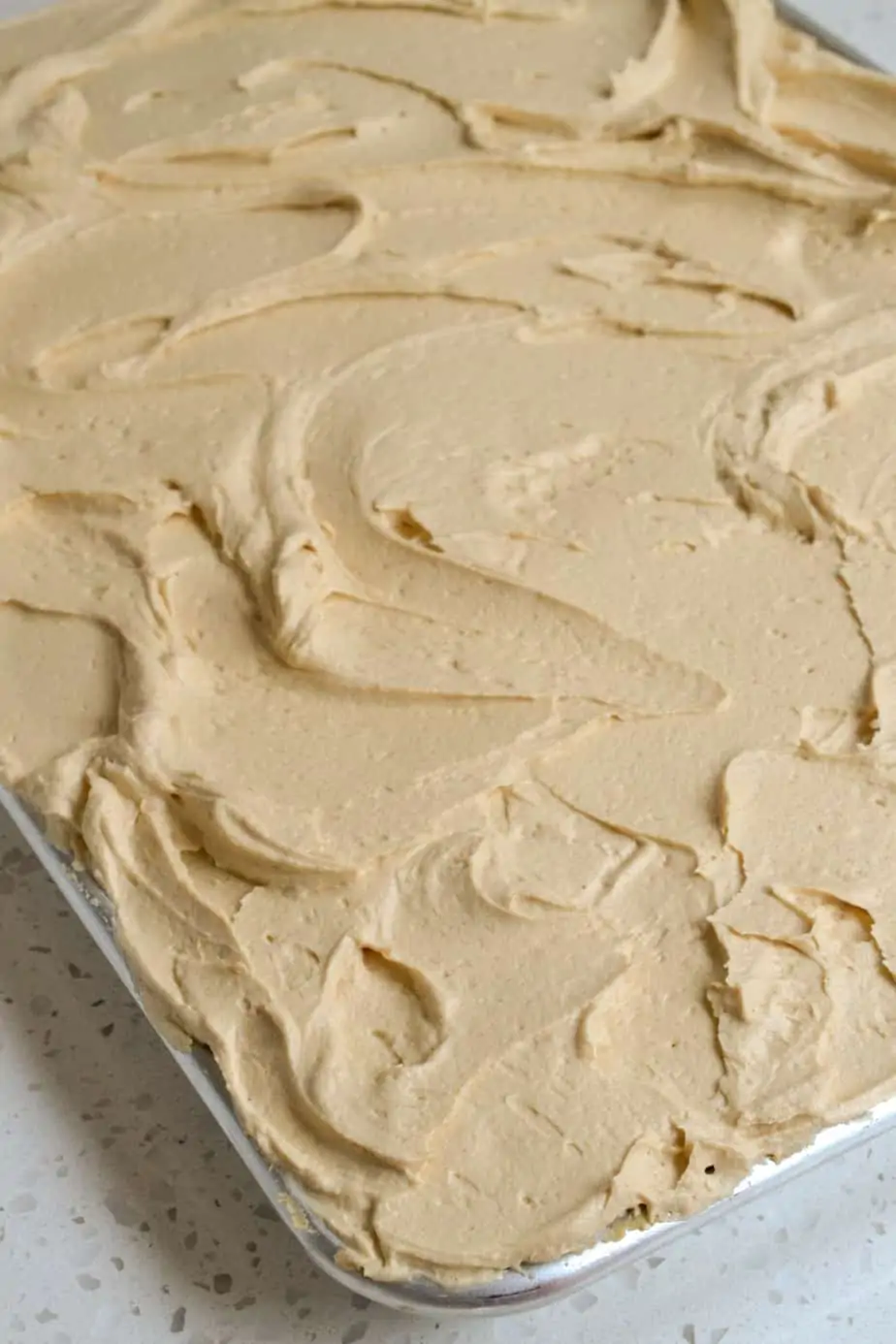 How to freeze frosted sheet cakes
Sometimes you just have to bake some of your goodies ahead of time.  Perhaps you are throwing a big shindig and you just can't do it all at the last minute.  This cake is best flash frozen so that you don't crush all the goodness of the icing when wrapping it.  To flash freeze place the fully frosted cake (pan and all) carefully in the freezer.  It will take about 4-5 hours to freeze.  Once frozen double wrap in plastic wrap with a layer of aluminum foil over the wrap.  Freeze for up to 3 months.  When ready to thaw place in the refrigerator for about 24 hours.  Carefully remove the wrap without pressing down on the top of the cake.  Remember not to stack anything on top of it in the refrigerator.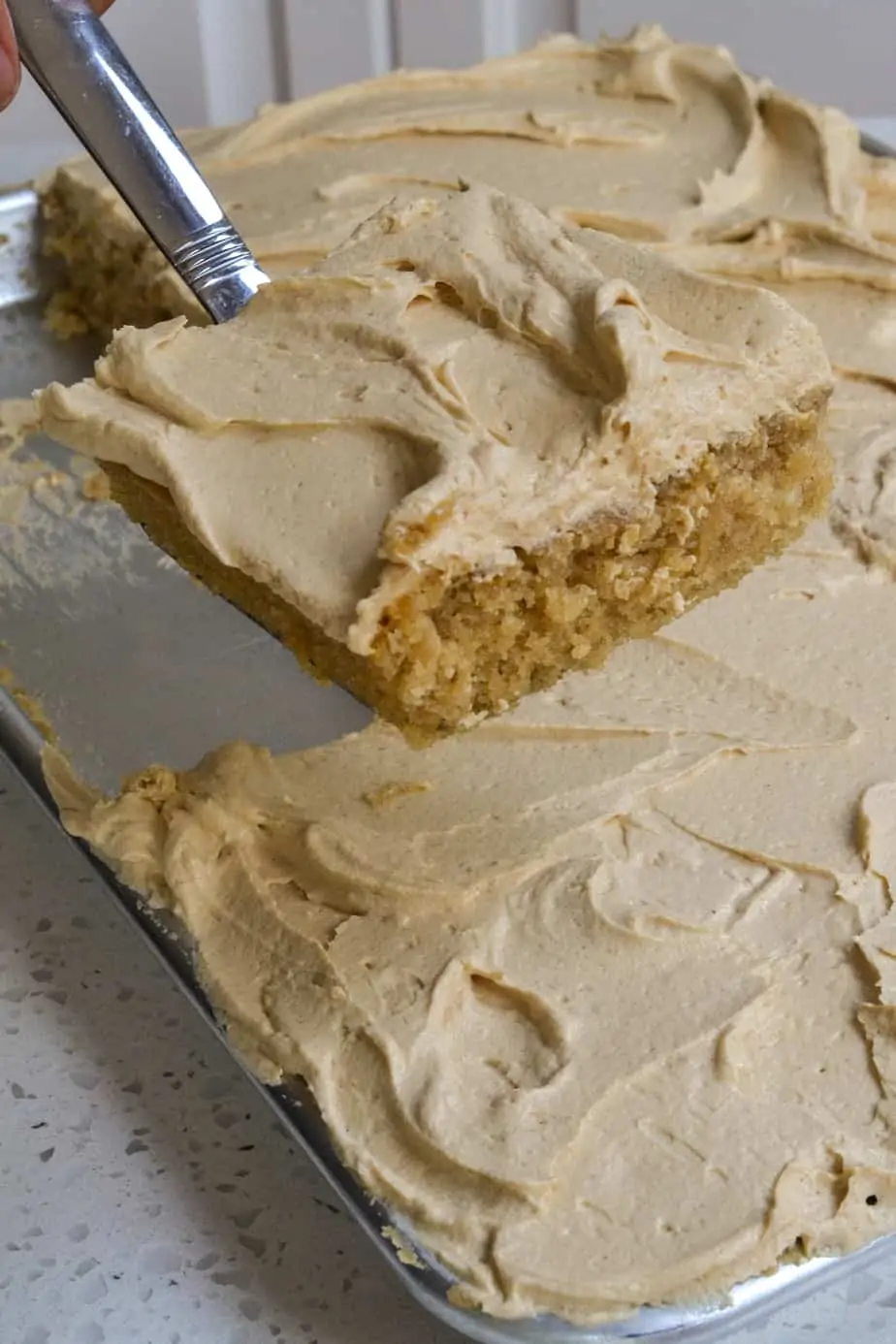 Other cakes you will love!
Print
Peanut Butter Cake
A delicious moist and easy Peanut Butter Cake with a luxuriously creamy peanut butter frosting.  This is the ultimate peanut butter lovers dessert and a must make.
Author:
Prep Time: 25 minutes
Cook Time: 25 minutes
Total Time: 50 minutes
Yield: 20 serving 1x
Category: dessert
Method: baked
Cuisine: American
Peanut Butter Cake
2 cups flour
2 cups granulated sugar
1 teaspoon baking soda
¼ teaspoon salt
3/4 cup water
10 tablespoons butter
¾ cup creamy peanut butter
2 eggs
3/4 cup buttermilk
1 1/2 teaspoons vanilla extract
Peanut Butter Frosting
12 tablespoons butter
1 cup creamy peanut butter
2 cups powdered sugar
¼ cup milk
1 teaspoon vanilla
¼ teaspoon salt
Instructions
Preheat the oven to 350 degrees.  Grease and flour a 15×10 inch jelly roll pan.
In a large bowl whisk together flour, sugar, baking soda, and salt. 
Combine water and butter in a large saucepan and heat until the butter melts.  Make sure the saucepan is large enough to mix a cake in. Whisk in the peanut butter until smooth. Remove from the heat and let cool for 10-15 minutes stirring several times. 
Stir the dry mixture into the wet mixture just enough to get it started.  Add the eggs, buttermilk, and vanilla.  Stir just enough to combine.  Pour into the prepared pan and bake for 24-28 minutes or until a toothpick inserted in the center comes out clean.  Remove to a cooling rack and fully cool before preparing the frosting.
Cream butter and peanut butter until smooth and creamy. Add the powdered sugar in 1/2 cup increments alternating with 1 tablespoon of milk while continuing to beat on medium speed.  Beat in the vanilla and salt.  Continue beating for about 3-4 minutes or until the frosting is smooth and fluffy.
Frost the fully cooled cake.
Keywords: how to make a peanut butter cake, peanut butter sheet cake, peanut cake
On the hunt for more delicious recipes?  Follow Small Town Woman on Facebook, Pinterest, and Instagram.
https://www.smalltownwoman.com/wp-content/uploads/2019/05/Beth-1.pdf