Earthquake Cake is a fun cake that combines a box cake mix with coconut, pecans and a cream cheese filling.  Once baked the cakes has crevices and cracks like a cake that has literally been through an earthquake.  The end result is an ooey gooey scrumptiously moist chocolate cake with pockets of cream cheese, pecans and coconut.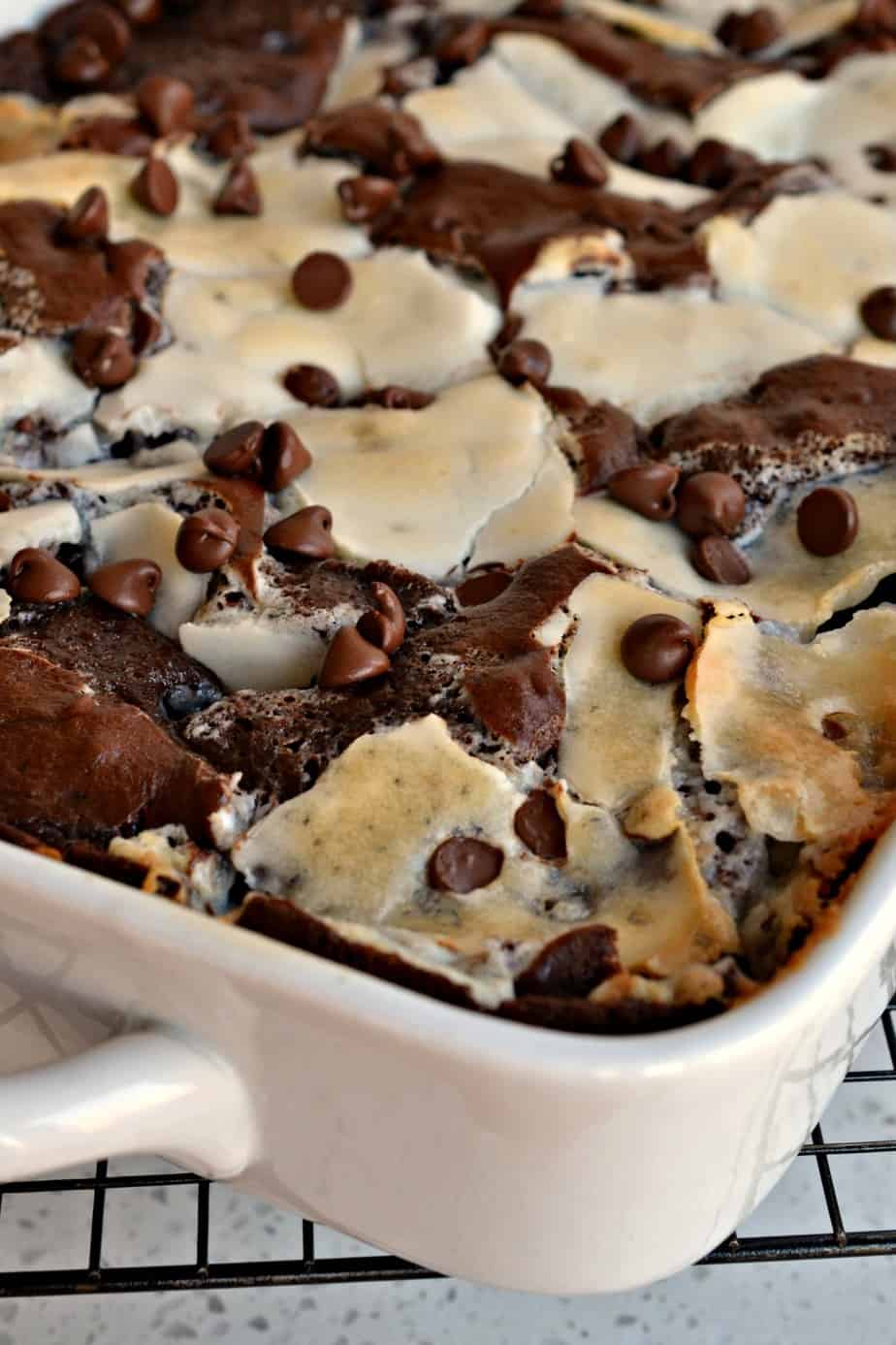 This moist chocolate taste explosion is one of our family's favorite cakes.  It is so easy to make and such fun as it really does kind of look like an earthquake.  I love to prepare it for potlucks, family gatherings and neighborhood shindigs.  This rich cake serves between twelve to sixteen so it is perfect for small parties with other sweet treats.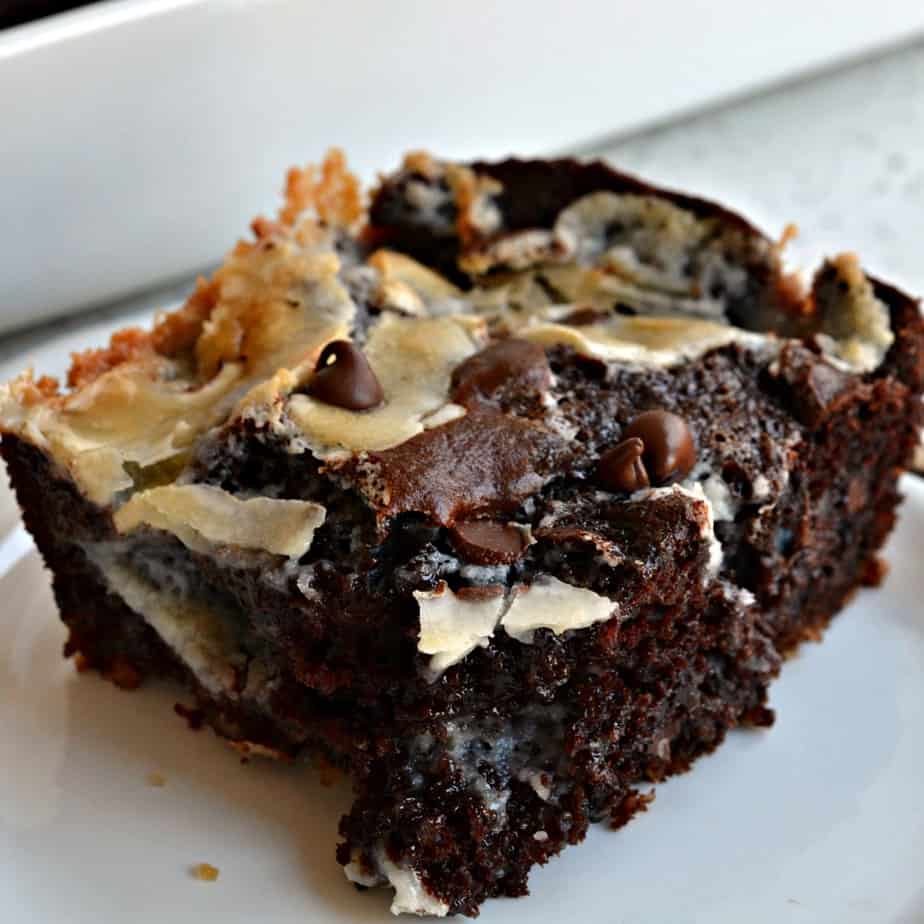 How do you make Earthquake Cake?
Start by spraying a large deep 9×13 inch baking dish with nonstick baking spray. Next sprinkle the chopped pecans and coconut flakes evenly in the bottom of the dish. Prepare the cake mix according to the instructions on the box.  Sprinkle a little less than a cup of chocolate chips with a little bit of cooking oil and stir to coat. Now add a little flour and stir to coat again.  Stir the chips in to the cake mix and spoon the cake mix onto the pecans and coconuts.
Using a mixer blend the cream cheese until smooth and lump free.  Slowly add the melted slightly cooled butter and blend until smooth.  Now add the powdered sugar one cup at a time and blend until smooth and creamy scraping down the bowl and beaters several times.
Now drop the cream cheese mixture by rounded tablespoons on to the chocolate cake batter. It does not need to be perfect or uniform. It should be kind of crazy and random as this is such a fun cake.  Sprinkle a little bit of chocolate chips on the top and bake for about forty minutes.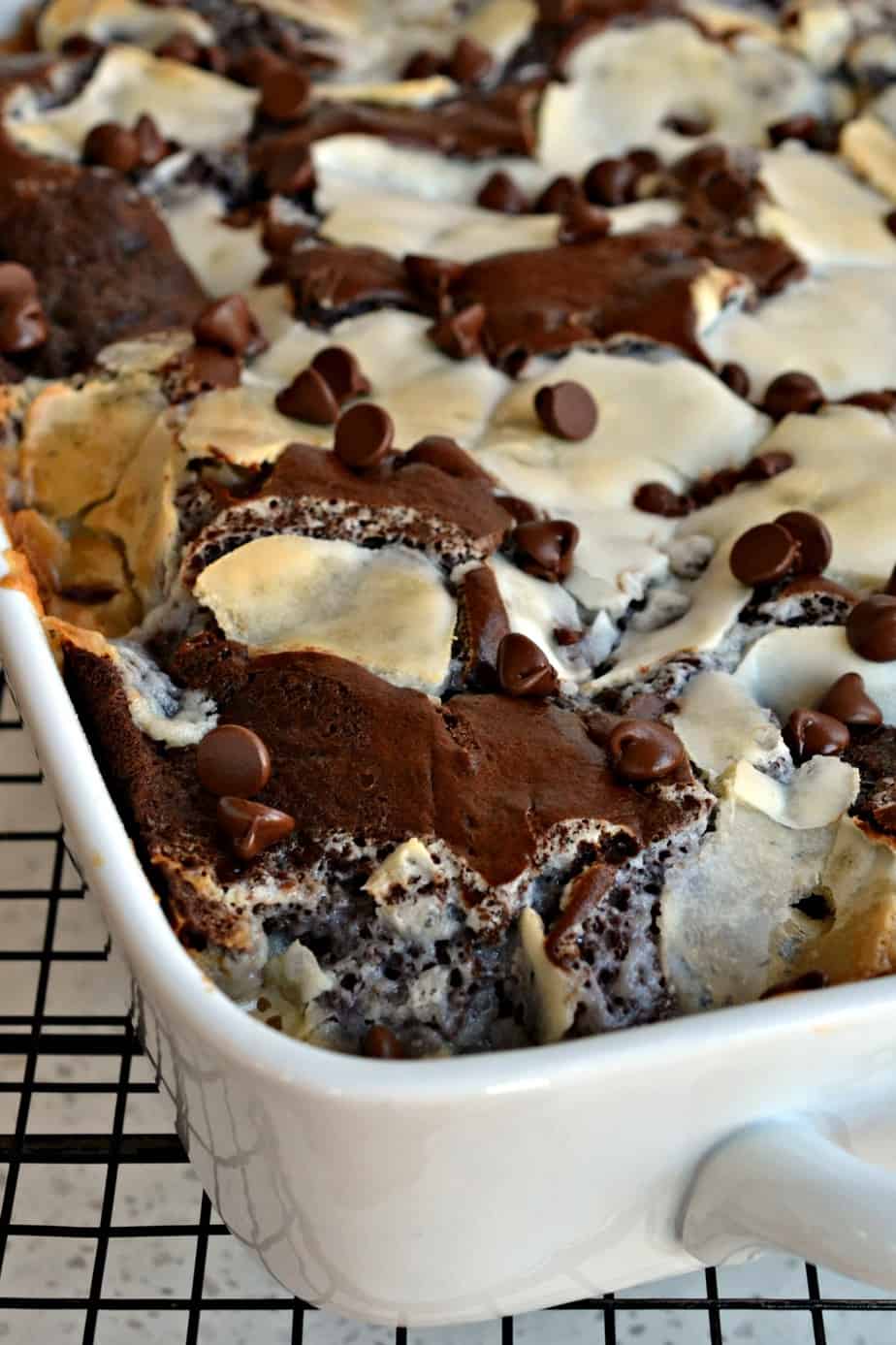 Helpful tips for Earthquake Cake
Preheat the oven and load the cake on the middle rack in the center of the oven.
Use a deep 13×9 inch baking dish so that there is no overflow.  The pan I use is 2 1/2 inches deep.
This fun cake ends up looking like a hot mess which is part of it's charm.  Do not worry too much about perfection with this cake.
You can use any chocolate cake mix.  This time I used Devil's Food but you can use German Chocolate or Chocolate Fudge.
The cake is done when the chocolate cake batter in the center appears to be set and springs back a little bit when it is touched.  This is usually right around 40 minutes. The toothpick test will not work on this cake because of the gooey cream cheese sections.
This cake is absolutely over the top served warm so plan accordingly if at all possible.
As this cake contains cream cheese err on the side of caution and refrigerate leftovers.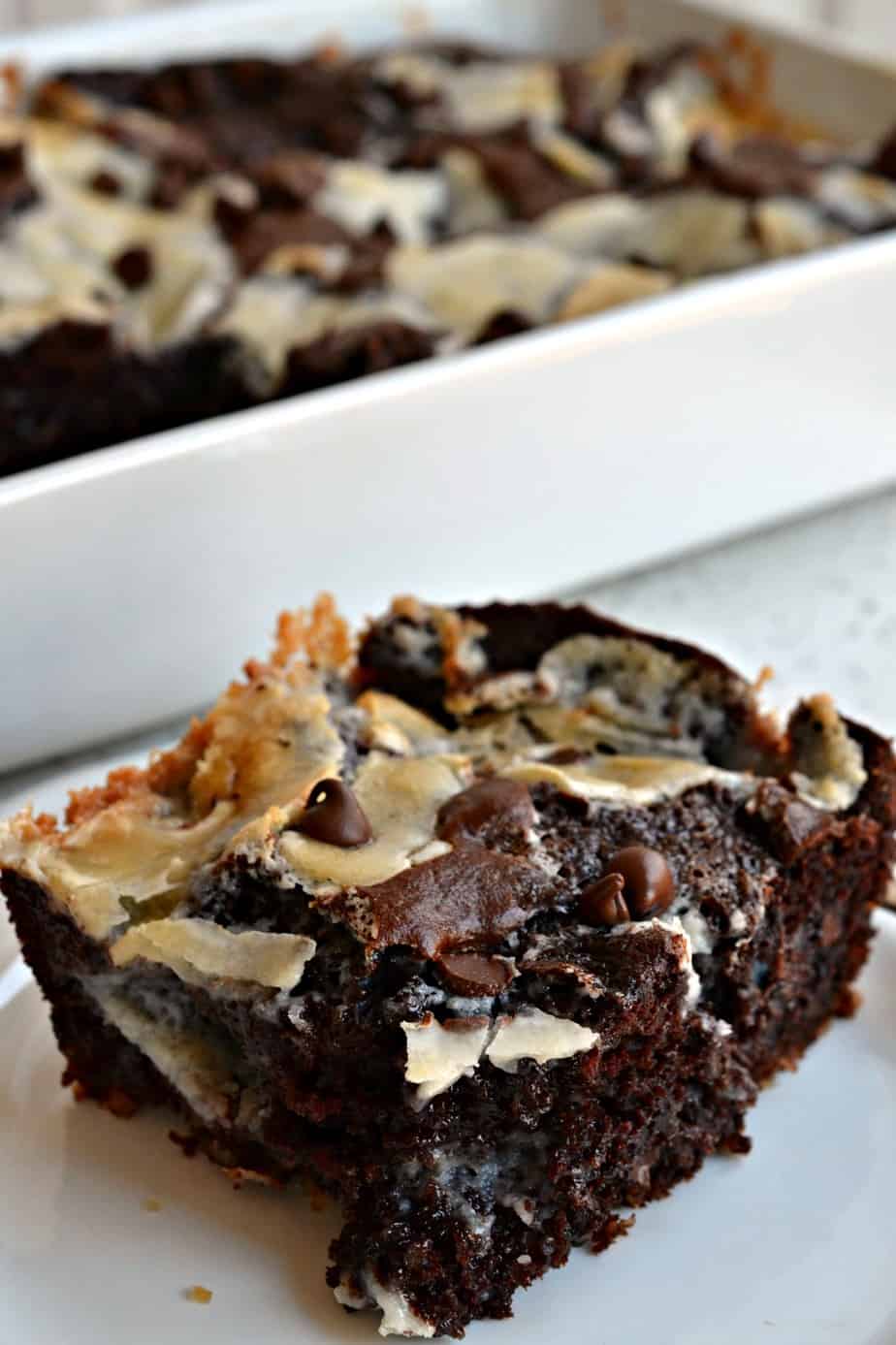 What cake mixes can you use for Earthquake Cake?
Dark Chocolate Fudge
Devil's Food
German Chocolate
Triple Chocolate Fudge
Swiss Chocolate
Double Chocolate
Dark Chocolate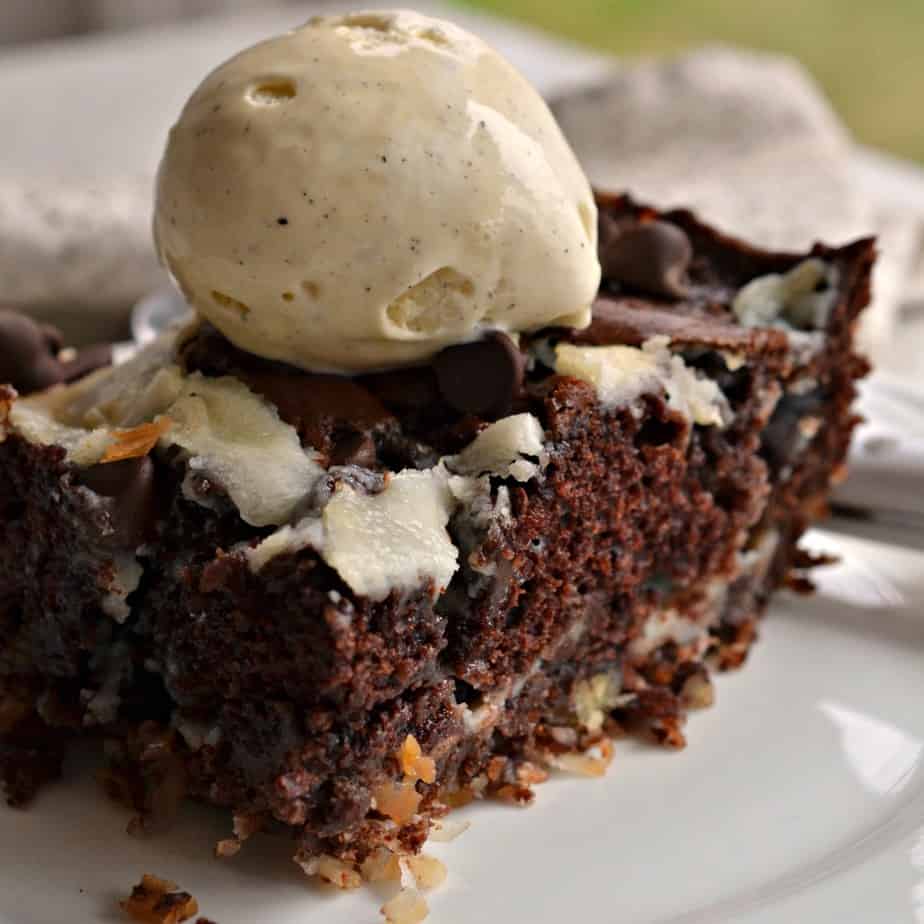 More chocolate recipes you will love
This post was originally published June 7, 2015 and was republished March 10, 2020 with new content.
Print
Earthquake Cake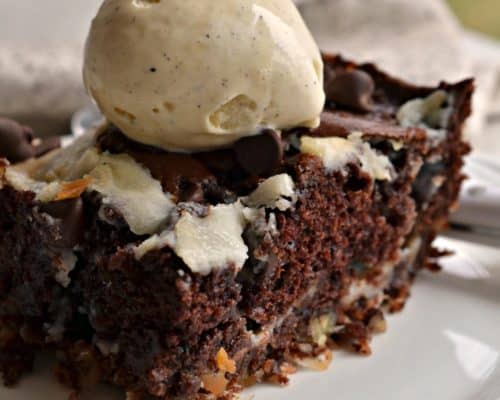 A fun and easy cake recipe with pecans, coconut and pockets of sweetened cream cheese. This family friendly sweet treat has craters and crevices that give it that unique name.
Author:
Prep Time: 10 minutes
Cook Time: 40 minutes
Total Time: 50 minutes
Yield: 16 servings 1x
Category: dessert
Method: bake
Cuisine: American
Scale
Ingredients
1 1/2 cups chopped pecan
1 1/2 cups sweetened coconut flakes
1 box chocolate cake mix
Eggs, oil and water according to cake mix package
1 1/4 cups chocolate chips
1 teaspoon canola oil
1/2 tablespoon flour
1/2 cup butter
1 (8 ounce) package cream cheese softened to room temperature
3 cups powdered sugar
Instructions
Preheat oven to 350 degrees. Spray deep 9×13 inch pan with nonstick baking spray. Evenly sprinkle pecans and coconut in the bottom of the pan.
Mix the cake according to box instructions with egg, vegetable oil and water. In small bowl mix 3/4 cup chocolate chips with canola oil. Sprinkle with flour and stir to combine. Stir the chocolate chips in to the cake mix and spoon in the baking dish over the pecans and coconut.
Melt the butter in the microwave and let it cool slightly. Using a mixer beat cream cheese until sooth and lump free.  Slowly add the melted butter and beat until smooth.   Add the powdered sugar 1 cup at a time and mix until smooth. Drop the cream cheese mixture by rounded tablespoons randomly over the top of the cake.  Sprinkle the remaining chocolate chips over the top.
Bake for 40 minutes or just until the chocolate cake portion is just set.
Notes
The toothpick test will not work on this cake as it is a gooey cake.
Keywords: party cake, chocolate earthquake cake, how to make earthquake cake, what cake mixes can you use for earthquake cake, earthquake cake ingredients, almond joy earthquake cake, best earthquake cake recipe
https://www.smalltownwoman.com/wp-content/uploads/2019/05/Beth-1.pdf