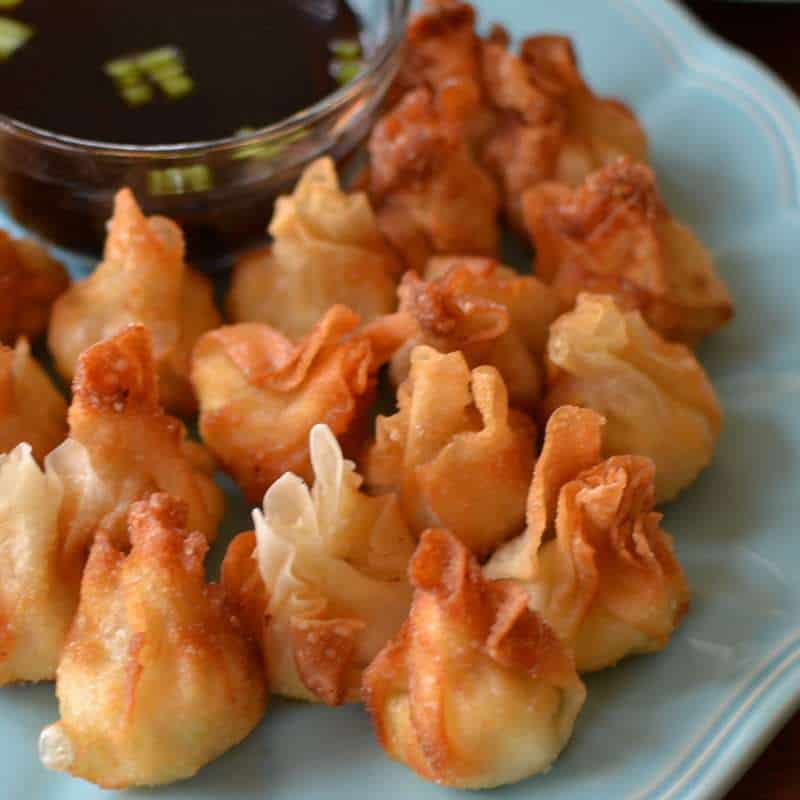 Well the entertaining season is upon us and there are so many things to get done at one time.  No worries with easy delicious recipes like this you can get it all done.  As a matter of fact these Pepper Jack Chicken Cream Cheese Wontons are so simple your tween could help you with them.  You can prepare the filling ahead of time and with a simple 30 second lesson your tween or teen would be an expert wonton stuffer.  Then you can keep multitasking all the while congratulating them on hitting yet another accomplishment in their life.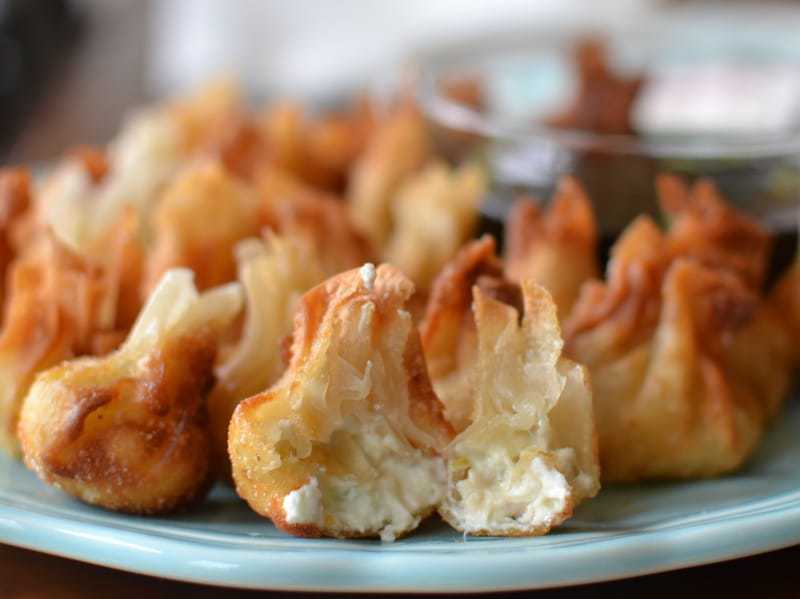 Now don't confuse these warm crunchy beauties with crab rangoon!  Which of course are absolutely delish. These bite size crispy treats are filled with cream cheese, chicken, Pepper Jack and a perfect blend of spices.   They are a little more economical as chicken is a lot less costly than crab meat.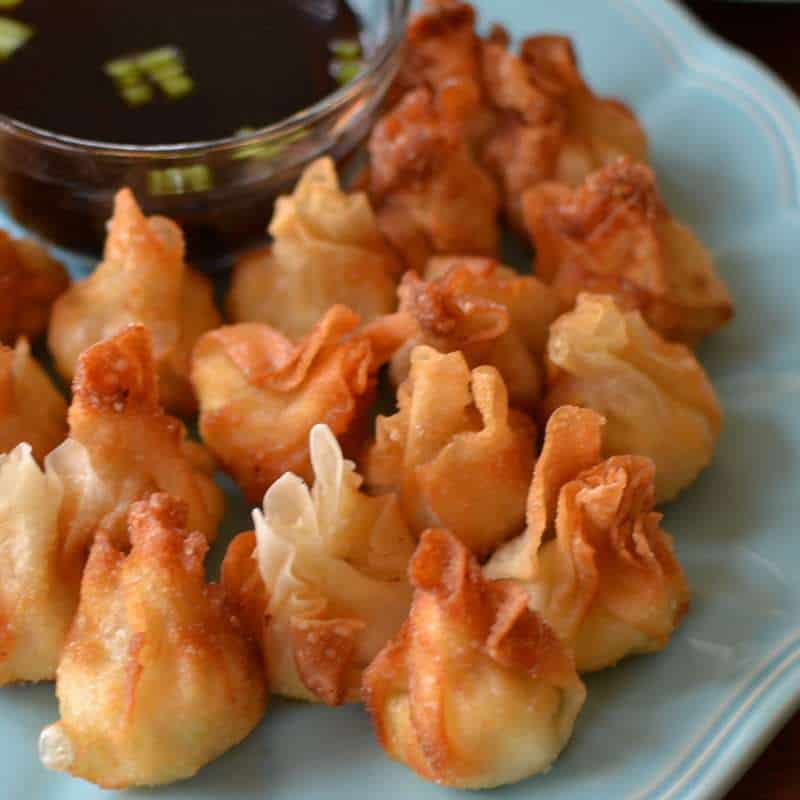 You don't even have to break out the deep fryer.  These Pepper Jack Chicken Cream Cheese Wontons are petite enough that about one inch of oil in a heavy stockpot will suffice.  You will need to devote your complete attention when frying them so they don't burn but they fry up golden brown in less than a minute.  You can serve them with my Asian Dipping Sauce or spicy mustard.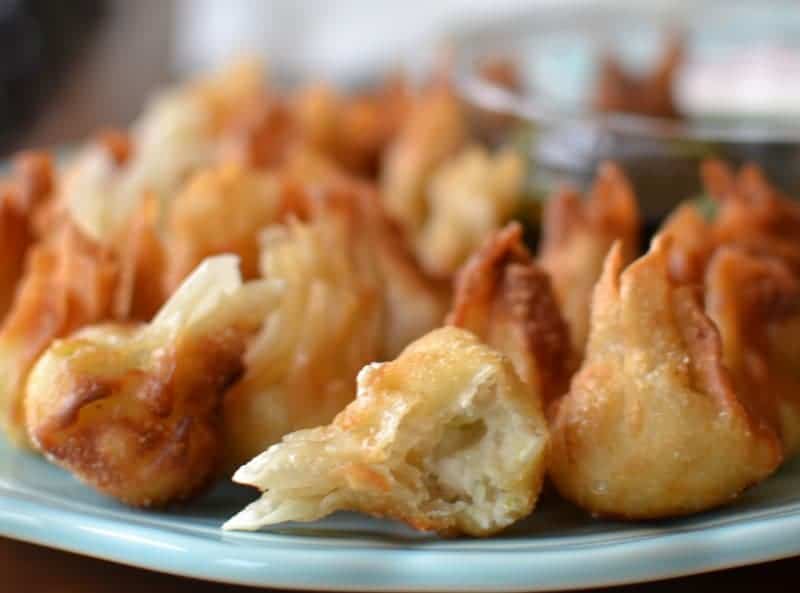 So don't fret my friends entertaining can be done in a jiffy and you will be so glad that you got to see your friends and family!!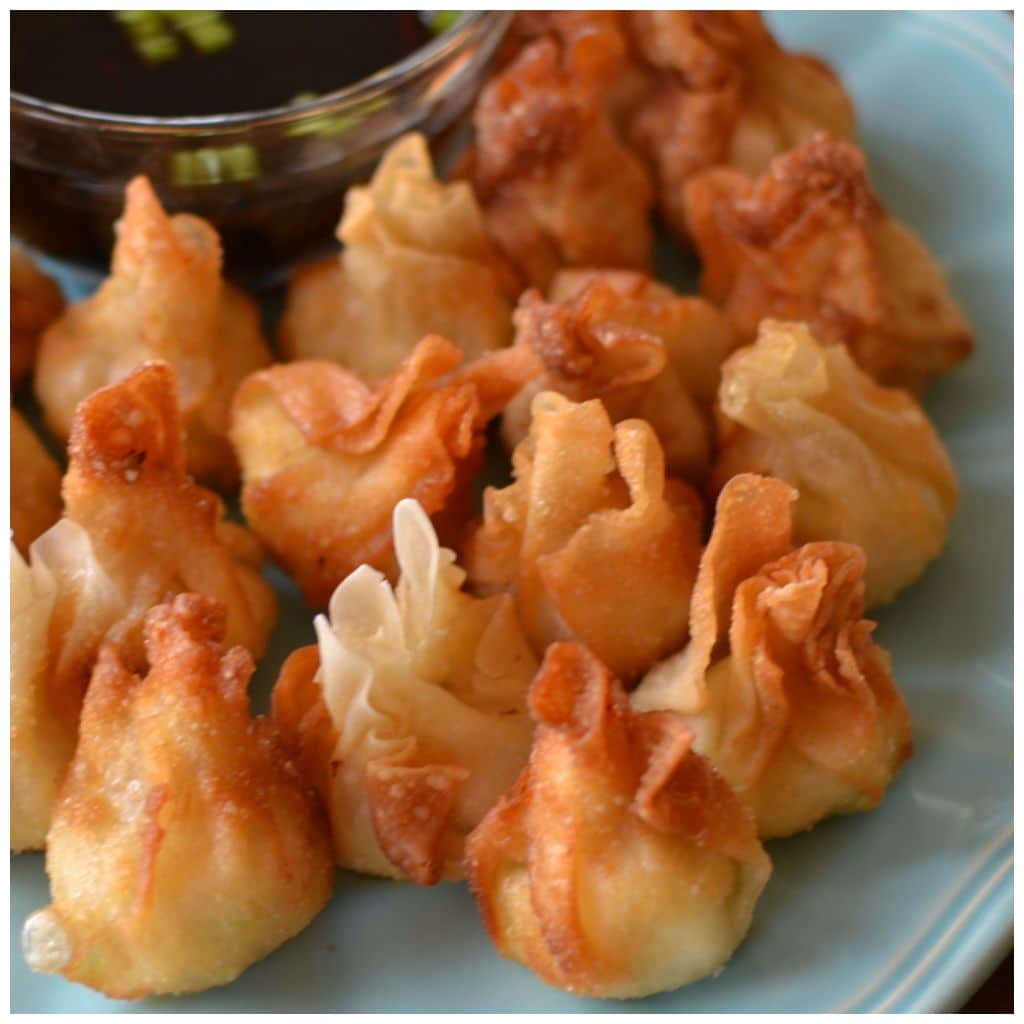 Print
Pepper Jack Chicken Cream Cheese Wontons
Ingredients
8 ounces cream cheese (1 box)
1 1/2 cups Pepper Jack cheese grated
1/2 teaspoon garlic powder
1/2 teaspoon onion powder
4 green onions sliced
1 cup finely diced COOKED chicken
1 package wonton wrappers (12 ounce)
Vegetable oil
3 tablespoons low sodium soy sauce
1 tablespoon water
2 tablespoons mirin
1/8 teaspoon sesame oil
Instructions
In large food processor add cream cheese, Pepper Jack, garlic powder, onion powder, green onions and cooked chicken. Pulse just a few times; just enough to combine.
Place heaping teaspoon in the center of each wonton and pull up sides and pinch. Lightly moisten fingers with cold water and pinch again. Press down gently on plate to get their bottoms flat (so they will stand up). Keep extra wontons skins covered with lighlty moistened paper towel while you work. Repeat until all wontons are full. Cover filled wontons with lightly moistened paper towel while you are working and heating the oil. .
Heat about 1 inch of vegetable oil to 350 – 375 degrees in a heavy skillet. Working in small batches fry until golden brown; less than 1 minute. Use tongs to brown on both sides if they fall over. Drain on paper towels.
In small bowl mix soy sauce, water, mirin and sesame oil. Serve warm wontons with sauce.