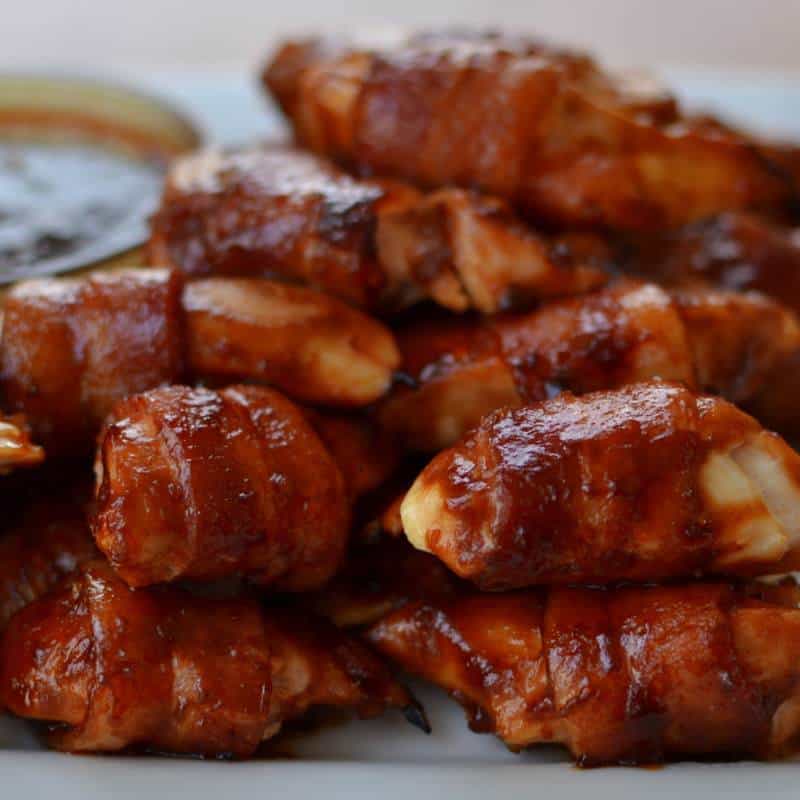 Oh my gosh it has turned so cold here. This morning when hubby and I took a walk it was about five degrees. It was so cold that we had to take the dog back home after about fifteen minutes. Her paws were just too cold. Hubby ended up carrying her back home. Now for all you crazy dog lovers we tried to leave her back at the house but Marshmallow would have no part of it. Beagles always want to be with their people. My son let her out because she was scratching at the door. Being so cold it seemed like a good day to stay in and cook. These Sweet Bacon Wrapped Chicken Bites turned out amazing! The whole family liked them so much that Marshmallow was not able to partake of any.

MY LATEST VIDEOS
Have you tried any of my other wonderful appetizer recipes? Are you entertaining for the New Year or planning a special romantic dinner for two for Valentines Day? Pepper Jack Chicken Cream Cheese Wontons, Crab Rangoon Egg Rolls and Pepper Jack Almond and Pecan Mini Cheese Balls are some of our party favorites.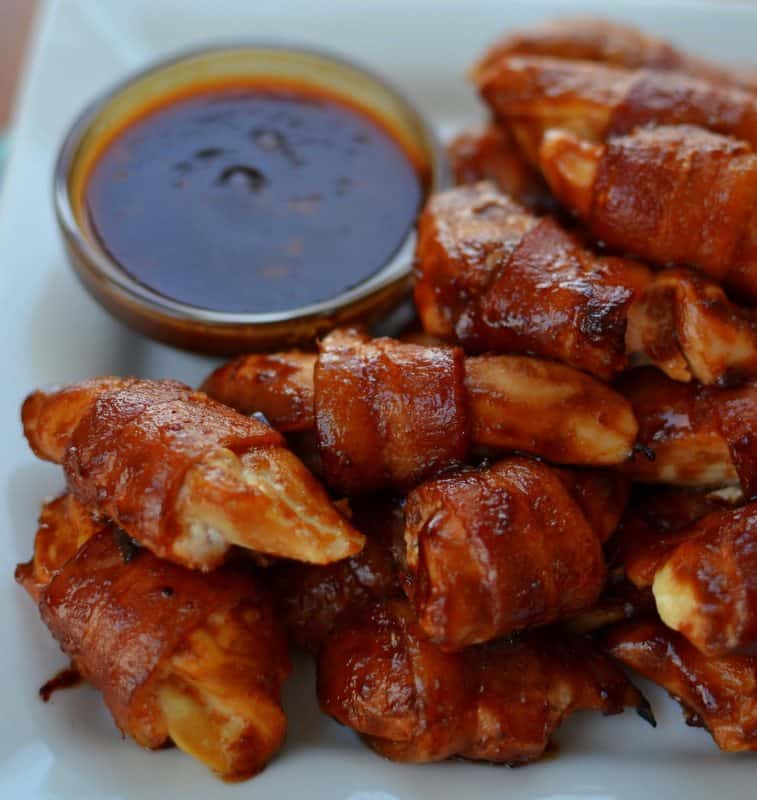 These Sweet Bacon Wrapped Chicken Bites are small pieces of chicken rolled in bacon and basted with a sweet and spicy glaze. They are quick to come together and the glaze can be prepared ahead of time. You can simmer the glaze in a small saucepan or just whisk it all together. The preference is all yours. The chicken stays so juicy wrapped in bacon and sauce is lip smacking good. The bacon seemed to cling to the chicken so tooth picks were not necessary. I just put the open end of the bacon flat down on the cookie sheet so it would stay until it cooked up a bit.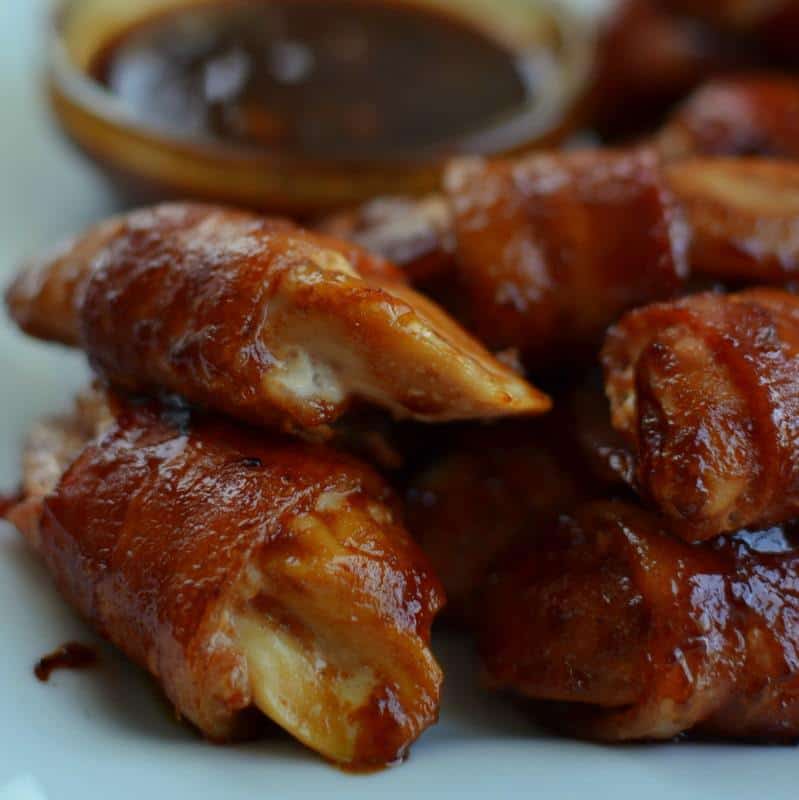 So if you like chicken and bacon coated in a sweet and slightly spicy sauce then these Sweet Bacon Wrapped Chicken Bites are for you! Whip up a batch for you and your loved ones today.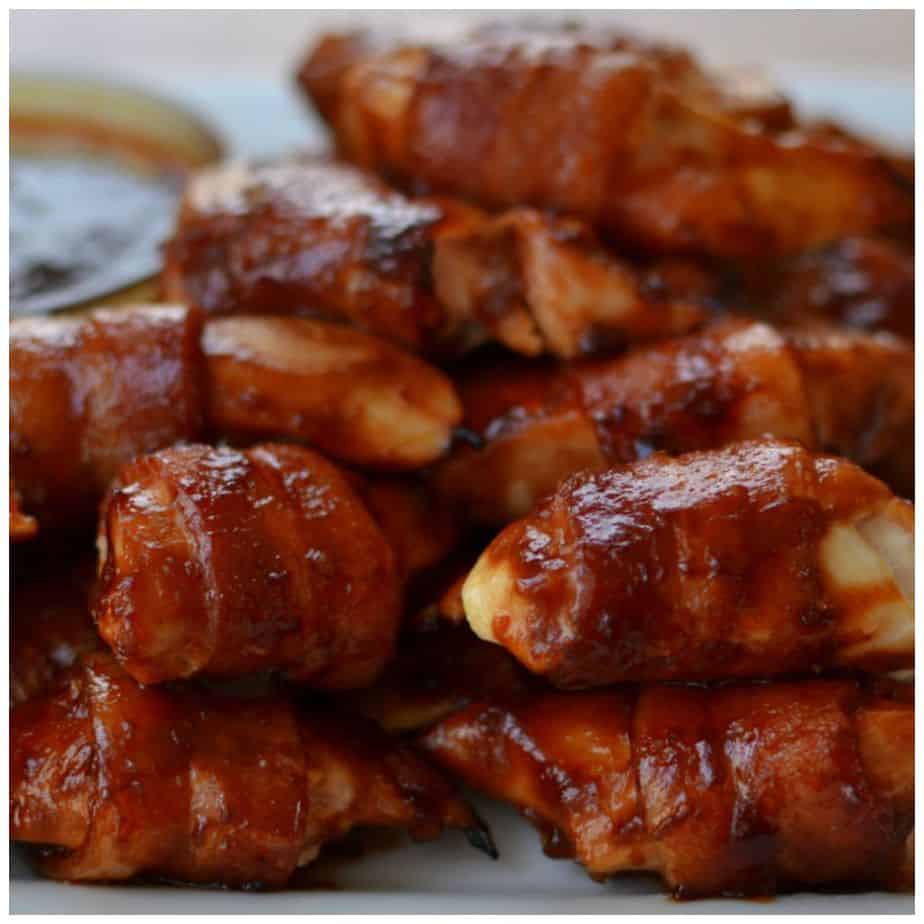 Sweet Bacon Wrapped Chicken Bites
Ingredients
1/4 cup low sodium soy sauce
1/4 cup water
2 tablespoons brown sugar
1-2 teaspoons of sriracha (see notes below)
2 tablespoons Worcestershire sauce
1 tablespoon fresh ginger
2/3 cup ketchup
3 cloves garlic finely minced
2 large chicken breasts (approximately 1 1/2 lbs)
1 lb bacon cut into 1/3's
Instructions
In small saucepan combine soy sauce, water, brown sugar, sriracha, Worcestershire sauce, ginger, ketchup and garlic. Simmer while you prepare the chicken. Set a small amount of sauce off to the side for dipping.
Preheat oven to 350 degrees. Cover two large cookie sheets with aluminum foil and spray the aluminum foil lightly with nonstick cooking spray.
Cut chicken into bite size pieces. I like to cut mine into almost mini tender shape. Wrap one slice of bacon around each tender and place seem side down on the cookie sheet. Continue wrapping until all the chicken is wrapped in bacon.
Bake 25-30 minutes basting every 8-10 minutes with the sauce. Turn broiler on the last 1-2 minutes of baking. Stay close by when the broiler is on. They cook quickly and are very unpredictable. Rotate the baking sheets in the oven so each one has a chance under the broiler.
Serve with the extra dipping sauce.
Notes
Sriracha is hot chili sauce found in the Asian food section of your grocery store. You should add a little at a time till you get it to your taste. I have readers that will add 1/2 teaspoon and think it is hot and I have some that will add 4 teaspoons and think nothing of it. Everyone has different heat tolerances.
I use ginger paste in place of the ginger. It is less expensive and its shelf life is a little longer.
Other chicken recipes you will love!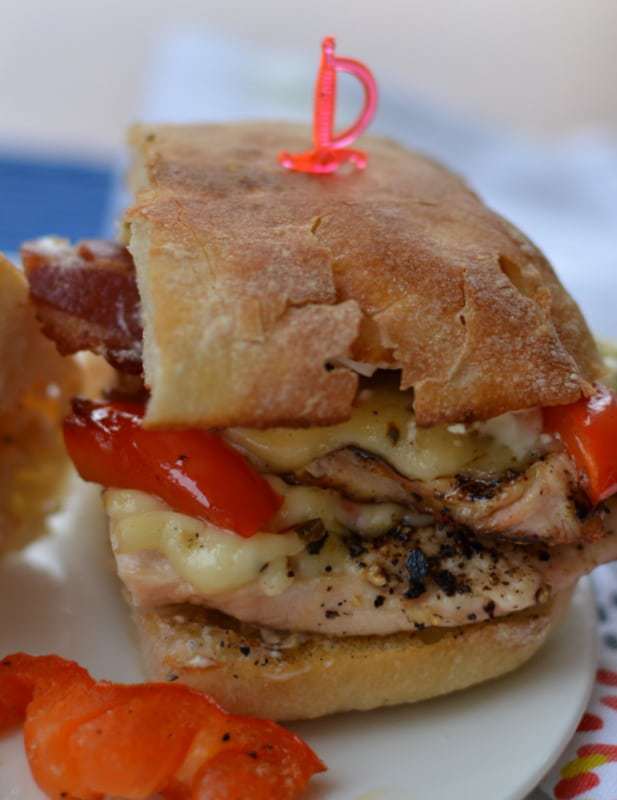 Grilled Chicken Bacon Pepper Jack Ciabatta