These scrumptious and adorable moist cinnamon pumpkin cupcakes are topped with an easy four ingredient cream cheese frosting.  Fall never tasted so good.  I love to bring these to potlucks, family reunions, and neighborhood socials. They are the perfect individually proportioned sweet treat.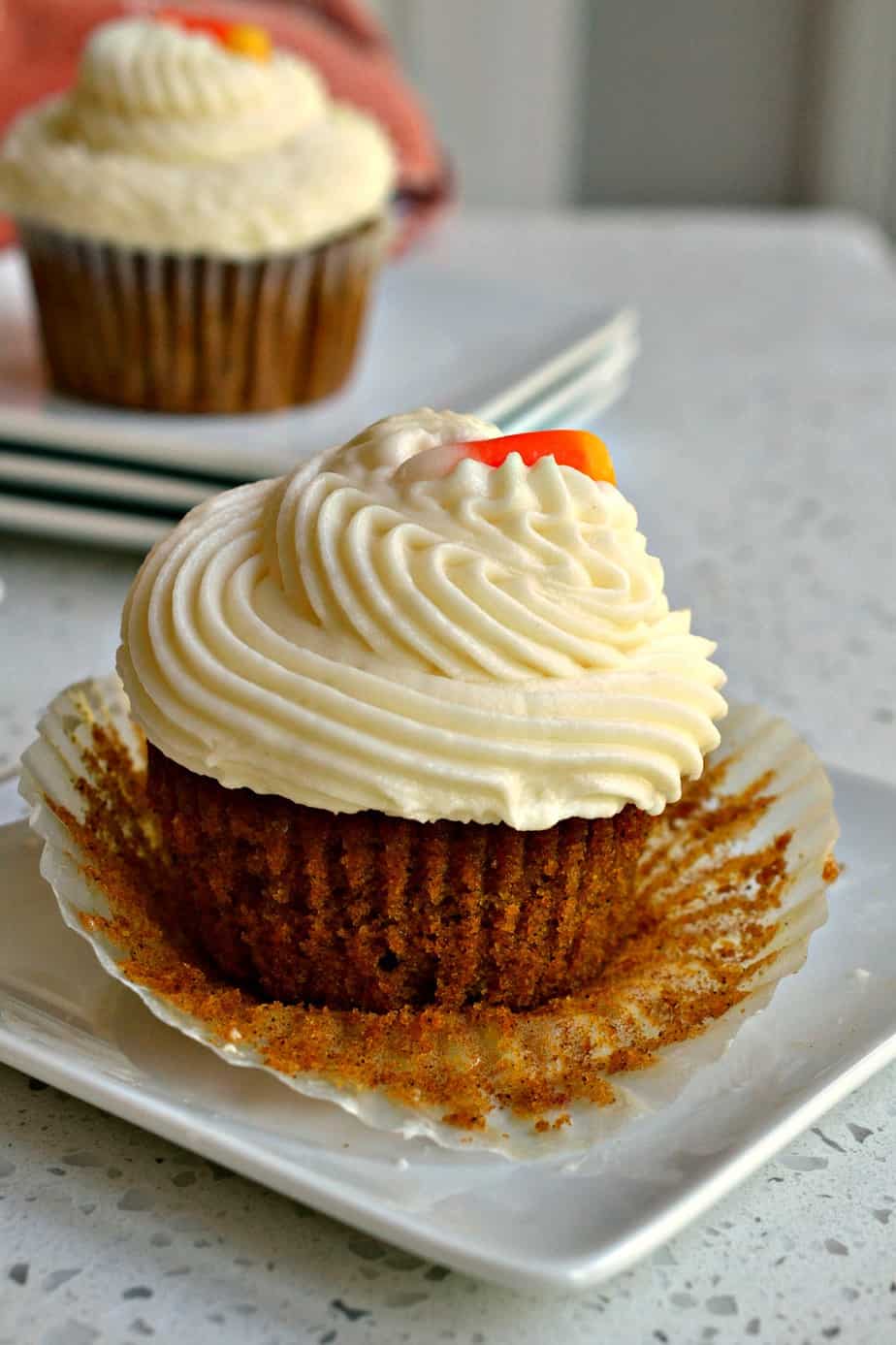 If your family is anything like mine than they just love pumpkin desserts.  These sweet cupcakes dressed with candy corn are no exception to that rule.  The kids and hubby just love the moist pumpkin cake layered with a smooth whipped cream cheese frosting.  Do you have a favorite pumpkin dessert?  This recipe, Pumpkin Dump Cake, Pumpkin Cake with Cream Cheese Filling, and Pumpkin Chocolate Chip Cookies are just a few of our favorites.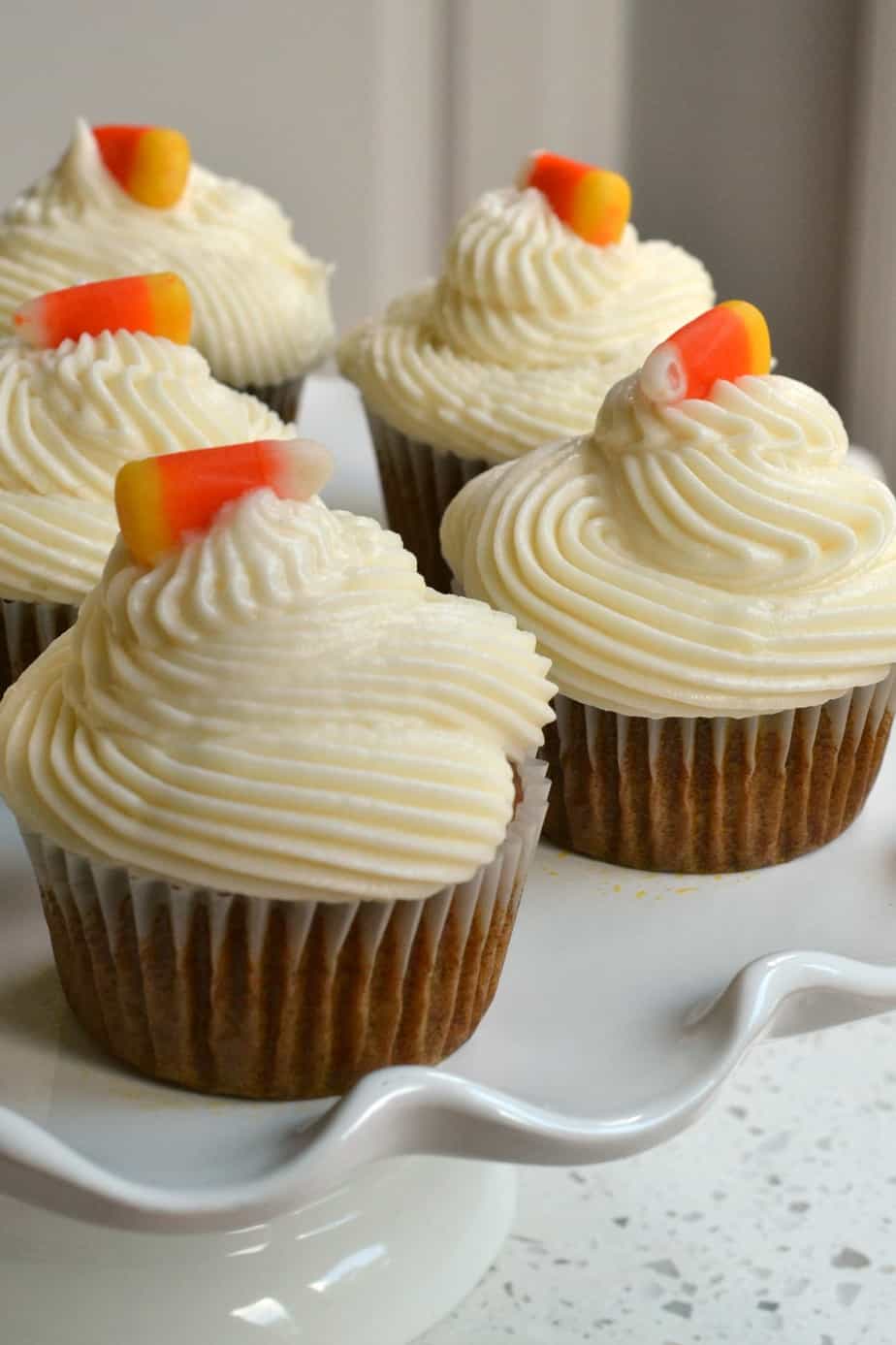 How to make Pumpkin Cupcakes with Cream Cheese Frosting
Start by whisking together the flour, baking powder, baking soda, salt, cinnamon and pumpkin pie spice in a medium bowl.  Now in a separate medium bowl whisk together the pumpkin puree, vegetable oil, eggs, brown sugar and vanilla.   Next mix the dry ingredients into the wet ingredients in several intervals mixing just until incorporated.  Divide the batter evenly into a muffin tin with cupcake liners.  Bake in a preheated oven for about 20 minutes. Let the cupcakes fully cool before frosting.
Next using a stand mixer with paddle attachment or hand mixer beat your cream cheese and butter until smooth and creamy.  Then add the vanilla and powdered sugar one cup at a time.  Mix until fully incorporated scraping down the beaters and bowl several times. Pipe or frost the cupcakes after they have fully cooled.  Store them in an airtight container in the refrigerator.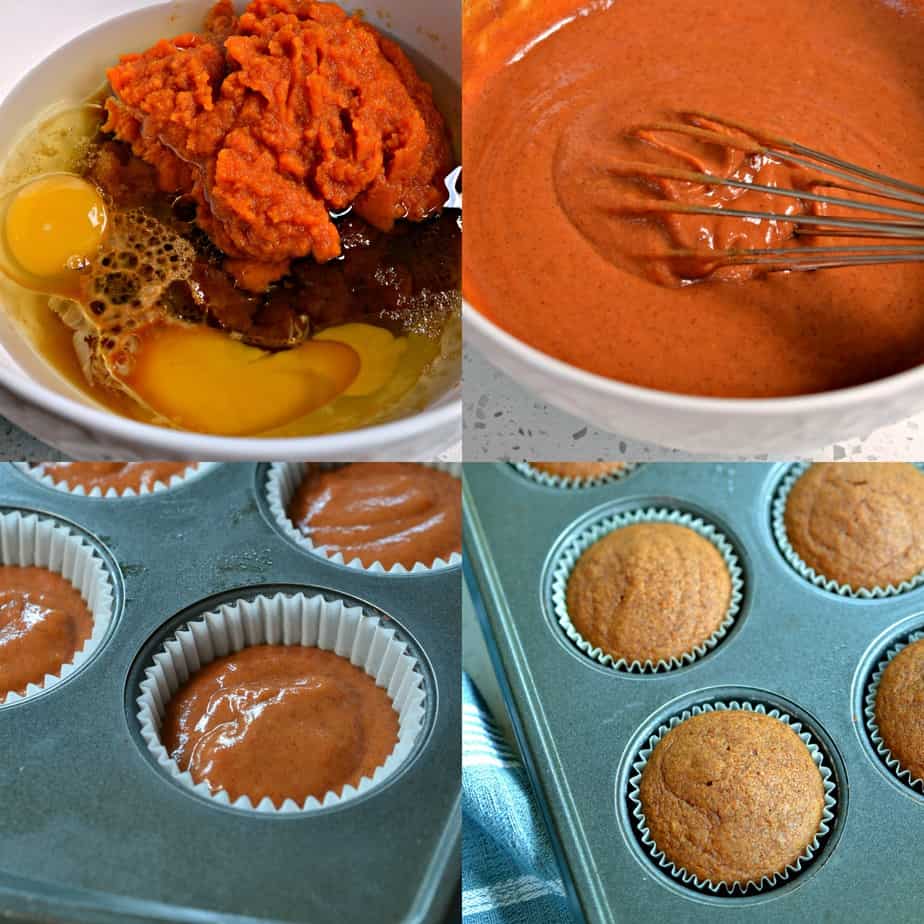 Tips and recipe hints for Pumpkin Cupcakes
Use pumpkin puree not pumpkin pie mix as it has other spices, sugar and salt already in it.
Always preheat the oven and load the cupcakes on the middle rack in the center of the oven.
Use cupcake liners as they are easy to use, the cupcakes don't stick to the pan, and they peel right off making for quick consumption.
The cupcakes should be completely cooled before frosting.
If you are going to pipe the frosting do not over-mix the cream cheese and butter.  Mix just until  creamy and smooth.
If the frosting is too loose to  pipe cover and refrigerate for several hours.
Because of the cream cheese frosting these cupcakes should be stored in the refrigerator.
Decorate with Candy Corn, Mellowcreme Pumpkins or a sprinkle of cinnamon.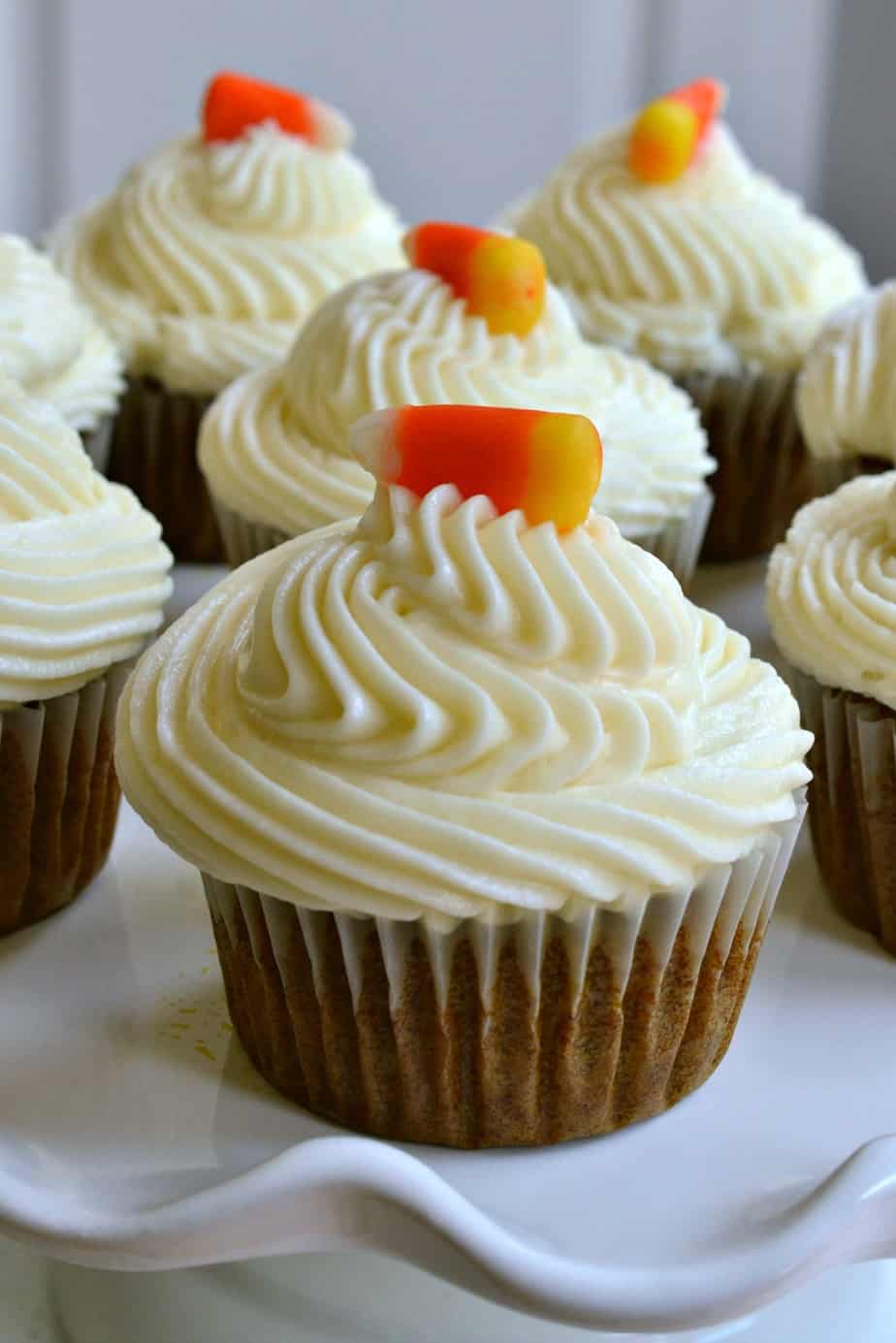 Can you use fresh pumpkin for this recipe?
Yes you can. I prefer to use the pie pumpkins.  They are sweeter, have more flavor, and have less moisture. They are the little pumpkins generally between 3-8 lbs.  You only need 1 cup for this recipe but you can freeze any extra puree in an airtight container for up to 4 months.
Simply cut the pumpkin in half from the top down.  Now scrape out the seeds and stringy fibers reserving the seeds if you are going to roast them. Next place cut side down on a baking sheet and roast at 375 degrees for 1 – 1 1/2 hours or until tender.  Then remove the pumpkin from the oven and allow to cool.  When cool enough to handle scoop pulp from the rind. Next puree it in a food processor or simply mash it with an old fashioned potato masher.  Finally place the pumpkin puree in a sieve and set it over a bowl to catch the moisture. Let the puree drain for at least 1 hour.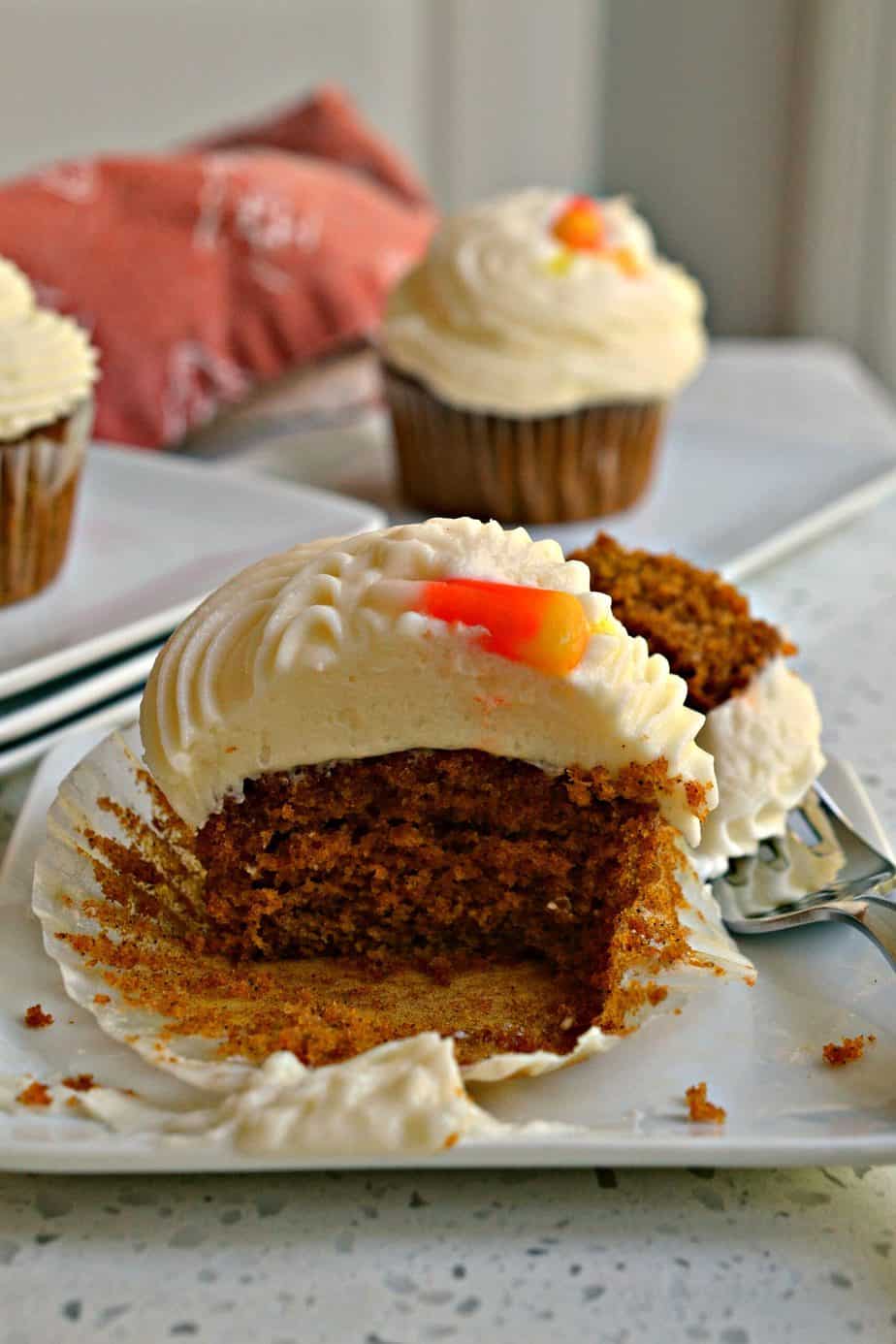 Print
Pumpkin Cupcakes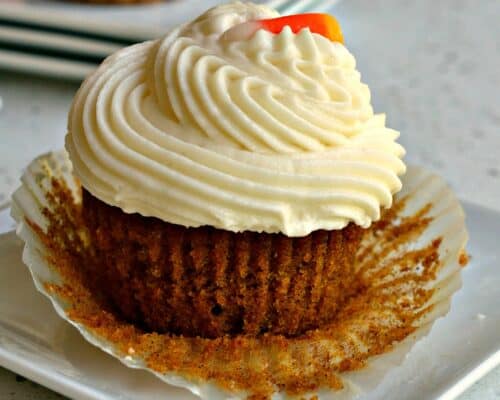 Easy to make moist cinnamon pumpkin cupcakes with a quick four ingredient smooth cream cheese frosting.  Make a scrumptious batch for your family today.
Author:
Prep Time: 20 minutes
Cook Time: 20 minutes
Total Time: 40 minutes plus cooling time
Yield: 12 servings 1x
Category: desserts
Method: baking
Cuisine: American
Scale
Ingredients
Pumpkin Cupcakes
1 cup all purpose flour
1 teaspoon baking powder
½ teaspoon baking soda
½ teaspoon salt
2 teaspoons cinnamon
1 teaspoon pumpkin pie spice
1 cup pumpkin puree
½ cup vegetable oil
2 eggs
⅔ cup brown sugar
1 teaspoon vanilla extract
Cream Cheese Frosting
1/2 cup butter softened
8 ounces cream cheese softened
1 teaspoon vanilla
4 cups powdered sugar
candy corn (optional)
Instructions
Preheat oven to 350 degrees.  Line 12 count standard muffin (cupcake pan) with cupcake liners.
In a medium bowl whisk together flour, baking powder, baking soda, salt, cinnamon and pumpkin pie spice. In separate medium bowl whisk together pumpkin puree, vegetable oil, eggs, brown sugar and vanilla.
Add dry ingredients to wet ingredients in 3 intervals; stirring just until combined between each one. Divide batter evenly between the cupcake holes; filling about 2/3's of the way up.  Bake for 20 minutes or until a toothpick inserted in the center comes out clean.  Cool on wire racks.
Using a stand mixer with the paddle attachment or hand mixer beat cream cheese and butter until smooth, creamy and lump free.  Mix in vanilla and 1 cup of powdered sugar at a time until fully incorporated.  Pipe or frost fully cooled cupcakes.  If desired top with candy corn.
Keywords: pumpkin spice cupcakes, pumpkin cupcakes with cream cheese frosting, easy pumpkin cupcakes
https://www.smalltownwoman.com/wp-content/uploads/2019/05/Beth-1.pdf