This Roasted Garlic Three Cheese Stuffed Manicotti are filled with ricotta, mozzarella, Parmesan, fresh roasted garlic, and topped with your favorite marinara sauce.  It is a classic Italian dish and a tried and true family favorite.  I love to serve it with Triple Cheese Garlic Bread and Italian Chopped Salad with Fresh Italian Dressing.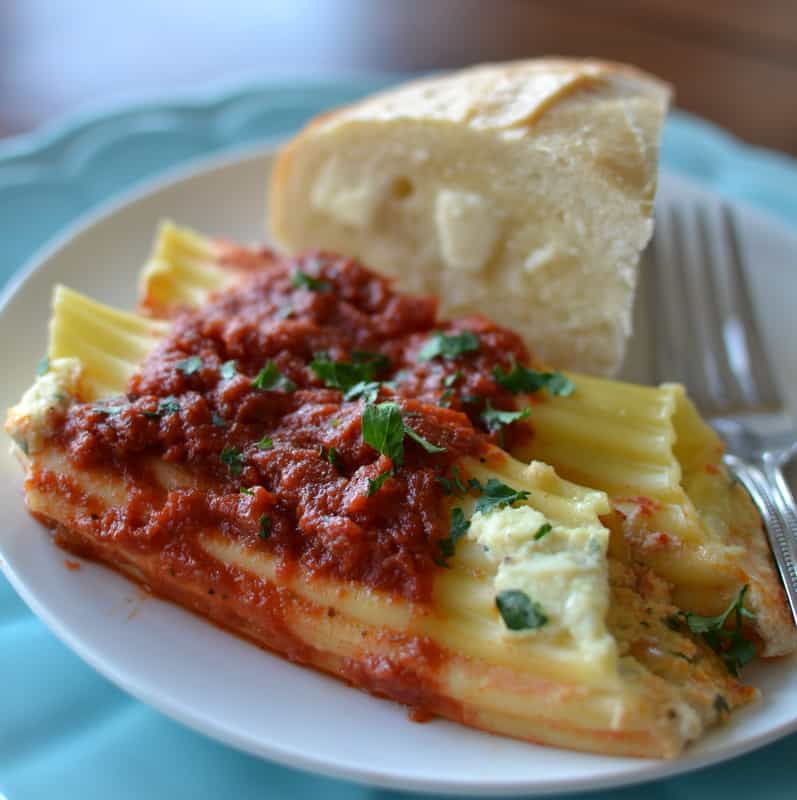 We are a crazy pasta loving family.  I mean honestly who isn't?  Pasta dishes are so versatile, economical  and you can throw a hearty memorable meal together pretty quickly.   In a hurry?  No problem!  Because you can roast the garlic up to several days in advance and store in the fridge. Roasted garlic is simply amazing and ends up sweet and mellow.  You can also mix the cheese stuffing for the manicotti up to 24 hours in advance.  One thing for sure is that life happens and somehow someway you have to make it all come together.  For ease serve with a simple soup, roasted vegetable like asparagus or broccoli, salad or just french banquettes with soft butter.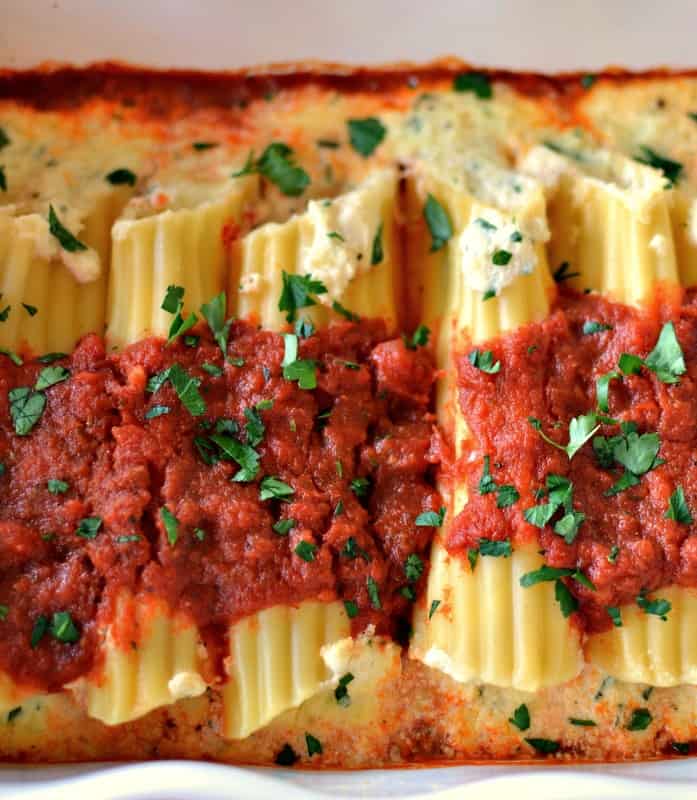 How do you prepare roasted garlic?
Pull away any excess layers of skin from the garlic bulb and discard them. This could be anywhere from two layers to five or more. Using a sharp knife cut off the tip on the non-root end. Drizzle or rub with olive oil. Likewise you could use a basting brush to coat the top with a little bit of olive oil. Then wrap it up tightly in aluminum foil and pop it in the oven. Finally roast for about 35-40 minutes.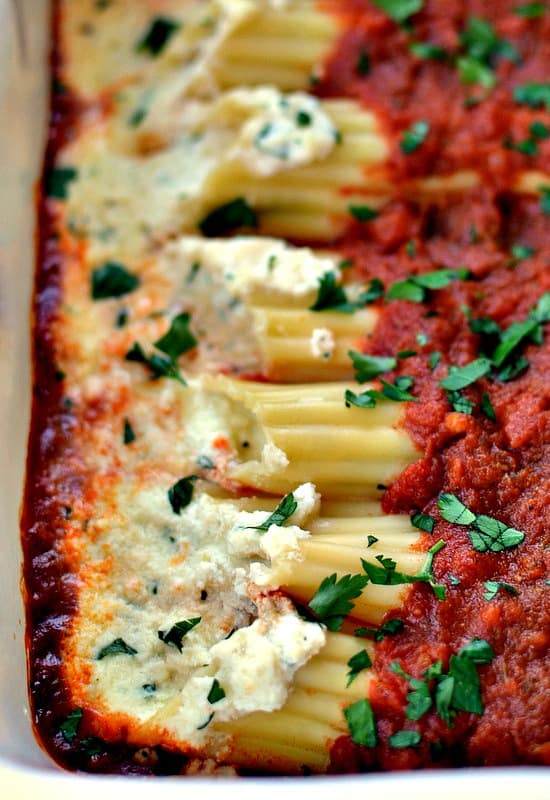 Helpful tips for making Cheese Stuffed Manicotti
Don't skip the roasted garlic step as it adds amazing flavor and dimension.
If you press on the stem end of the baked garlic clove it will easily squeeze out.  Do it right over the cheese mixture. Then use a fork to mix it and easily break up the roasted garlic.
Use freshly grated Parmesan. It is a little more costly but it is well worth every red cent.
I use a marinara from Costco that I love but if you have the time to make marinara from scratch that would probably take this recipe over the top.
Cook the noodles slightly al dente as they are going to be stuffed with cheese, covered with sauce and baked.
To stuff use a small spoon and scoop into the first half of the manicotti then turn the noodle and finish filling from the other side.
Likewise you can stuff the shells by placing the cheese/garlic/egg mixture in a large zipper bag, cutting off one bottom corner (not too big) and piping the cheese mixture into the manicotti noodles.
This dish can be fully prepped up to two days in advance. However cook the noodles al dente and  remove the dish from the refrigerator about 40 minutes in advance of cooking to let it come to room temperature.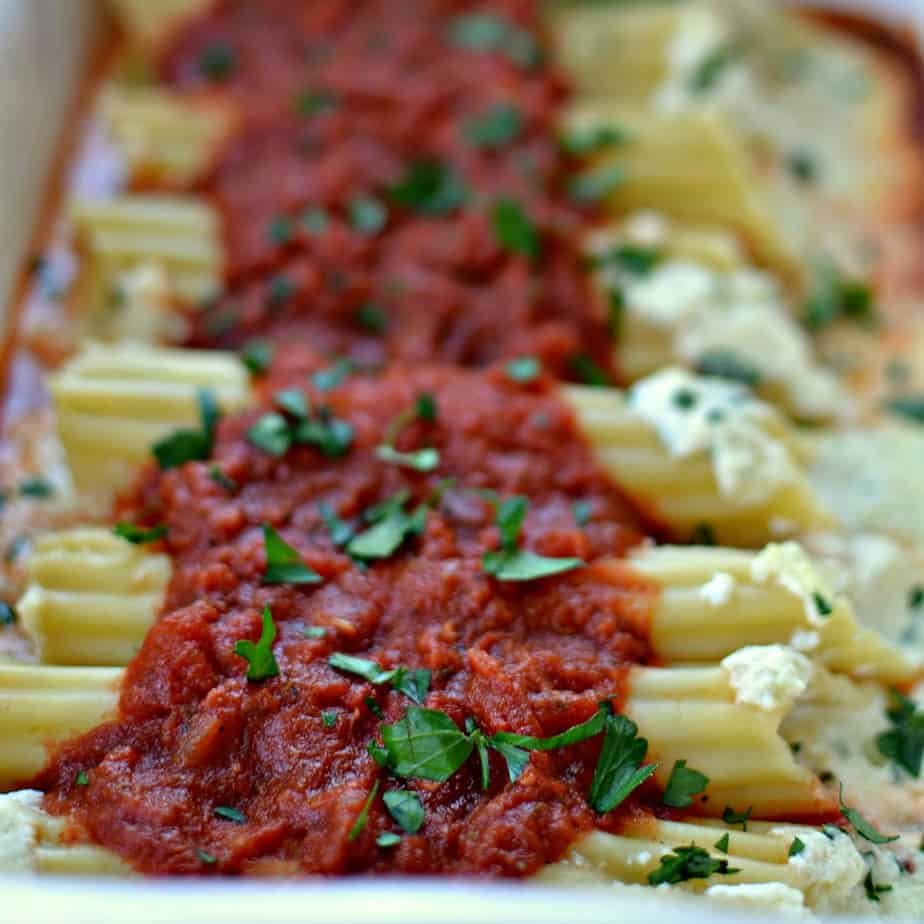 Other pasta recipes you will love!
This post was originally published December 17, 2017 and was republished February 14, 2020 with new content.
Print
Roasted Garlic Three Cheese Manicotti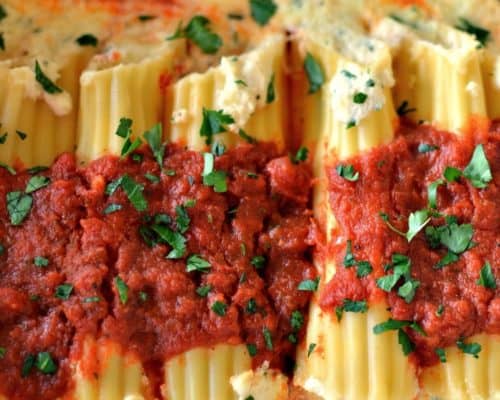 A super easy and fun three cheese and garlic stuffed manicotti that can prepped up to two days in advance for busy families.
Author:
Prep Time: 20 minutes
Cook Time: 50 minutes
Total Time: 1 hour 10 minutes
Yield: 8 manicotti noodles 1x
Category: main meal pasta
Method: stovetop/bake
Cuisine: Italian
Scale
Ingredients
1 small garlic bulb
1 teaspoon olive oil
8 manicotti noodles
15 ounces ricotta cheese
1 cup mozzarella shredded
2/3 cups fresh grated Parmesan
1 egg
1/3 cup fresh chopped Italian parsley (reserve 1 1/2 tablespoons for the top)
3 cups marinara
Instructions
Preheat oven to 400 degrees. Cut off the tip (not the root end) of a garlic exposing the cloves. Place in small baking dish. Drizzle with olive oil using your fingers to rub the olive oil all over the cut. Cover the dish with foil and bake for 35 minutes.
Cook manicotti noodles according to package instructions.
In medium bowl mix together ricotta, mozzarella, Parmesan, egg, parsley and at least six cloves from the roasted garlic (please see notes). In 8 x 11 inch casserole dish spread 1 cup marinara sauce. Stuff each manicotti with cheese mixture. You can stuff half of the manicotti, turn so you are holding the mixture in with the palm of your hand and stuff the other side. Place in dish and repeat until all the noodles are filled. Top with remaining marinara. Cover and bake at 350 degrees for 40 minutes. Allow to cool for 5 minutes, top with remaining parsley and serve.
Notes
Roasted garlic is very sweet and mild.
If you press on the stem end of the baked garlic clove it will easily squeeze out into the cheese mixture. I use a fork to mix the cheese mixture so I can break up the roasted garlic.
Keywords: manicotti, pasta, three cheese manicotti, three cheese pasta, stuffed manicotti, Italian pasta, recipes using roasted garlic, cheese stuffed manicotti, stuffed manicotti shells
https://www.smalltownwoman.com/wp-content/uploads/2019/05/Beth-1.pdf