These classic Snickerdoodle Cookies are a friend and family favorite. The cookies are slightly crispy on the outside yet soft and chewy on the inside. They go quickly so you might want to double the batch.
You had better put a few of these aside for yourself.  They go very quickly.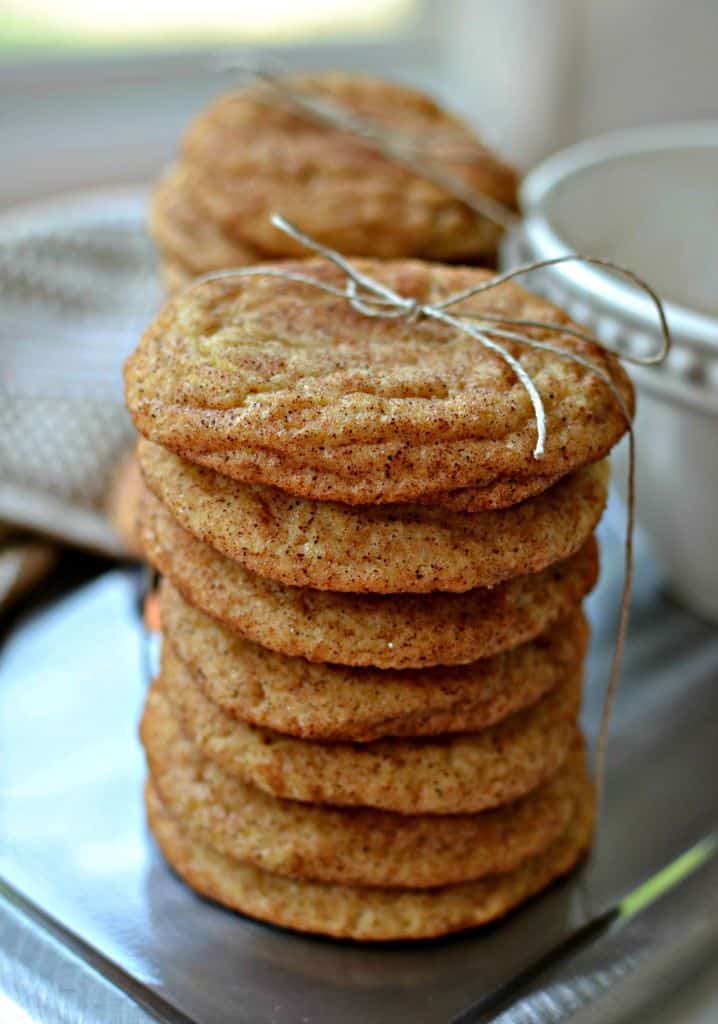 Ahhhh the cookie with the funny name. The snickerdoodle is a drop sugar cookie that is rolled in cinnamon sugar.  Thanks to cream of tartar these fabulous cookies have the best of both worlds with a crisp outer edge and a soft chewy inside.  I don't think I have ever met a snickerdoodle that I didn't like.  Although this snickerdoodle cookie recipe is the king of the crop.  These delicious beauties are by far the best I have ever had.  Are you a snickerdoodle fan?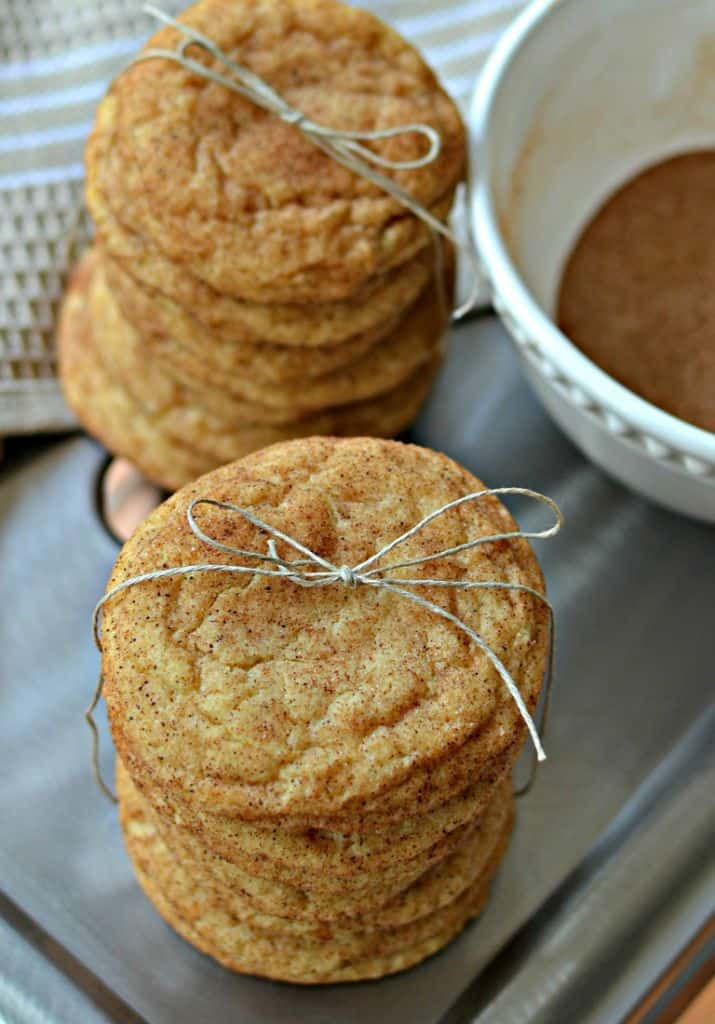 Where did the Snickerdoodle Cookie get its name?
The Joy of Cooking claims that the name snickerdoodle most likely originated in Germany a derivative from the word schnecke knödel, which means snail dumpling.  It is believed that the snickerdoodle cookie recipe was brought to the United States by the English, Dutch and Scottish immigrants.  Did you know that snickerdoodles are the state cookie of Connecticut?
Why is there cream of tarter in Snickerdoodle Cookies?
Well I thought you would never ask. Cream of Tarter is an acidic compound which is a byproduct of wine making and just a small amount can make a big difference in your baking.  Cream of tarter gives snickerdoodles a little tang and gives them that nice chewy not crunchy inside.  It has a lot to do with science which as you know comes into play with baking quite often.  I have heard of bakers using substitutions for cream of tarter but I have never found one that works as well as cream of tarter in the snickerdoodle cookie.  Cream of tarter is available at most local grocery stores.
How do you make Snickerdoodle Cookies?
First in a medium bowl whisk together  the flour, cream of tartar, baking soda, and salt. Then in a separate larger bowl using a mixer blend butter and sugars until light and creamy.  Now using a spoon stir in the eggs in one at a time mixing just until incorporated.  Stir in the vanilla extract mixing until blended. Add the flour mixture in several parts stirring just until incorporated. Use a cookie scoop to make balls and roll in cinnamon sugar.  Bake on silicone mats or parchment covered baking sheets until lightly browned. Cool completely on cookie cooling racks.
Helpful tips on making Snickerdoodle Cookies
When measuring your flour,  spoon the flour into the measuring cups and level off with a table knife.
Always preheat your oven and load the cookies on the middle rack in the center of the oven.
For best results bake on parchment paper or silicone mats.
Do not over-bake these cookies.  They are done when they are lightly browned.
Cream of tarter can be found in the spice section of your local grocery store.
If you have time do a test run with one or two cookies.  It really helps to establish baking time.
Store baked cookies in an airtight container for up to one week.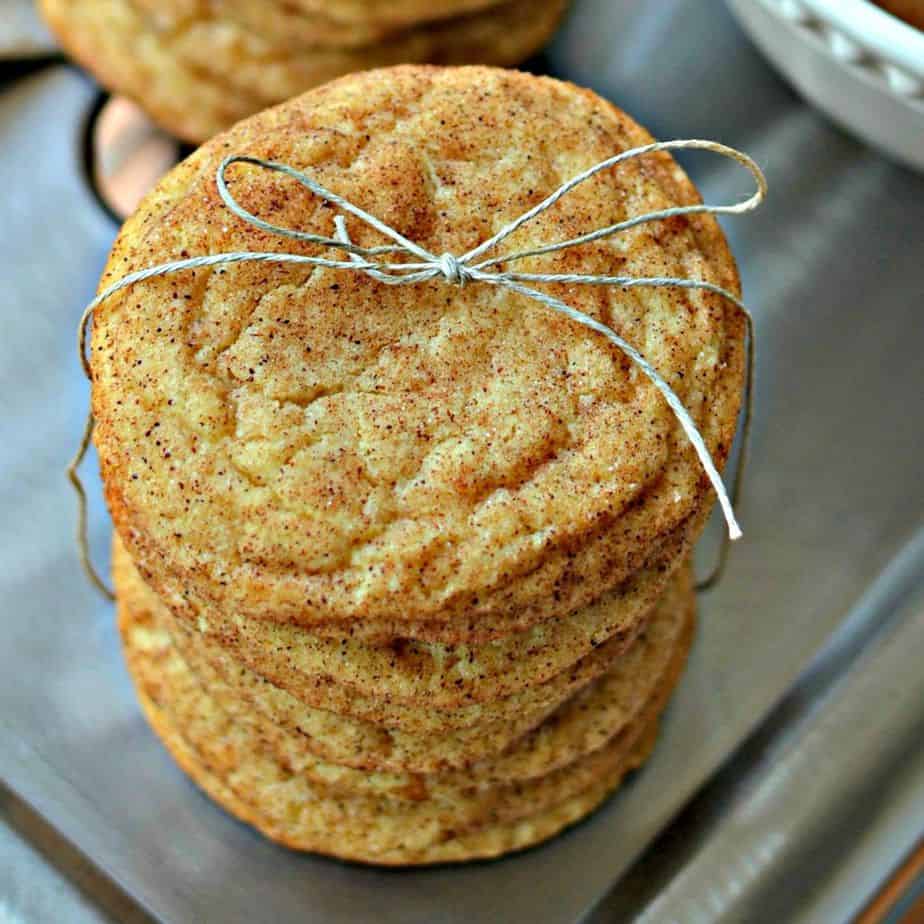 Snickerdoodle cookies really are in a class all by themselves. If you have never tried them or never made them fresh you really ought to treat yourself.  They are one of my favorites cookies!
Other delectable cookies you will love!
This post was originally published August 21, 2018 and was republished October 20, 2019 with new content.
Print
Snickerdoodle Cookies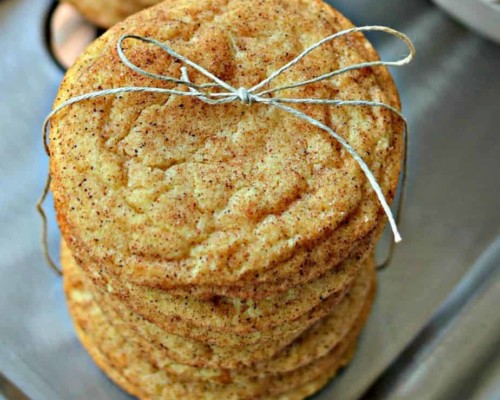 An easy family friendly soft chewy cookie with slightly crispy edges that is rolled in cinnamon sugar and baked until lightly browned.
Author:
Prep Time: 20 minutes
Cook Time: 10 minutes
Total Time: 30 minutes
Yield: 24 1x
Category: Cookies
Method: Baking
Cuisine: American
Scale
Ingredients
2 3/4 cup flour plus 2 tablespoons
2 teaspoons cream of tarter
1 teaspoon baking soda
1/4 teaspoon salt
1 cup butter softened
3/4 cup sugar
3/4 cup brown sugar
2 eggs
1 teaspoon vanilla extract
3 tablespoons sugar
1 tablespoon cinnamon
Instructions
In medium bowl whisk together flour, cream of tartar, baking soda and salt. Set aside.
Using mixer cream butter and sugars. Using spoon stir in eggs one at a time until incorporated. Stir in vanilla extract. Add flour mixture in 3 parts stirring to combine between each part.
Mix 3 tablespoons sugar and 1 tablespoon cinnamon. Using cookie scoop or spoon shape dough into balls. Roll dough balls in sugar mixture. Place on parchment covered baking sheets. Bake at 375 degrees for 8-10 minutes. Cool on cookie sheets for 1-2 minutes. Carefully remove to cookie cooling racks.
Keywords: Christmas cookies,cookies, snickerdoodle cookies, snickerdoodle cookie recipe, snickerdoodle cookies recipe, easy snickerdoodle cookies, easy snickerdoodle cookie recipe, how to make snickerdoodle cookies, best snickerdoodle cookie recipe, best snickerdoodle cookies, snickerdoodle cookie dough, what is a snickedoodle coookie, snickerdoodles
https://www.smalltownwoman.com/wp-content/uploads/2019/05/Beth-1.pdf