These scrumptious Soft Ginger Cookies are so full of flavor, slightly crispy on the edges with a soft and chewy texture on the inside. They are a family favorite and are perfect for holiday gift-giving, Christmas parties, and cookie trays.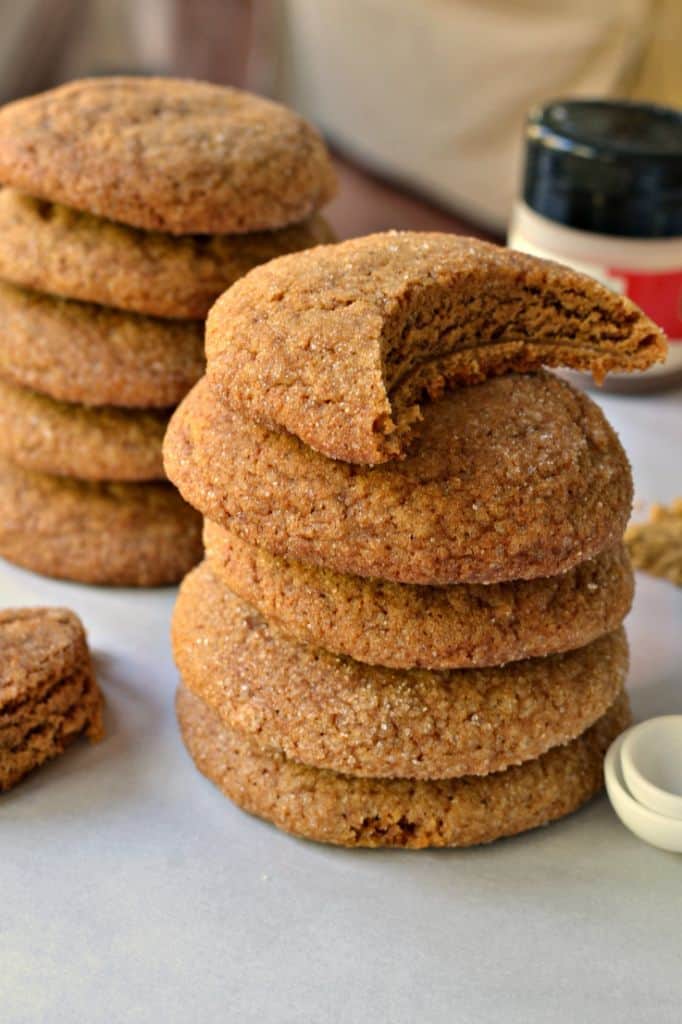 Are you a fan of gingerbread?  I absolutely love it.  I like the soft and chewy kind, not the hard kind that you need to dunk in milk.  These easy, Soft Gingerbread Cookies are the best.  One of the key ingredients is molasses. Which by itself is not the best-tasting ingredient but look out when you mix it with butter, sugar, flour, and fall baking spices.  Considered yourself warned because these cookies are amazing!!
What is molasses?
Molasses is the dark, sweet syrupy by-product from refining sugar cane or sugar beets into sugar. It is a different type of sweetener, just like honey or agave syrup, and is often used to produce a certain type of flavor.  Just as honey produces a different taste than sugar, so does molasses. It is next to impossible to describe, but you will know it when you smell and love it when you mix it in this cookie batter.
These delicious cookies are perfect for your holiday gift-giving, cookie exchanges, and parties.  They are quick to come together, and they freeze exceptionally well.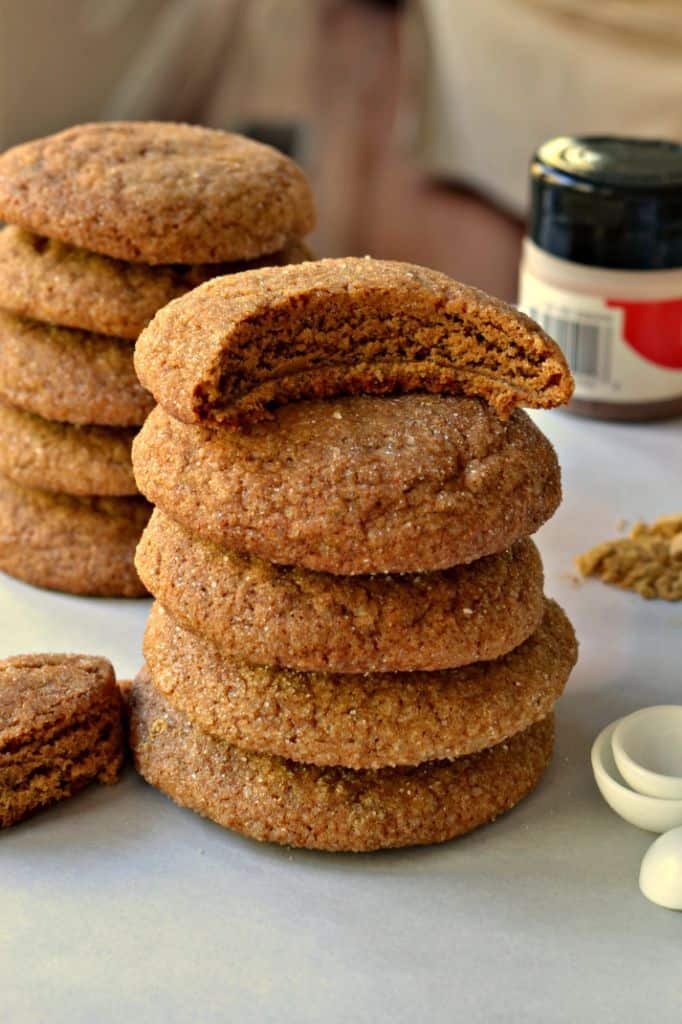 How to make Soft Ginger Cookies!
Grab a medium bowl and combine your flour, ground ginger, baking soda, cinnamon, cloves, nutmeg, and salt. Set this bowl aside for a few minutes.
Using a stand mixer or hand-held mixer, cream butter and brown sugar until light and fluffy.  Stir in egg, coffee, and molasses.  Slowly blend the dry ingredients into the butter mixture.  Shape the dough into 1-inch balls and roll through sugar. Place the cookie dough balls on parchment paper-covered cookie sheets about 2 inches apart and bake for about 12 minutes. Then move to wire racks to cool after 5 minutes.
Can you roll these Gingerbread Cookies for cutting into shapes?
Yes, you most certainly can. Divide the dough in half and shape it into round mounds. Cover each fully with plastic wrap and place in the refrigerator to chill for at least four hours up to three days.  Remove from fridge and place on a generously floured surface; using a rolling pin covered with flour, roll to one-quarter to one-third inch thick.  Using cookie cutters cut and place on parchment paper-covered baking sheets one inch apart.  Combine and re-roll scraps.  Bake at 350 degrees for 8-12 minutes.  After 5 minutes, remove to a wire rack. Cool completely and decorate as desired.
If you are rolling the dough and cutting, then these cookies will become crisper. Much of the aeration is removed by rolling the cookies.  The cooking time for cut cookies is reduced to 8-12 minutes.  I suggest you run a test run with 1-2 cookies to establish optimum cooking time.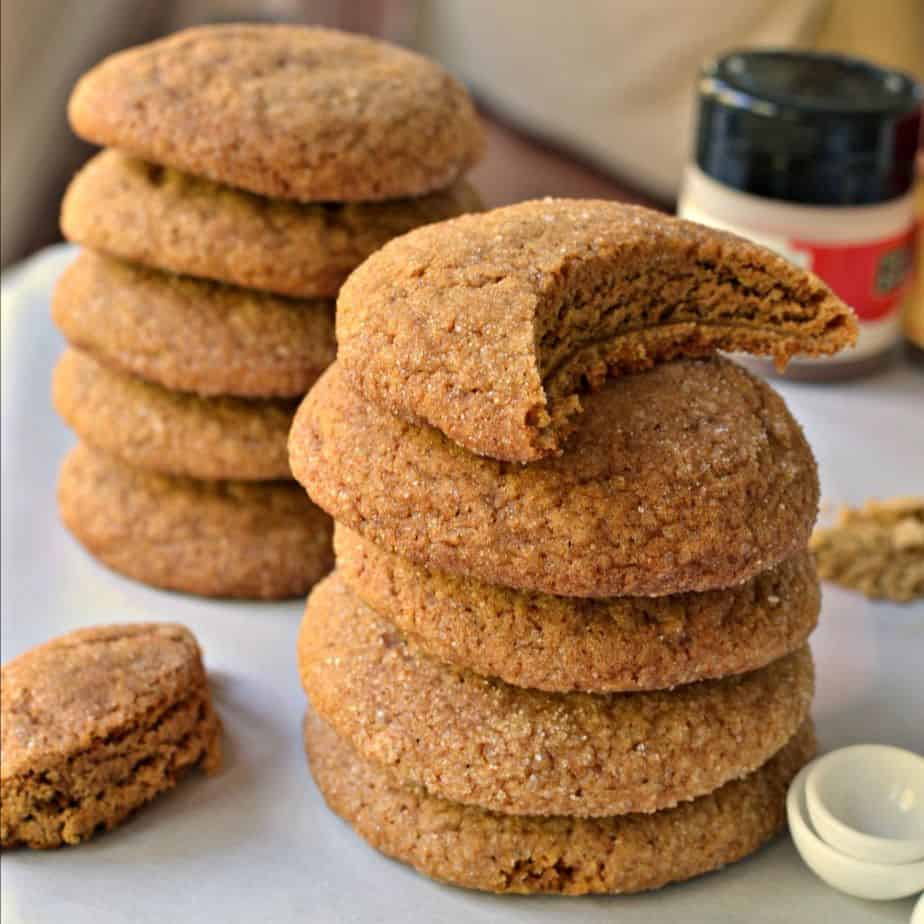 How to freeze these soft ginger cookies
After baking, let the cookies fully cool.  Double wrap in Ziploc freezer bags (removing as much air as possible) and place in sturdy freezer containers. Place in the freezer for up to 2 months.  When thawing, remove them from all packaging and place them on serving plates in a single layer until they are thawed.  Once thawed, they can be stacked for serving, packed in airtight containers, or packaged for gift-giving.  It is the condensation that builds up in the freezer bags that ruins the cookies.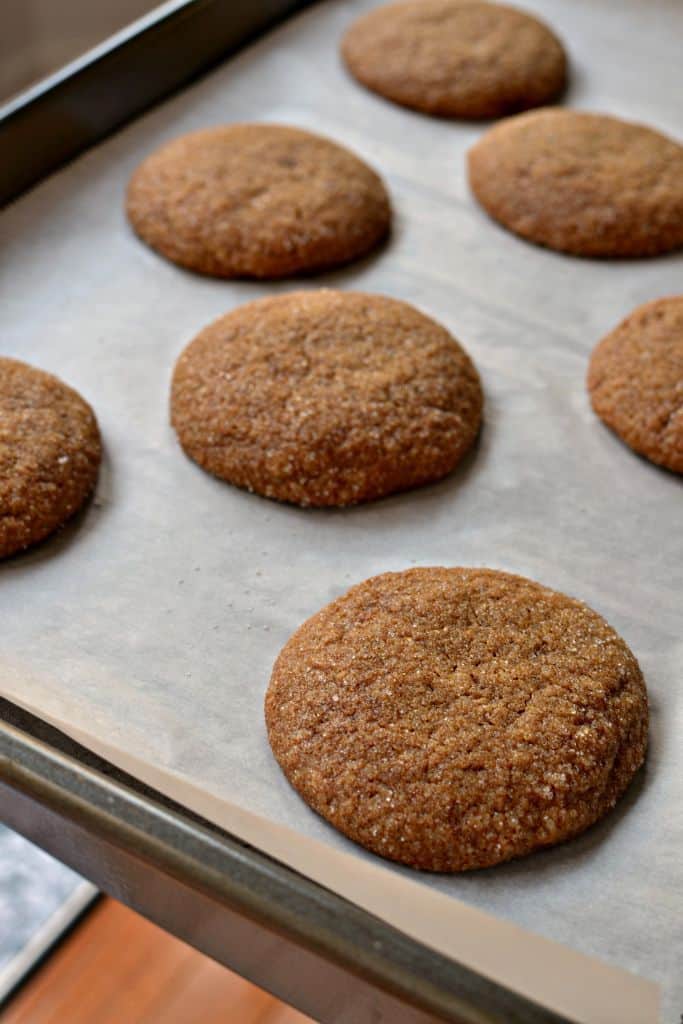 If you like gingerbread, you have got to try these cookies.  They are delicious, dependable, and easy to prepare.  They freeze well, package well, and are perfect for holiday gift-giving! What's not to love about them?
More cookie recipes you will love!
Print
Soft Ginger Cookies
These family-friendly soft and slightly chewy gingerbread cookies are a holiday favorite.  They are easy to make and packed with all your favorite fall spices, along with a touch of coffee and molasses.
Author:
Prep Time: 15
Cook Time: 12
Total Time: 27 minutes
Yield: 36
Category: Cookies
Method: Baking
Cuisine: American
2 1/2 cups all purpose flour
1 1/2 teaspoons baking soda
1 tablespoon ground ginger
1 teaspoon ground cinnamon
1/2 teaspoon ground cloves
1/8 teaspoon ground nutmeg
1/4 teaspoon salt
3/4 cup butter softened
1 cup brown sugar
1 egg
2 tablespoons prepared dark coffee
1/4 cup molasses
1/4 cup white sugar
Instructions
Preheat oven to 350 degrees.
In a medium bowl and combine flour, ground ginger, baking soda, ground cinnamon, ground cloves, ground nutmeg, and salt.  Set aside.
Using a mixer, cream butter, and brown sugar until light and fluffy.  Stir in egg, coffee, and molasses.  Slowly blend flour mixture into butter mixture until incorporated; scraping down the bowl and beaters.  Shape dough into 1-inch balls and roll through white sugar.
Place on parchment-covered baking sheets 2 inches apart. Bake for 12-14 minutes.  After 5 minutes, move to cookie cooling racks.
Notes
If rolling the dough and cutting; these cookies will become crisper. Much of the aeration is removed by rolling the cookies.  The cooking time for cut cookies is reduced to 8-12 minutes.  I suggest you run a test run with 1-2 cookies to establish optimum cooking time.
Cover your baking sheets with parchment paper or silicone baking mats.  They help the cookies bake evenly, brown better, and lift off the cookie sheet without breaking.
For optimum results, bake one sheet of cookies at a time.  Use multiple cookie sheets or let the single cookie sheet cool before dropping more dough on it, as a warm cookie sheet can cause cookies to spread too fast.
Store the cookies on the counter in an airtight container for up to 5 days or freeze them in a freezer-safe container for up to 2 months. 
Keywords: how to make gingerbread cookies, homemade gingerbread cookies, ginger cookies, best gingerbread cookies
On the hunt for more delicious recipes? Follow Small Town Woman on Facebook, Pinterest, and Instagram.
This post was originally published October 21, 2018 and was republished October 18, 2019 with new content.
https://www.smalltownwoman.com/wp-content/uploads/2019/05/Beth-1.pdf