This Strawberry Cream Cheese Pie is a triple layer delight starting with a three ingredient graham cracker crust.  Followed by an easy no bake lightly sweetened cream cheese filling and topped with a five ingredient sweet glaze for the fresh strawberries.  Pretty as a picture this gorgeous pie is perfect for birthday celebrations, Valentine's Day and spring and summer dinner parties.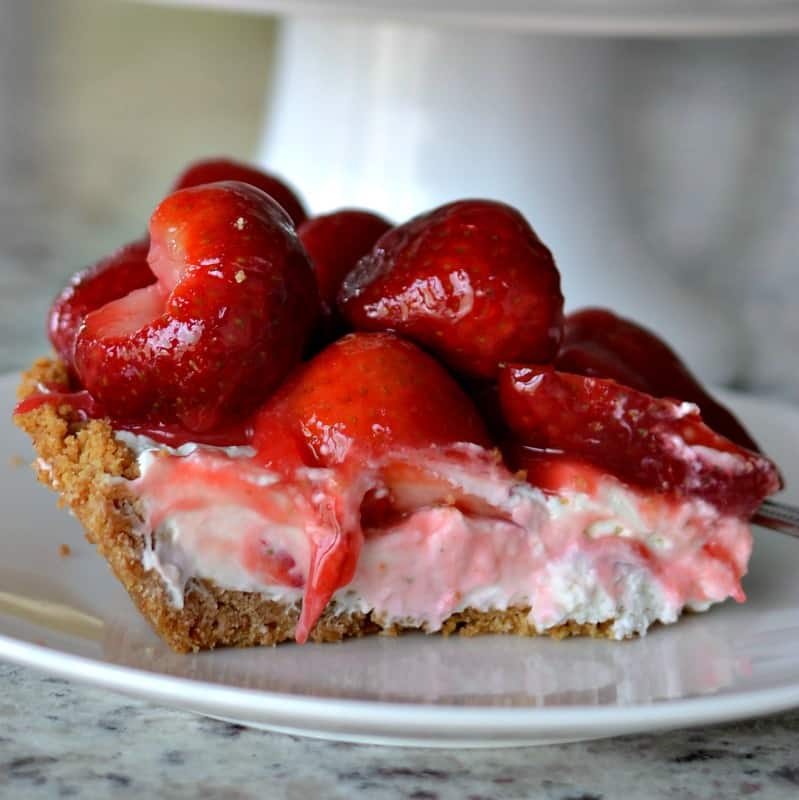 I love strawberries and this  Strawberry Cream Cheese Pie is perfect for your holiday celebrations, birthday parties, neighborhood soirees and potlucks. This delectable beauty brings cream cheese and whipped cream together perfectly in a fresh graham cracker crust topped with glazed fresh strawberries.
Strawberry Cheesecake Pie is a cinch to make.  Are you super pinched for time?  You can make the crust ahead of time and freeze the prepared baked crust in the pan wrapped for up to 3 months.  Thaw at room temperature unwrapped before using in this recipe.  You can also bake the crust and prepare the cream cheese filling several days in advance and store wrapped in the refrigerator. However hold off on the glazed strawberry topping until at the most 12 hours before serving.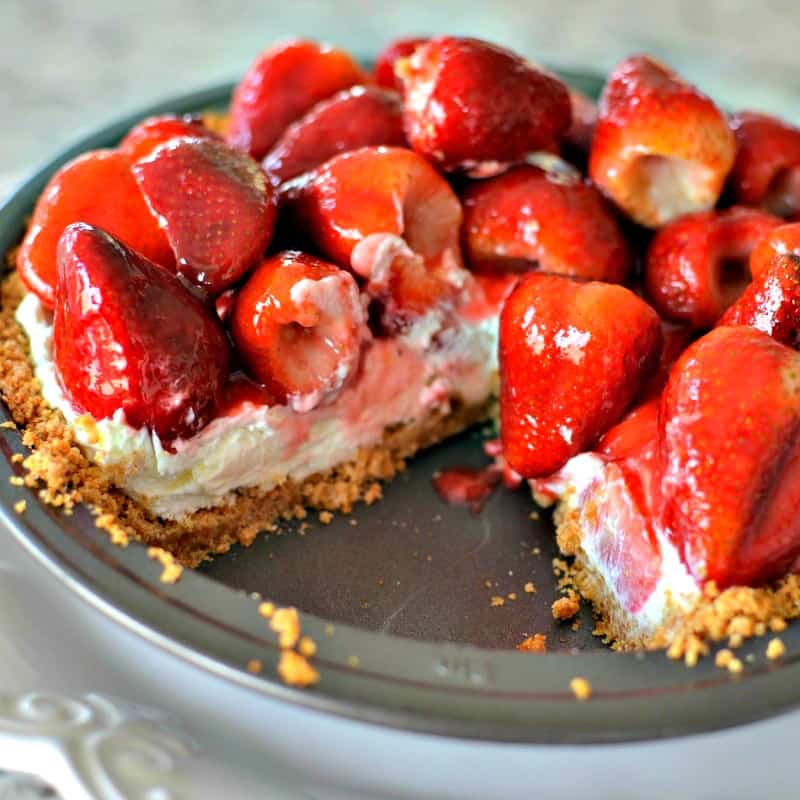 How do you make Strawberry Cream Cheese Pie?
Start by combining the graham crackers, sugar and melted butter.  Then press it onto the bottom and sides of a pie plate.  Next bake it in a preheated oven for about 8-9 minutes.  Finally let the baked crust cool for about 20-30 minutes.
Next beat the cream cheese, vanilla extract and powdered sugar until smooth and lump-free.  Now whip the cream using a stand mixer with whip attachment until soft peaks form.  Now gently fold the whipped cream into the cream cheese mixture.  Spread in the baked  crust and chill for several hours.
Then grab a large saucepan and whisk together the cornstarch, sugar, strawberry gelatin, water and lemon juice. Cook over low heat whisking constantly until the glaze thickens. Allow the glaze to cool and it will thicken more as it cools. Add the strawberries to the glaze and stir gently to coat. Carefully layer the glazed strawberries over the chilled pie.  Finally refrigerate until ready to serve.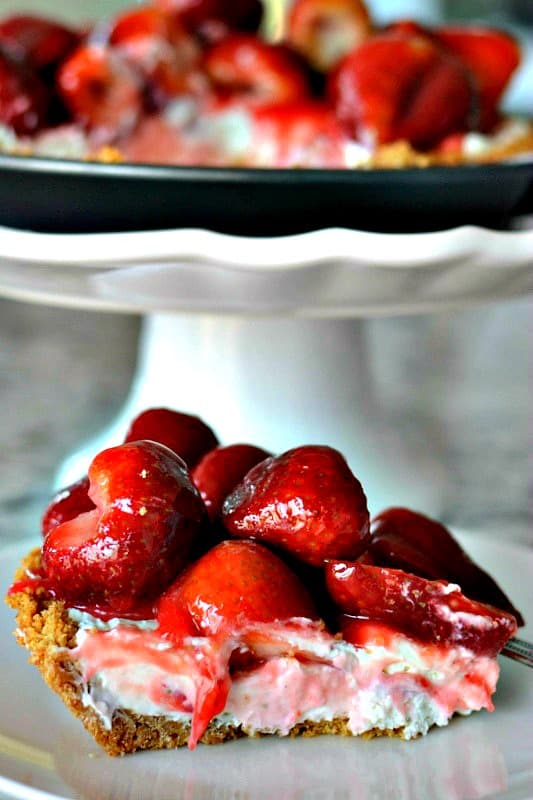 Helpful tips for making Strawberry Cream Cheese Pie
Always cool the graham cracker crust before proceeding with the rest of the pie.
Soften the cream cheese so it is easier to blend smooth.
Keep the whipping cream in the chilliest part of the refrigerator. It is best to chill the bowl and beaters prior to whipping the cream.
Plan ahead and allow for chilling time of the cream cheese layer prior to the placement of the strawberries.
The first two layers of the dessert can be prepared up to two days in advance but the strawberry layer is best prepared the day of serving.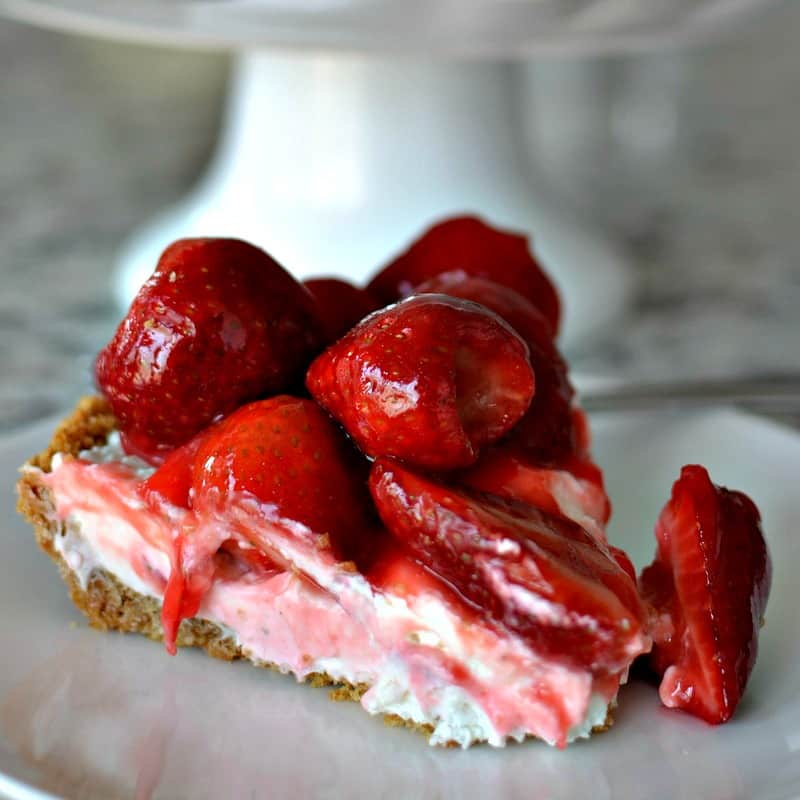 You and your family are going to love this easy, dependable, scrumptious and gorgeous dessert.  Put the ingredients on your shopping list and make one for your loved ones. They will singing your praises.
More strawberry recipes you will love!
This post was originally published March 16, 2018 and was republished January 2, 2020 with new content.
Print
Strawberry Cream Cheese Pie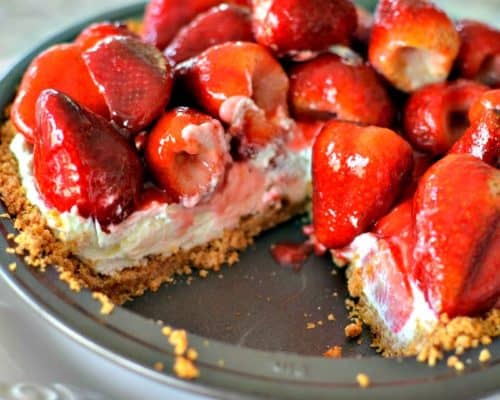 This family friendly easy cream cheese based pie is nestled in a sweetened graham cracker crust and topped with lightly glazed strawberries.
Author:
Prep Time: 25 minutes
Cook Time: 15 minutes
Total Time: 40 minutes
Yield: 6 servings 1x
Category: dessert
Method: bake/no bake
Cuisine: Southern
Scale
Ingredients
Crust
1 1/2 cups graham cracker crumbs
1/4 cup sugar
6 tablespoons butter melted
Pie Filling
1 box (8 ounces) cream cheese
3/4 teaspoon vanilla extract
1/2 cup powdered sugar
1 cup whipping cream
Strawberry Topping
2 tablespoons cornstarch
1/4 cup sugar
2 tablespoons strawberry gelatin
1/2 cup water
1 tablespoon lemon juice
3 cups strawberries hulled
Instructions
Stir together graham cracker crumbs, 1/4 cup sugar and melted butter. Firmly press crumb mixture into bottom and up sides of a 9-inch pie dish. Bake at 350 degrees for 8-9 minutes. Remove from oven and cool for 30 minutes.
Using mixer beat cream cheese until smooth. Add vanilla extract and powdered sugar; continue mixing until smooth. In separate bowl whip cream until soft peaks form. Fold whipped cream into cream cheese mixture and carefully spread in baked crust. Chill for 1-2 hours.
In small saucepan whisk together cornstarch, 1/4 cup sugar, strawberry gelatin, water and lemon juice. Cook over low heat whisking constantly until thickened. Remove from heat and allow to cool for 10-15 minutes. Add strawberries to the pan and stir to coat. Layer glazed strawberries over the pie. Refrigerate until ready to serve.
Keywords: cheesecake, glazed pie, pie, strawberry pie, pies with graham cracker crust, strawberry cream cheese pie, strawberry cream cheese pie recipe, strawberry cream cheese pie no bake, no bake strawberry pie recipe cream cheese, fresh strawberry and cream cheese pie
https://www.smalltownwoman.com/wp-content/uploads/2019/05/Beth-1.pdf