WHITE QUESO DIP IS MEXICAN RESTAURANT QUALITY SMOOTH AND CREAMY DIPPING CHEESE. THIS DELICIOUS TEN MINUTE RECIPE IS PERFECT WITH FRESH TORTILLA CHIPS, SPOONED OVER YOUR FAVORITE BURRITO OR POURED OVER STEAMED BROCCOLI.
If your family is anything like mine than one of the highlights of visiting your favorite Mexican restaurant is the white queso dip! This simple recipe can bring that creamy smooth dip right to your kitchen.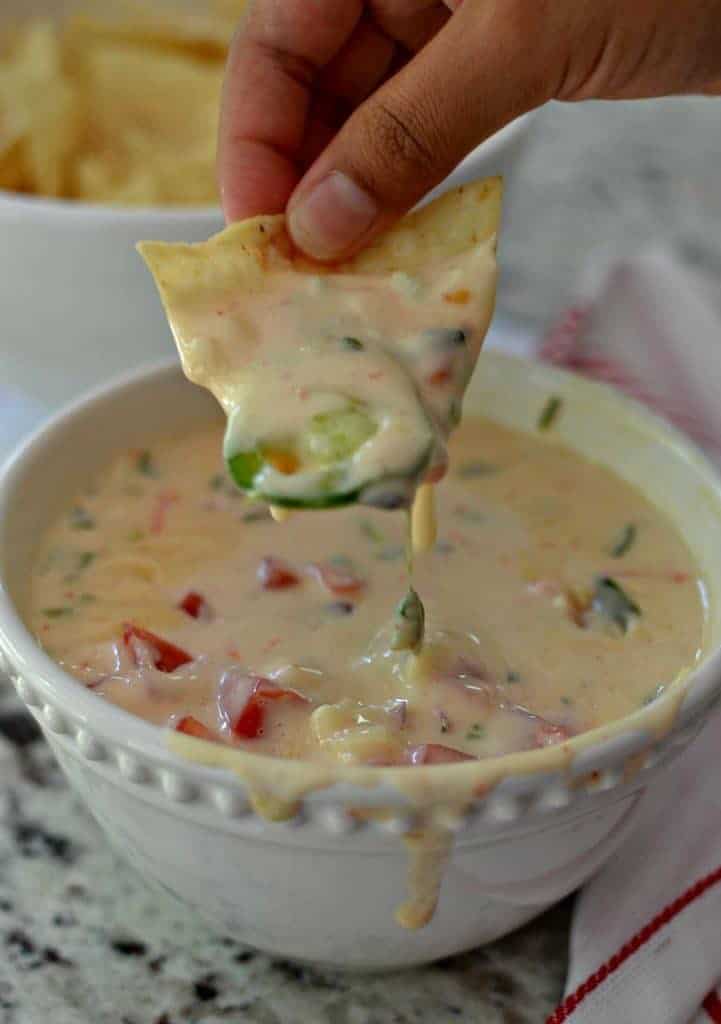 We love this easy white queso! The endless uses for this delicious dip are only limited by your imagination and it reheats so well multiple times. Just store it in a covered microwaveable bowl and pop it in the microwave for 1-2 minutes on 50% power. Stir it and pop it back in on reduced power if it needs a little more heat.
The key to making great queso is the cheese. Nothing works better than White American Cheese. It melts perfectly, can be thinned out easily to avoid a skin and reheats perfectly like a good winter blanket.
WAYS TO USE WHITE QUESO DIP.
As a dip with fresh tortilla or corn chips.
Poured over steamed broccoli or cauliflower.
Spooned over your favorite omelette, baked eggs, quiche or frittata.
Ladled over you favorite burrito or chimichanga.
Drizzled over burgers, hot dogs, bratwurst and sausage.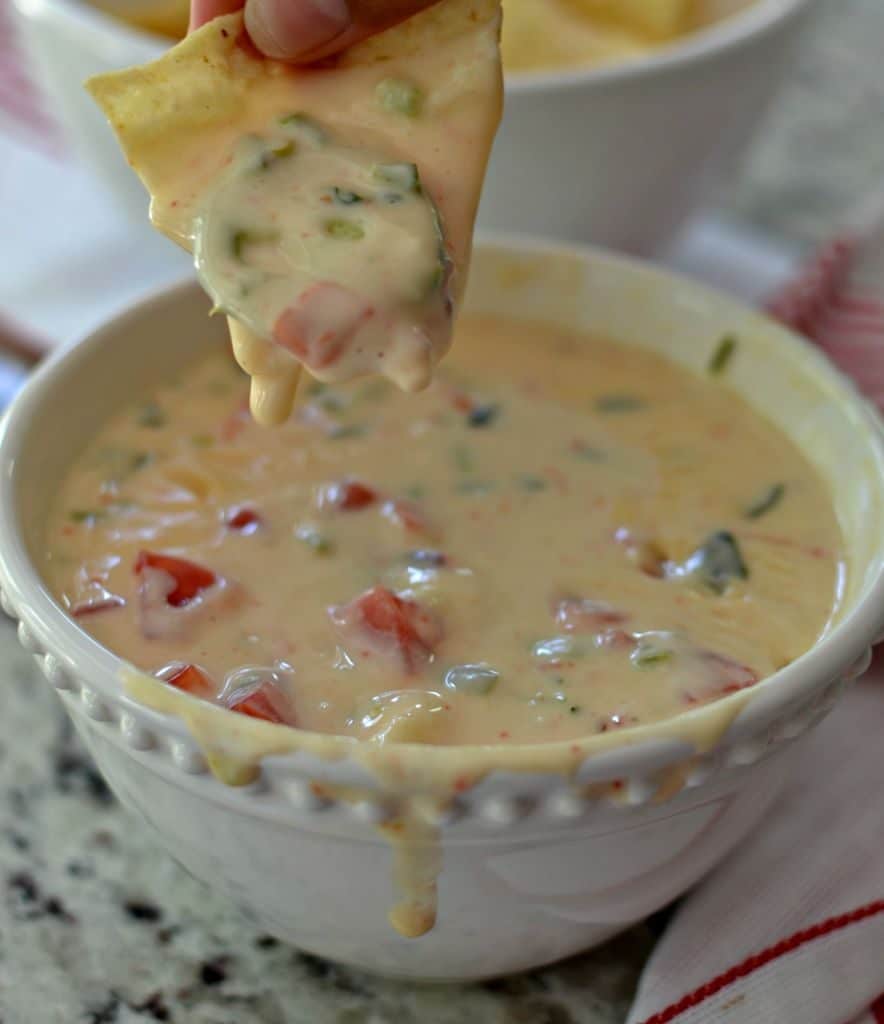 HOW TO MAKE WHITE QUESO DIP.
Add a little oil to a small skillet over medium low heat and saute a little chopped onion and minced jalapeno. Turn heat to low and add shredded cheese and milk. Stir continuously until cheese is melted. Slowly stir in enough chicken broth to thin out to desired consistency. Stir in fresh chopped cilantro and finely diced sun ripened tomatoes.
HELPFUL HINTS ON MAKING THIS WHITE QUESO EPIC!
Purchase good quality American cheese from your groceries deli. It does make a difference.
Thin out the cheese sauce using low sodium chicken both. You don't want it too thick because it will form a skin.
Use fresh jalapenos and sun ripened tomatoes.
You can add cooked Mexican chorizo, crisp cooked crumbled bacon, chopped chipotle peppers, frozen spinach, finely chopped artichokes and even cooked lobster or crawfish.

MORE DIP RECIPES YOU WILL LOVE!
Print
White Queso Dip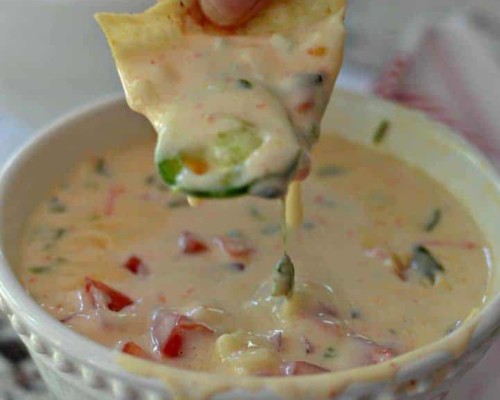 White Queso Dip is Mexican restaurant quality creamy dipping cheese that is perfect with tortilla chips or spooned over your favorite burrito.
Author:
Prep Time:

5 minutes

Cook Time:

10 minutes

Total Time:

15 minutes

Yield:

8

Category:

Appetizer

Method:

Stovetop

Cuisine:

Tex Mex
Ingredients
1/2 tablespoon olive oil
1/4 cup sweet onion chopped
1/2 -1 jalapeno minced (to taste)
1 lb white American cheese shredded
1 cup milk
1/4 -1/2 cup low sodium chicken broth
1/4 cup cilantro chopped
1/2 cup tomatoes finely diced
Instructions
Add olive oil to small skillet over medium low heat. Add onion and jalapeno and cook for 2-3 minutes. Turn heat to low and add cheese and milk. Stir frequently until melted. Slowly add chicken broth to achieve desired consistency. Stir in cilantro and tomatoes and heat for 1 minute.
Notes
Leftovers should be stored in covered microwaveable bowl. Reheat in microwave for 1-2 minutes at 50% power. If necessary stir and reheat again.
Keywords: APPETIZER, DIP, MEXICAN DIPPING CHEESE, MEXICAN RESTAURANT DIPPING CHEESE, PARTY FOOD, QUESO BLANCO, WHITE AMERICAN, WHITE QUESO DIP, WHITE QUESO RECIPE