These mouthwatering good Bacon Wrapped Water Chestnuts are so easy to prepare and are always a big hit with company!
They are a quick party worthy appetizer that can be prepped in advance.  Friends and family just love them.  I like to serve them with Bacon Ranch Cheese Ball and Coconut Shrimp with Sweet Chili Sauce.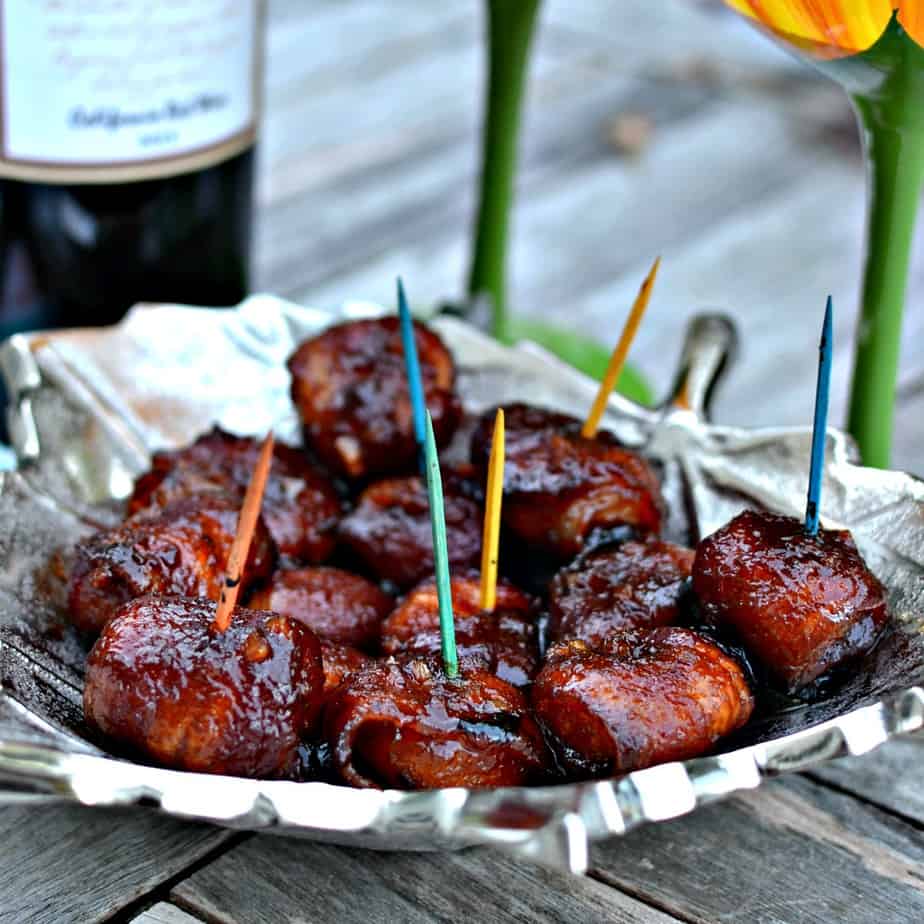 I am absolutely convinced that everything tastes better wrapped in bacon.  The crisp flesh of a water chestnut tastes particularly good wrapped in crisp bacon and basted with a delicious spicy Asian sauce. These fun and tasty appetizers can be prepped ahead, stored in the refrigerator and then baked and basted right before your guests arrive.
These would be perfect for your up coming holiday or dinner party.  The bacon is a cinch to wrap around them and secure with a toothpick.  The sauce is easy to put together and can be made ahead of time. You are going to love them and wish that you had made a double batch!
How do you make Bacon Wrapped Water Chestnuts?
Start by cutting your bacon in half.  Then wrap it around the water chestnut secure with a toothpick. Next place them on baking sheet that has been covered with aluminum foil as this recipe can get a little messy with the basting sauce.
Now melt the butter in a small saucepan and add the garlic and cook until fragrant or about one minute.  Turn off the heat and carefully add the brandy.  Turn the heat back on to low and and reduce it by half.  Now add the soy sauce, brown sugar, sriracha sauce, Worcestershire sauce, ginger, ketchup and water. Simmer the mixture until it is slightly thickened.
Finally bake the water chestnuts in a preheated oven for about 10 minutes.  Now remove them from the oven, baste them and return them to the oven.  Continue to baste every 10 minutes until the bacon is golden brown and crispy.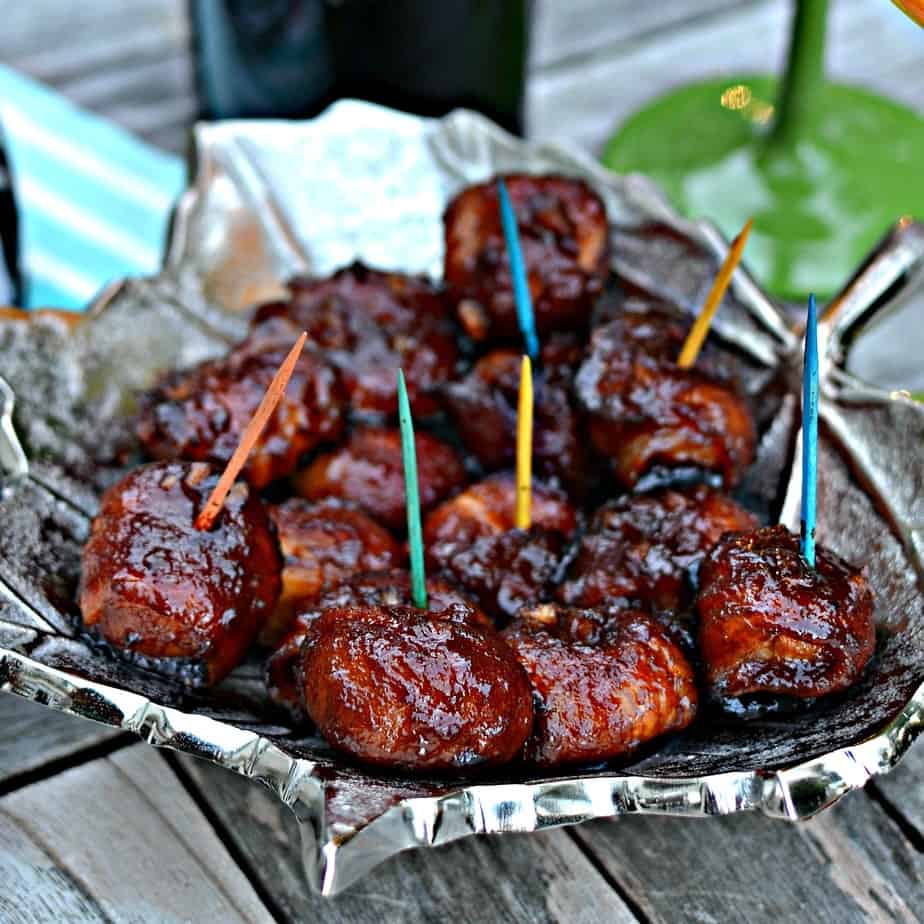 Helpful tips for making Bacon Wrapped Water Chestnuts
Canned whole water chestnuts can be found in the Asian section of your local grocery.
Use good quality smoked bacon that is nitrate free.
Brandy fumes are flammable so turn off the flame before adding the brandy.  Wait about 1 minute and turn the heat back on to medium low.
Soak your toothpicks for at least 30 minutes in water prior to using.
Cover your baking sheet with aluminum foil because the basting sauce can make quite a mess on the pan.
Bake until the bacon is browned and crispy and the sauce is baked into the bacon.
For best results serve warm so plan your baking time well.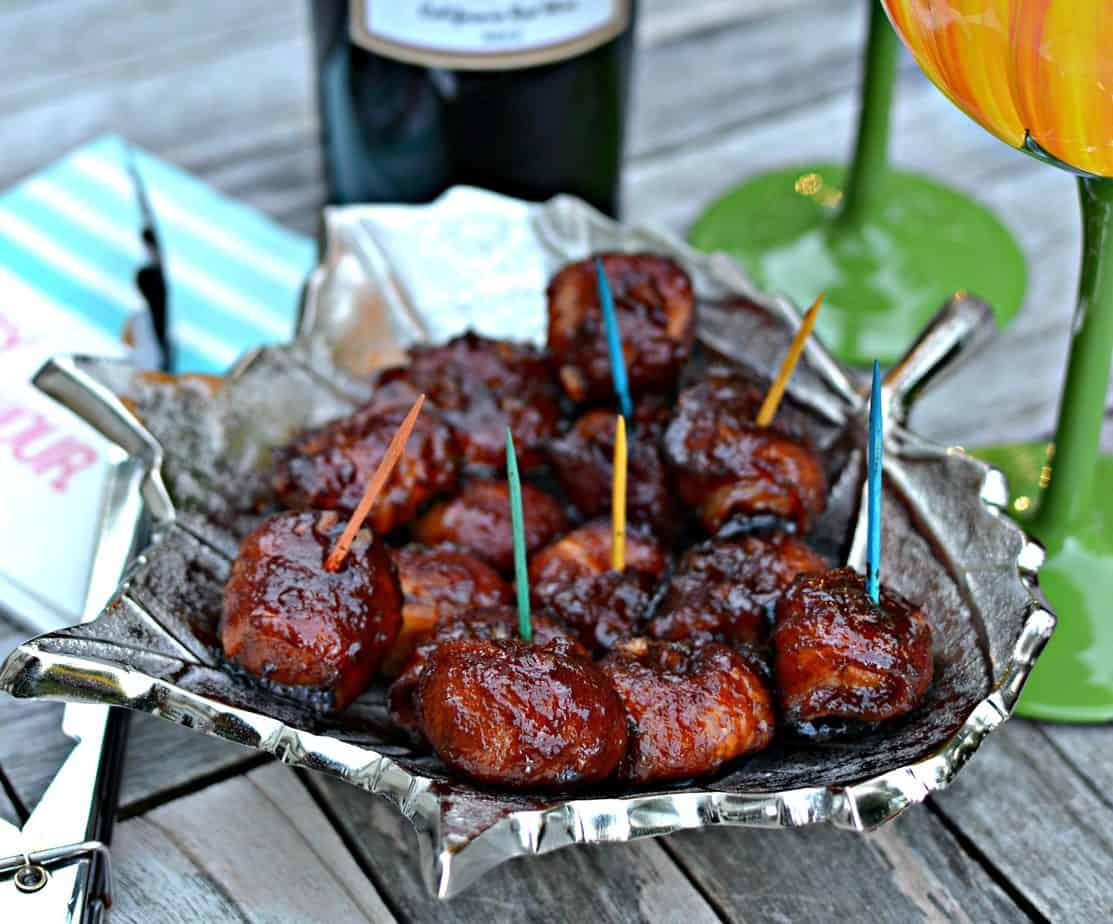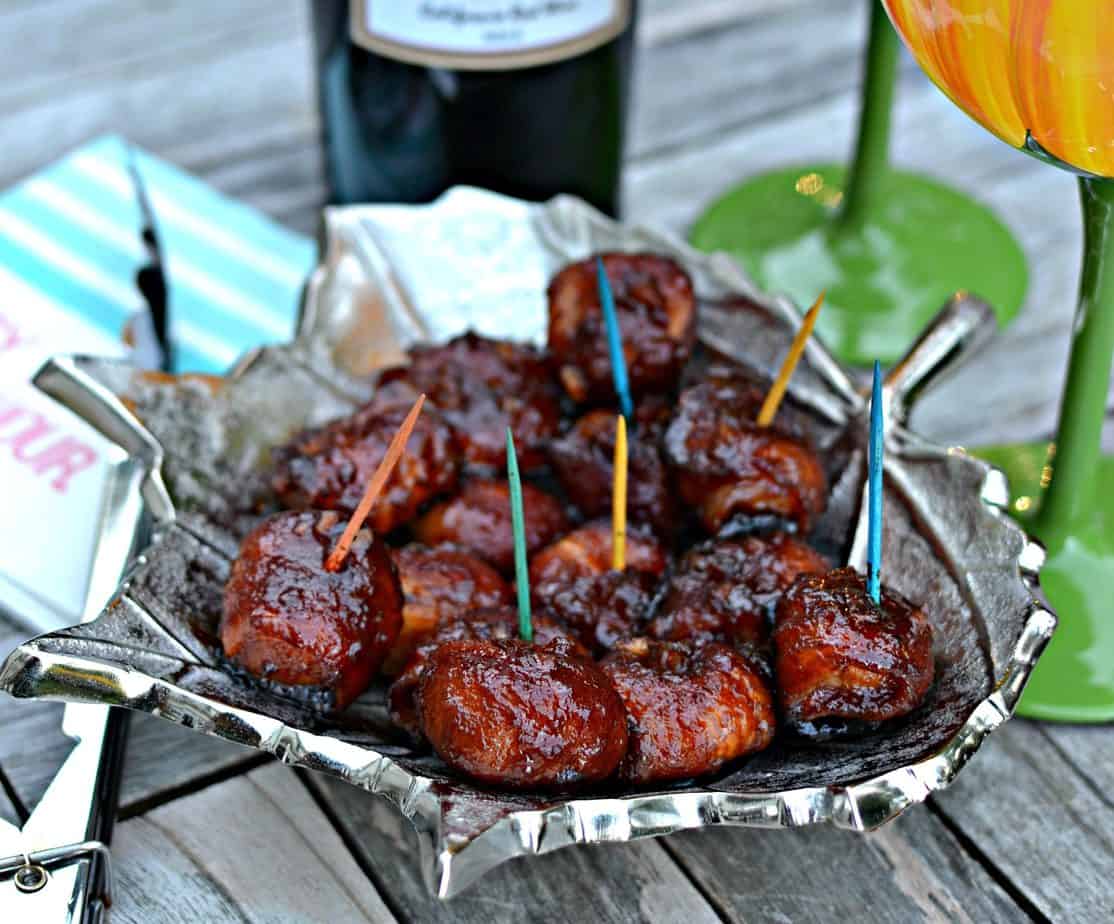 What can you substitute for the water chestnuts?
Some people just don't like water chestnuts …cough..cough Re (a dear friend of mine). Feel free to try these other suggestions.
Meatballs either fresh or frozen
Pineapple either fresh or canned
Chicken Chunks reduce baking time to about 25 minutes
White Button Mushrooms but reduce baking time to about 25 minutes
Dried Figs but reduce baking time to about 25 minutes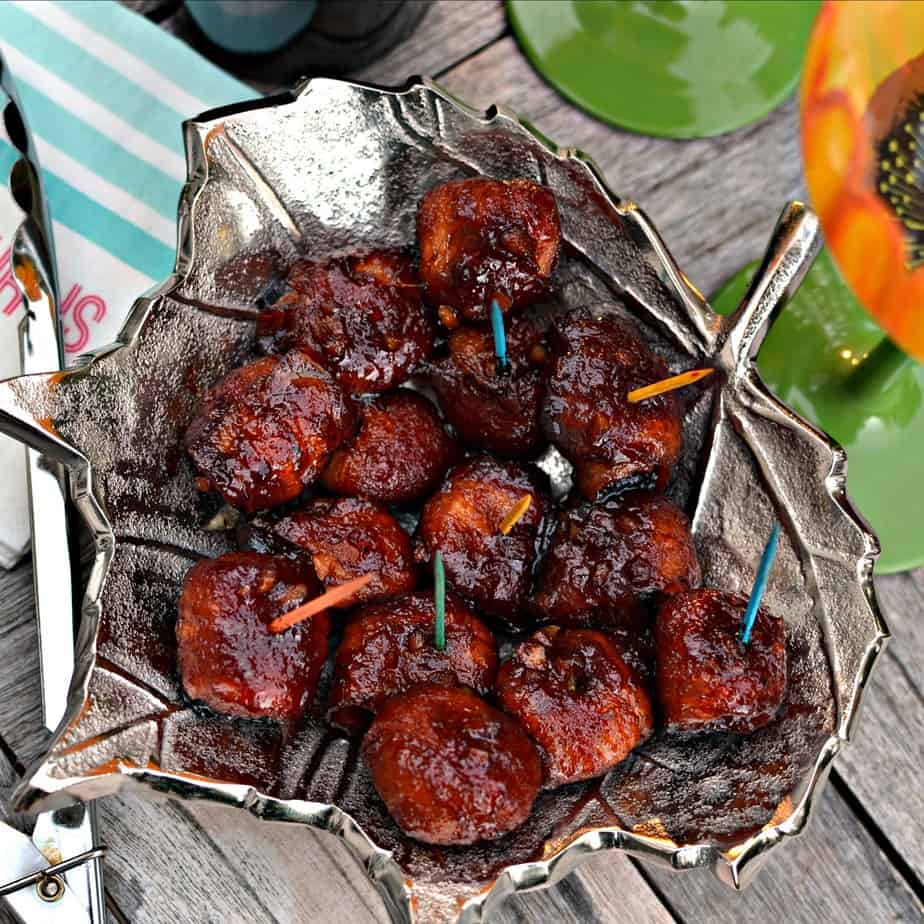 More appetizer recipes you will love!
This post was originally published August 15, 2015 and was republished March 17, 2020 with new content.
Print
Bacon Wrapped Water Chestnuts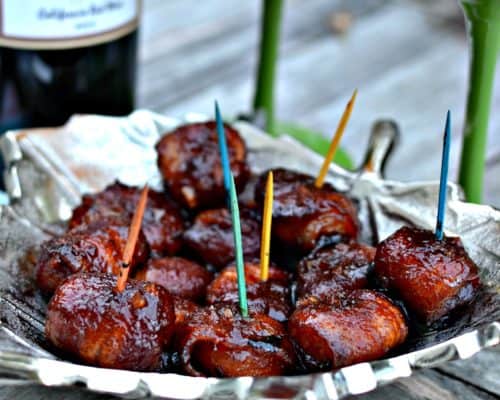 A delectable easy party appetizer of bacon wrapped water chestnuts basted in a slightly sweet tangy Asian sauce.
Author:
Prep Time: 15 minutes
Cook Time: 30 minutes
Total Time: 45 minutes
Yield: 32 appetizers 1x
Category: appetizers
Method: bake
Cuisine: American
Scale
Ingredients
2 cans water chestnuts (8 ounce)
1 lb bacon
1 tablespoon butter
4 large cloves garlic minced
1/4 cup brandy
1/4 cup low sodium soy sauce
2 tablespoons brown sugar
1 teaspoon sriracha hot chili sauce
2 tablespoons Worcestershire sauce
2 tablespoons fresh ginger
2/3 cup ketchup
1/2 cup water
Instructions
Preheat oven to 375 degrees.
Cut bacon in 1/2 and wrap one piece around each water chestnut securing with a toothpick. Arrange on baking sheet covered with aluminum foil.
Melt butter in small saucepan over medium low heat. Add garlic and cook for 1 minute stirring constantly. Turn heat off and add brandy.  Turn heat back to medium low and reduce brandy by 1/2. Add soy sauce, brown sugar, sriracha sauce, Worcestershire sauce, ginger, ketchup and water. Simmer down until slightly thickened; approximately 10-15 minutes.
Bake wrapped water chestnuts for 30-40 minutes or until the bacon is golden brown and slightly crisp.  Baste with sauce every 10 minutes.
Keywords: water chestnuts, bacon wrapped water chestnuts soy sauce, party appetizer, easy appetizer, water chestnuts wrapped with bacon appetizer, bacon wrapped water chestnuts with ketchup and brown sugar
https://www.smalltownwoman.com/wp-content/uploads/2019/05/Beth-1.pdf