Make your own fresh Crostini at home in three no-fuss steps and you won't believe how delicious, quick, and incredibly easy they are to make.   You can add different dried herbs and spices to complement the flavor of the accompanying recipe.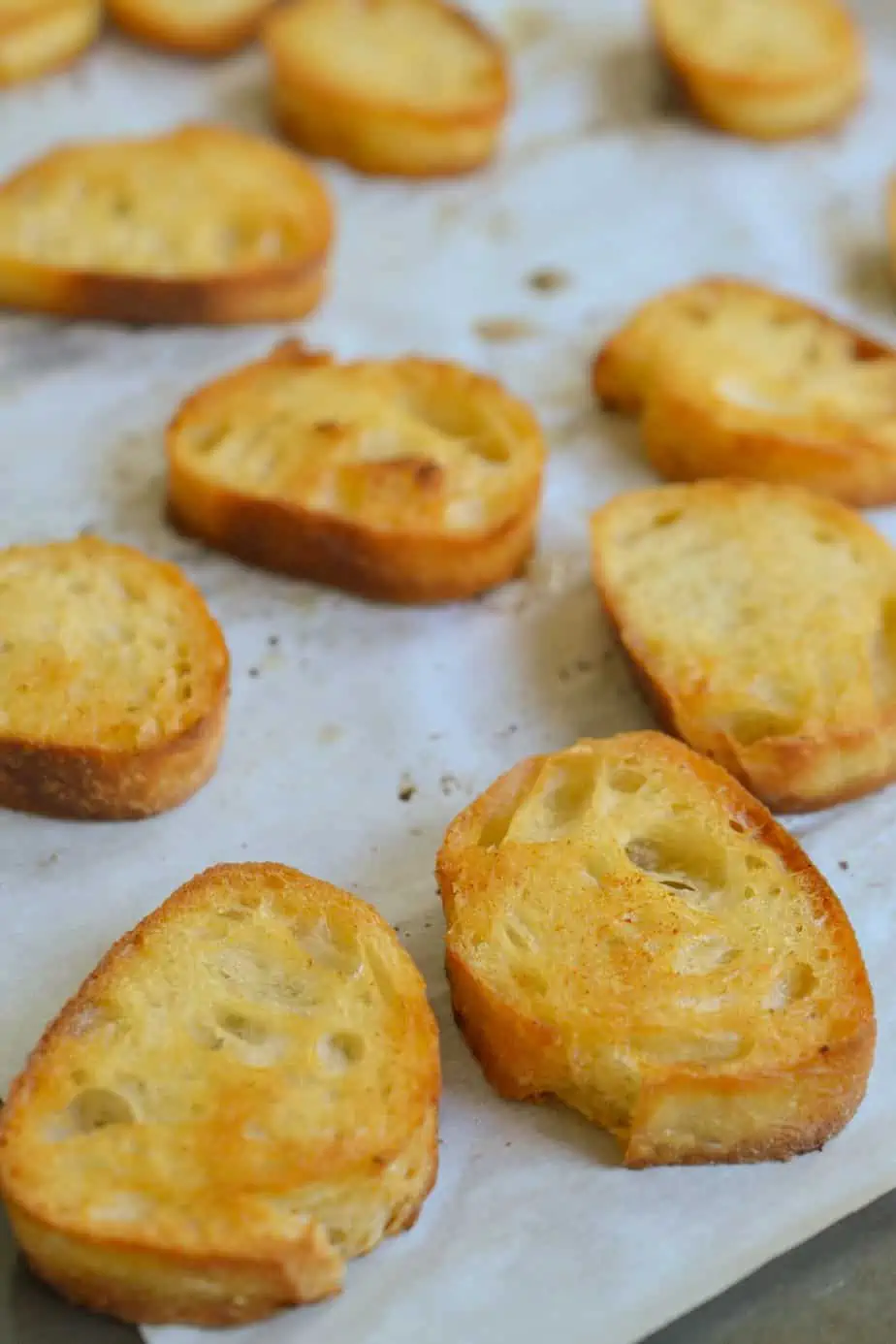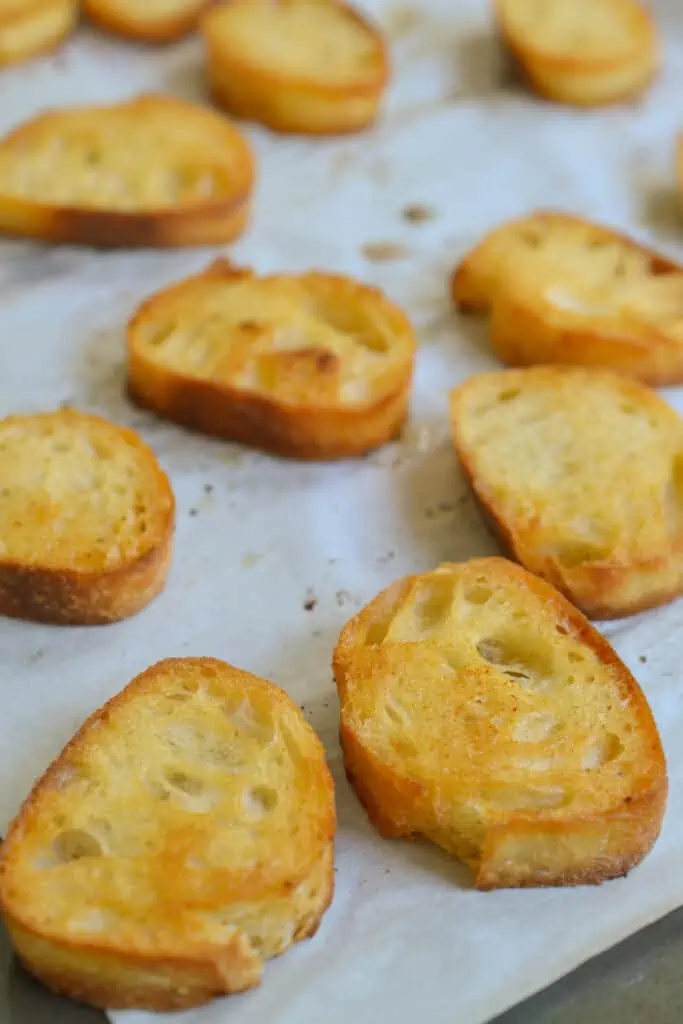 These homemade crostini are so darn easy and perfect for so many appetizers. I love to serve them with so many of my dips and use them for croutons in my French Onion Soup. They are dependable, delicious and incredibly versatile. These little toasts only take about 5 minutes to prep and about 10 minutes to cook. They make the best finger food for parties.
What to top crostini with
Try different combinations of these ingredients to make a big bold beautiful platter of appetizers.
A sprinkle of freshly grated Parmesan cheese
Cream cheese, creamy goat cheese, herb cheese, or any spreadable cheese.
Olives, cherry tomatoes, capers, salmon, strawberries, pears.
Drizzle of honey, balsamic glaze, or lemon pesto.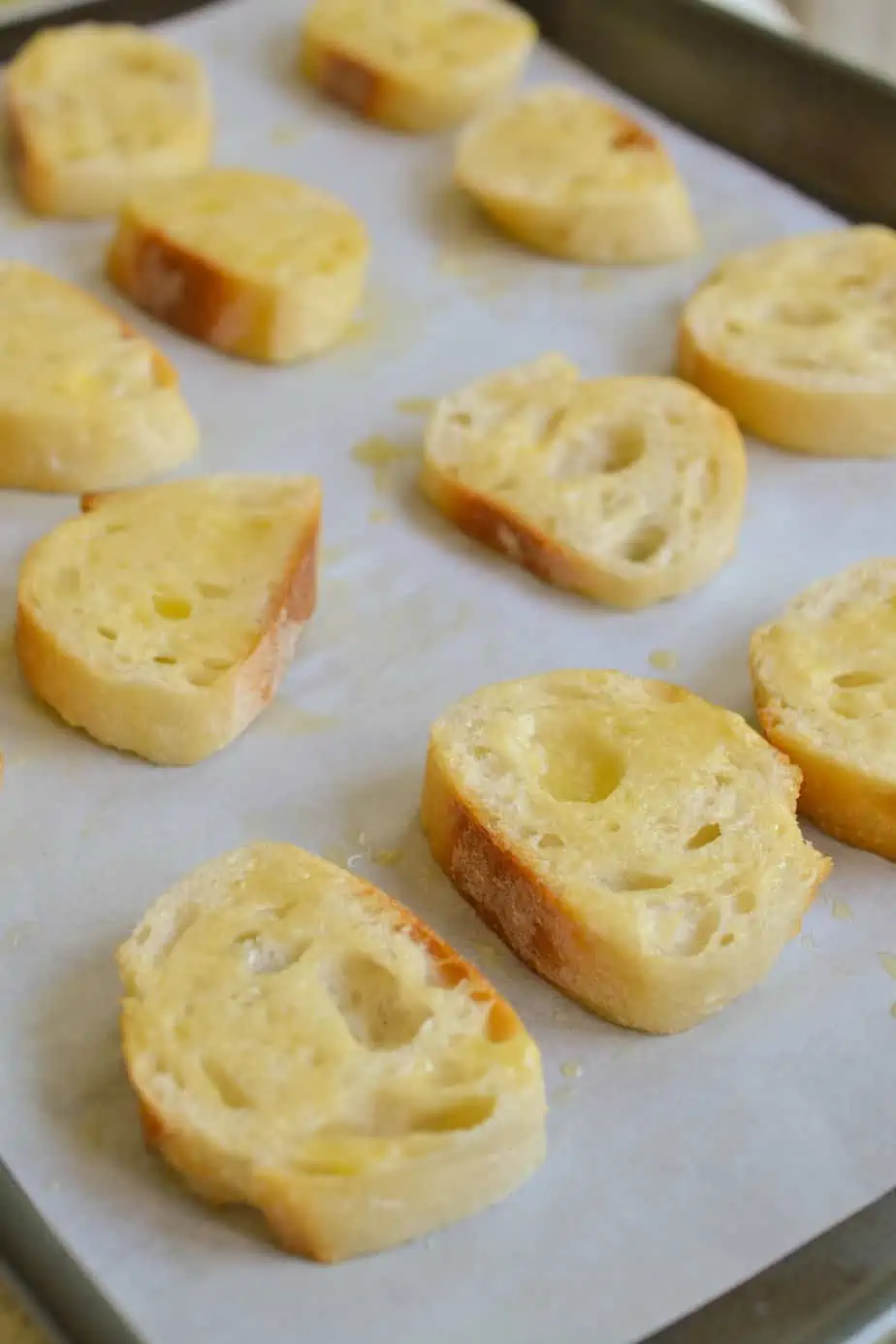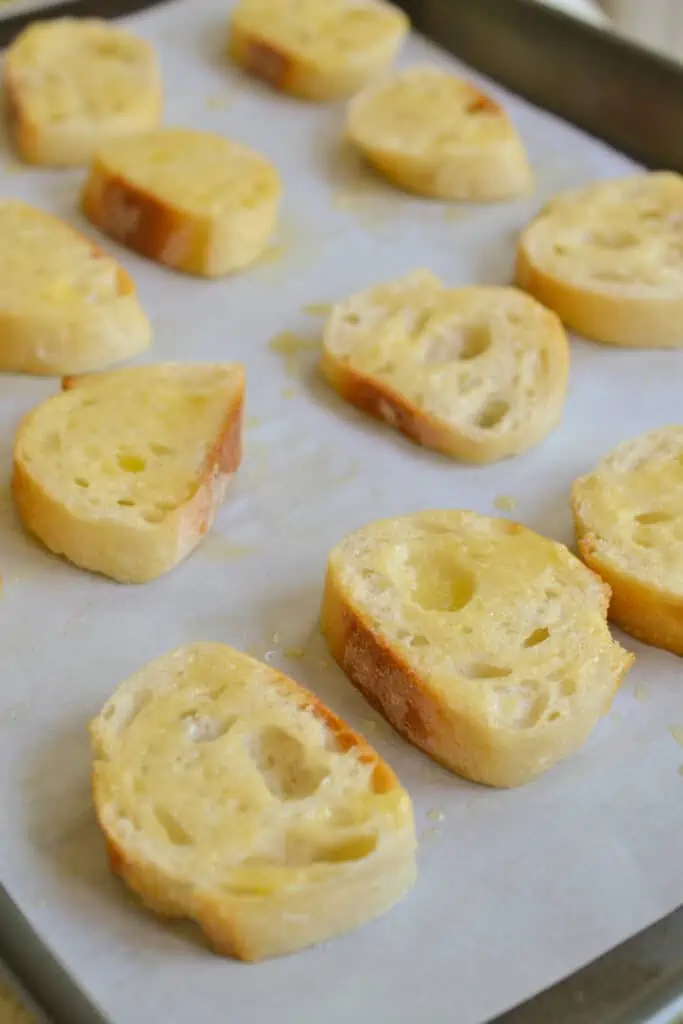 How to make Crostini
Start by slicing your day old baguette into 1/3-1/2 inch thick slices with a serrated knife. Now in a small bowl stir together the butter, olive oil and garlic powder. Then brush both sides of the bread with the butter mixture and place in a single layer on a baking sheet covered with parchment paper. Bake in a preheated oven for 10-12 minutes. Store at room temperature in an airtight container or zipper bag for up to a week. Top with ingredients right before serving.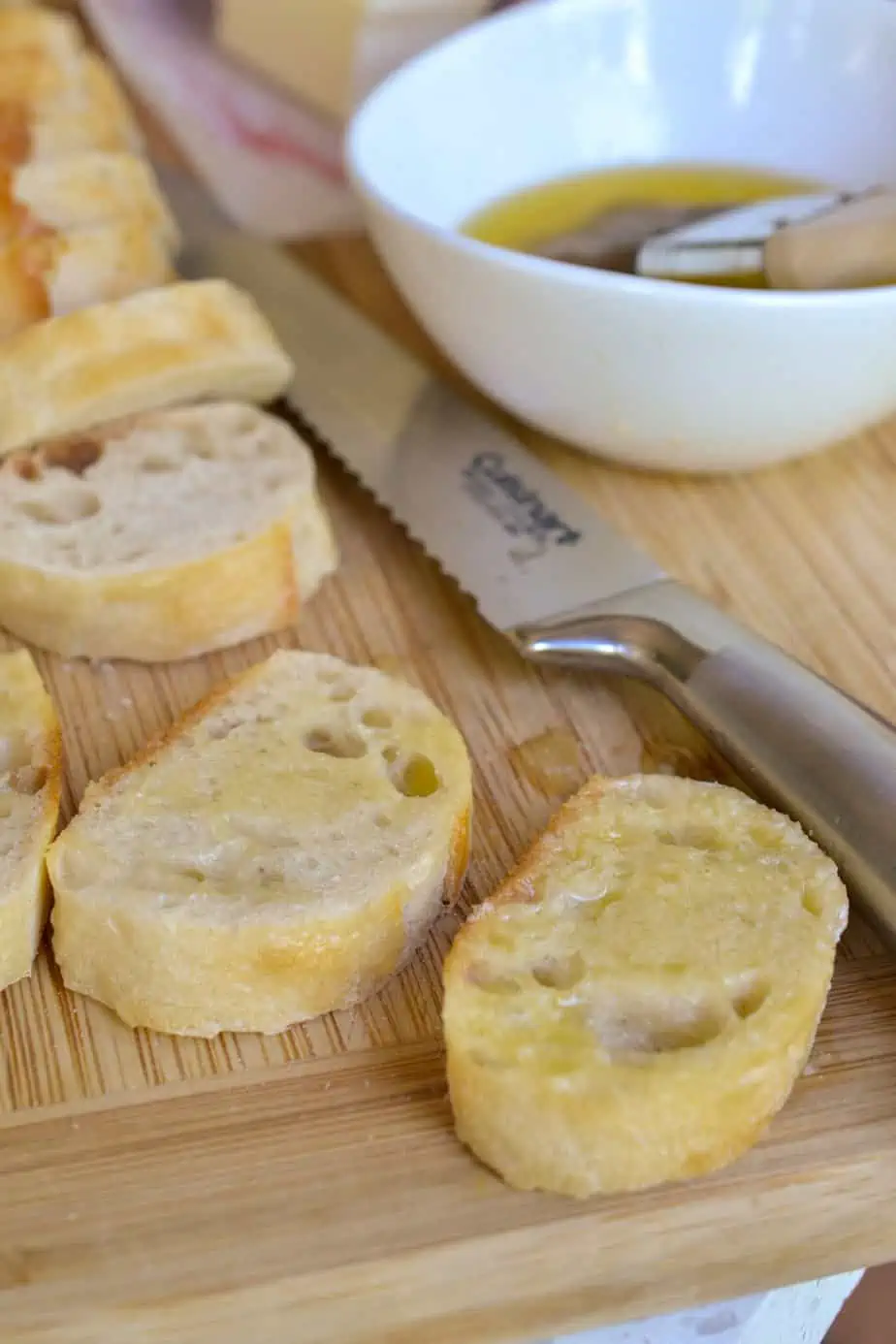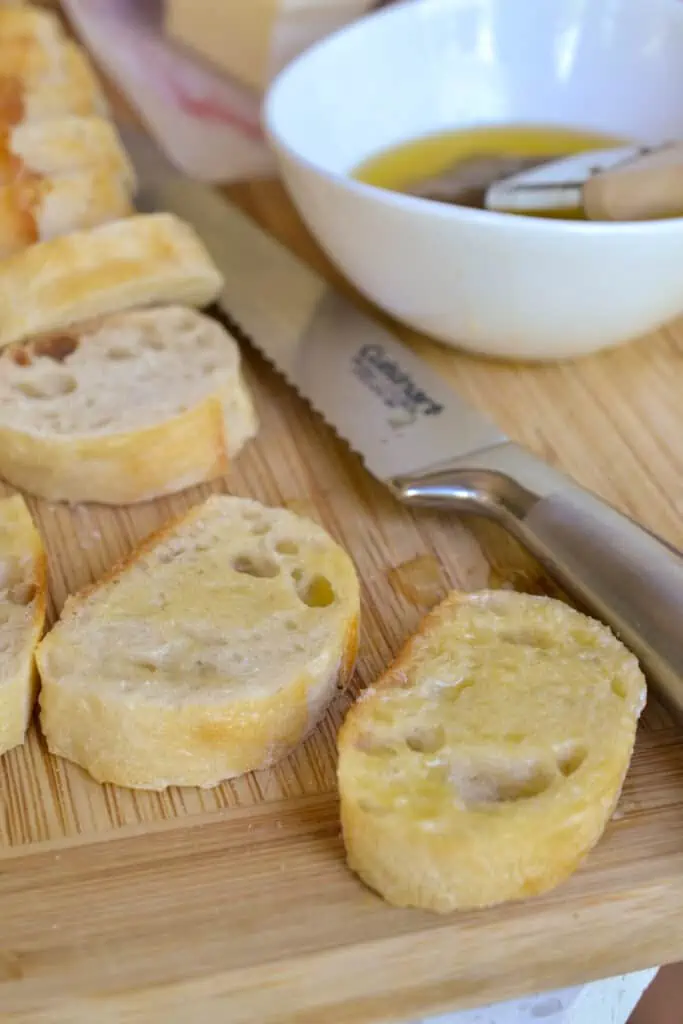 Other ingredients you can add to the butter
Of course not all at once but maybe 2-3 to complement any cold or hot dip that you are serving them with.
1/2 teaspoon dried parsley or 1/2 tablespoon fresh parsley
a touch of salt and fresh ground black pepper
1/2 teaspoon dried oregano or 1/2 tablespoon fresh oregano
1/2 teaspoon dried basil or 1/2 tablespoon fresh basil
1/4 teaspoon onion powder
a couple pinches of crushed red pepper
1/4 teaspoon Cajun seasoning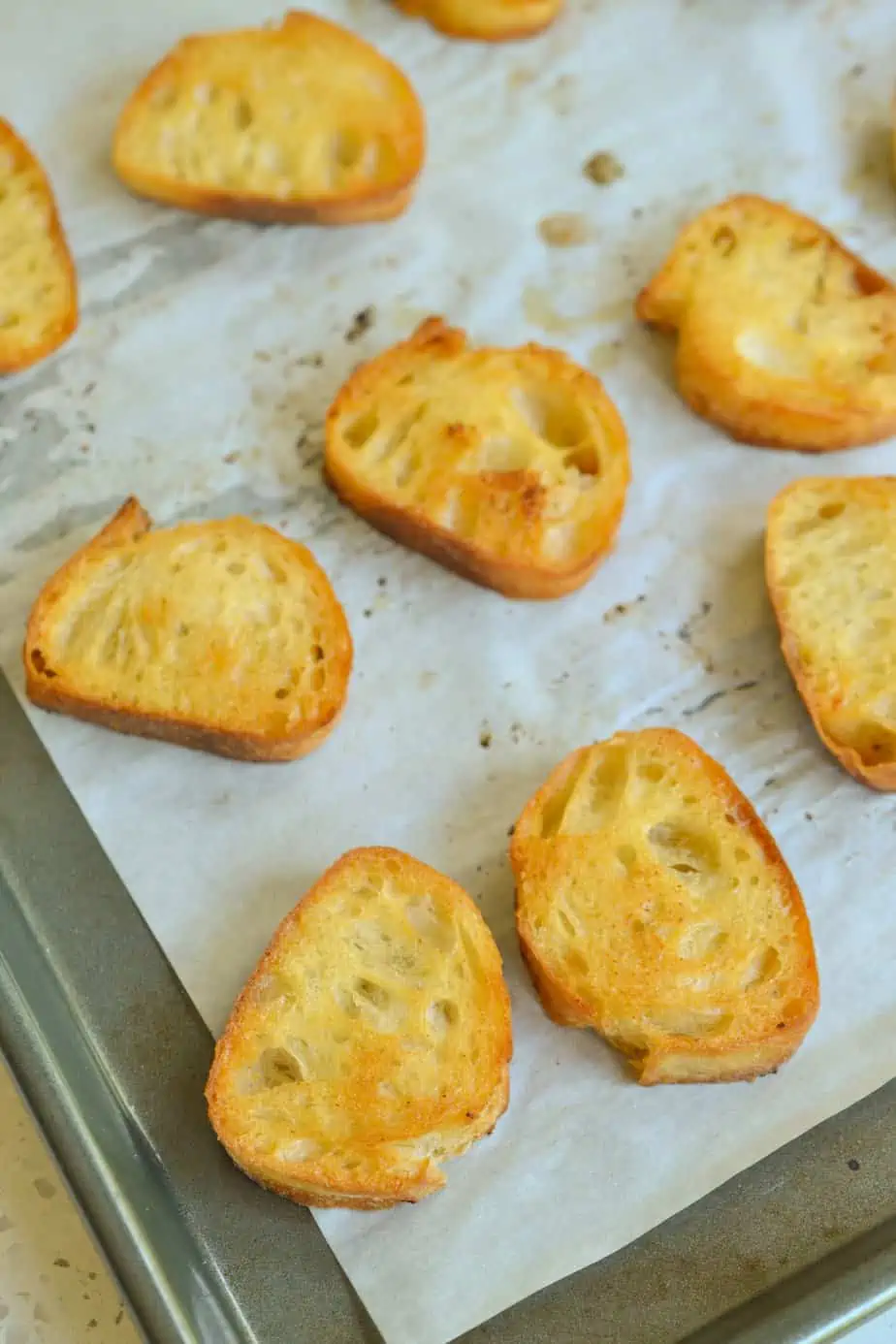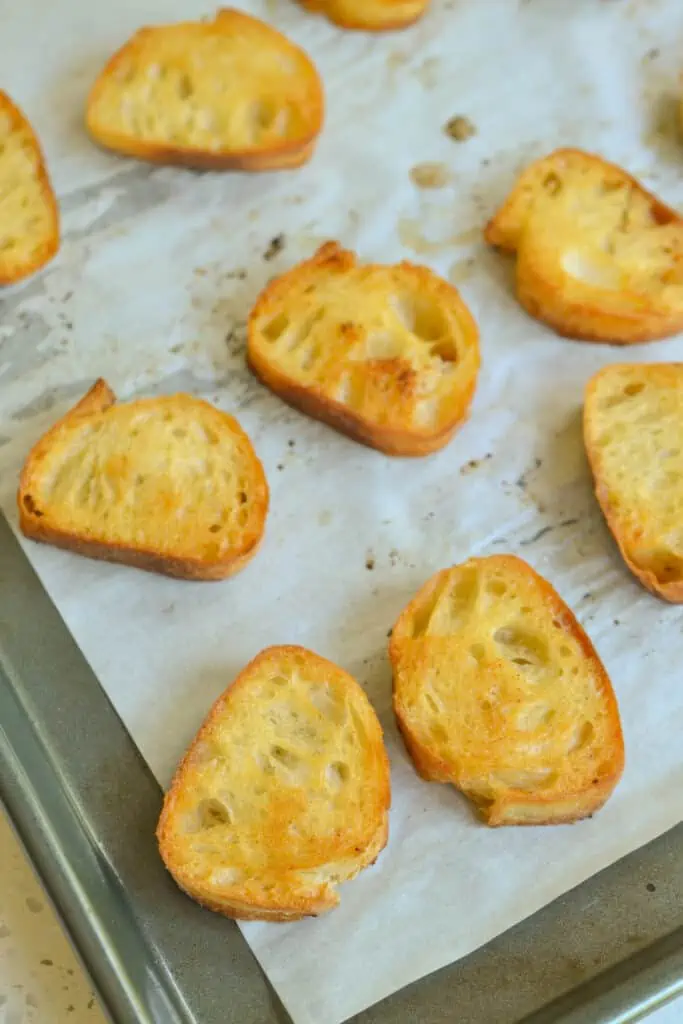 Dip recipes to serve these with
Print
Easy Crostini Recipe
These homemade crostini are quick and easy, cheaper than store bought and taste so much better.
Author:
Prep Time: 5 minutes
Cook Time: 20 minutes
Total Time: 25 minutes
Yield: 6 servings
Category: appetizer
Method: bake
Cuisine: Italian
1 day old baguette
2 tablespoons butter melted
2 tablespoons extra virgin olive oil
1/4–1/2 teaspoon garlic powder (see notes)
Instructions
Preheat oven to 400 degrees.  Cover baking sheet with parchment paper.
Cut bread into 1/3-1/2 inch thick slices.  In a small bowl stir together butter, olive oil and garlic powder.  Brush both sides of the bread slices with butter mixture.  Place on prepared baking sheet.  Bake for 10-12 minutes or until golden brown.
Notes
If you love garlic add the the whole 1/2 teaspoon.  If you like garlic add the 1/4 teaspoon.
Keywords: crostini bread, what is crostini, how to make crostini
On the hunt for more delicious recipes? Follow Small Town Woman on Facebook, Pinterest, and Instagram.
https://www.smalltownwoman.com/wp-content/uploads/2019/05/Beth-1.pdf