Lettuce wraps recipe is an easy Asian inspired meal or appetizer that is bursting with flavor. You can use ground chicken, turkey or pork. It is a nice healthy change of pace and it is low in calories.
Have you ever tried the Lettuce Wraps at PFChang's? They are simply delicious. These are my version and I think they are even tastier at a fraction of the cost. .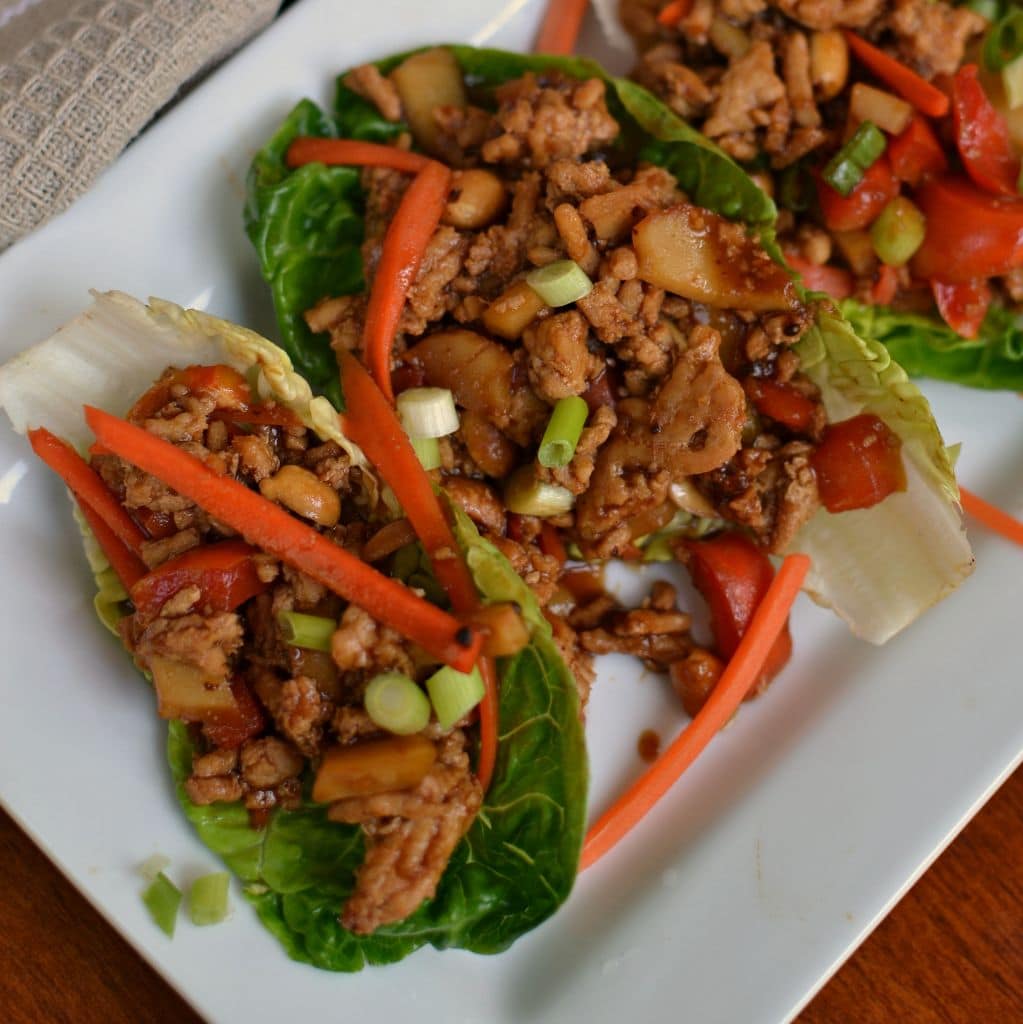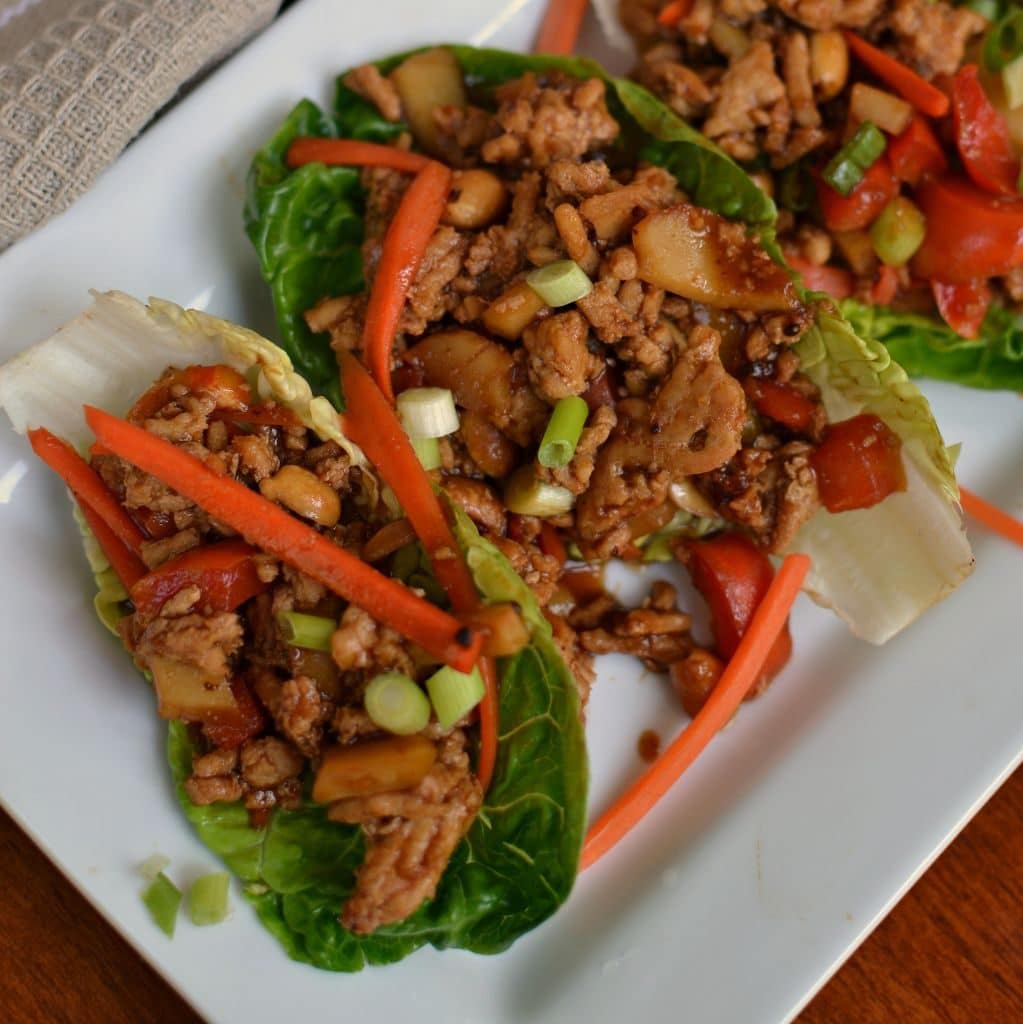 Do you like Asian food? We love to cook and eat Asian dishes. Generally speaking the dishes are just so full of nutrition and are cooked in a way that holds on to most of the nutrients such as stir fried, sauteed or even pan fried in a little oil. These Lettuce Wraps are pulled together quite quickly in a large skillet over medium heat consequently leaving the onions and carrots crisp tender.
EASY SUBSTITUTIONS FOR LETTUCE WRAPS!
This dish is quite versatile and you can substitute ground turkey or pork for the chicken. You can use Butter, Boston or Bibb lettuce which are essentially almost the same lettuce as they come from the same family. I used the center of the Bibb lettuce just because it is a tad bit stronger for picking up and holding all those yummies. I have a friend who hates water chestnuts. For heavens sake leave them out or try substituting jicama or apple.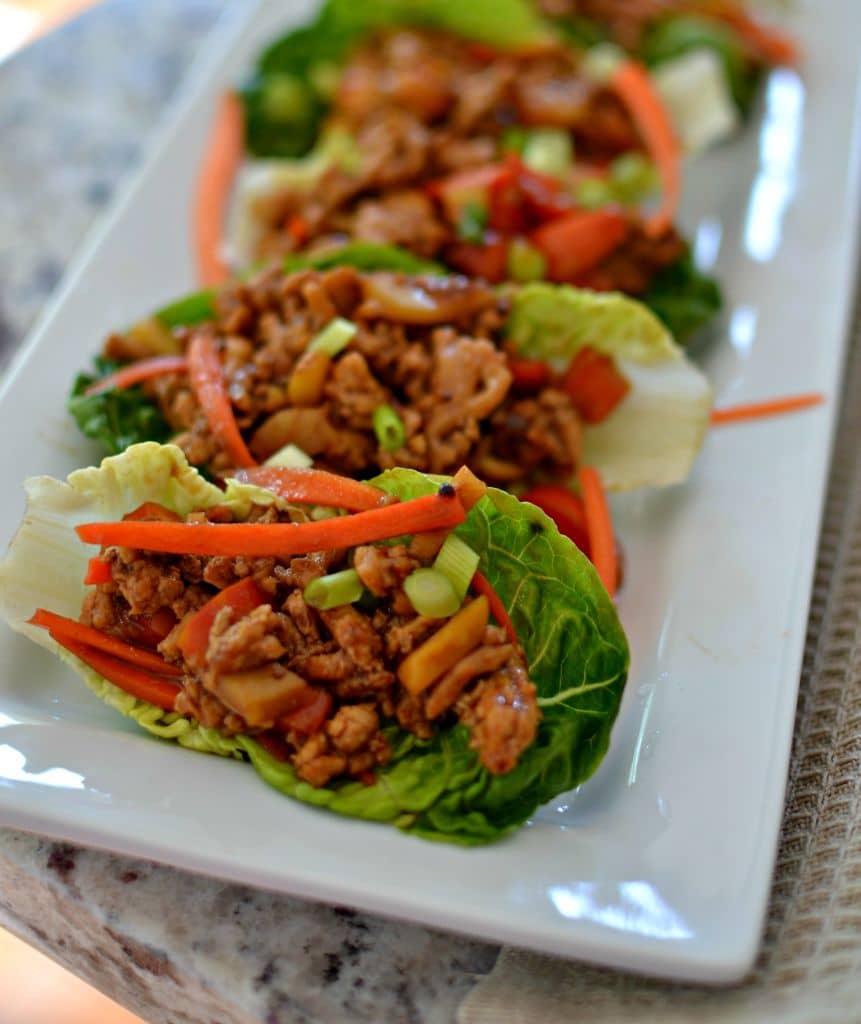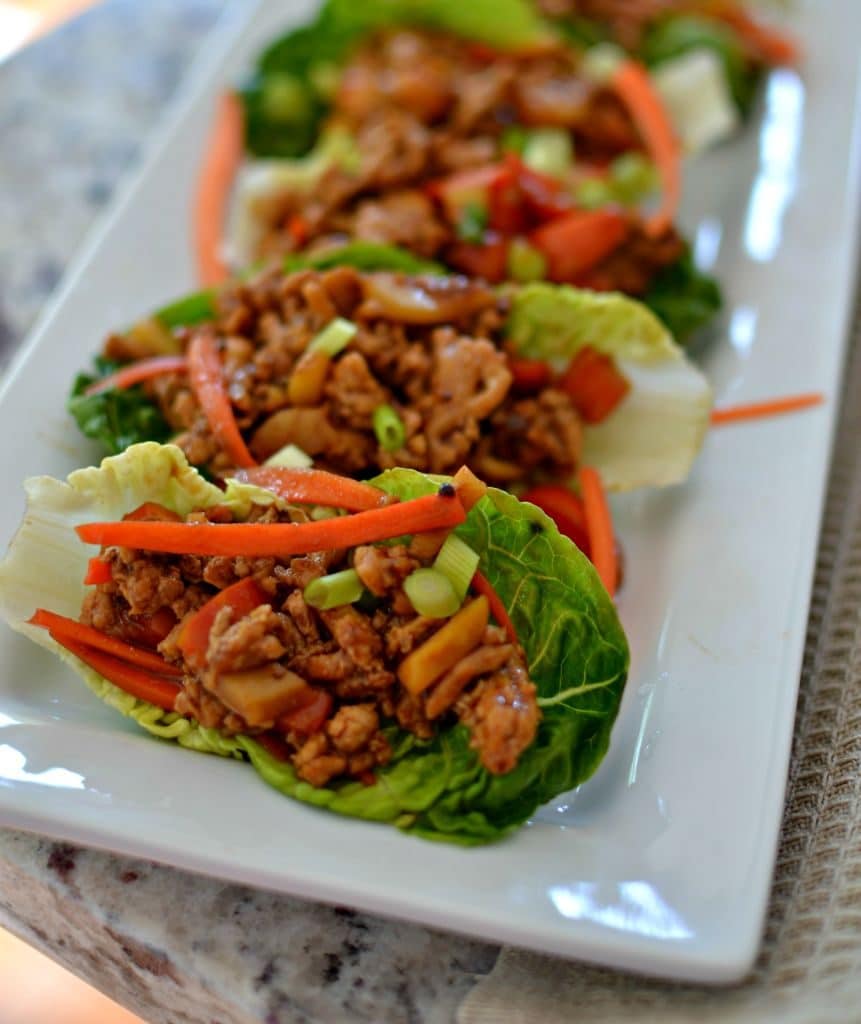 HOW TO MAKE LETTUCE WRAPS!
First start by browning the ground chicken. Then add the onions, carrots and peppers and cook for just a couple of minutes or until crisp tender. Stir in the rice vinegar, soy sauce, ginger, sriracha, water chestnuts and hoisin sauce. Cook for one to two minutes. Stir in roasted peanuts and scallions. Finally scoop in lettuce leaves and serve. Delicious and it took less than ten minutes.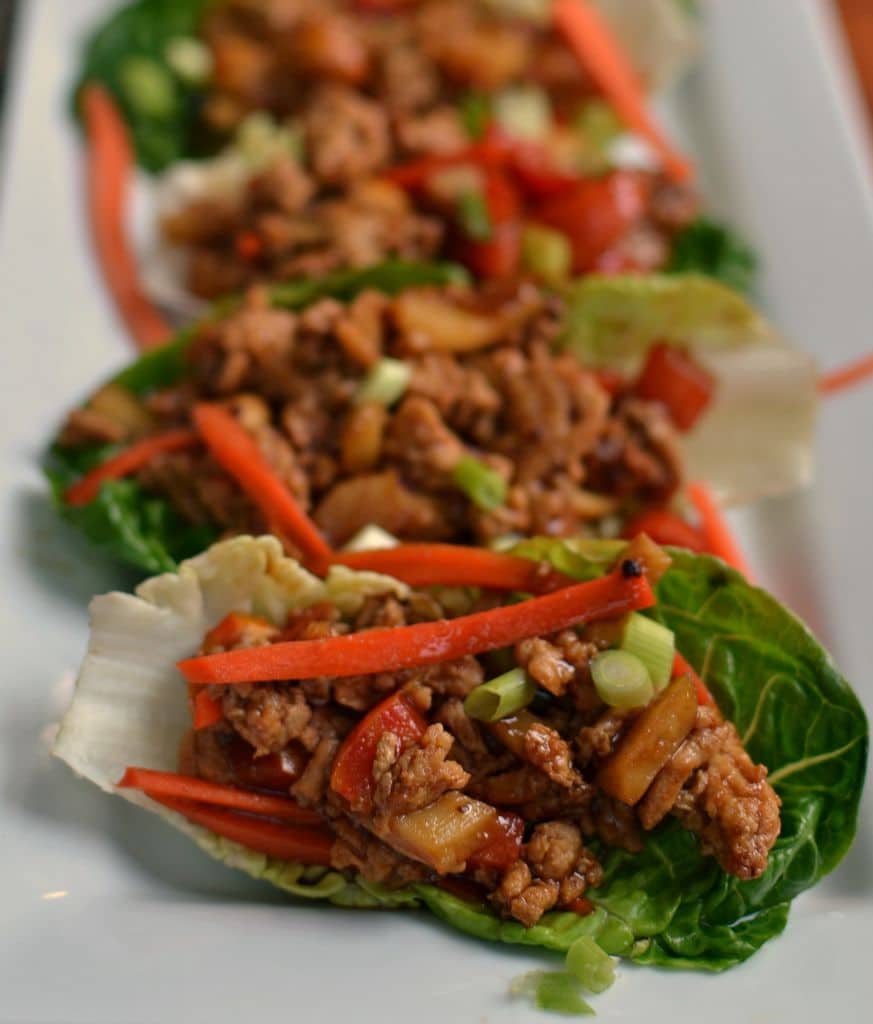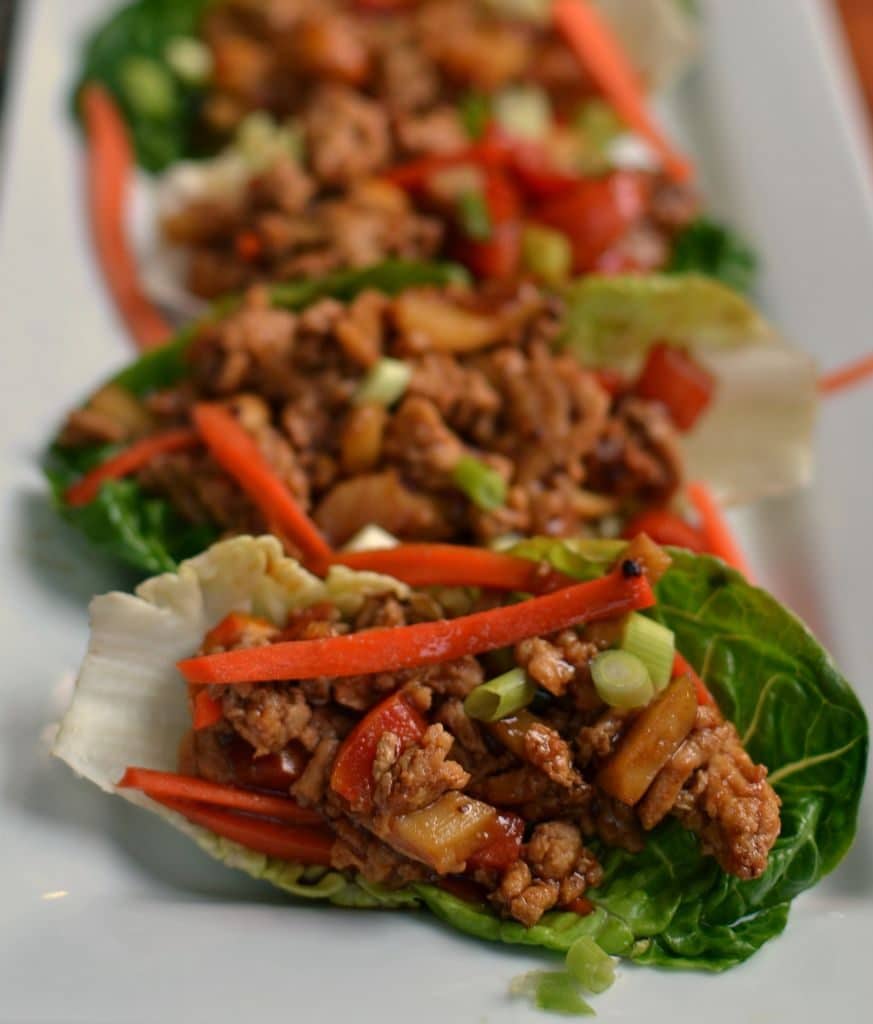 These flavor filled delights make for a healthy light supper or perfect party appetizer. You can make the filling ahead of time. Then reheat and spoon into the lettuce leaves when you are ready to serve. We just had these last night and I am already looking forward to having them again!
More Asian inspired recipes you will love!
This post was originally published June 5, 2014 and was republished July 26, 2018 with new information, pictures and a reformatted recipe.
Print
BBQ Chicken Lettuce Wraps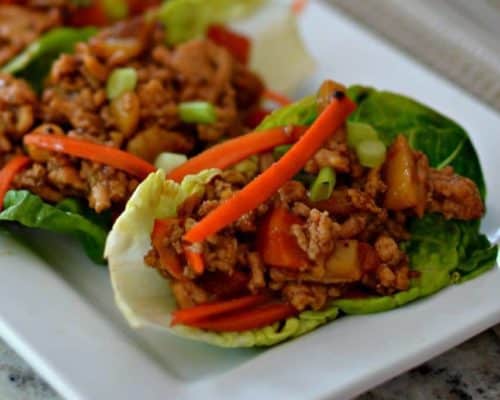 Lettuce Wraps are an easy Asian inspired meal or appetizer that is bursting with flavor. It is a nice healthy change of pace and is low in calories.
Author:
Prep Time: 10 minutes
Cook Time: 10 minutes
Total Time: 20 minutes
Yield: 4 1x
Category: Appetizer
Method: Stovetop
Cuisine: Asian
1 lb ground chicken
1/4 cup finely chopped sweet onion
1 large carrots cut in matchsticks
1/2 red pepper cut in small dice
2 tablespoons rice vinegar
2 tablespoons soy sauce
1 tablespoon fresh ginger
1/2 teaspoon sriracha sauce
1 can (8 ounce) sliced water chestnuts drained and chopped
1/3 cup hoisin sauce
1/4 cup sliced scallions
1/2 dry roasted peanuts
Bibb lettuce
Instructions
In large skillet over medium heat brown ground chicken while breaking apart. When chicken is almost done add onion, carrots and red pepper and cook for additional 2 minutes. Turn to simmer and stir in rice vinegar, soy sauce, ginger, sriracha sauce, water chestnuts and hoisin sauce; simmer for 1-2 minutes. Add scallions and roasted peanuts and heat for 1 minute. Spoon into lettuce leaves and serve immediately.
Keywords: APPETIZER, ASIAN, ASIAN INSPIRED RECIPE, CHICKEN, CHICKEN LETTUCE WRAPS, DINNER, GINGER, HEALTHY CHICKEN LETTUCE WRAPS, HOISON, LETTUCE WRAPS, PEANUTS, SRIRACHA
https://www.smalltownwoman.com/wp-content/uploads/2019/05/Beth-1.pdf