This mouthwatering good Blackberry Cobbler combines lightly sweetened blackberries with a hint of cinnamon and a flaky buttery biscuit topping.  This is one of our family's favorite summer recipes.  We just can not get enough of this scrumptious dessert.  Pure heaven!!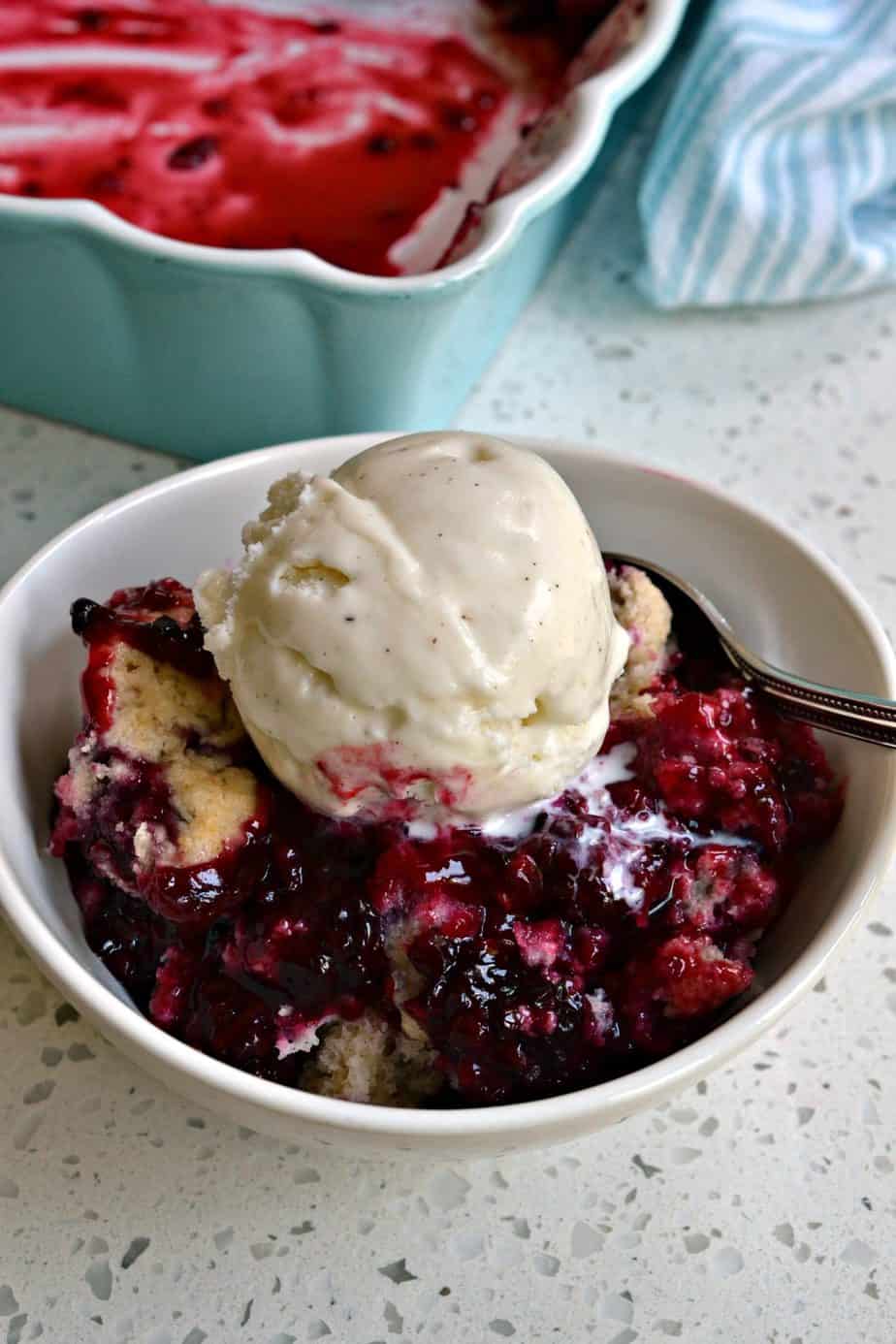 This southern style blackberry cobber is at the top of our scrumptious list and is so much easier than a pie.  There isn't any rolling, trimming and fluting a pie crust going on here.  Yahoo!  Just simple honest to goodness luscious blackberry flavor all packed in one easy family friendly recipe.  Sometimes we enjoy it a la mode and other times we just savor the pure taste of nature's bounty unadulterated.
For us summer means scrumptious berry recipes.  Strawberry Bread with Whipped Strawberry Butter, Raspberry Ice Cream  and Berry Baked Oatmeal are just a few of our favorites.  The season is short so enjoy those delicious berries while you can.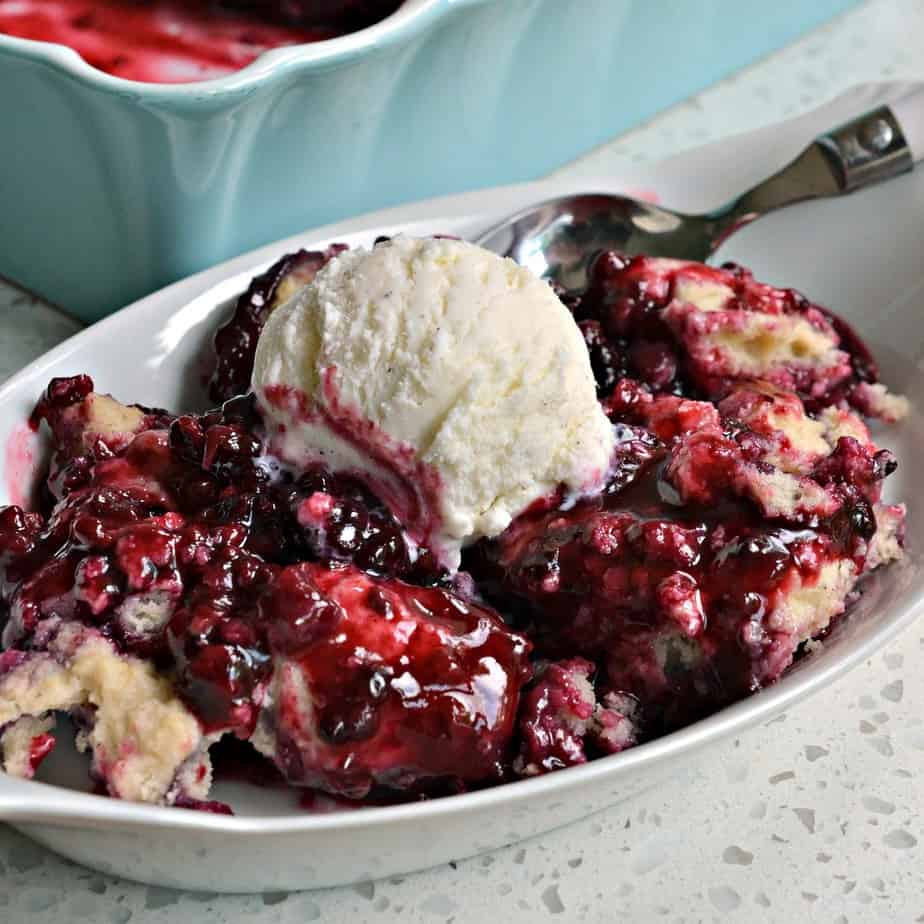 How to make Blackberry Cobbler
Start by combining the blackberries, sugar and ground cinnamon together in a saucepan over low heat.  While that is just starting to warm up combine the water and cornstarch.  Gently stir that in and cook the mixture over low heat until thickened.
Next whisk together the flour, sugar, baking powder, salt and ground cinnamon. Now using a pastry cutter cut in the butter until the mixture is crumbly.  Then stir in the buttermilk just until the mixture is moistened.
Pour the warm blackberries into a greased baking dish.  Now drop the dough by rounded tablespoons onto the hot liquid. Then place in the preheated oven and bake for about 30 minutes.  Enjoy hot or at room temperature.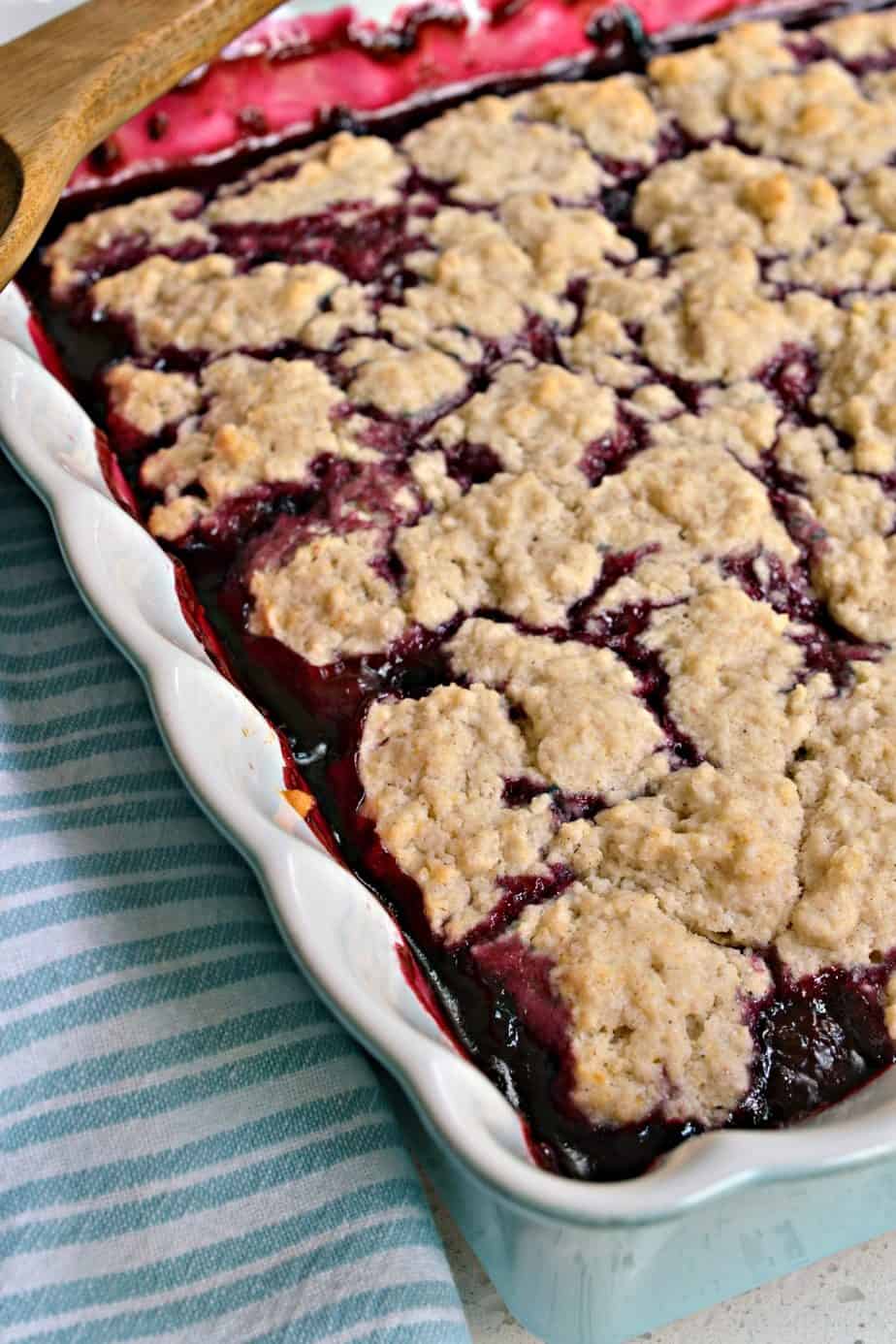 Tips and hints for this fresh dessert
Grease the baking dish as it helps with easier clean up.
I prefer fresh blackberries for this recipe however you can use frozen as well.
Use a pastry cutter or two knives to cut the butter into the flour mixture.  I always start by cutting my chilled butter into small cubes.
Mix the dough just until moistened as over-mixing can make it tough.
Always preheat the oven and load the cobbler on the middle rack in the center of the oven.
Keep in mind blackberries stain easily so clean up messes in a most timely manner.
If you have leftover homemade biscuits simply cook the blackberry portion of the recipe.  Then topped with warmed split biscuits.  Voila!  Cobbler in no time at all!
Save money and make your own buttermilk.  Just add 1 1/2 teaspoons lemon juice or white vinegar to the half cup of milk.  Let sit for 5 minutes before mixing with flour/butter mixture.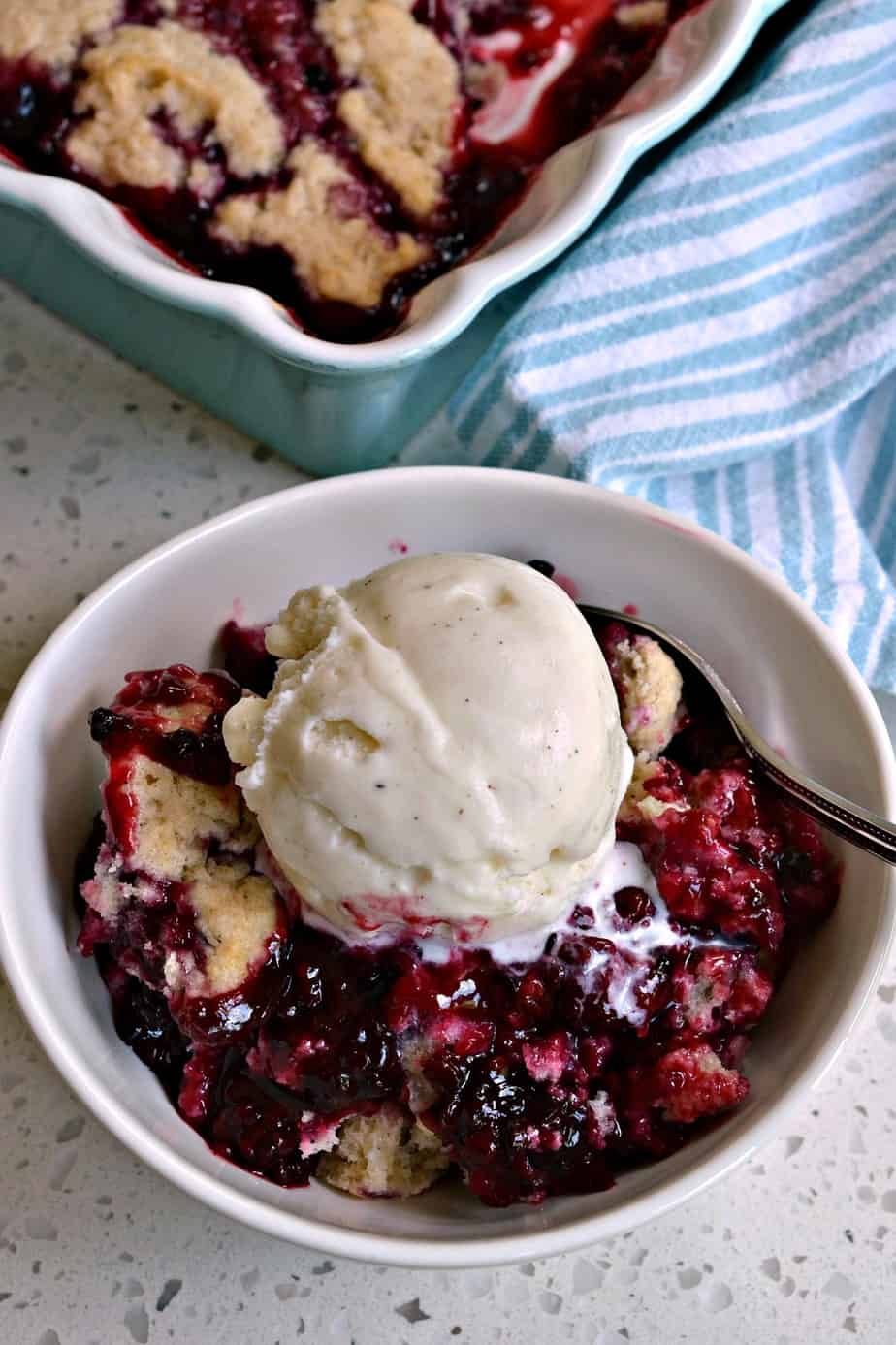 How to store Blackberry Cobbler
Once completely cooled cover the cobbler loosely. This loose covering will keep moisture and condensation from settling assuring a better texture for the biscuit topping.  Store on the counter top for up to a day then cover tightly and store in the refrigerator.  If your house is overly warm than store covered in the fridge soon after it cools.
Print
Blackberry Cobber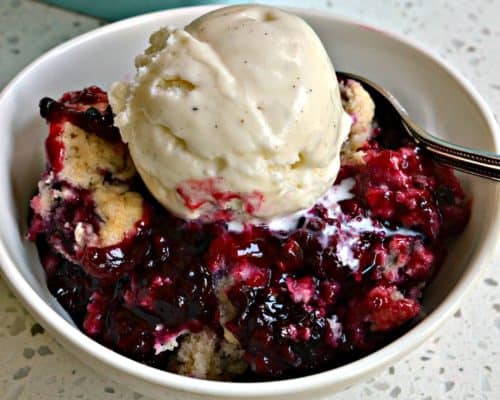 This southern style cobbler combines lightly sweetened blackberries with a touch of cinnamon and an easy to make buttery flaky biscuit dough.  Serve warm right out of the oven with a scoop of French vanilla ice cream.
Author:
Prep Time: 20 minutes
Cook Time: 30 minutes
Total Time: 50 minutes
Yield: 8 serving 1x
Category: dessert
Method: bake
Cuisine: Southern
Scale
Ingredients
7 cups blackberries
1 cup sugar
1/4 teaspoon ground cinnamon
½ cup water
2 tablespoons cornstarch
1 ½ cups all purpose flour
¼ cup sugar
1 1/2 teaspoons baking powder
½ teaspoon salt
¼ teaspoon ground cinnamon
½ cup butter
½ cup buttermilk warmed
Instructions
Preheat oven to 350 degrees.  Grease a 8 x 8 inch square baking dish.
Combine blackberries, 1 cup sugar, and 1/4 teaspoon ground cinnamon together in a saucepan over low  heat. Whisk together water and cornstarch; stir gently into blackberry mixture. Cook over low heat until thickened; stirring gently several times.
Whisk together flour, 1/4 cup sugar, baking powder, salt, and 1/4 teaspoon ground cinnamon. Using a pastry cutter cut in butter until the mixture is crumbly.  Stir in buttermilk mixing just until moistened.
Pour warm blackberry mixture into prepared baking dish.  Drop dough by rounded tablespoons onto the blackberry mixture.  Bake for 30 minutes or until the topping is browned and the mixture is bubbly.
Keywords: easy blackberry cobbler, southern blackberry cobbler, how to make blackberry cobbler, best blackberry cobbler
https://www.smalltownwoman.com/wp-content/uploads/2019/05/Beth-1.pdf