Buckeye Balls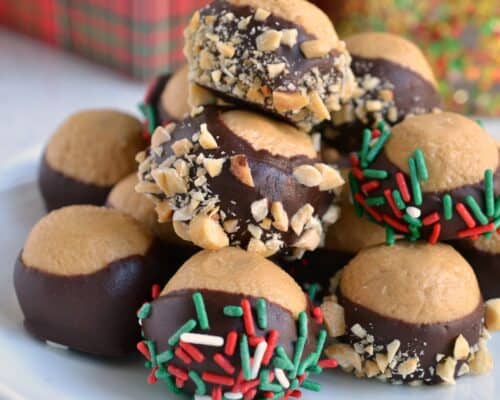 Delectable and fun creamy buttery peanut butter Buckeye Balls dipped in semisweet chocolate and easily decorated for any occasion.  They are perfect for holiday gift giving and cookie and candy trays.
1 ½ cups

creamy peanut butter

½ cup

butter softened

½ teaspoon

vanilla extract

3 cups

powdered sugar

8 ounces

semisweet chocolate chips

1 tablespoon

coconut oil or shortening
Using a stand mixer or hand mixer beat peanut butter, butter, vanilla and powdered sugar until it forms a fairly stiff dough.  The dough should be stiff enough to roll into soft balls but not so stiff that it looks dry. If necessary add 1-2 more tablespoons powdered sugar.
Roll the dough into balls using about 1 rounded tablespoon per ball.  Place on a parchment covered baking sheet with a little bit of space between each ball.
Place in the freezer uncovered for about 20-30 minutes.  Take the balls out of the freezer and reroll into super smooth balls placing back on the parchment paper.  Place a toothpick in the center of each ball and place back in the freezer for 10-15 minutes.
Add the chocolate chips and coconut oil to a microwave safe bowl.  Microwave for 30 second intervals stirring between each interval until the chocolate is melted.
Using the toothpick dip the frozen peanut butter balls into the chocolate going about 2/3's of the way up.  Immediately dust with sprinkles and place on parchment paper to set. Remove the toothpick and use your finger to smooth over the toothpick hole.
Notes
Creamy peanut butter really is the only way to go with these smooth balls.  All natural peanut butter is too oily and coarse so purchase the traditional kid friendly peanut butter like Jif, Peter Pan or Skippy.
Freezing the peanut butter balls reallys makes them much easier to work with and helps them hold their nice round shape.
Line our baking sheet with parchment paper so the balls do not stick to the sheet.
Adding a little bit of coconut oil or shortening helps to thin the chocolate out and make it easier for dipping.  However do not increase it too much or it might have trouble setting.
Refrigerate the peanut butter balls in airtight container in a single later for up to 2 weeks or freeze in a sturdy freezer container for up to two months. Always defrost the balls in the refrigerator so the condensation does not affect the consistency.
Keywords: how to make buckeye balls, buckeye peanut butter balls, can you freeze buckeye balls , best recipe for buckeye balls