Cool and refreshing Cherry Lemonade is made with all natural ingredients like fresh squeezed lemons, sun ripened sour cherries, sugar and filtered water.  With just the right balance of fruit and sugar this the ultimate summer cool down liquid refreshment.  It is perfect for family reunions, pool parties, bridal showers, and baby showers.  Just remember to make a double or triple batch.
Or quickly turn it into an adult beverage with a shot of vodka or tequila. Summer just wouldn't be the same without chilled recharging fruit based refreshments.  This recipe, Blueberry Lemonade, Fresh Peach Tea, and Arnold Palmer Drink are just a few of our many family favorites.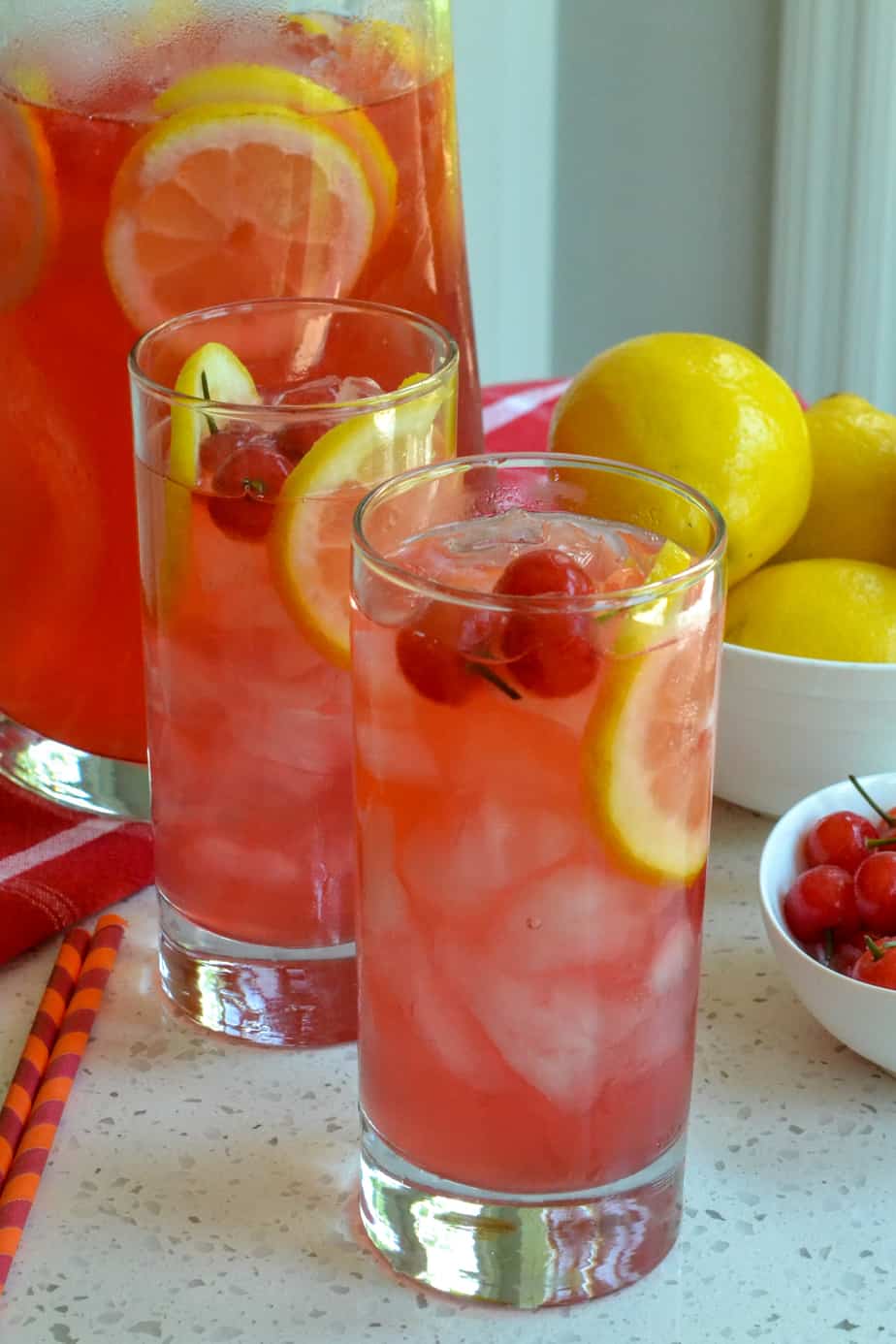 How do you make Cherry Lemonade
Start by simmering 1 pound of cherries, 2 cups sugar, and 3 cups water for about 15 minutes.  I like to use sour cherries but you could use sweet cherries as well.  Once simmered move it off the heat and let it cool down. Then once cooled run it through a fine mesh strainer.  While the cherry juice is cooling squeeze the juice out of about 6-8 lemons.
Now combine the cherry juice, lemon juice and about 5-6 cups chilled water.  Stir to combine and if desired add thin slices of lemon and additional fresh cherries.  Finally fill glasses with ice, pour, and enjoy.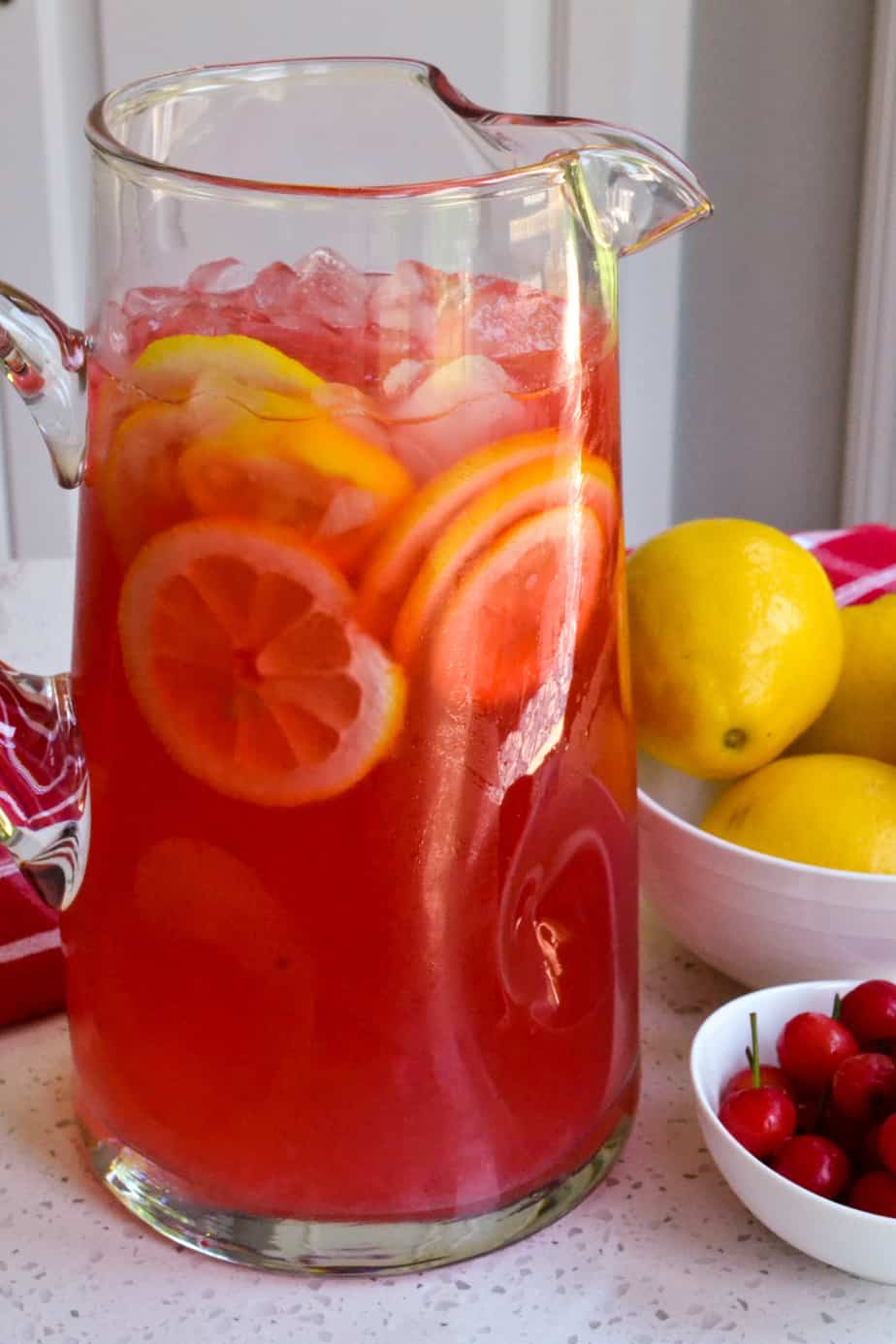 Recipe notes and helpful tips
This recipe works with both sour and sweet cherries.  If using sweet cherries cut the sugar down to 1 3/4 cup.
For best results make the cherry juice a day in advance, cool, and then strain.  Place the pitcher in the refrigerator to chill overnight.
Lemonade needs to be refrigerated.  It should not be left out anymore than 2 hours without refrigeration.
I use a mandolin to slice the lemons for a thin uniform cut.
Fresh lemonade calls for lots of ice.  Make sure that you have plenty on hand so everyone can thoroughly enjoy your effort.
1 medium lemon has about 4 tablespoons of juice so you will need at least 6 lemons.  I always purchase a few extra just in case and for garnishments in the pitcher and in the glasses.
To make it into an adult beverage simply add a shot of vodka or tequila to each glass before adding the lemonade.
Store in a sealed container in the fridge for up to 7 days.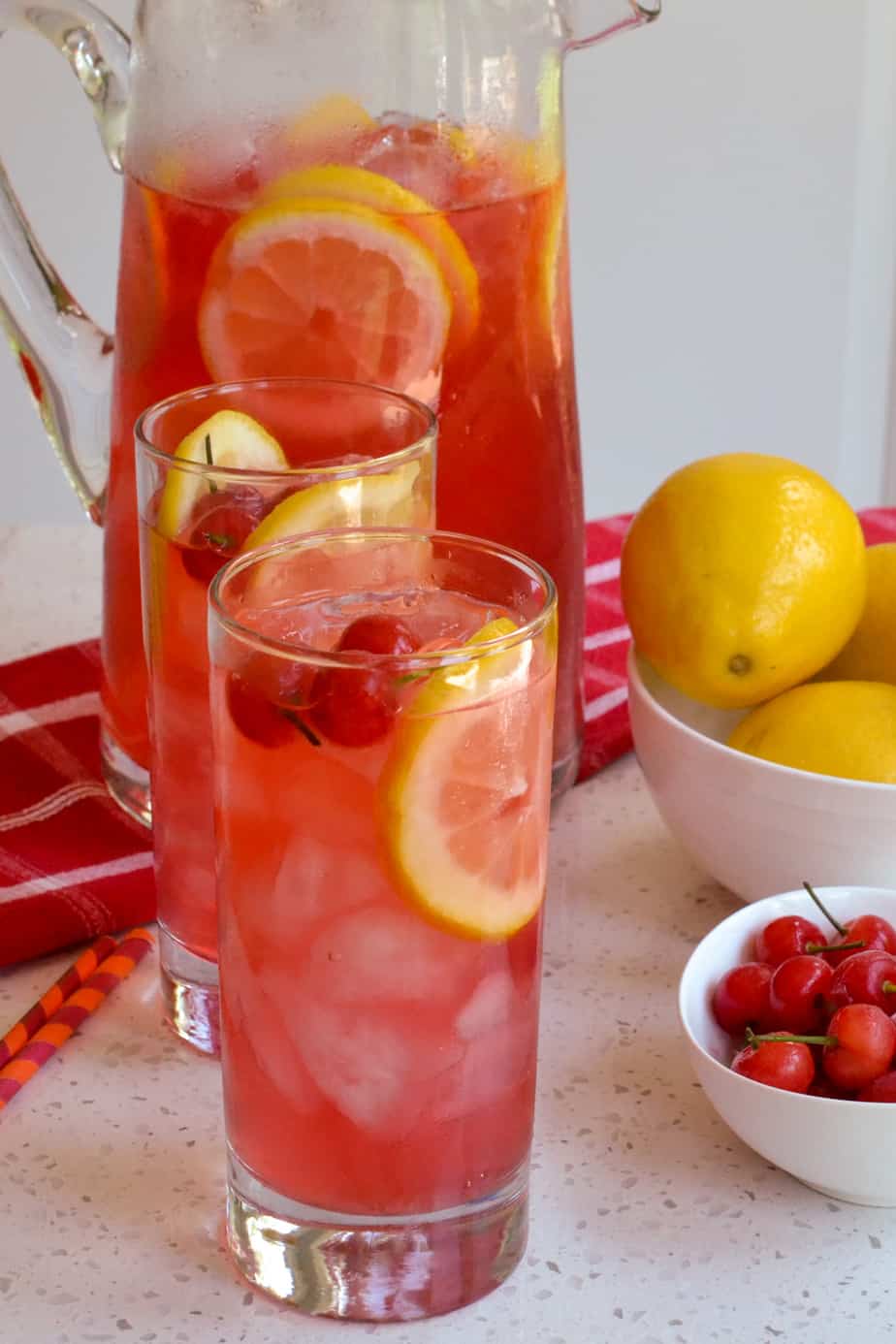 Other cherry recipes you will love!
Print
Cherry Lemonade
An easy fresh Cherry Lemonade recipe made from sour cherries and fresh lemons.  This refreshing beverage is perfect for all your summer barbecues and picnics.
Author:
Prep Time: 5 minutes
Cook Time: 20 minutes
Total Time: 25 minutes plus chilling time
Yield: 8 servings 1x
Category: beverage
Method: stovetop
Cuisine: American
1 lb. fresh sour cherries (reserve several for garnish)
2 cups sugar
8 cups water
6–8 lemons plus more for garnish
Instructions
In a medium saucepan combine the cherries, sugar, and 3 cups water.  Simmer for 15 minutes.  Cool to room temperature. Run through a fine mesh strainer.
Juice enough lemons to make 1 1/2 cups of juice.
Combine the cherry juice, lemon juice and about 5-6 cups chilled water (to taste).  Stir to combine and if desired add thin slices of lemon and fresh cherries.
Keywords: how to make cherry lemonade, fresh cherry lemonade, cherry lemonade recipe
On the hunt for more delicious recipes?  Follow Small Town Woman on Facebook, Pinterest, and Instagram.
https://www.smalltownwoman.com/wp-content/uploads/2019/05/Beth-1.pdf