Blueberry Lemonade is the most refreshing spring and summer beverage. It comes together quickly with just four ingredients. This recipe is the perfect balance of sweet and tart with tons of flavor. It is a family favorite and we love to serve it at our summer parties.  We also love to serve Fresh Peach Tea and Easy Lip Smacking Strawberry Lemonade.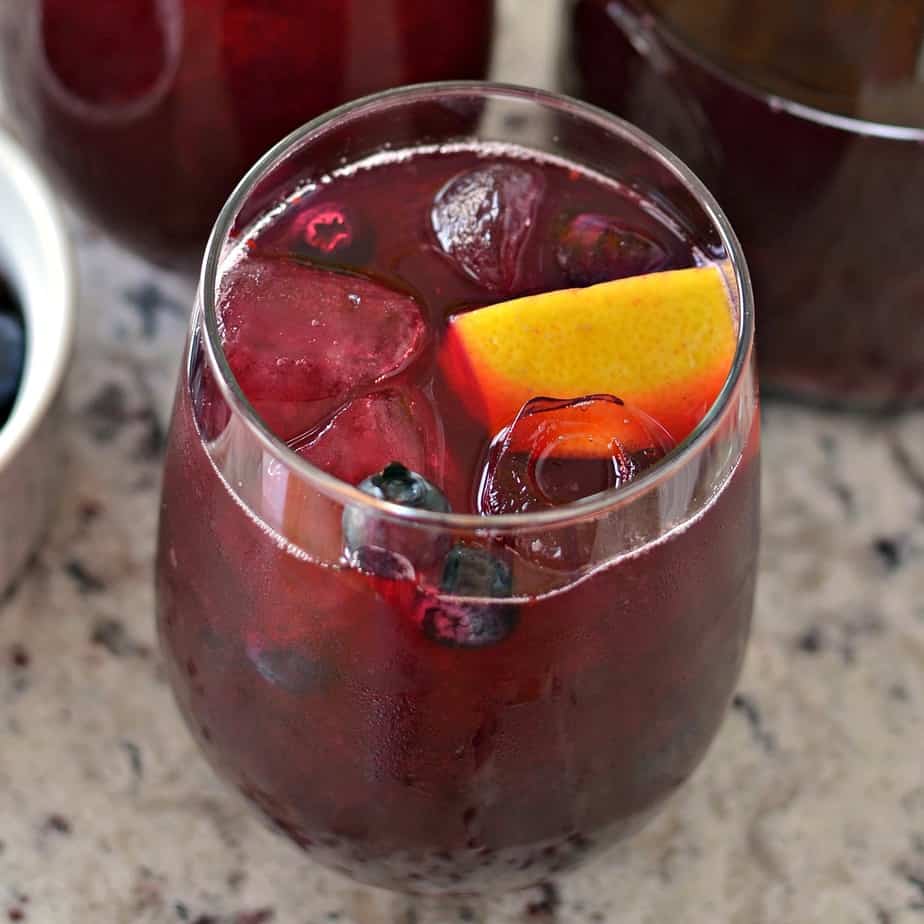 They keep telling me that Spring is on its way.  I can hardly wait.  It has been a long winter and it seems like I have been waiting forever.  I am ready for all that spring and summer have to offer like fresh garden salads, sun-ripened tomatoes, mouthwatering fruit, and cool refreshing beverages.  This Fresh Blueberry Lemonade is simply amazing!  It is the perfect spring and summer refreshment.
Are you entertaining this summer?  Are you having your son or grandson's baseball team over after the big game? This sweet revitalizing drink is just right for almost any occasion.  Are you having the neighbors over for a shindig?  Wow them with a pitcher of this Fresh Blueberry Lemonade!  Want to turn it into a cocktail then just add a jigger of vodka!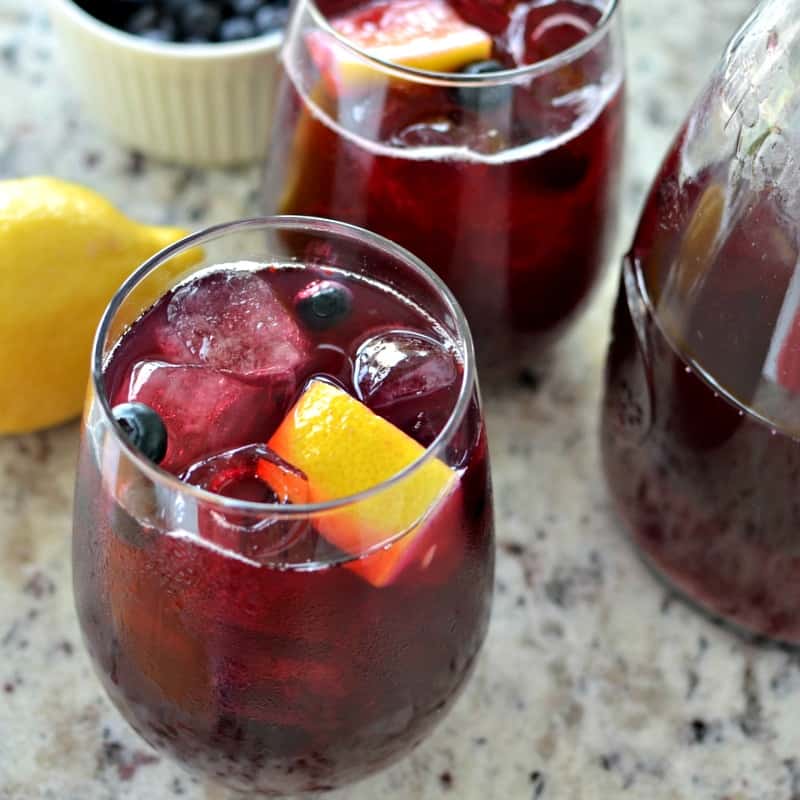 How do you make fresh Blueberry Lemonade?
First, simmer the blueberries and lemon juice until the blueberries pop.  Now strain the juice through a fine wire mesh strainer pushing the juice of the fruit through with the back of a spoon.  Then pour the blueberry mixture into a pitcher, with several cups of water and the sugar. Add more or less sugar for your preferred sweetness. Finally stir thoroughly to blend the sugar, chill, and serve poured over ice. Garnish with fresh mint leaves, lemon slices, or fresh blueberries.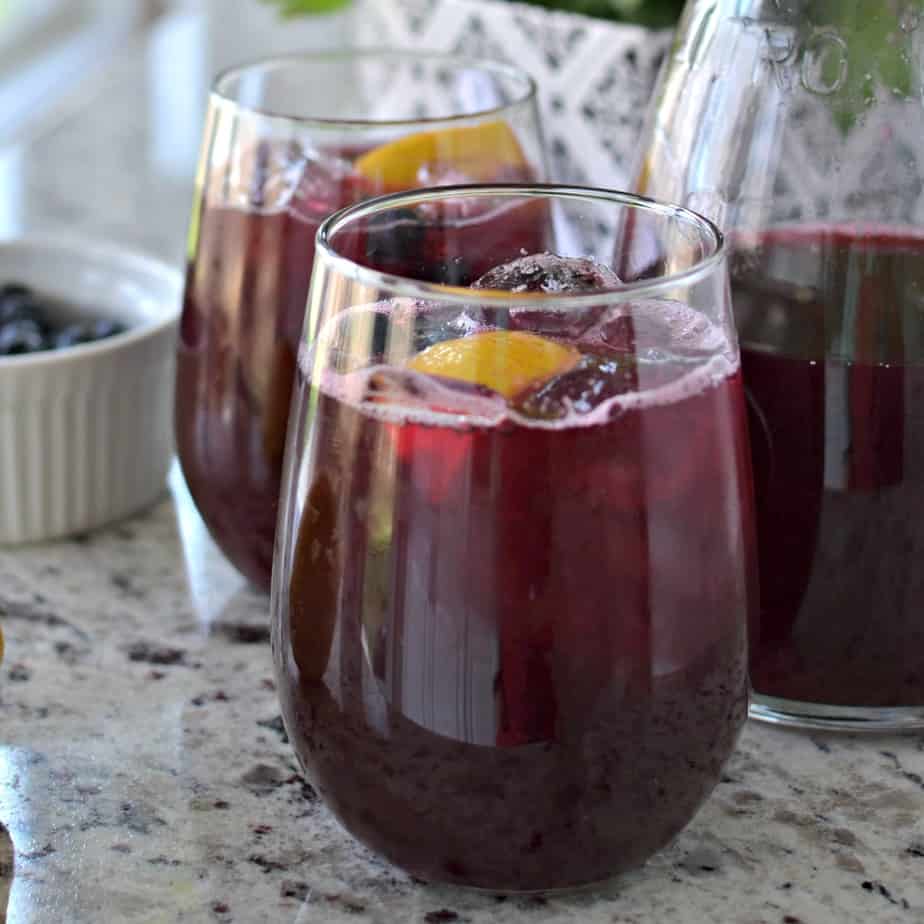 Look at all that amazing refreshing goodness! Put the ingredients on your shopping list today and your guests will be singing your praises!
More blueberry recipes you will love!
Print
Blueberry Lemonade
An easy four-ingredient fresh blueberry lemonade recipe with an easy blueberry syrup.  This refreshment with a fresh berry taste is the perfect beverage for all your spring and summer needs.
Author:
Prep Time: 5 minutes
Cook Time: 10 minutes
Total Time: 15 minutes
Yield: 4 servings
Category: beverage
Method: stove top
Cuisine: American
2 cups fresh blueberries
1 cup fresh lemon juice
4 cups of cold water
2/3 cup sugar
Instructions
In a small saucepan over medium heat, add blueberries and lemon juice. Cook occasionally, stirring until most of the blueberries have popped, approximately 7 minutes. Remove from heat, pour through a fine wire-mesh strainer into a large measuring cup, and use the back of a spoon to squeeze out the blueberry puree. 
Pour the blueberry mixture into a pitcher. Add water and sugar. Mix well until the sugar dissolves. Chill until ready to serve.
Keywords: beverage, blueberry lemonade, blueberry lemonade juice, healthy blueberry drinks, lemonade, refreshing beverage, simply blueberry lemonade, fresh blueberry lemonade
On the hunt for more delicious recipes? Follow Small Town Woman on Facebook, Pinterest, and Instagram.
This post was originally published April 6, 2018 and was republished April 1, 2020 with new content.
https://www.smalltownwoman.com/wp-content/uploads/2019/05/Beth-1.pdf