This classic Arnold Palmer Drink is a refreshing combination of tea and homemade lemonade flavors. It is one of my favorite summer beverages and perfect for pool parties, patio and deck parties, and picnics. So grab a glass, pull up a chair, and let's reminisce for a while.
Hubby and I love to have an assortment of quick and easy summer drink recipes on hand for when friends drop by. This recipe, fresh peach tea, blueberry lemonade, and strawberry lemonade are just a few of our favorites. I like to prepare this refreshment with fresh squeezed lemonade but summer is full of activities so feel free to use already prepared bottled lemonade or frozen concentrate.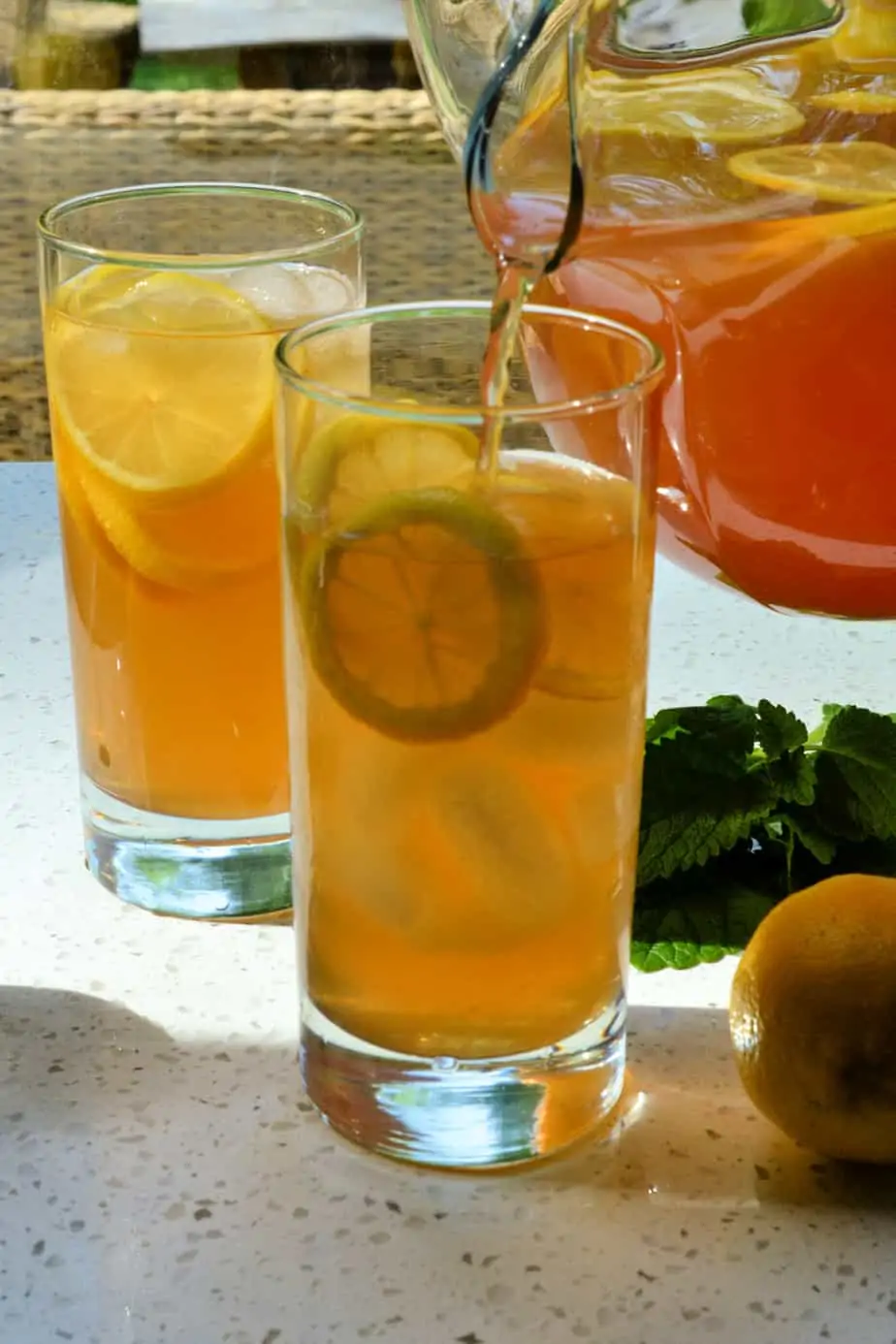 How to make an Arnold Palmer Drink
Start by brewing some fresh tea. Let it cool for a little bit and then refrigerate for several hours up to overnight. Fill a saucepan with about 2 cups water and 1/2 cup sugar. Bring to a low boil and stir until the sugar dissolves. Then remove from the heat and let cool to room temperature.
Add the lemon juice stirring to combine and refrigerate for several hours. Now fill a pitcher (or glasses) with ice and pour equal amounts of tea and lemonade into the pitcher. Feel free to adjust the amounts to taste. If desired add lemon slices to the pitcher and glasses.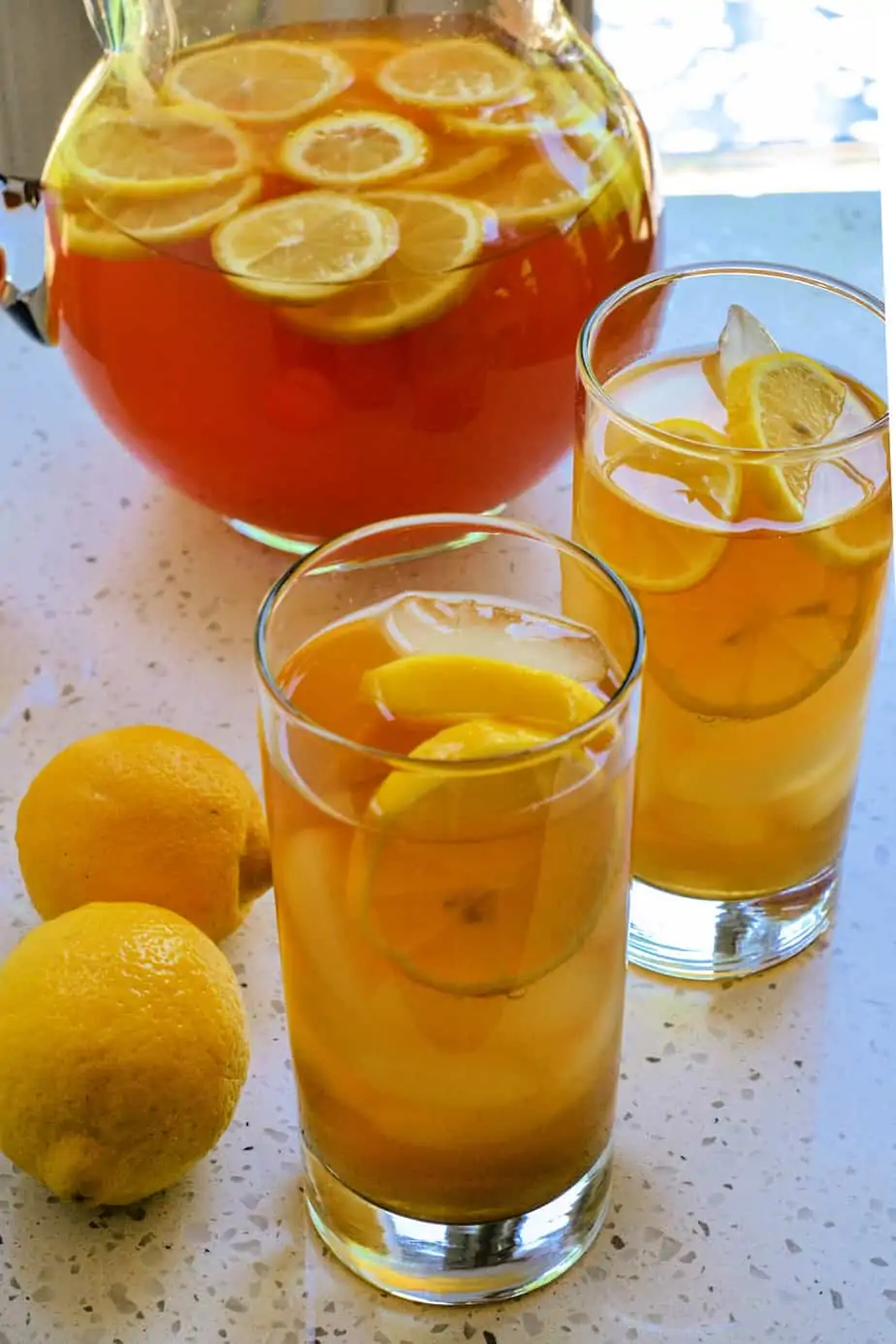 Do you have to use fresh squeezed lemonade?
No you can certainly use already prepared bottled lemonade or lemonade made from frozen concentrate. It is really entirely up you and your busy schedule. I have done it both ways and even though I prefer the fresh lemonade in my Arnold Palmer both are delicious. There is also the added advantage that bottled lemonade and lemonade concentrate have a longer life.
What is the correct ratio of tea and lemon in an Arnold Palmer drink?
The original drink and the way the late great golfer liked it was with about 75% tea and 25% lemonade. But as the drink became more and more popular the split became more half iced tea and half lemonade. However the correct ratio is up to you and your taste buds. I personally like mine more along the halfway split but as my late Mother used to say "Different strokes for different folks."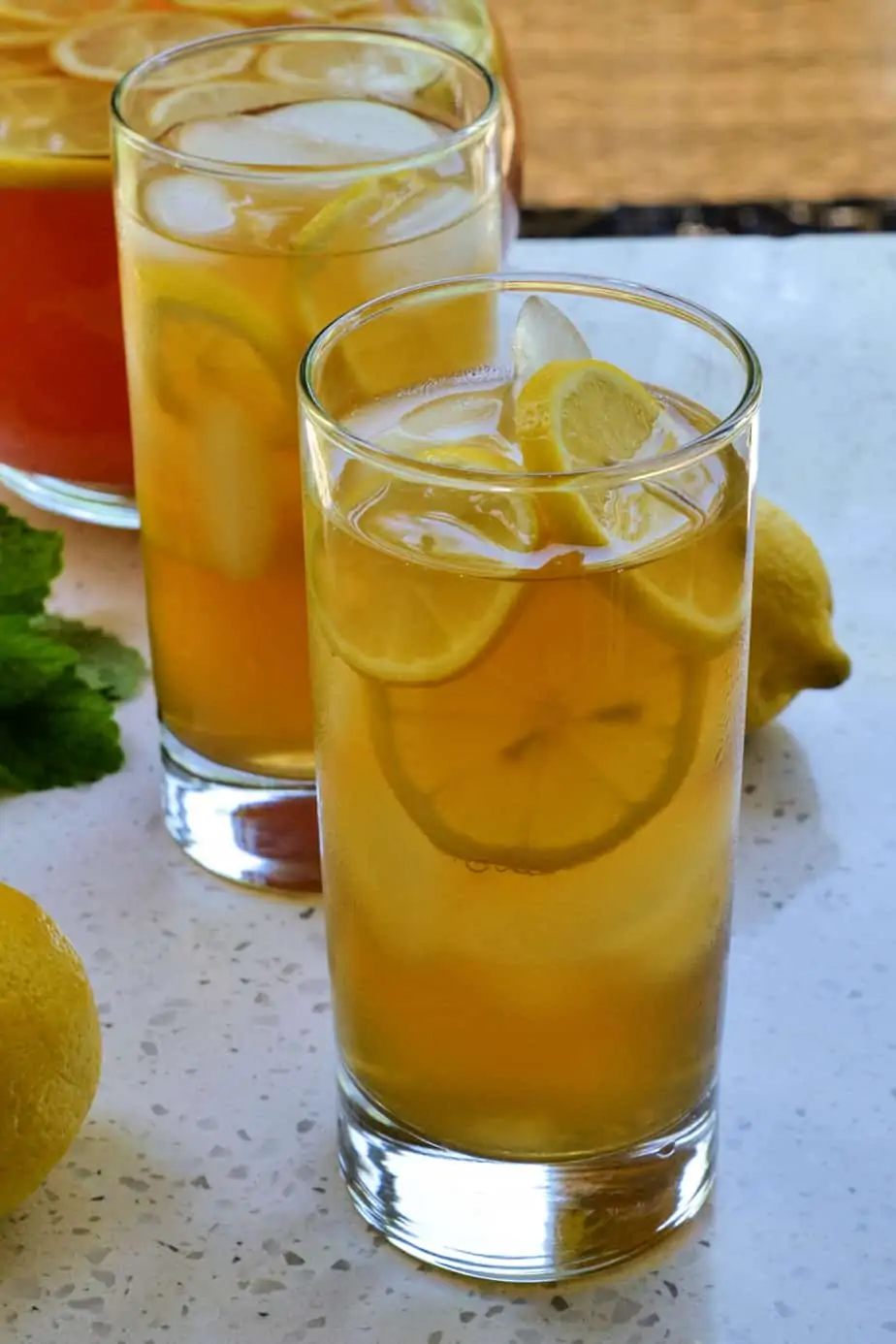 More refreshing beverages to enjoy!
Print
Arnold Palmer Drink
This Arnold Palmer Drink is a fun, easy, and refreshing mix of tea and lemonade.  It is the perfect drink for a hot day and it has a cool refreshing taste. 
Author:
Prep Time: 10 minutes
Cook Time: 10 minutes
Total Time: 20 minutes plus chilling time
Yield: 4 servings
Category: beverage
Method: stovetop
Cuisine: American
3 cups water
3 tea bags
2 cups water
1/2 cup sugar
1/2 cup lemon juice
ice
thin lemon slices (optional)
Instructions
Bring 3 cups water to a boil and add tea bags.  Remove from the heat and let the tea steep for 5 minutes.  Let cool a bit then refrigerate for several hours up to overnight.
Add 2 cups water and sugar to a saucepan.  Simmer until the sugar dissolves; stirring several times. Let cool to room temperature.  Stir in the lemon juice.  Refrigerate until ready to serve.
Add both the tea and the lemonade to a pitcher.  Add lemon slices and stir to combine. Fill glasses with ice and lemon slices before pouring the tea.  If serving by the glass without a pitcher simply add ice and lemon slices to a glass and pour a 50/50 mixture.  Garnish with fresh lemon slices. 
Keywords: Arnold Palmer tea, Arnold Palmer half and half, what is Arnold Palmer
On the hunt for more delicious recipes? Follow Small Town Woman on Facebook, Pinterest, and Instagram.
https://www.smalltownwoman.com/wp-content/uploads/2019/05/Beth-1.pdf