This fresh Peach Tea brings all the wonderful flavors of fresh peaches into a lightly sweetened refreshing beverage.  This is perfect for your patio party, summer swimming refreshments or your after yard work pick me up!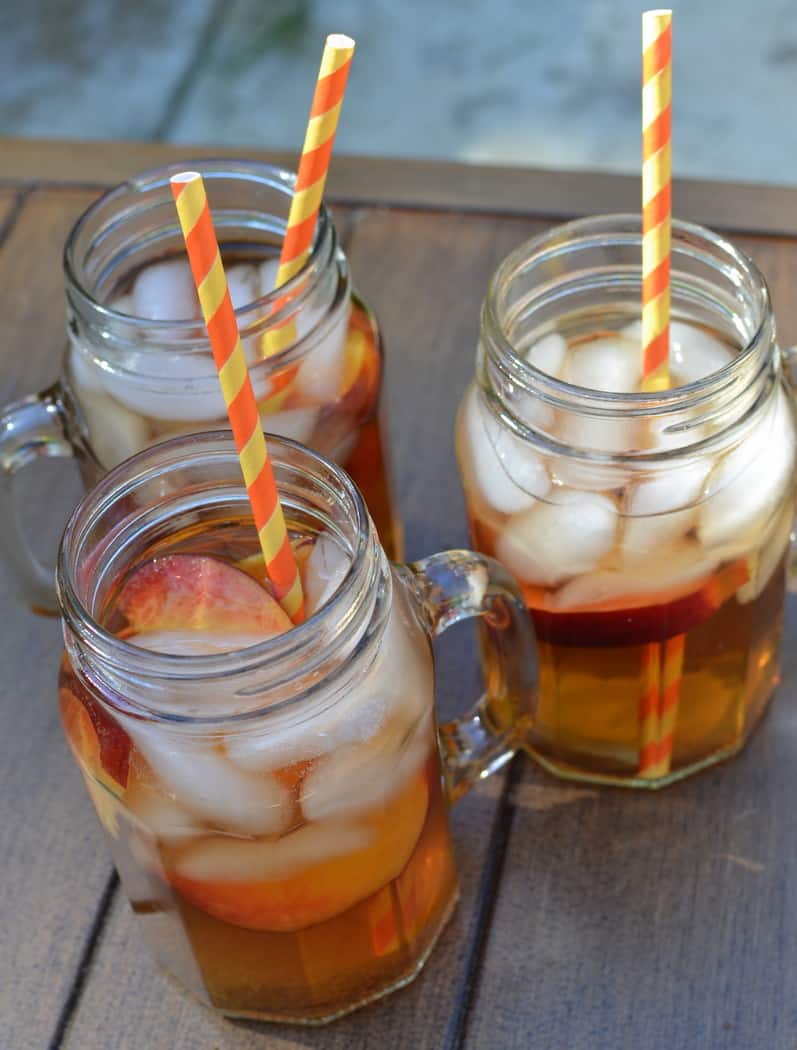 Summer is here and fresh tree ripened peaches are in and they are so sweet and delectable! Do you like peaches?  We are a peach loving family.  This peach tea, Fresh Peach Salsa, Peach Bellini, and Peach Crumb Bars are some of our favorites.
This tea is the perfect summer beverage and it is always a winner with friends and family.  It takes a little time to prepare this tea but you don't have to stick around.  I know you got better things to do so just leave those little jobbers simmering and go about your business.
How to make Peach Tea
Start by boiling some water for tea.  Then simply add your tea bags and let them seep.  Now let the tea cool. If time permits chill the tea.  This step can be done up to several days in advance, poured in a covered pitcher and stored in the refrigerator.
Now cut some peaches leaving the skin on.  Add those, the water and sugar to a saucepan.  Now bring it to a low boil.  Then simmer for about thirty minutes. Next using an old style potato masher mash the cooked peaches.  Then run the liquid through a strainer.  Finally combine the tea and peach juice, chill and pour over ice.   Garnish with sliced peaches.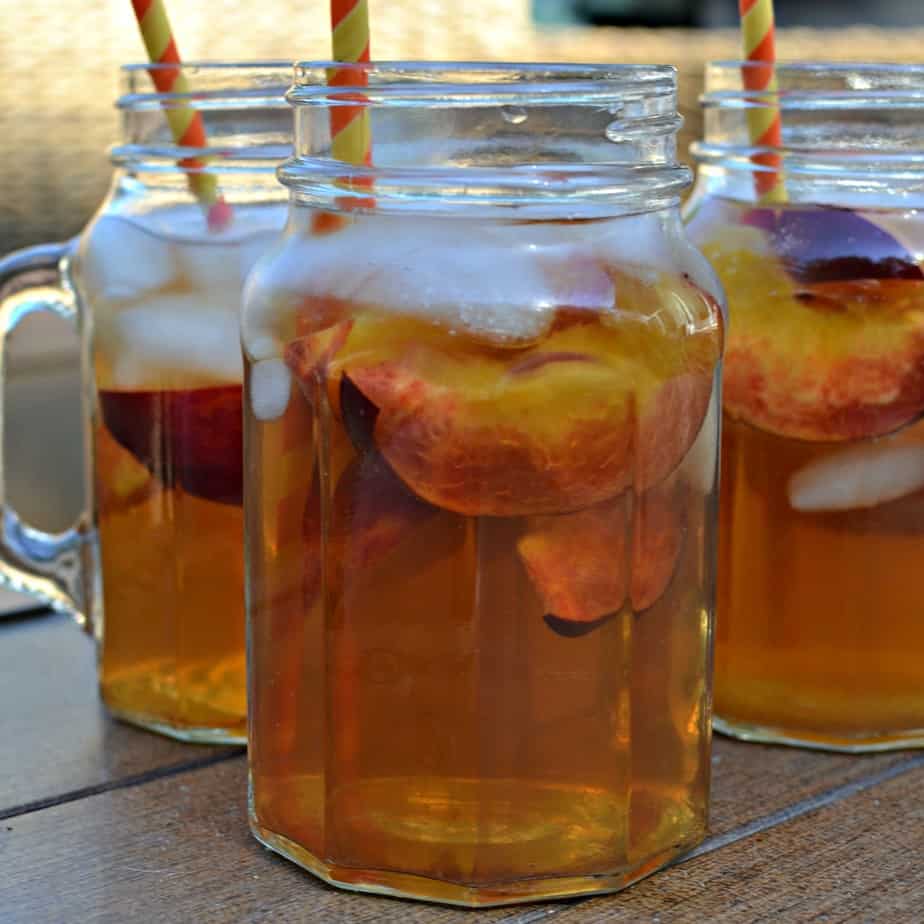 How do you tell when peaches are ripe?
The best way I have found to tell when peaches are ripe is they have an undeniable sweet peach smell.
The peach should be slightly soft with a little bit of give but not mushy.  If it is firm and really hard like a watermelon than it is not ripe.  If it is quick to give on gentle pressure or mushy than it is overripe.
Another sign that a peach is ready for consumption is slightly shriveled skin around the stem. Theses wrinkle begin when the moisture begins to leave the fruit.  These peaches sweetness and flavor will be at its peak.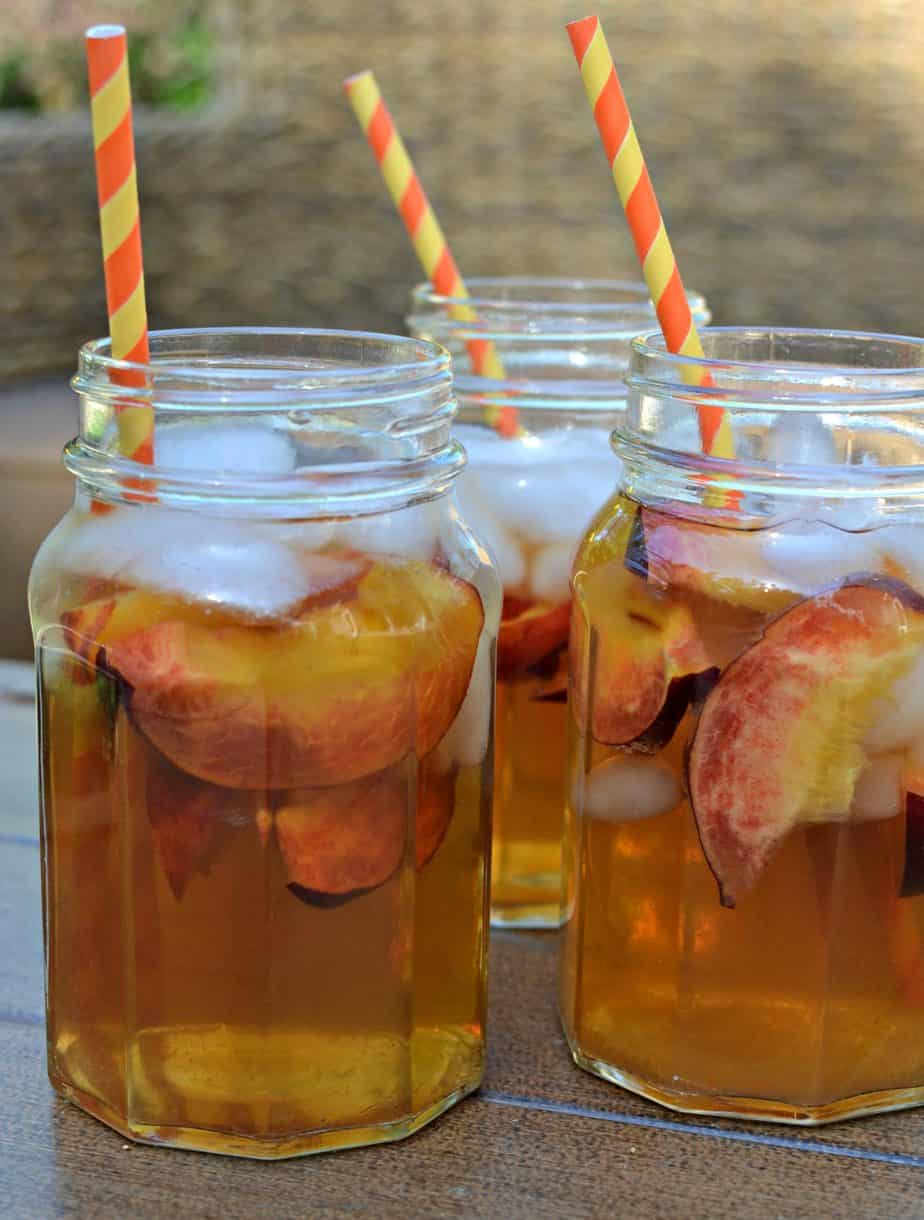 Peach tea recipe variations:
Ginger Peach Tea – Stir in one teaspoon finely grated ginger to the finished tea right before serving.
Peach Green Tea – Use green tea bags instead of the usual tea blends.
Peach Tea Lemonade – Add the juice of two lemons or limes for a lemonade or limeade twist.
Peach Orange Tea – Add 1/2 cup pulp free orange juice for a Florida sunshine spin.
Well what are you waiting for?  Put the ingredients for this recipe on your shopping list and enjoy this cool refreshing beverage before summer passes by.
This post was originally published May 15, 2016 and was republished June 11, 2020 with new content.
Print
Fresh Peach Tea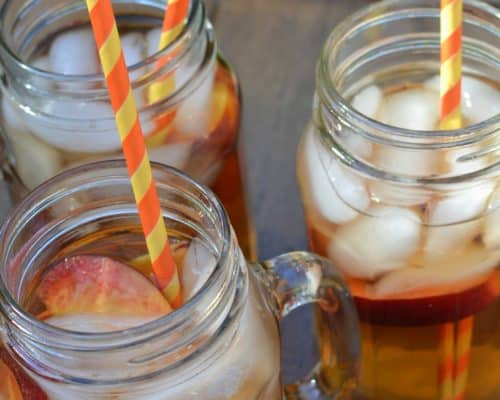 A cool refreshing homemade peach tea made with fresh simmered peaches and tea bags.  Brew up a batch for your loved ones today!
Author:
Prep Time: 5 minutes
Cook Time: 30 minutes
Total Time: 35 minutes plus cooling time
Yield: 6 servings 1x
Category: beverage
Method: stovetop
Cuisine: American
Scale
Ingredients
3 green tea bags
1/4 cup sugar
4 large peaches sliced (reserve 1 peach for garnish and don't slice till tea is ready)
8 cups water
Instructions
Bring 6 cups water to a boil. Add your tea bags and remove from heat. Let the tea bags seep for about 15 minutes. Remove tea bags and allow to cool.
Bring 2 cups water, sugar and peaches to a low boil (except not the peach you are reserving for garnish). Allow to simmer for 30 minutes. Mash peaches with old style potato masher or spoon and simmer for another 10 minutes. Remove from heat and run through strainer. Allow to cool. Combine the cooled tea and peach water.  Stir well.  Serve over ice with fresh peach slices.
Notes
If you like it sweet increase your sugar to 1/2 cup. I think peaches are naturally sweet but everyone has different taste buds. I have made this with 1/4 cup Stevia instead of the sugar and it is equally delicious and sugar free.
Keywords: peach iced tea, peach green tea, iced peach green tea lemonade
https://www.smalltownwoman.com/wp-content/uploads/2019/05/Beth-1.pdf