These easy to make Chocolate Turtles are a cinch to cook. They make fabulous gifting and holiday candy. They come together quickly using the microwave to melt the caramel and chocolate. I love to include them on Christmas candy trays with Peanut Brittle and Peanut Clusters (Crockpot or Microwave).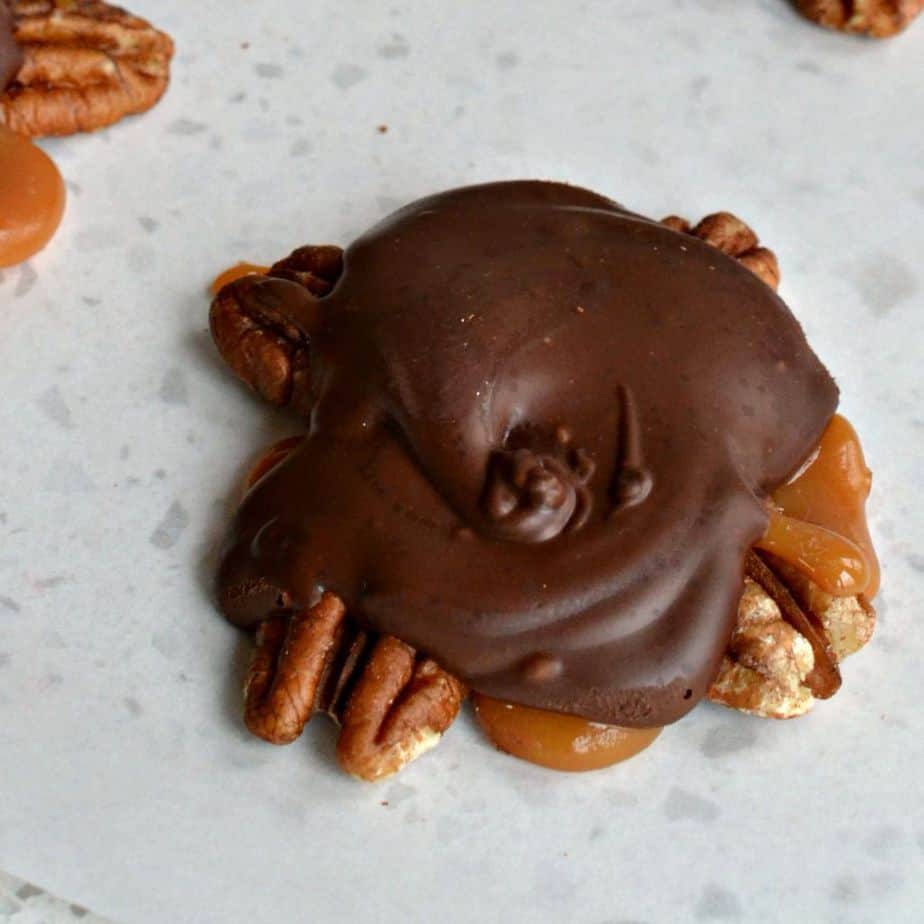 Are you a chocolate lover? I am and so was my dear Mom. One of her absolute favorites candies was the Chocolate Pecan Caramel Turtle. She loved them!!! My Dad would stop and pick up a box of them at the Famous Barr candy counter. More than likely you have had a turtle candy. However I bet you did not know how easy they are to make!! These four ingredient Chocolate Pecan Caramel Turtles are so simple, delicious and at a fraction of the cost of the fancy candy shops!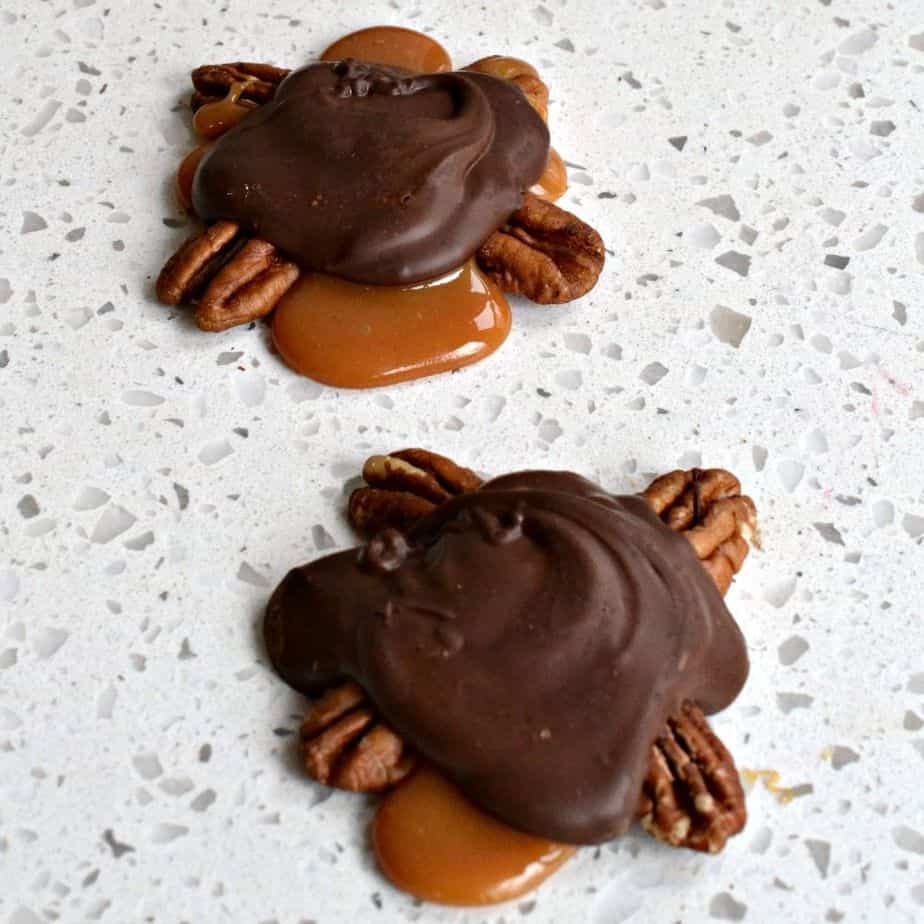 How do you make Chocolate Turtles?
First cover a large baking sheet with parchment paper. Then arrange your pecans to form an X so they look like turtles feet. Please see photo below. Now simply melt your caramels and cream in the microwave using short intervals and stirring frequently. Scoop a heaping tablespoon of melted caramel over the pecans and allow it to set for a few minutes.
Now melt the chocolate in the microwave. Remember use short intervals and 50% power and stir between each interval until the bowl is no longer warm. Scoop a heaping tablespoon of chocolate onto the caramel and smooth and swirl carefully with the back of the spoon. Allow to set for several hours undisturbed.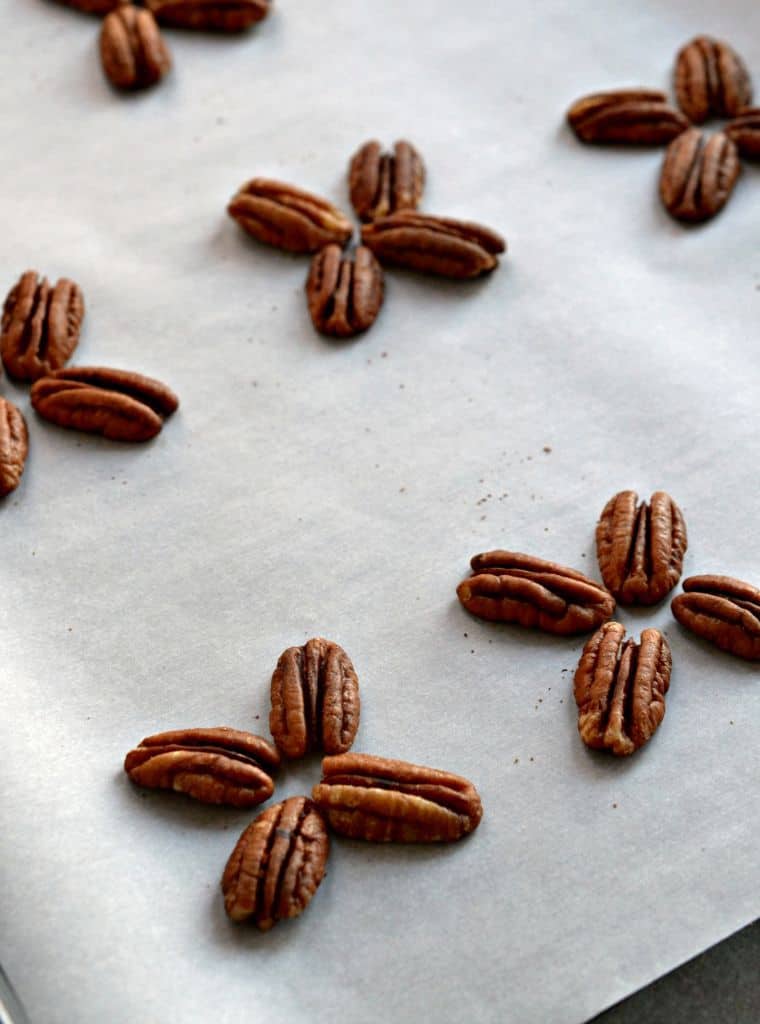 Recipe notes and helpful tips
Use good quality large roasted pecan halves.
Take your time arranging the pecans on your parchment covered baking sheets. This recipe moves really fast so doing it while you are melting and spooning is not a good idea.
Do not overcook the caramel. It melts really fast and you can easily burn it.
Use really good quality semisweet chocolate. Always use short intervals and 50% reduced power to melt chocolate in the microwave. Stir well between each interval until the bottom of the bowl is no longer warm.
Turtles will keep up to 2-3 weeks in an airtight container stored in the refrigerator or up to four months double wrapped in the freezer.
For extra flavor and fun experiment with dark chocolate, milk chocolate and white chocolate or any combination of these chocolates layered or drizzled.
For best results store on parchment paper and with parchment paper between the layers of candy. Their little bottoms can be quite sticky.
If the recipe is doubled melt the caramel and chocolate in separate batches making one full batch of candies at a time before starting the second batch.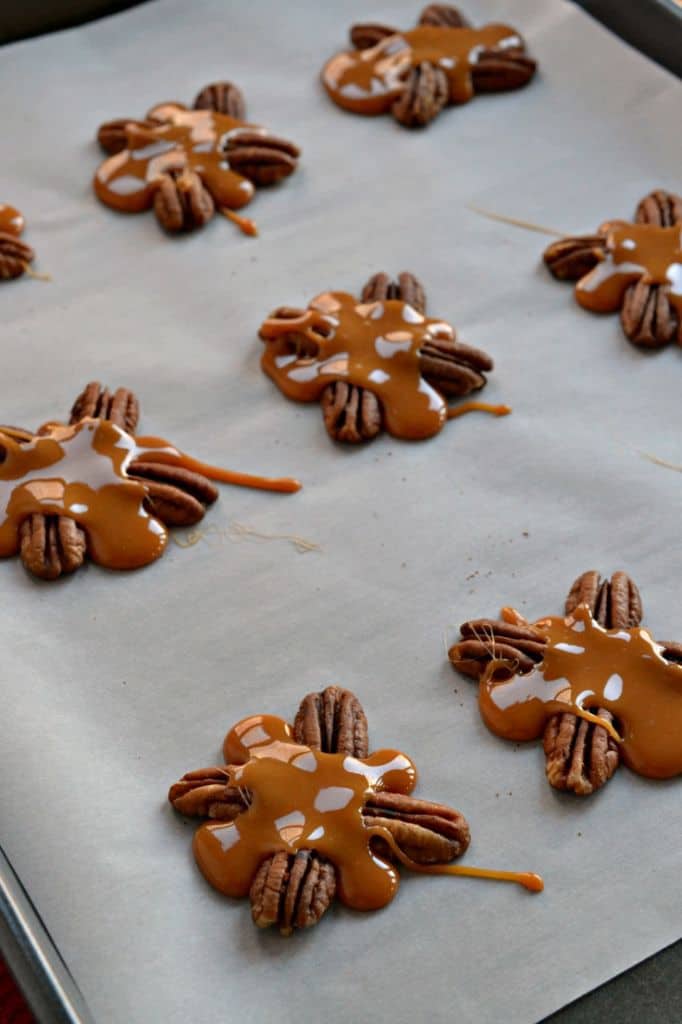 You can put a batch of these together pretty quickly. There is cooling time but you certainly don't have to be present for that. You can do your laundry, weed your garden (it has been so warm here that I still have weeds in my garden) or read a book. So if you love chocolate, caramel and pecans than these little babies are right up your alley!! I hope you enjoy these adorable sweet little treats. Why don't you make a batch for your loved ones for the holidays?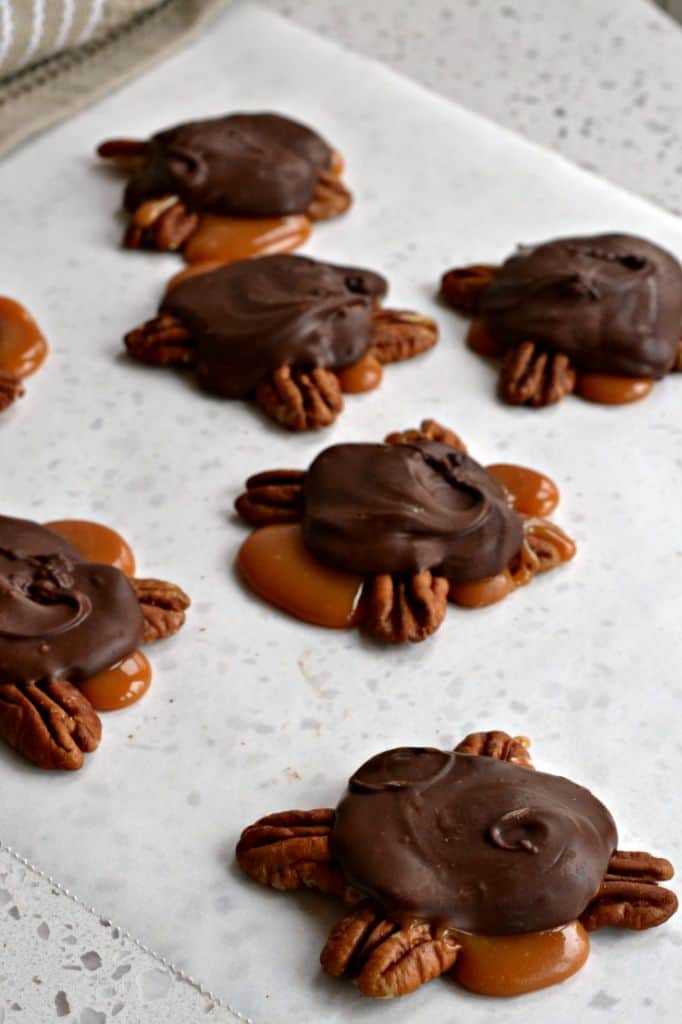 Other candies you will love!
This post was originally published November 2, 2016 and was republished December 9, 2019 with new content.
Print
Chocolate Turtles
Delicious chocolate pecan caramel candies made super easy using the microwave.  Perfect for parties, holiday gift giving and hostess presents.
Author:
Prep Time: 10
Cook Time: 5
Total Time: 15 minutes
Yield: 12 servings 1x
Category: candy
Method: microwave
Cuisine: American
48 pecan halves (get a little extra in case some break)
28 individually wrapped caramels
1 tablespoon cream
1 1/4 cups semi sweet chocolate chips (I use Ghirardelli chips)
1 teaspoon coconut oil (optional)
Instructions
Cover a large cookie sheet with parchment paper.
Arrange pecans in twelve X's making four legs sticking out.
Unwrap caramels and place in microwavable bowl. Don't use too small of a bowl. You will need to be able to easily stir it. Add cream and microwave on 50% power for 30 seconds If not melted heat for 15 second intervals at 50% power. Stir between each interval. Stir and place one heaping tablespoon in the center of each set of pecans. Allow to cool for at least 10 minutes.
Melt chocolate chips and coconut oil in microwave for 1 minute at 50% power. Stir until bowl no longer feels warm. Continue heating at 15-30 second 50% power intervals until fully melted. Stirring every interval until the bowl no longer feels warm.
Spoon chocolate over the the caramel; spreading and swirling with the back of the spoon. Allow to fully set for several hours.  You can refrigerate the turtles to speed up the process.
Keywords: candy, Christmas candy, chocolate turtles recipe, turtle chocolate candy, chocolate pecan turtle clusters, chocolate pecan turtle clusters recipe, dark chocolate turtles, gourmet chocolate turtles, how to make chocolate turtles, chocolate caramel turtles, chocolate covered turtles, milk chocolate pecan turtles
https://www.smalltownwoman.com/wp-content/uploads/2019/05/Beth-1.pdf