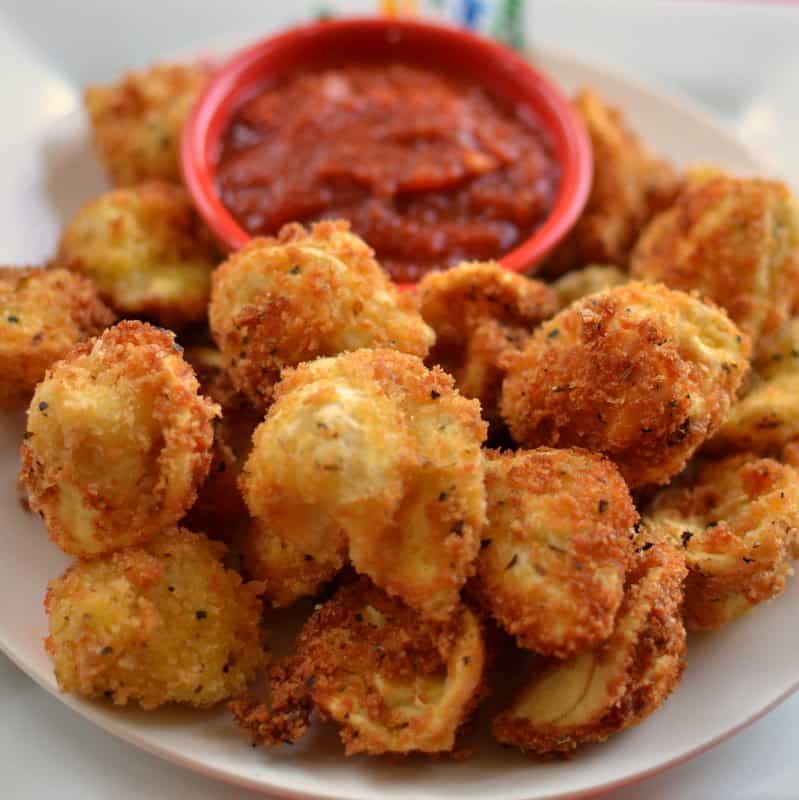 Well the Super Bowl is next weekend! Are you going to watch the game or are you going to chill out and watch a movie? We are kind of fine weather fans here. We wait until the big games come on and then we pretend like we have been avid football fans all year. I know we can not be the only ones who do this. I think we watch the game because of all the excitement involved in it. There are those amazing commercials and some are the best ones of the year. I mean honestly they are at least as much fun as the game. There is halftime which is always a great show and sometimes very scandalous! Such a great time to entertain. Are you having quests over? If so these Crispy Parmesan Fried Tortellini are absolutely amazing. There is nothing better than a deep fried cheese treat dipped in warm marinara.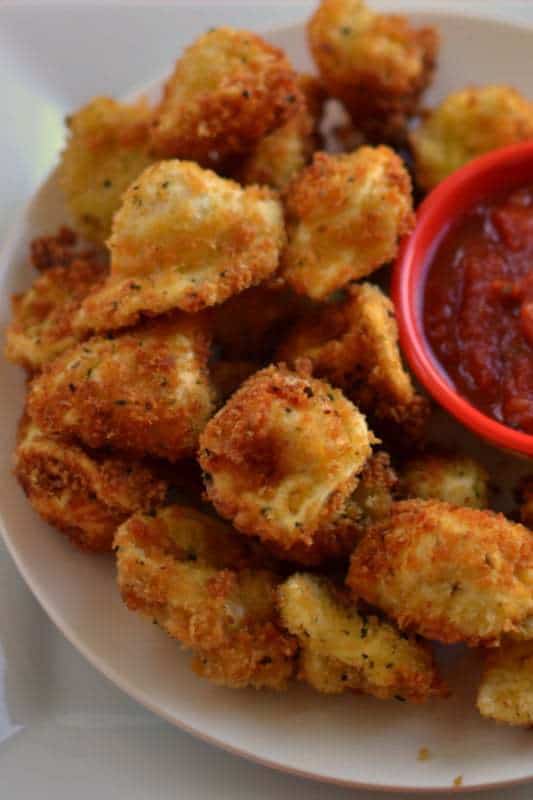 Have you tried any of my other delicious appetizers? Beer Battered Onion Rings with Dipping Sauce, Quick and Creamy Crab Stuffed Mushrooms and Crab Rangoon Egg Rolls are just a few family, friend and reader favorites.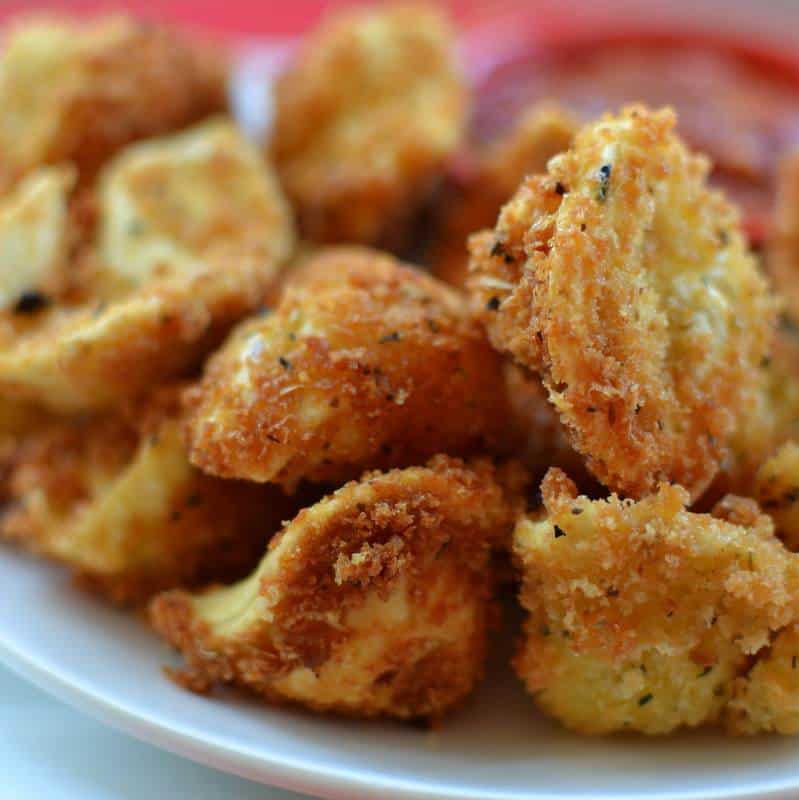 These delectable Crispy Parmesan Fried Tortellini are so easy to prep and fry up making them the perfect party appetizer, game day food or movie night munchies. You can fry these babies up in less than an inch of oil, flip and brown the other side. They are perfect dipped in just a bit of marinara and boy do they go fast so be prepared. Are you planning on a little bit of a crowd for that Super Bowl event or party? Plan ahead by keeping your Crispy Parmesan Fried Tortellini well ventilated and use paper towels to absorb the moisture. This will help ensure a nice crispy fried treat!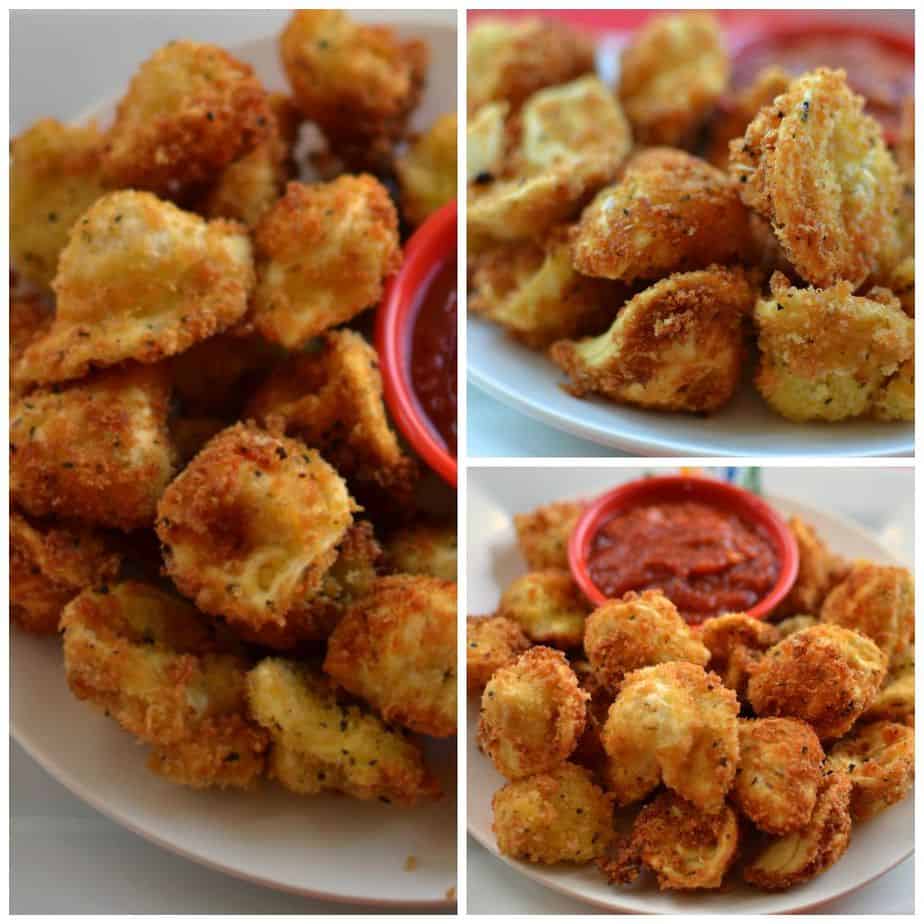 Print
Crispy Parmesan Fried Tortellini
Crispy, cheese fried tortellini is sprinkled with parmesan cheese and served with a hearty marinara sauce. This dish is the perfect easy appetizer for a party.
Author:
Prep Time: 10 minutes
Cook Time: 2 minutes
Total Time: 12 minutes
Category: Appetizer
Method: Stovetop
Cuisine: Italian
1 package (9 ounce) cheese tortellini
2/3 cup flour
2 large eggs
1 1/2 cups Panko bread crumbs
1 teaspoon dried oregano
1 teaspoon dried basil
1/2 teaspoon garlic powder
1/4 teaspoon onion powder
1/3 cup finely grated fresh Parmesan cheese
Vegetable oil (for frying)
Marinara sauce
Instructions
Cook the tortellini in boiling water until al dente and drain well.
Place flour in shallow bowl or plastic Ziploc bag.
Beat eggs in shallow bowl.
In small bowl mix together bread crumbs, oregano, basil, garlic powder, onion powder and Parmesan cheese.
Working in small batches coat cooked tortellini with flour. Dip in beaten eggs and then in bread crumb mixture.
In a large skillet heat oil to 365 degrees. Working in batches fry the tortellini about two minutes or until golden brown flipping halfway through. Drain on paper towels. Serve with warmed marinara.
Keywords: fried tortellini, cheese tortellini, parmesan fried tortellini
On the hunt for more delicious recipes? Follow Small Town Woman on Facebook, Pinterest, and Instagram.
https://www.smalltownwoman.com/wp-content/uploads/2019/05/Beth-1.pdf