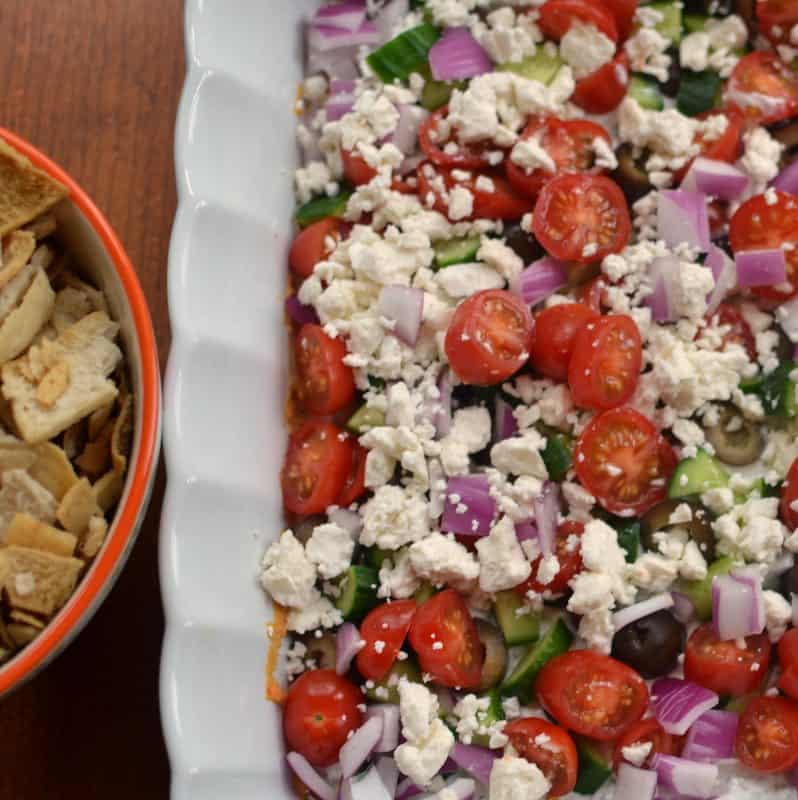 Well summer is in full force here and we love it.  Not only is it here but we are fully prepared to love every minute of it!  What is your favorite summer activity?  We love to boat and fish, go to the pool (we are surrounded by a lot of great ones) and spend time at some of the national parks.  Missouri is such a beautiful state.  We have some absolutely beautiful parks filled with lakes,  rivers and majestic tall trees.  We also love to have friends and family over for cocktails and appetizers.  Entertaining is just so much fun.  Have you tried any of my delicious appetizers?  Pepper Jack Chicken Cream Cheese Wontons, Herb Cream Cheese Stuffed Tomatoes and Bacon Cheddar Stuffed Mushrooms are some of my favorites.
This beautiful Easy 7 Layer Greek Tzatziki Dip is amazing.  It is one of my newest recipes but it is quickly becoming a family favorite.  It is layered with hummus, tzatziki sauce, cucumbers, tomatoes, black olives, red onions and feta cheese.  It is a show stopper and tastes amazing!!  Serve it with pita chips to stay with the Greek theme.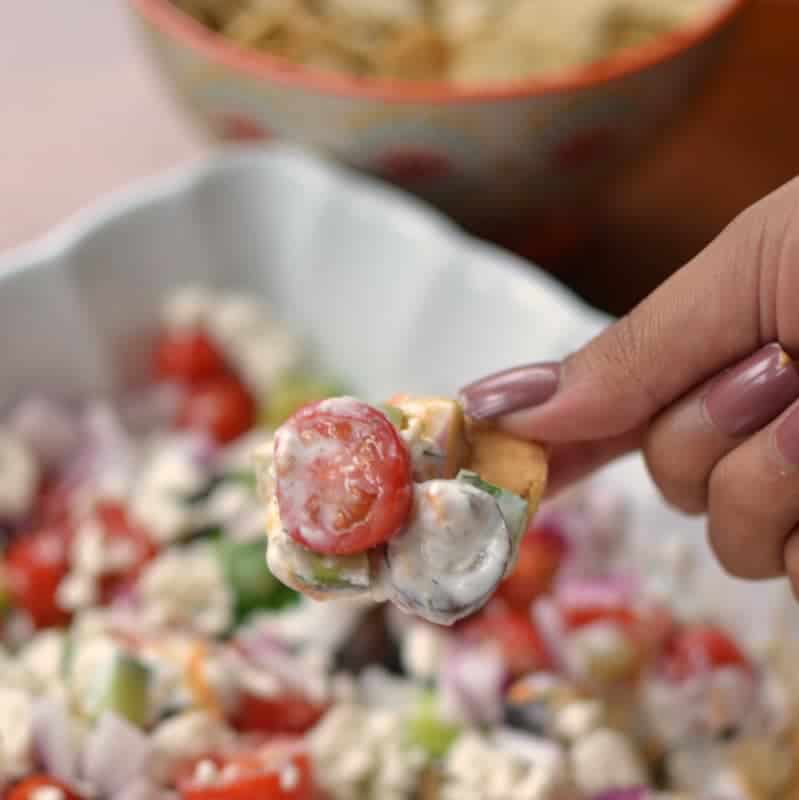 Are you entertaining this summer? Easy 7 Layer Greek Tzatziki Dip can be so much fun!!  We have a nice patio that is surrounded by woods so by early evening (5:00ish) it is fully in the shade and lately it has been cool enough to start a fire in the pit.  I bought a real nice patio set last summer from Costco and it is so comfortable.  In fact in just a couple of minutes I am going to finish this post out there with a nice glass of Pinot Grigio wine and the Easy 7 Layer Greek Tzatziki Dip.  Time to kick it up. We don't have any company coming over this evening but the 4th of July is approaching fast and it will be my son's birthday so I feel a party coming on!!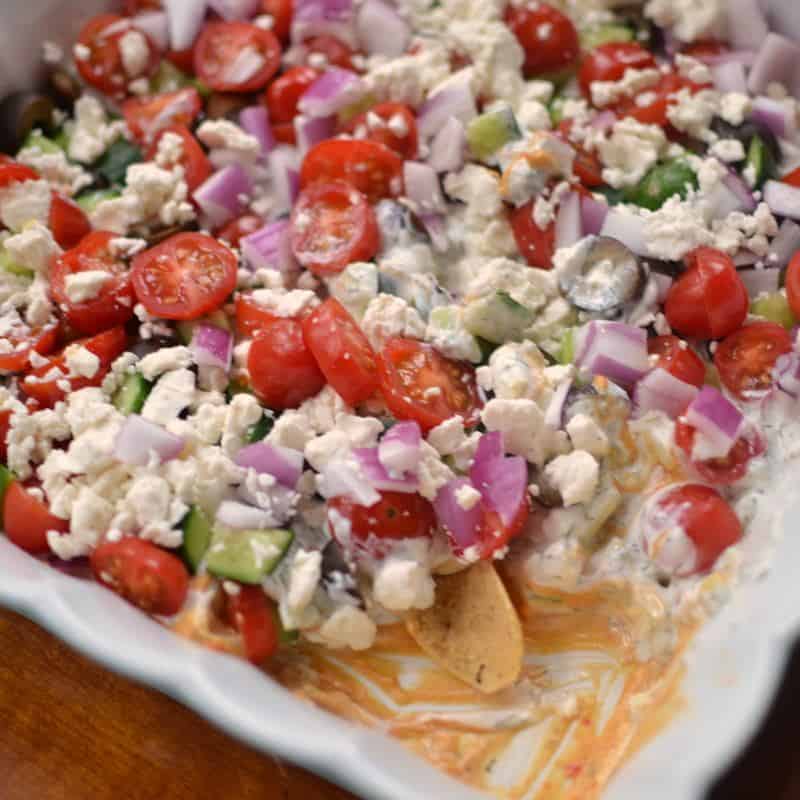 Put this delicious show stopper on your list.  Enough said!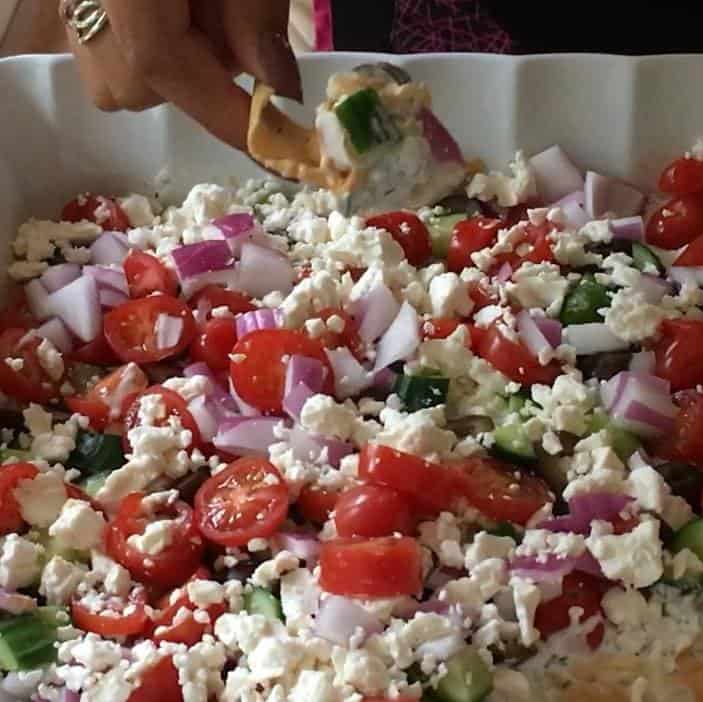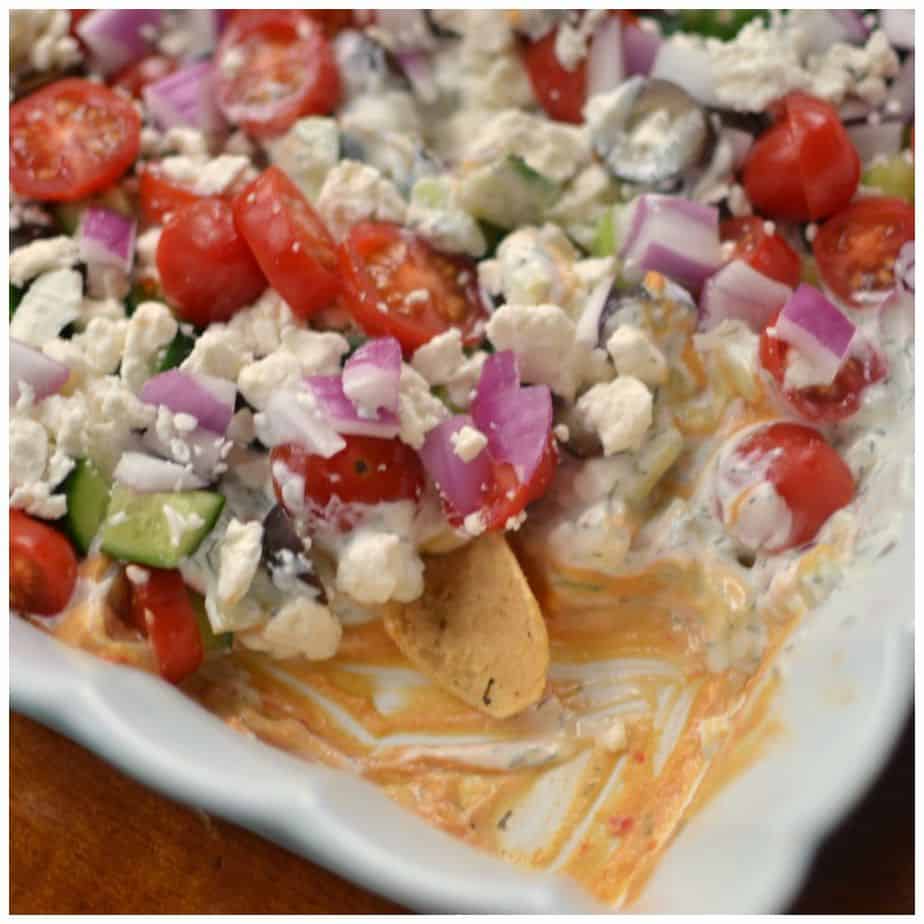 Print
Easy 7 Layer Greek Tzatziki Dip
This festive Easy 7 Layer Greek Tzatziki Dip is layered with hummus, tzatziki sauce, cucumbers, tomatoes, black olives, red onions and feta cheese.
Author:
Prep Time: 10
Total Time: 10 minutes
Yield: 10 servings 1x
Category: appetizer
Method: no bake
Cuisine: Greek
Tzatziki Sauce
1 large cucumber peeled seeded halved
1/2 teaspoon salt
1 cup Greek yogurt
1/2 cup sour cream
1 1/2 tablespoons dried dill
1 tablespoon fresh lemon juice
2 cloves garlic minced
Layer Dip
Olive oil cooking spray
4 ounces red pepper hummus (I used Sabra)
1 cup sliced kalamata or black olives
1 cup chopped cucumbers
1 1/2 cups halved grape tomatoes
1/4 cup finally chopped red onion
4 ounces crumbled Feta cheese
Pita chips
Instructions
Place cucumber in colander in sink. Sprinkle with salt on both sides. Let them sit for 30 minutes turning several time. Dry with paper towels and finely chop.
In medium bowl combine chopped cucumber, yogurt, sour cream, dill, lemon juice and garlic. Cover and place in refrigerator for 30 minutes.
Spray medium casserole dish with olive oil. Spread with hummus, Tzatziki Sauce, kalamata olives, cucumbers, grape tomatoes, red onion and Feta Cheese. Refrigerate for 1 hour to overnight. Serve with Pita Chips.
Notes
I use a 9 x 9 inch casserole dish but I am sure that anything close to that would work.
Keywords: Greek dip, layer dip, Greek layer dip, Tzatziki dip, Greek appetizer
https://www.smalltownwoman.com/wp-content/uploads/2019/05/Beth-1.pdf