This Easy Banana Bread Recipe is moist, scrumptious and super quick to prep and get in the oven.  It is by far our favorite Banana Bread and is loved by friends, family and co-workers. You too will be adding this to your sweet bread recipe rotation. After all who doesn't need a fabulous recipe to use up all those over-ripe bananas?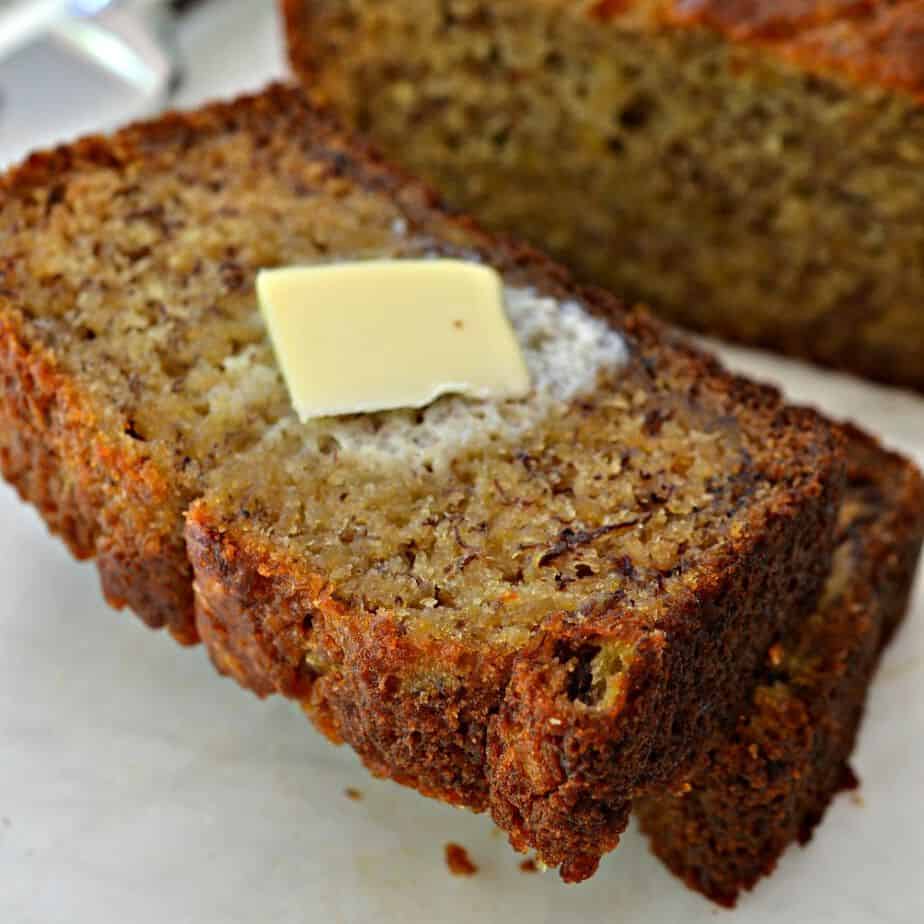 We are a banana loving family here!  We love banana everything such as bread, muffins, cakes, smoothies, pies, cupcakes and pancakes!  This is one recipe you are really going to go bananas over. This bread is so simple that you have can have it in the oven in less than 15 minutes.  It is even better the second day and freezes exceptionally well.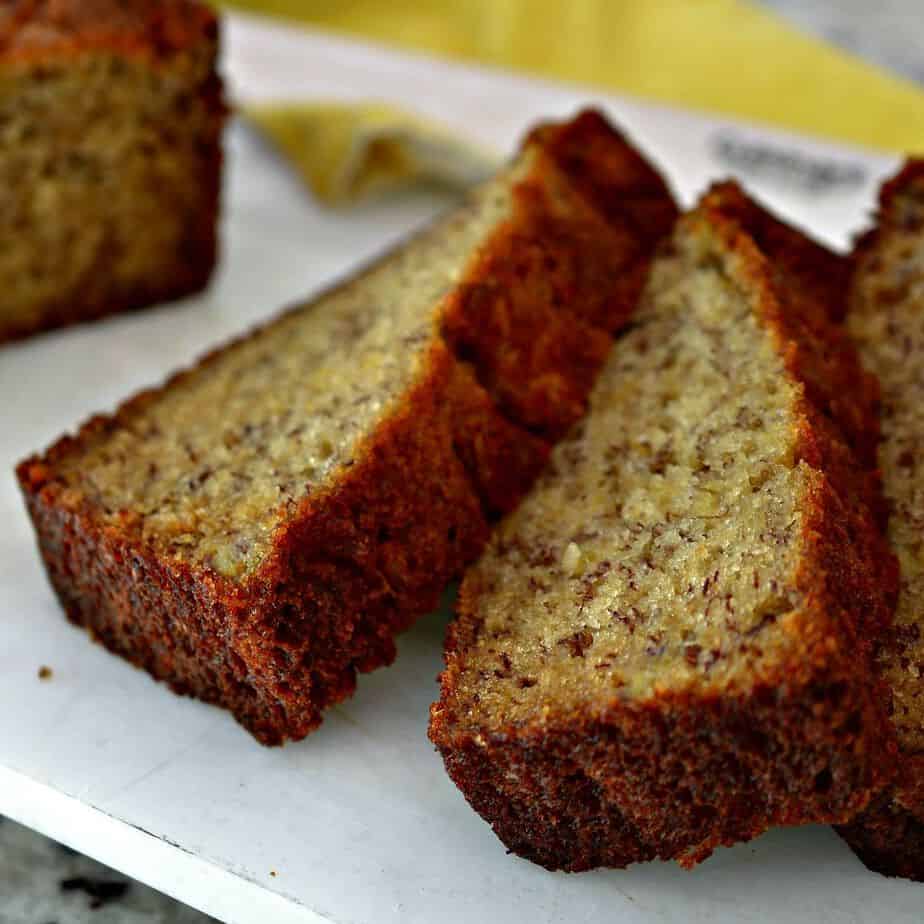 How do you make this Easy Banana Bread Recipe?
First things first!  You are going to need 3-4 old bananas!  The ones that nobody wants to eat because they don't look pretty anymore.  You know the ones with large black spots on the skin.  Sometimes I even take these old bananas and cook them right in their skins a little bit just to make sure they are super soft and all the sappy sugar is released.  Now mash those bananas well until they are pretty smooth. If you cooked them in the oven, make sure they are fully cooled before adding the rest of the ingredients.  Add the eggs, vanilla, safflower oil and Greek yogurt to the bowl with the mashed bananas.
In a large bowl whisk together flour, baking soda, sugar and salt. Now pour the wet ingredients into the dry ingredients and mix just until combined.  Pour into a well-greased 9×5 inch loaf pan and bake for about one hour. Let cool for about 15 minutes before inverting the pan and cooling on a wire rack.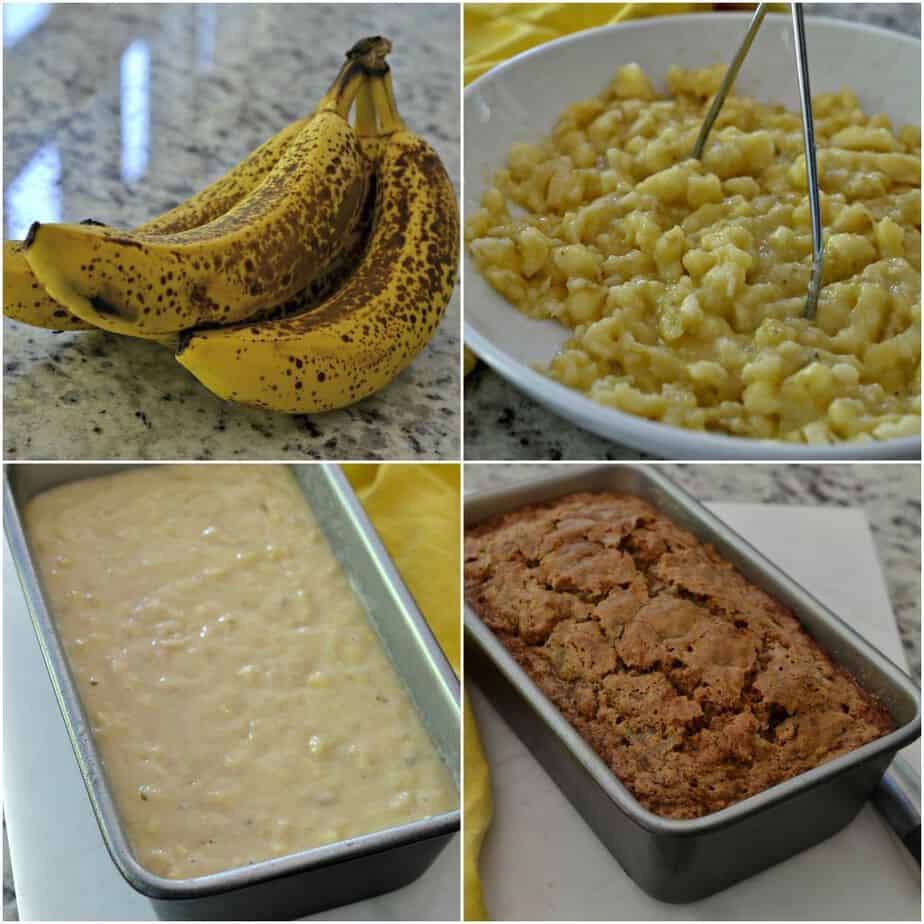 See, there is nothing too.  A couple of easy steps and you have yourself a fresh loaf of amazing Banana Bread.  This recipe is so easy that even the novice cook can handle it.
Here are more sweet dessert bread recipes to try!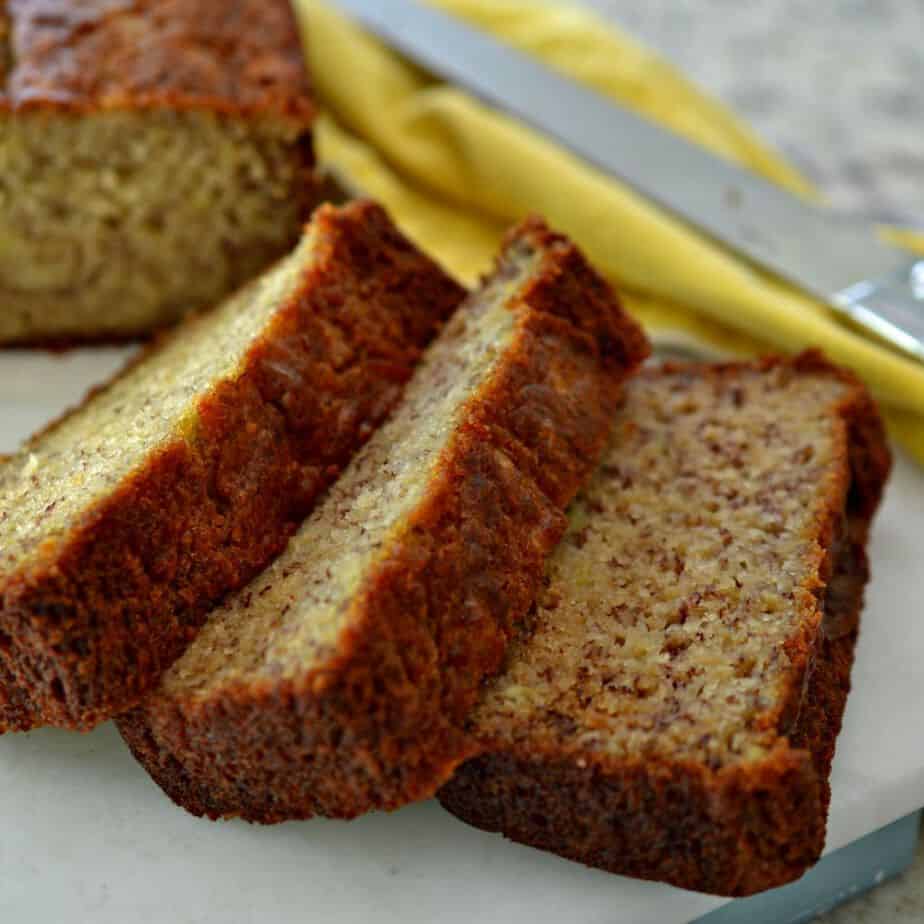 Tips for making the best Banana Bread:
For best flavor, use very over-ripe bananas.
If over-ripe bananas are not available, you can ripen bananas by placing them in the oven unpeeled. Place the bananas on an old cookie sheet and bake at 300 degrees for about 15 minutes. Cool before preparing the recipe.
Bring eggs to room temperature for better incorporation and fluffier lighter bread.
Stick to the amount of bananas in the recipe. Adding more bananas can make your bread too dense.
Sweet bread dough should be mixed just until incorporated.  Over mixing can result in a dense, rubbery loaf.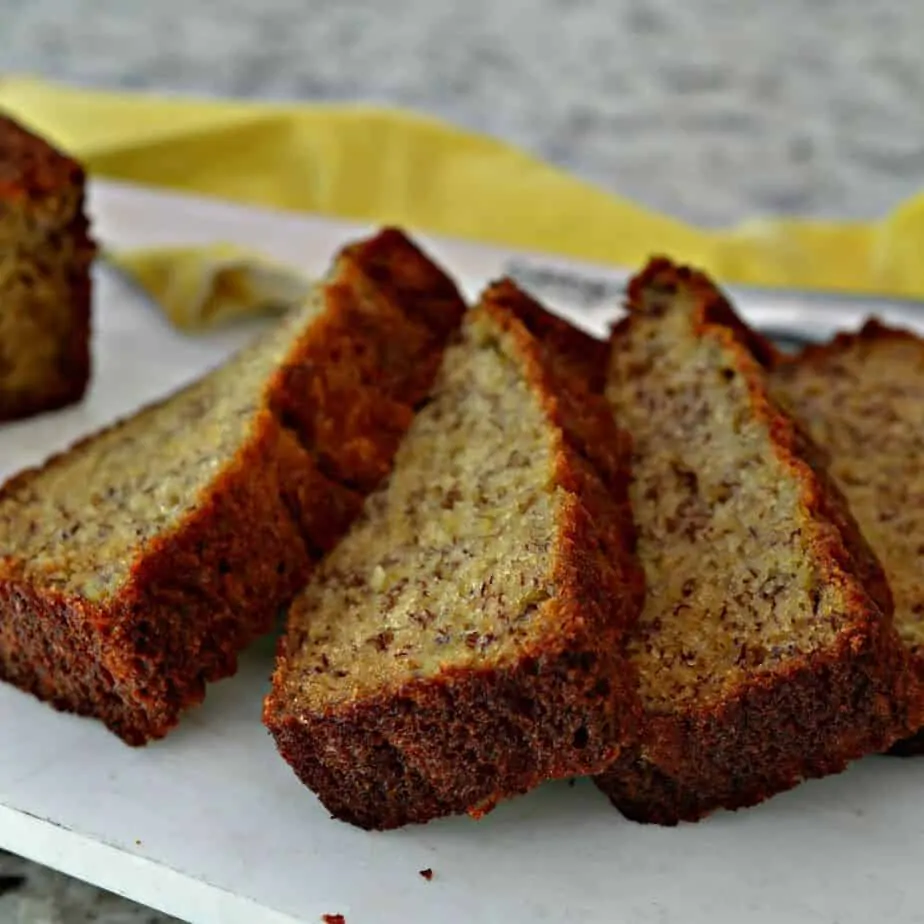 You and yours are going to love this Banana Bread!  Put the ingredients on your shopping list today and make yourself an amazing treat.  Leave a comment and let me know what you think.  I love to hear from you!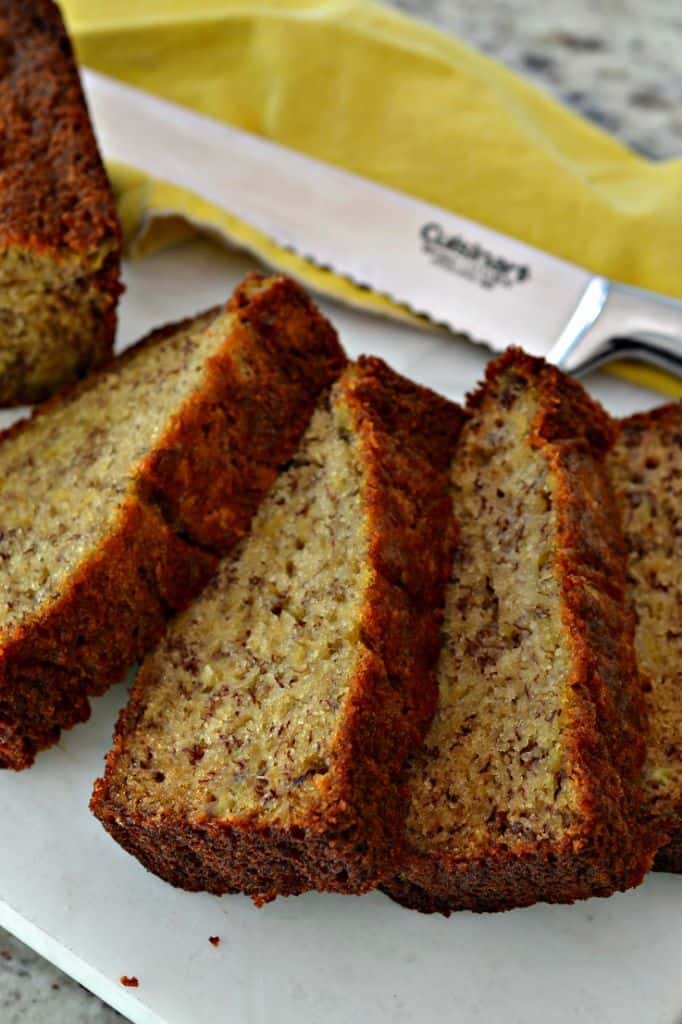 Other banana recipes you will love!
Print
Easy Banana Bread Recipe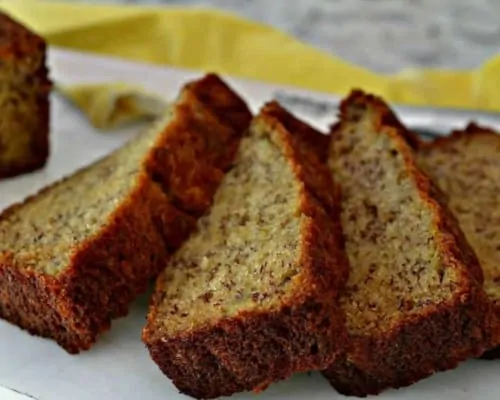 This scrumptiously moist banana loaf is super easy and quick to prep, making it one of our favorite sweet bread recipes. This is the best banana bread recipe for a quick breakfast or light, sweet snack!
Author:
Prep Time: 15
Cook Time: 45
Total Time: 1 hour
Yield: 1 loaf 1x
Category: sweet bread
Method: bake
Cuisine: American
Scale
Ingredients
1 1/2 cups all purpose flour
1 teaspoon baking soda
3/4 cup sugar
1/2 teaspoon salt
3–4 over-ripe bananas mashed
2 eggs (room temperature)
1 teaspoon vanilla
1/2 cup safflower oil
3/4 cup Greek yogurt
Instructions
Preheat oven to 350 degrees. Grease well 9×5 inch baking dish.
In a large bowl whisk together flour, baking soda, sugar and salt.
In a medium bowl mix together mashed bananas, eggs, vanilla, oil and Greek yogurt.  Now add the wet mixture to the dry mixture and stir just until combined.
Pour into the prepared loaf pan.  Bake in the center of the oven for 45 minutes or until a toothpick inserted in the center of the loaf comes out clean.
Cool for 15 minutes before inverting.  Place on a wire rack to cool.  Cool completely before slicing.
Keywords: best banana bread, easy banana bread, moist banana bread, how to make banana bread, homemade banana bread, banana bread from scratch, over-ripe bananas, banana loaf, sweet bread
https://www.smalltownwoman.com/wp-content/uploads/2019/05/Beth-1.pdf