This delectable Homemade Banana Pudding combines creamy vanilla pudding with sweet slices of bananas, vanilla wafers, and fresh whipped cream.  This delectable dessert is a hot commodity at any family function, potluck or gathering.  You will be pleasantly surprised at how easy it is and how much everyone loves it.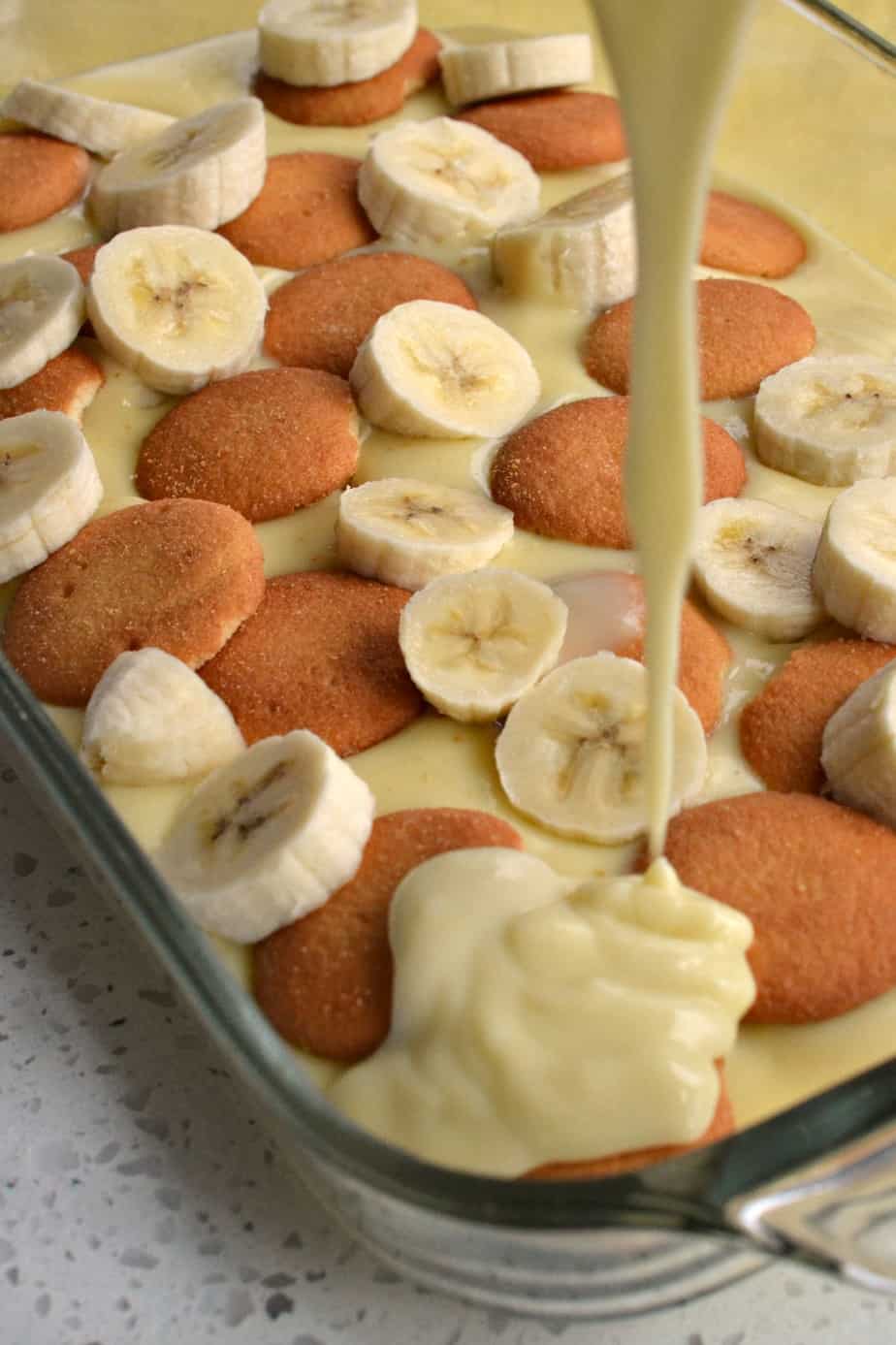 Are you a banana lover?  Banana lovers are a really loyal bunch and they stick together like birds of a feather.  We are a banana loving family.  Between my daughter and my husband you can not keep enough bananas in the house.  I just love the wholesome goodness of this recipe.  This is the real deal.  There is no boxed pudding here just real creamy vanilla pudding and fresh whipped cream.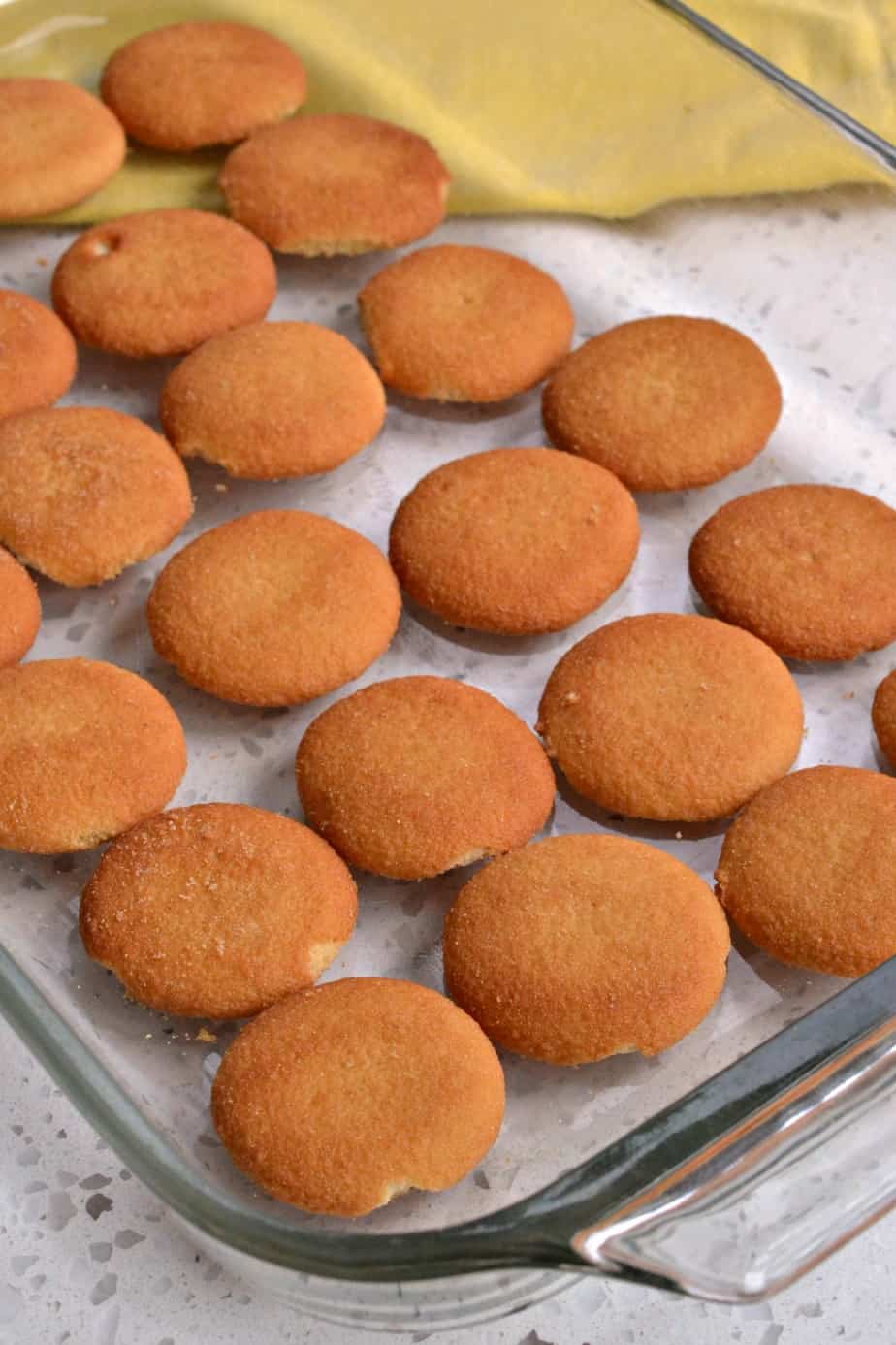 How do you make Homemade Banana Pudding?
Start by adding the sugar, flour, salt, egg yolks, milk and half n half to a large saucepan.  Now whisk to combine and place over low heat.  Whisking constantly cook until thick enough to coat the back of a spoon. Use a spoon several times during the cooking process to reach down on the bottom edge to mix in the ingredients that the whisk might be missing.  Then once thickened remove from the heat and continue whisking as it cools.  Finally whisk in the vanilla and butter.  Now you can start the rest of the recipe but whisk every few minutes so a skin does not form on your pudding.
In a stand mixer with the whisk attachment (or hand mixer with whisk beaters) beat whipping cream and powdered sugar until stiff peaks form.  It is always helpful to put your bowl and beaters in the freezer for about 20 minutes prior to making whipped cream.
Now to assemble this delicious dessert layer vanilla wafers, half the pudding and fresh banana slices.  Then repeat once again.  Finally add a layer of whipped cream and crushed vanilla wafers.  For best results refrigerate for 1-3 hours.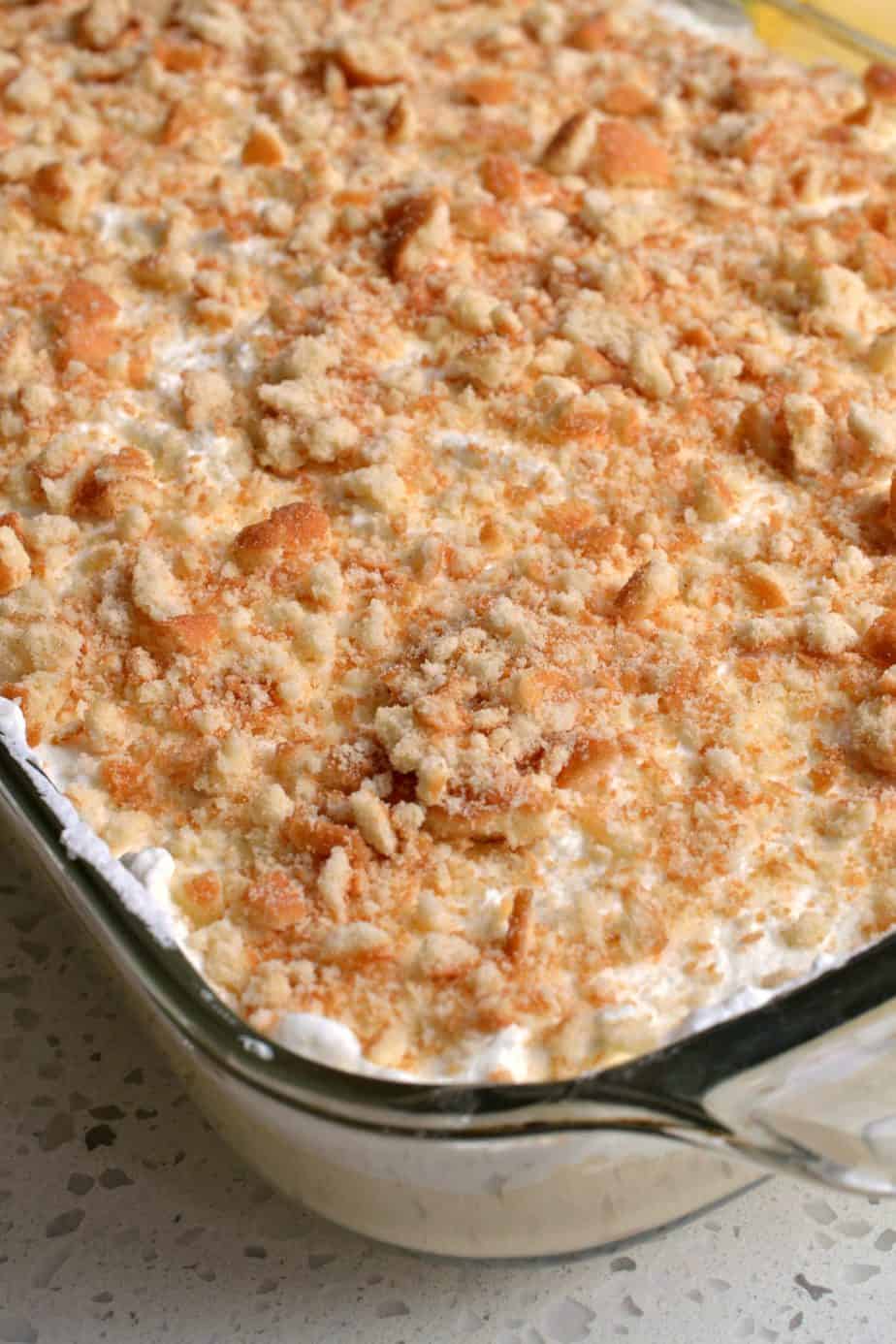 Helpful tips for making Banana Pudding
Don't place the pudding on the heat until you have all the ingredients whisked together.
Use the extra egg whites for an egg white omelette or scrambled egg whites.
Whisk continuously over low heat.  Be patient.  It can take 12-15 minutes to thicken the pudding.  My late mother used to say "Good things come to those who wait."
Use a spoon while cooking the pudding to reach those hard edges at the bottom of the pan that the whisk sometimes misses.
Continue whisking even after you take it off the heat as it will cook a little longer off the heat and you don't want it developing a skin.
Vanilla should be added after a little bit of cooling as it will give more intense flavor.
For best results with the whipping cream chill your beater and bowl 20 minutes in advance and add your powdered sugar relatively slowly.
This dessert is best enjoyed up to 2 days after making.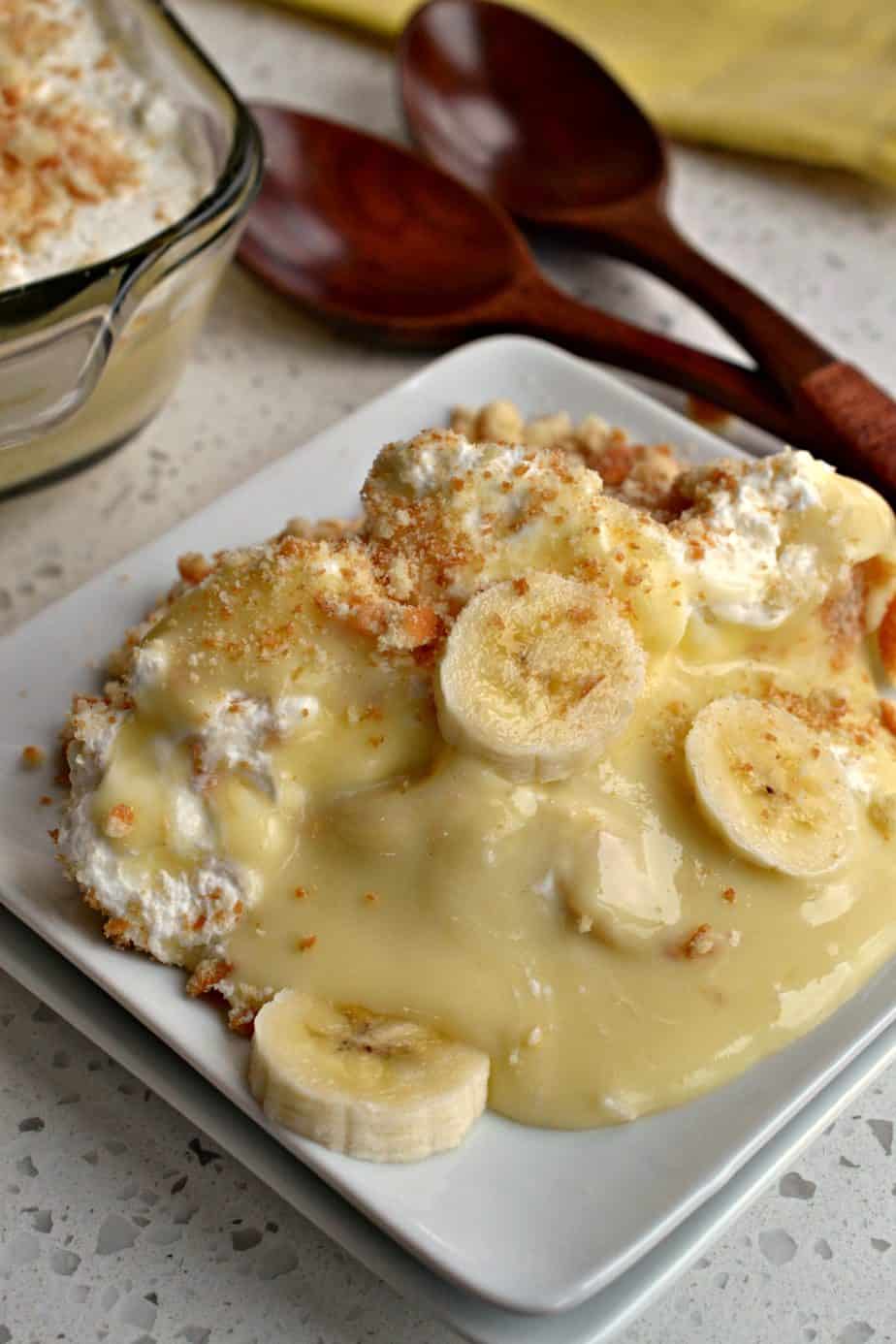 More banana recipes you will love!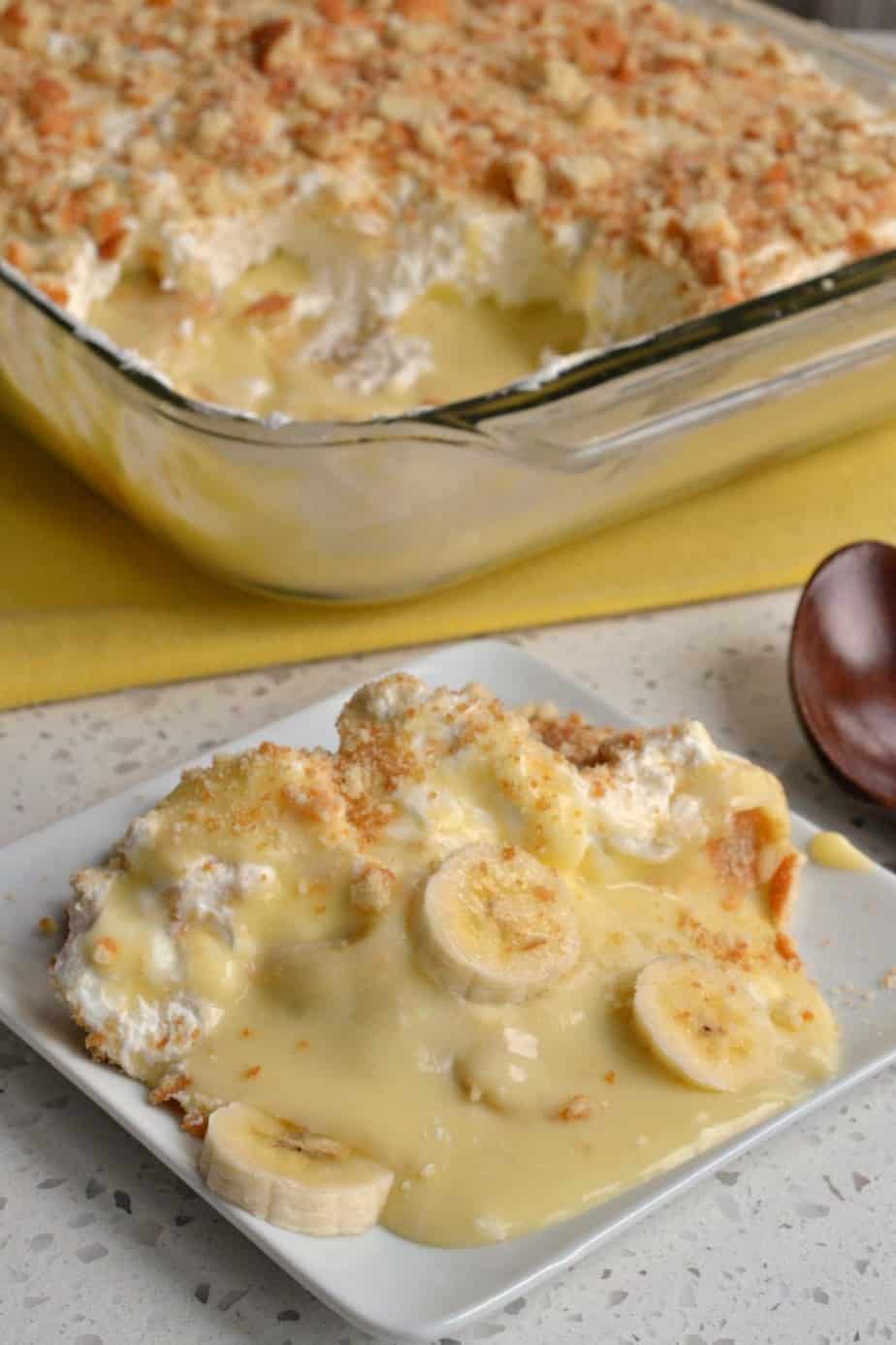 Print
Homemade Banana Pudding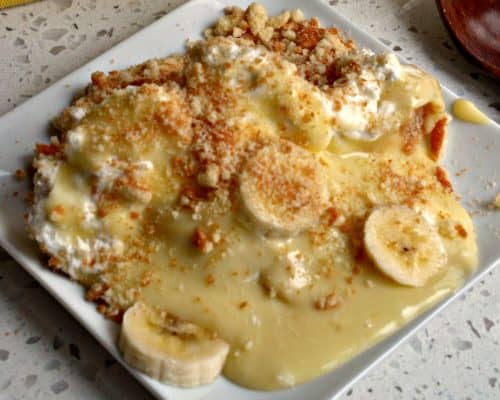 This delectable family friendly dessert is made of homemade vanilla pudding, fresh bananas, vanilla wafers and whipped cream.  This wildly popular dessert will make you the top hostess.
Author:
Prep Time: 15
Cook Time: 15
Total Time: 30 minutes
Yield: 12 servings 1x
Category: dessert
Method: stove top
Cuisine: southern
Scale
Ingredients
1 cup sugar
1/2 cup all purpose flour
1/2 teaspoon salt
8 egg yolks
1 1/2 cups milk
1 1/2 cups half and half
1/2 teaspoon vanilla extract
3 tablespoons butter
4 bananas
8 ounces vanilla wafers
1 1/2  cups whipping cream
4 tablespoons powdered sugar
Instructions
Add sugar, flour, salt, egg yolks, milk and half n half to a large saucepan.  Whisk to combine and place over low heat.  Cook until thick enough to coat the back of a spoon whisking constantly; approximately 12-15 minutes. Using a spoon scrap the bottom edge of the pan several times during the cooking process.  Remove from the heat and whisk several times to cool.  Whisk in vanilla and butter.  Continue whisking every few minutes until the pudding almost comes to room temperature.
Meanwhile using a stand mixer (with whisk attachment) on medium beat whipping cream while adding the powdered sugar 1 tablespoon at a time. Beat until stiff peaks form.
To assemble dessert place a row of vanilla wafers in 8×11 or 9×9 inch casserole dish.  Slice 2 bananas over the top and cover with half the pudding.  Then place another row of vanilla wafers (this row does not need to be as tight or clean).  Slice 2 bananas over the top and cover with remaining pudding.
Carefully spread the whipped cream over the top.  Refrigerate for 1-3 hours before serving.
Notes
A hand held mixer with whisk beaters can be used as well.
Store all leftovers in the refrigerator.
Keywords: banana pudding, vanilla pudding with bananas and vanilla wafers, how to make banana pudding, easy banana pudding, banana pudding from scratch, recipes using bananas
https://www.smalltownwoman.com/wp-content/uploads/2019/05/Beth-1.pdf