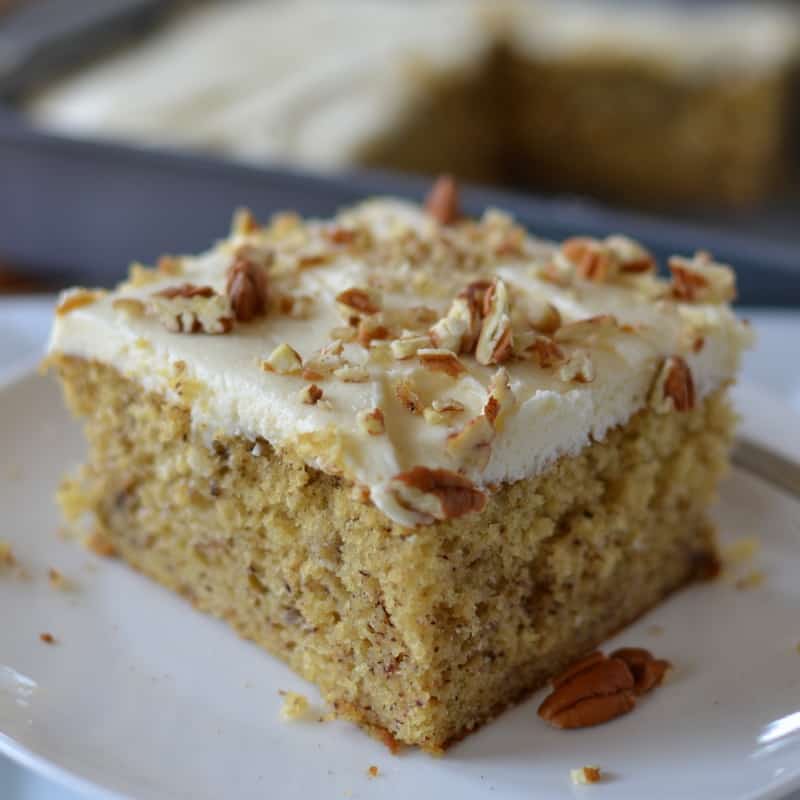 Banana cake is my family's favorite desserts. In fact it is our favorite way to eat bananas. This Easy Banana Cake with Cream Cheese Frosting is a take off from my late mother-in-law's banana cake. My mother-in-law was a no nonsense kind of cook. She was one of nine children brought up during the depression and she was also the mother of six children. She would cook all of the family meals on a budget and she learned quickly what worked and what did not. She had making her banana cake for years and years. It is a cheater cake but it tastes better than any banana cake I have ever had or made from scratch. So you ask what is a cheater cake. I call cakes that use a box mix with add ins cheater cakes. Let me tell you that there really is a place for these kind of cakes. They are quick to come together, amazingly dependable and are absolutely delicious.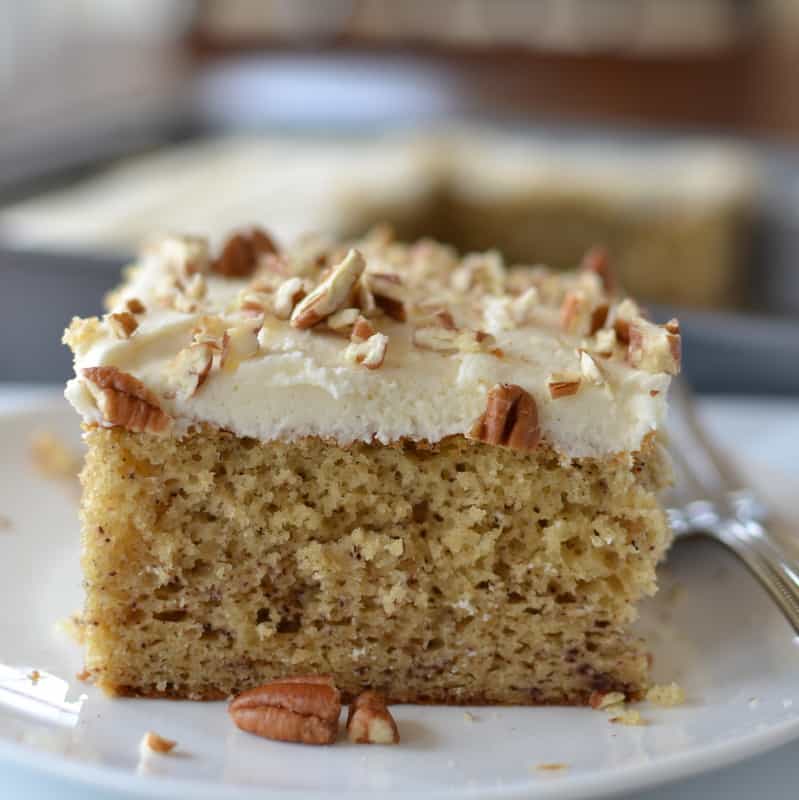 Again I repeat myself, I have tried baking many banana cakes from scratch without even coming close to the deliciousness in this Easy Banana Cake with Cream Cheese Frosting. I have even proposed taste tests for family and friends and hands down every time this cake comes out the winner. This delicious beauty can be prepped and in the oven in about ten to fifteen minutes. The icing only takes about five minutes to whip up and tastes heavenly.
Have you tried any of my other delicious cakes? Quick and Easy Chocolate Cherry Cake, Apple Caramel Cream Cheese Bundt Cake and Apple Crumb Cake are a few family and friend favorites. This delicious Pecan Pie Cake from Baking Beauty is one our blogger favorites.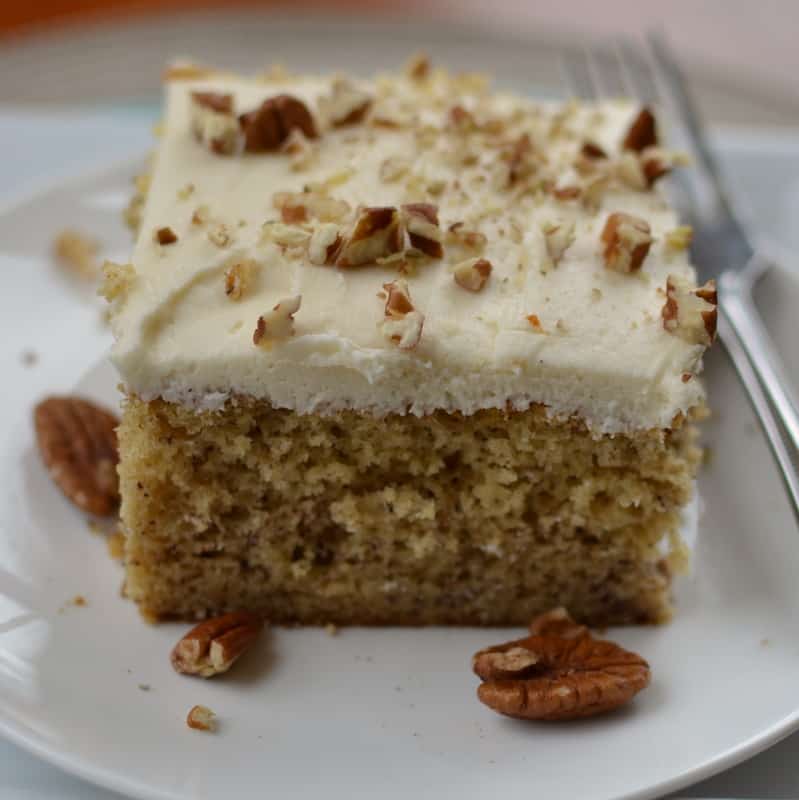 So if your family is a bunch of banana cake nuts than put the ingredients for this amazing Easy Banana Cake with Cream Cheese Frosting on your list today! Your family will be singing your praises.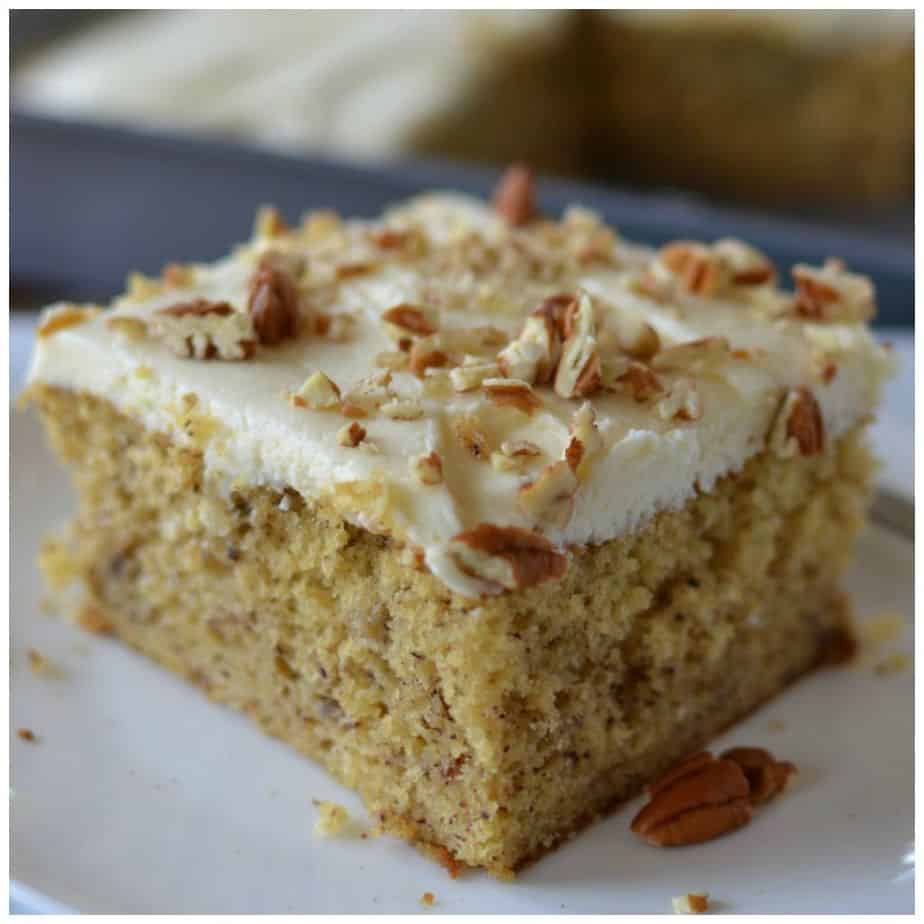 Easy Banana Cake with Cream Cheese Frosting
Ingredients
Banana Cake

1 box yellow cake mix (I used Betty Crocker)
1 teaspoon baking soda
1/2 teaspoon cinnamon
1/4 teaspoon nutmeg
Pinch of cloves
Water, oil and eggs (that are listed on the box)
3 large bananas mashed (about 1 1/2 cups)

Cream Cheese Icing

1 box (8 ounces) cream cheese softened
6 tablespoons softened unsalted butter
1 teaspoon vanilla extract
2 1/4 cups powdered sugar
Instructions
Preheat oven to 350 degrees. Grease 9 x 13 pan.
In large bowl whisk together dry box mix, baking soda, cinnamon, nutmeg and cloves. Add water, oil and eggs as directed on box. With mixer on medium speed or beat vigorously by hand for 2 minutes. Stir in mashed bananas.
Bake for 40 minutes or until toothpick inserted in the center comes out clean. Cool completely.
In medium bowl using mixer cream butter and cream cheese. Beat in vanilla extract. Beat in powdered sugar about 1/2 cup at a time. Spread over cooled cake.
Store cake in refrigerator.
https://www.smalltownwoman.com/easy-banana-cake-cream-cheese-frosting/
Other recipes you will love!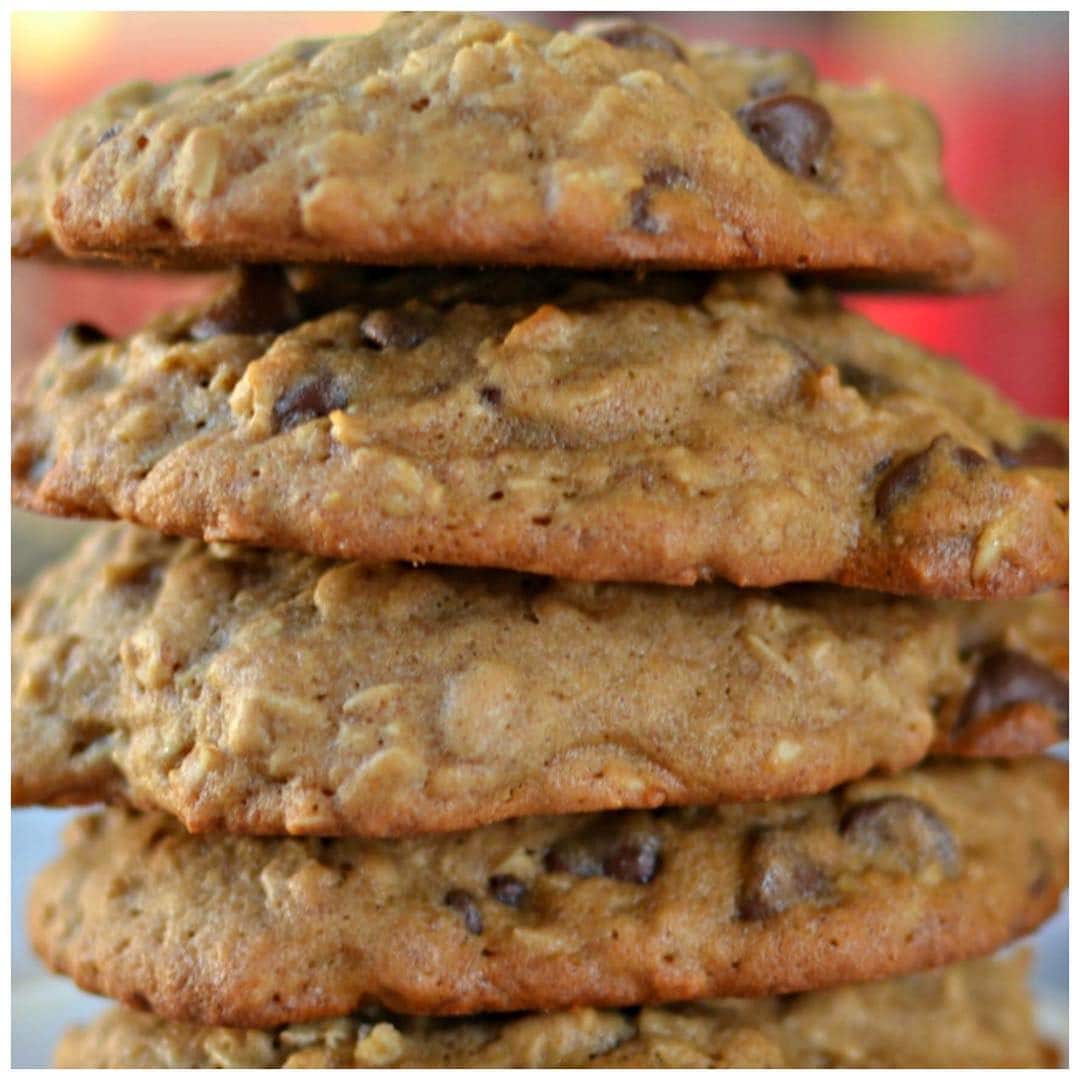 Banana Oatmeal Chocolate Chip Cookie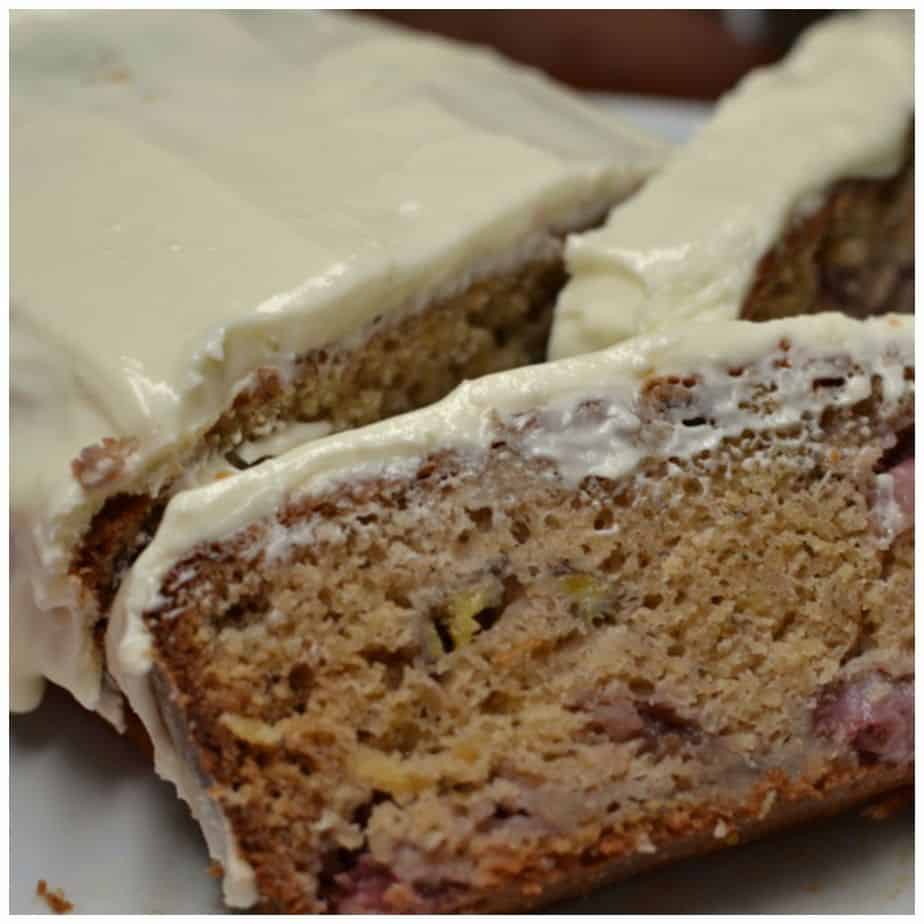 Strawberry Banana Pineapple Bread