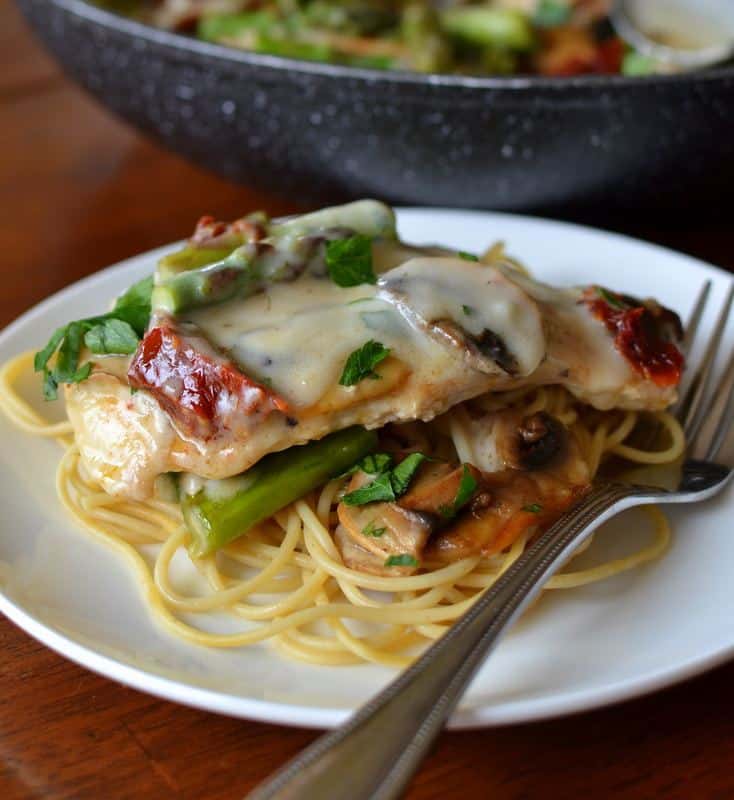 How was your weekend? I hope you had nice weather and got to indulge in some great food and libations.  My weekends are full of cooking, photography, videography and family.  It just does not seem like there are enough hours in a day.  I wish I could just slow down time altogether .
Spring is rolling in here kind of slow this year.  We had an unseasonably warm winter and then we got popped with some pretty cool weather here in the last few weeks.  It has put the kibosh on the blooms of the Bradford Pear trees, Forsythia bushes and some of the daffodils. The positive side of this is that maybe every ones allergies will not be as bad including my son.
So this past weekend I created a new recipe…..or at least a new recipe by my standards. You are going to love this Easy Creamy Chicken Mushroom Asparagus Skillet.  Lightly browned chicken breasts are topped with golden mushrooms, tender-crisp cooked asparagus, sun dried tomatoes and drizzled with a creamy white wine sauce.  Oh mercy…I am making myself hungry.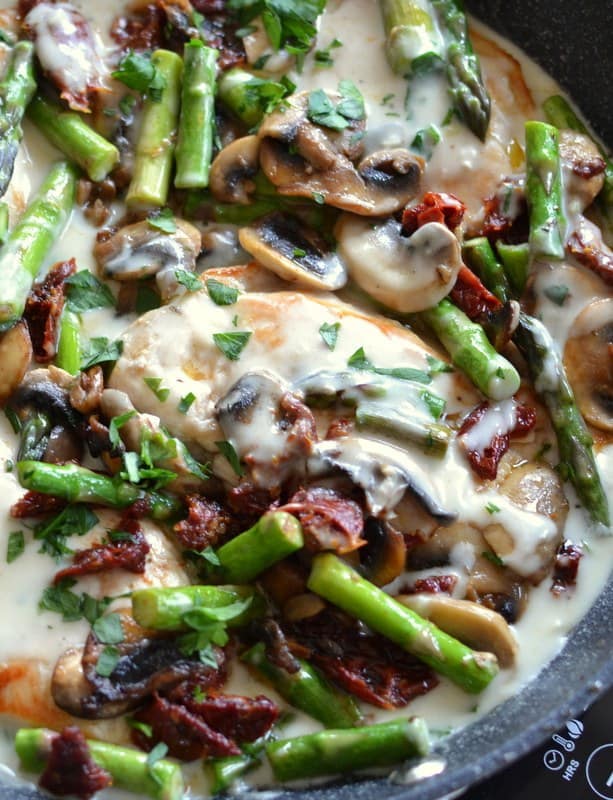 This beautiful recipe can made in less than thirty minutes making it easy enough for a weeknight meal and fancy enough for company.  You can serve over a bed of angel hair pasta or white rice. Easy Creamy Chicken Mushroom Asparagus Skillet pairs wonderfully with a dry crisp white wine like a Sauvignon Blanc or a Pinot Grigio.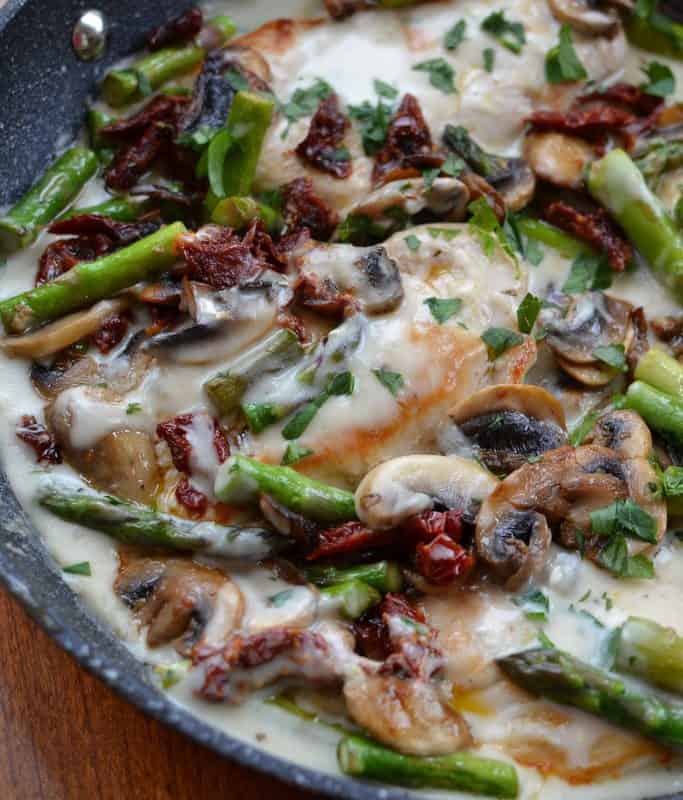 So if you are having company over this weekend, just want to score brownie points with your significant other, or you just appreciate darn good food than get the ingredients on the grocery list.  For goodness sake don't leave the grocery list on the counter like I have done numerous times.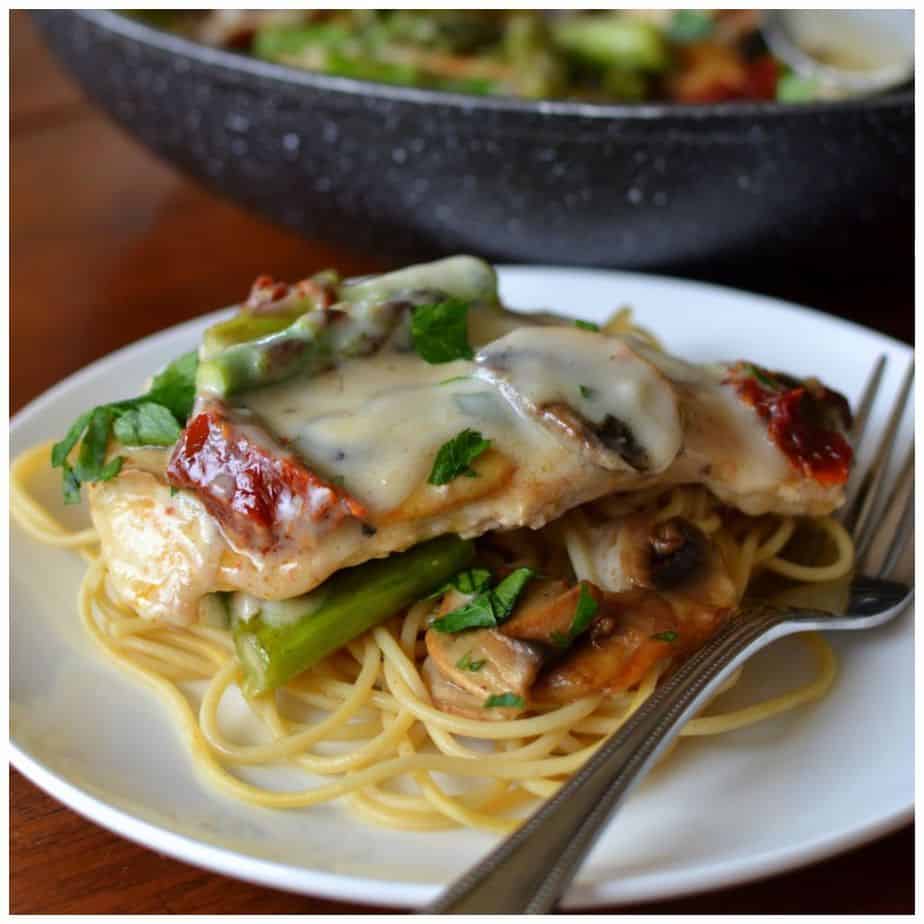 Print
Easy Creamy Chicken Mushroom Asparagus Skillet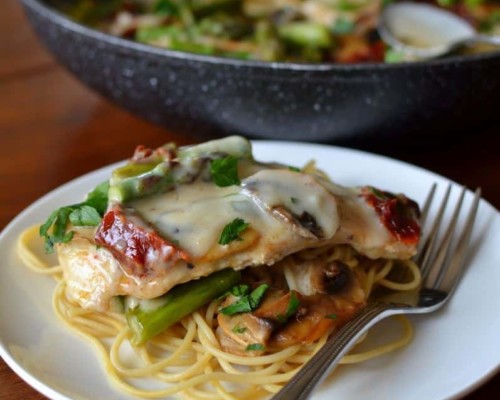 This creamy mushroom chicken skillet is topped with tender asparagus and tangy sun dried tommatoes. It's a simple one-pan dinner that's hearty, delicious, and easy to make!
Author:
Prep Time: 10 minutes
Cook Time: 20 minutes
Total Time: 30 minutes
Yield: 4 servings 1x
Category: Dinner
Method: Stove Top
Cuisine: Italian
Scale
Ingredients
2 tablespoons olive oil
2 large chicken breasts sliced in half lengthwise creating 4 thinner breasts
2 tablespoons of butter
8 ounces sliced mushrooms
1/2 lb asparagus trimmed and cut in thirds
1/3 cup sun dried tomatoes julienne
3 cloves garlic minced
1 1/2 tablespoons flour
1/2 cup dry white wine
1/2 cup low sodium chicken broth
1/4 cup heavy cream
Salt & pepper to taste
2 tablespoons fresh chopped parsley
Instructions
Heat 1 tablespoon of olive oil over medium high heat. Add chicken and cook 4-5 minutes on each side. Remove and place on plate.
Melt butter and add mushrooms. Cook until they start to turn golden brown about 2-3 minutes; stirring several times Add asparagus and sun dried tomatoes. Cook for an additional 5 minutes; stirring several times. Remove vegetables to plate.
Heat 1 tablespoon olive oil in skillet over medium low heat. Add garlic and cook for about 1 minute while stirring continuously. Sprinkle flour over garlic and oil whisking continuously; cook for 90 seconds. Slowly add wine and whisk in. Cook down for 1 minute. Whisk in chicken broth and cream. Salt and pepper to taste. Sprinkle with 1 tablespoon parsley.
Add chicken and vegetables back to skillet and simmer for 2-3 minutes. Sprinkle with remaining parsley.
Keywords: creamy mushroom chicken, mushroom chicken with asparagus, creamy chicken, mushroom chicken, creamy chicken skillet, mushroom chicken with asparagus, sun dried tomatoes
Other recipes you will love!