This Rice Pudding is one of our family favorites.  It is rich, lusciously creamy and is so darn easy to prepare.  Whether you enjoy it warm with butter, milk and brown sugar or cold with cinnamon and nutmeg this recipe will quickly become one of your favorites.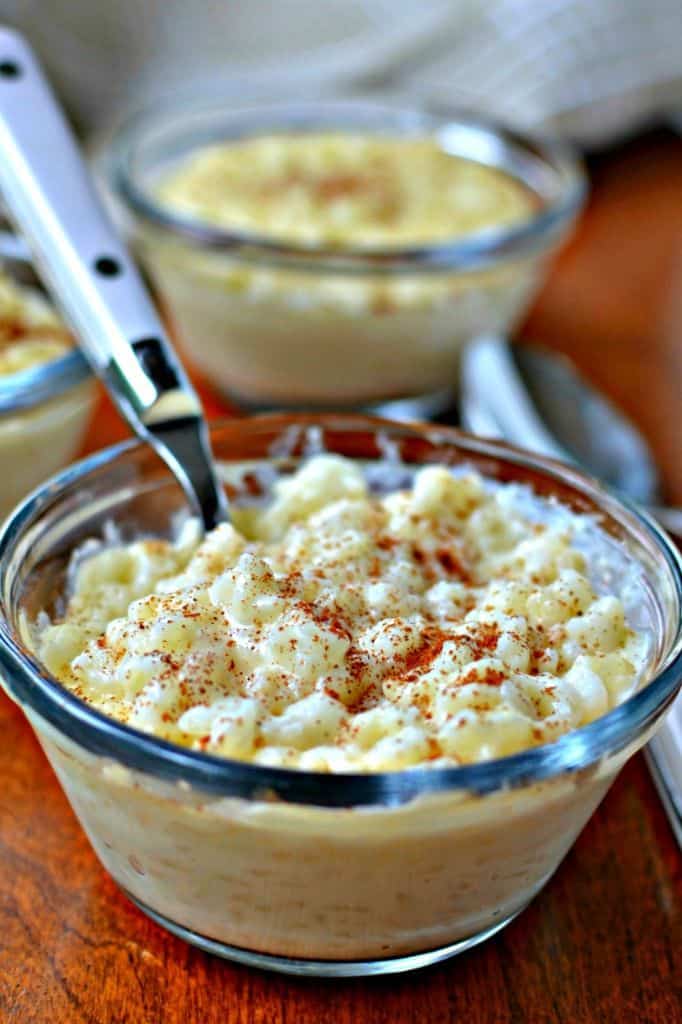 I just love this pudding!  I would much rather have a big bowl of this than a piece of cake or bowl of ice cream.  If you are in the same boat as me then you really must make this recipe.  You will be absolutely thrilled with the results from this easy recipe.  Preparing it right in your own kitchen gives you peace of mind over the ingredients and a chance to enjoy it both warm and cold.
How do you make Rice Pudding
This easy yet amazingly delicious recipe starts with cooked rice.  The rice is then combined with milk and cooked until thick and creamy.  In the final steps a tempered egg, sugar, butter and vanilla extract are added.  The mixture is cooked just a couple more minutes and then you can add whatever you like or spoon into individual dishes so everyone can adjust their add ins to their liking.  Please be sure to read the helpful hints on tempering eggs.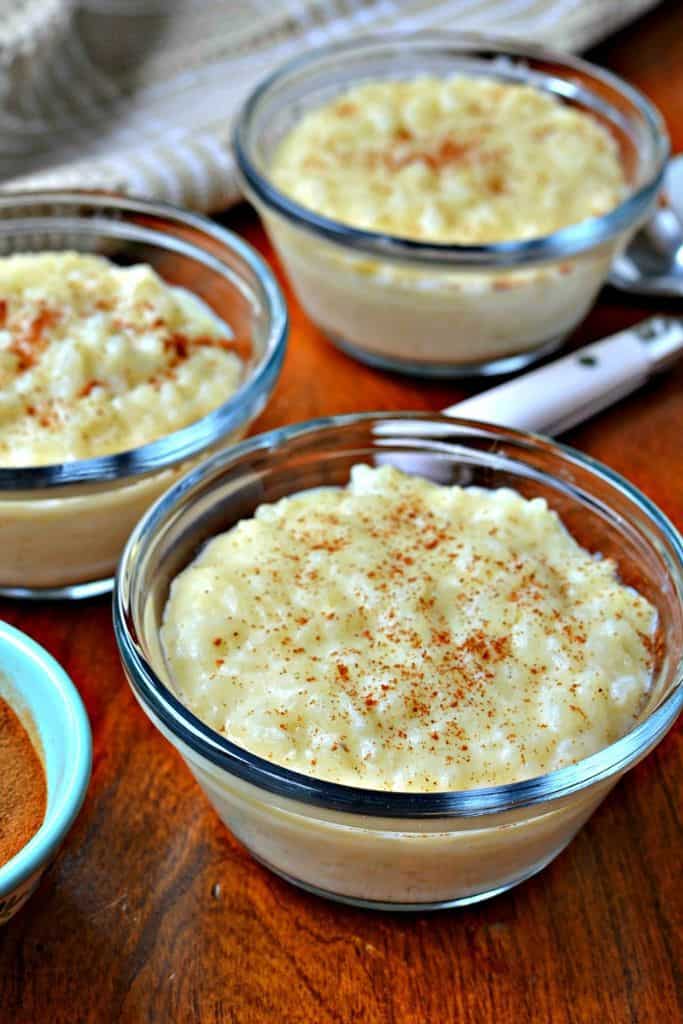 Delicious add ins for Rice Pudding!
cinnamon and/or nutmeg
raisins or dried cranberries
chocolate chips
whipped cream
chopped almonds, walnuts or pecans
honey or brown sugar
butter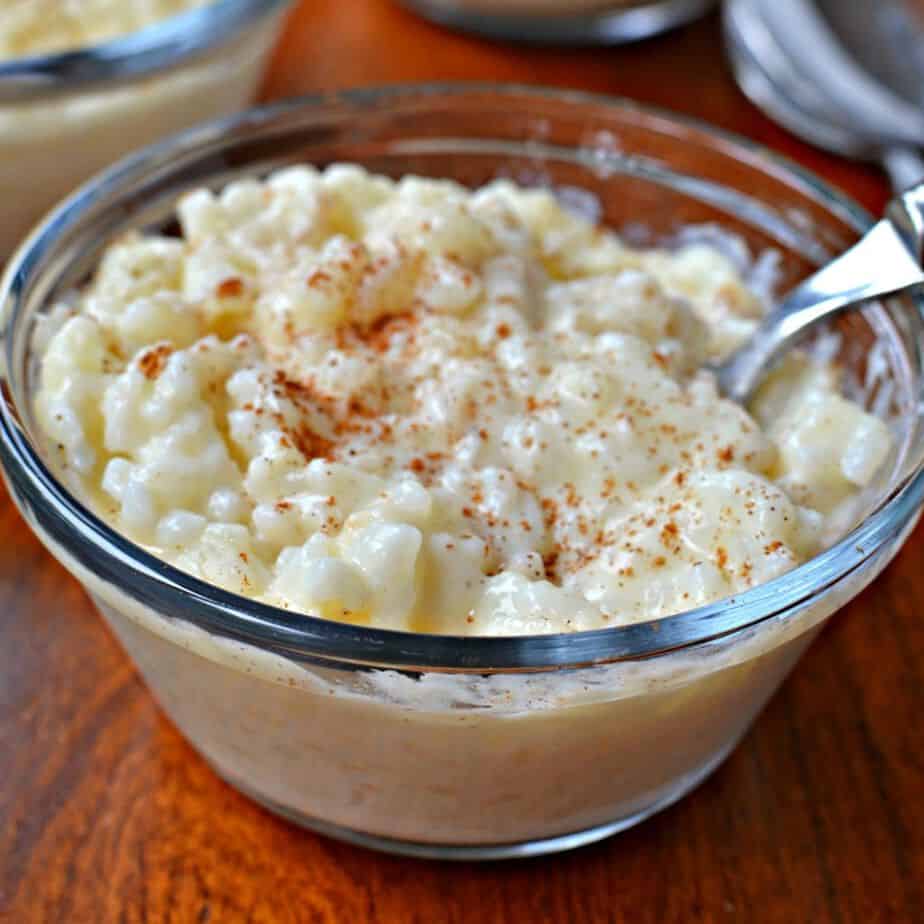 How to temper an egg!
You really don't want to add an egg to a hot mixture without tempering it unless of course you are after that kind of effect like in egg drop soup.  But in this case we want the egg to fully incorporate into the mixture like in a pudding or a custard.  In a separate bowl beat your egg. Now simply add 1-2 tablespoons of the hot liquid whisking constantly.  Once whisked in, repeat again thoroughly whisking after each addition. If the bowl is small enough to fit in the palm of your hand you will probably begin to feel it warm.  Once the egg mixture has begun to warm you can slowly whisk it into the warm pot without worrying that you will end up with a scrambled mess.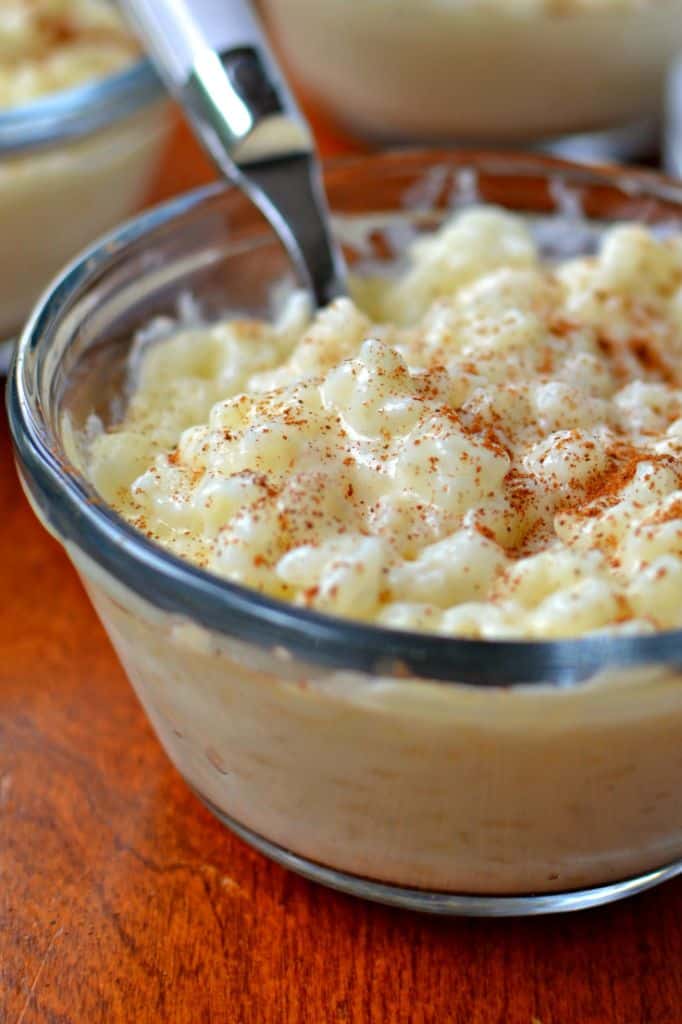 Helpful hints on making this Rice Pudding epic!
Use medium or short grain white rice.  Do not use long grain rice.
Use 2% or whole milk. Skim does not have enough fat.
Cook over medium low heat stirring constantly.  You don't want this to burn to the bottom of the pot.
Make sure you temper the egg so that you do not end up with curdled or scrambled eggs.
Add the ingredients in the order they are written in the final steps.
Store leftovers in an airtight container in the fridge. It will stay good for several days.
If the pudding becomes too thick for your liking add a couple of tablespoons of milk at a time until desired thickness.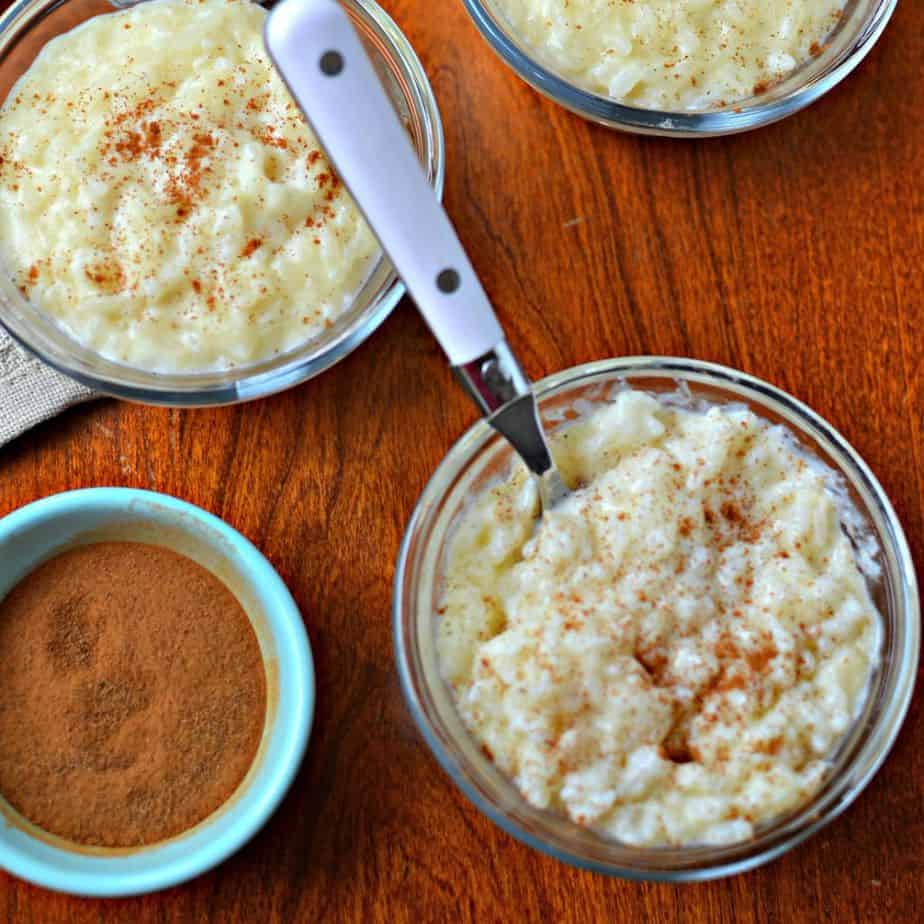 This amazing dessert is so delectable, easy and dependable.  What are you waiting for?  Put the ingredients for this treat on your shopping list today.  Your loved ones will be singing your praises.
Other light dessert recipes you will love!
This post was originally published September 27, 2018 and was republished October 7, 2019 with new content.
Print
Easy Rice Pudding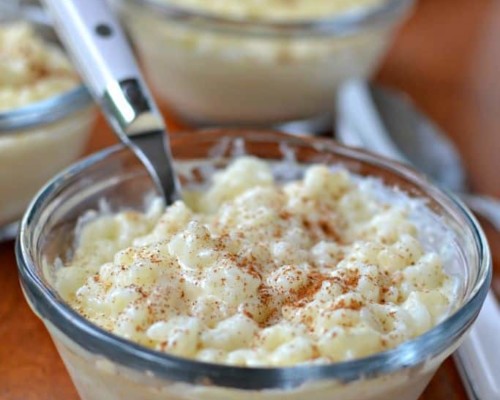 This creamy old fashioned Rice Pudding comes together easily with fresh cooked or leftover rice.  It is so velvety and luscious it will remind you of the pudding your grandmother used to make.
Author:
Cook Time: 40
Total Time: 40
Yield: 6 1x
Category: Dessert
Method: Stovetop
Cuisine: American
Scale
Ingredients
3/4 cup medium grain white rice
1 1/2 cups water
1/2 teaspoon salt
2 cups milk
1 egg
1/4 cup sugar
2 tablespoons butter
1/2 teaspoon vanilla extract
Instructions
In large saucepan bring water to a boil. Add rice and salt; bring back to a boil. Turn to simmer, cover with tight fitting lid, and cook 15-20 minutes or until water is absorbed.
Increase heat to medium low, add milk and cook until thick and creamy stirring constantly; approximately 15-20 minutes.
In small bowl whisk egg. Add 1-2 tablespoons of the hot liquid to the egg; whisking constantly. Once whisked in, repeat again adding 1-2 tablespoons of the hot liquid to the egg; whisking constantly. Repeat if necessary thoroughly whisking after each addition until the egg mixture has warmed.
Slowly whisk the egg mixture and sugar into the rice/milk mixture. Cook for an additional 2-3 minutes. Turn off the heat and stir in butter and vanilla extract.
Keywords: how to make rice pudding, rice pudding with cooked rice, easy rice pudding, best rice pudding recipe
https://www.smalltownwoman.com/wp-content/uploads/2019/05/Beth-1.pdf