KEY LIME PIE RECIPE IS A CLASSIC SUMMER TREAT! IT IS A SLIGHTLY TART NOT TOO SWEET RICH AND CREAMY DESSERT THAT IS MADE WITH A GRAHAM CRACKER CRUST AND FRESH KEY LIMES.
Does the thought of limes make your mouth water?  I understand completely! Nothing tastes quite as fresh as limes.  Is your mouth watering yet?  Hands down hubby says this is the best key lime pie!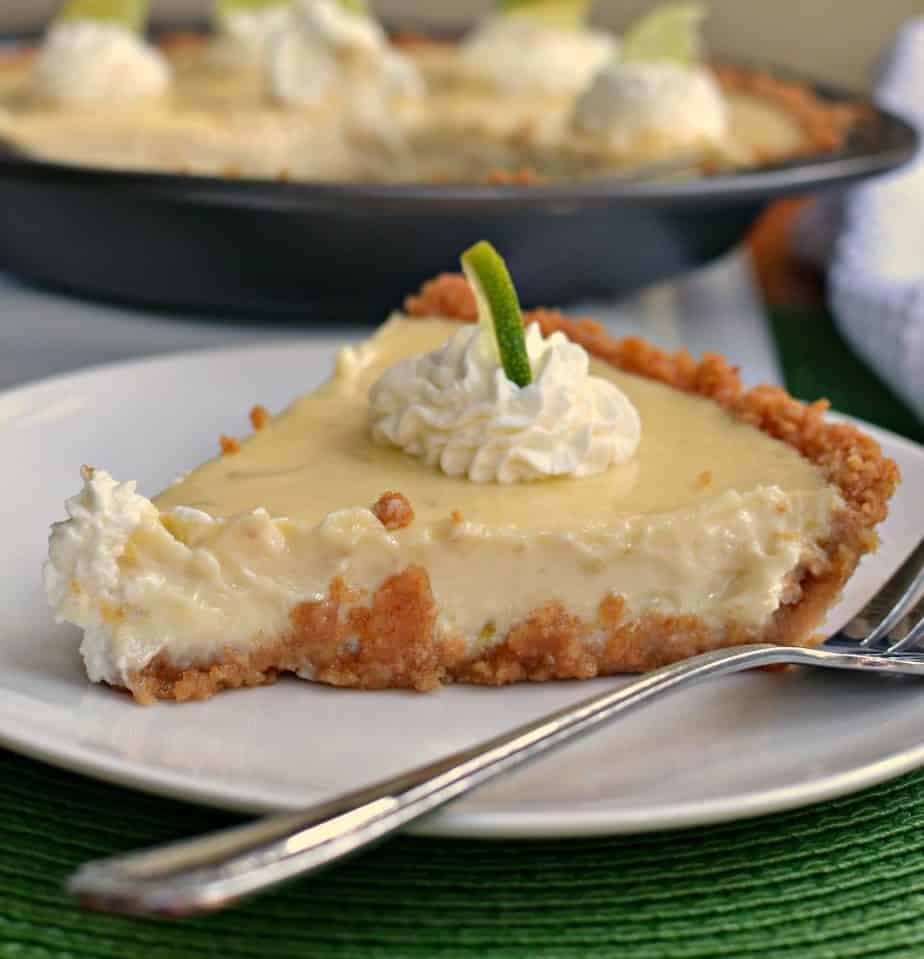 One of my favorite desserts is this Key Lime Pie Recipe.  There is just something magical about this creamy pie.  This mouthwatering beauty can be prepped and in the oven in about twenty minutes including bake time for the crust.  Key Lime pie needs to be refrigerated for several hours up to overnight before serving and in my opinion is at its best the day after cooking.  If key limes are not available you can use other limes and the taste will still be terrific.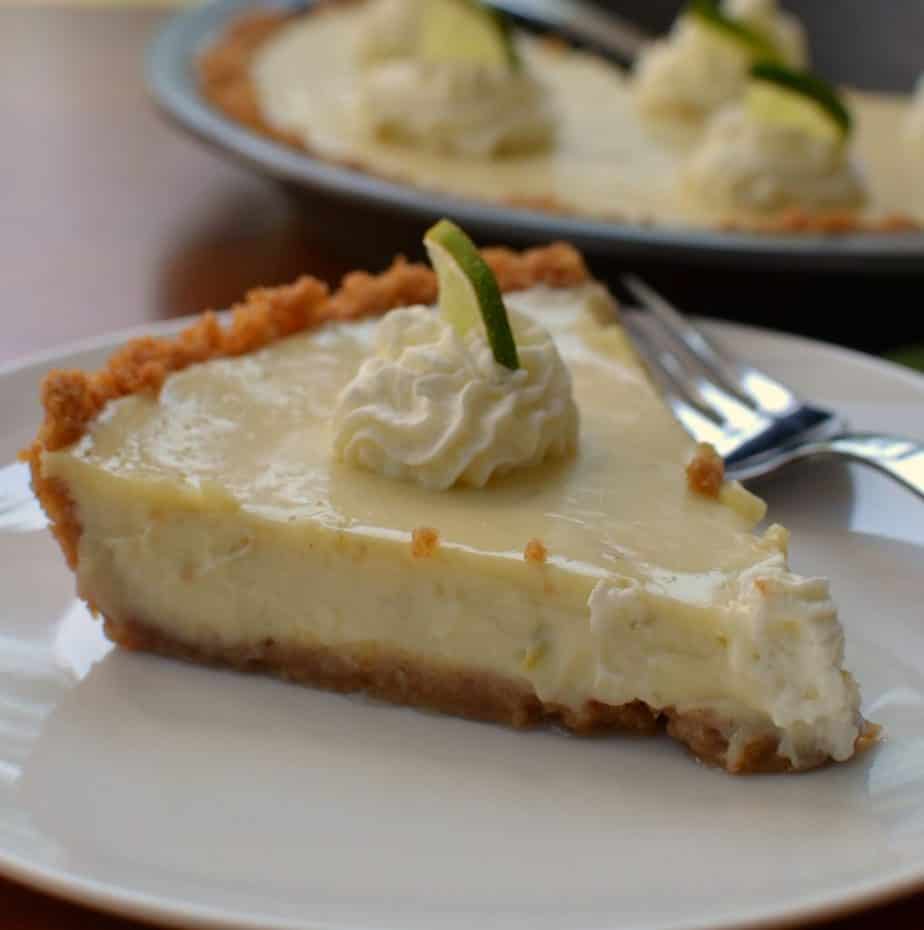 HOW TO MAKE KEY LIME PIE RECIPE.
Mix together graham cracker crumbs, sugar and melted butter.  Press into a pie pan and bake.  Meanwhile whisk together yogurt, lime juice, lime zest, egg yolks and condensed milk.  Pour into cooled graham cracker crust and bake. Allow to cool down on a cookie cooling sheet before placing in the fridge. Allow to cool in the fridge for several hours up to overnight.
WHAT IS THE DIFFERENCE BETWEEN KEY LIMES AND PERSIAN LIMES?
Key limes are smaller, slightly more yellow, thinner skinned and have more seeds than the larger, darker, greener, thick skinned Persian limes that are very common in the United States.  If given the choice key limes are the way to go as they are more aromatic and flavorful.  The added work of juicing more limes and removing seeds is definitely worth it. Both a citrus reamer and a garlic press are useful in juicing key limes.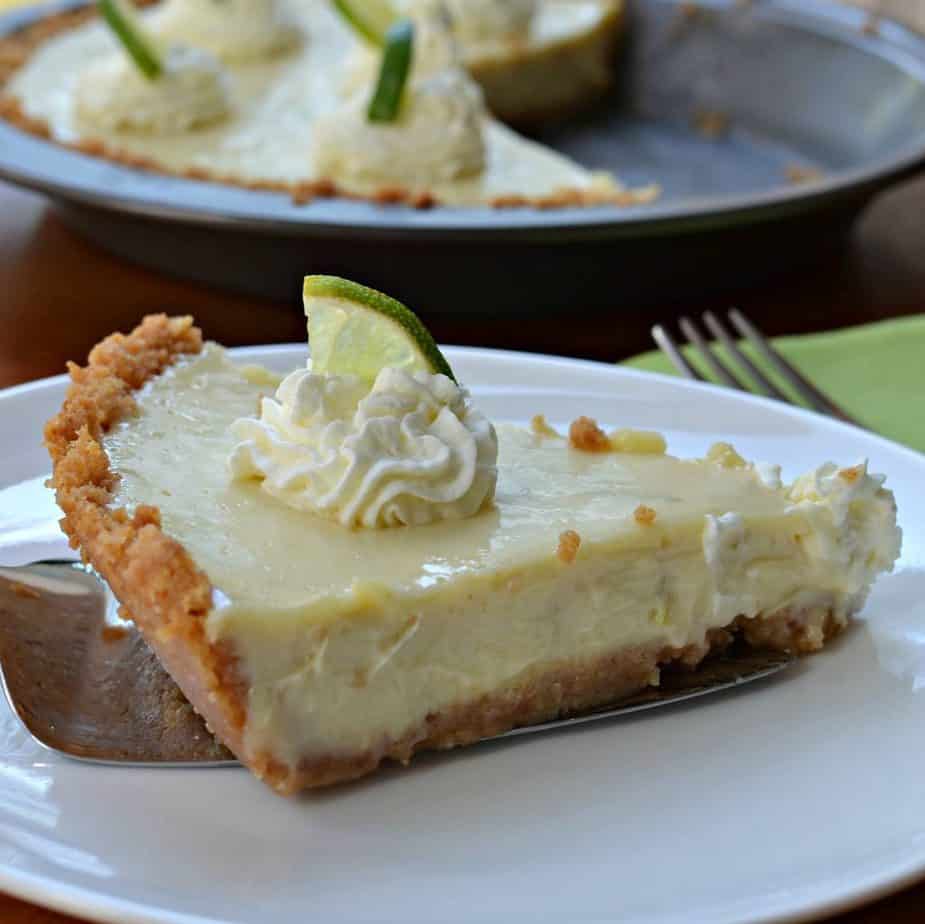 Key Lime Pie Recipe is a delicious, ridiculously easy, dependable and true classic recipe.  I hope you put this amazing dessert on your to try list today.
MORE LIME RECIPES YOU WILL LOVE!
This post was originally published February 24, 2014 and was republished August 4, 2018 with new content.
Print
Key Lime Pie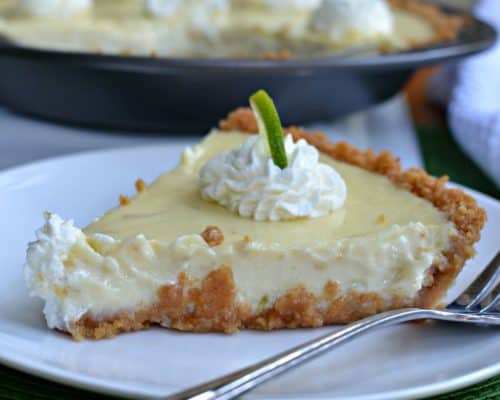 Key Lime Pie Recipe is a classic summer treat! It is a slightly tart not too sweet rich and creamy dessert that is made with fresh key limes.
Author:
Prep Time: 20 minutes
Cook Time: 20 minutes
Total Time: 40 minutes
Yield: 6 1x
Category: Dessert
Method: Baking
Cuisine: American
Scale
Ingredients
1 1/2 cups graham cracker crumbs
1/4 cup sugar
1/3 cup melted butter cooled
2/3 cup plain lowfat Greek yogurt
3/4 cup key lime juice
2 teaspoon grated lime peel
2 large egg yolks
1 can sweetened condensed milk
Instructions
Combine graham cracker crumbs and sugar. Pour the melted butter slowly over the graham cracker mixture while combining with a fork.
Press the graham cracker mixture into a springform pan or pie pan. Bake at 350 degrees for 8 minutes.
Mix the Greek yogurt, key lime juice and grated lime peel for 1-2 minutes. Add the egg yolks and the sweetened condensed milk; mix for 2 minutes or until well combined.
Pour into the prebaked pie crust and bake for 15 minutes at 350 degrees.
Chill for at least 2 hours or better yet overnight.
Keywords: DESSERT, EASY, KEY LIME PIE, KEY LIMES, LIME PIE, LIME RECIPE, PARTY PLEASER, SUMMER PIE, TWENTY MINUTES OR LESS PREP TIME
https://www.smalltownwoman.com/wp-content/uploads/2019/05/Beth-1.pdf