This delectable seven ingredient mayonnaise based  Creamy Egg Salad Recipe comes together in a matter of minutes. Stuff this easy salad in wraps, sandwiches, in a sun ripened tomato or avocado, or simply on a bed of lettuce.  Are you always in a hurry?  Simply prepare your eggs ahead of time and enjoy this protein packed meal anytime.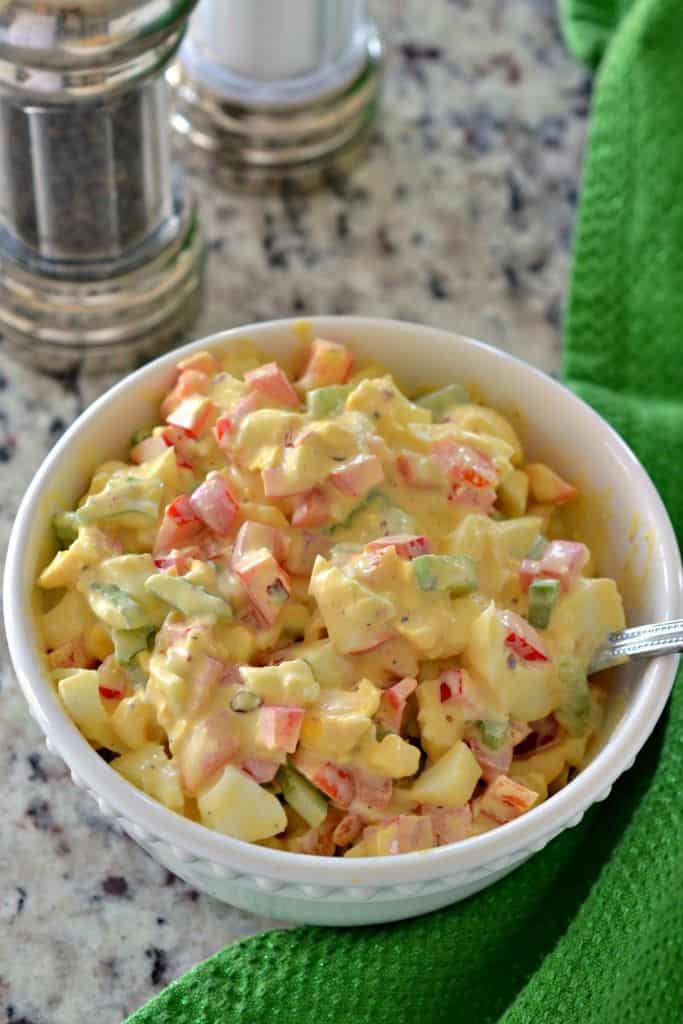 My family is full of egg lovers so we love this amazing egg salad.  In fact my sweet sister told me that she made this recipe three times in one week. For best results cooking and peeling hard boiled make sure you look at my helpful hints on how to make perfect hard boiled eggs.
How do you make Creamy Egg Salad Recipe?
First hard-boil your eggs making sure that you follow my simple tips on making perfect hard-boiled eggs.  Then simply peel them and coarsely chop.  Finely chop the red pepper and thinly slice the celery.  Then combine the eggs, mayonnaise, Dijon mustard, red pepper, celery and crushed red pepper and stir gently.  Add salt and freshly ground black pepper to taste.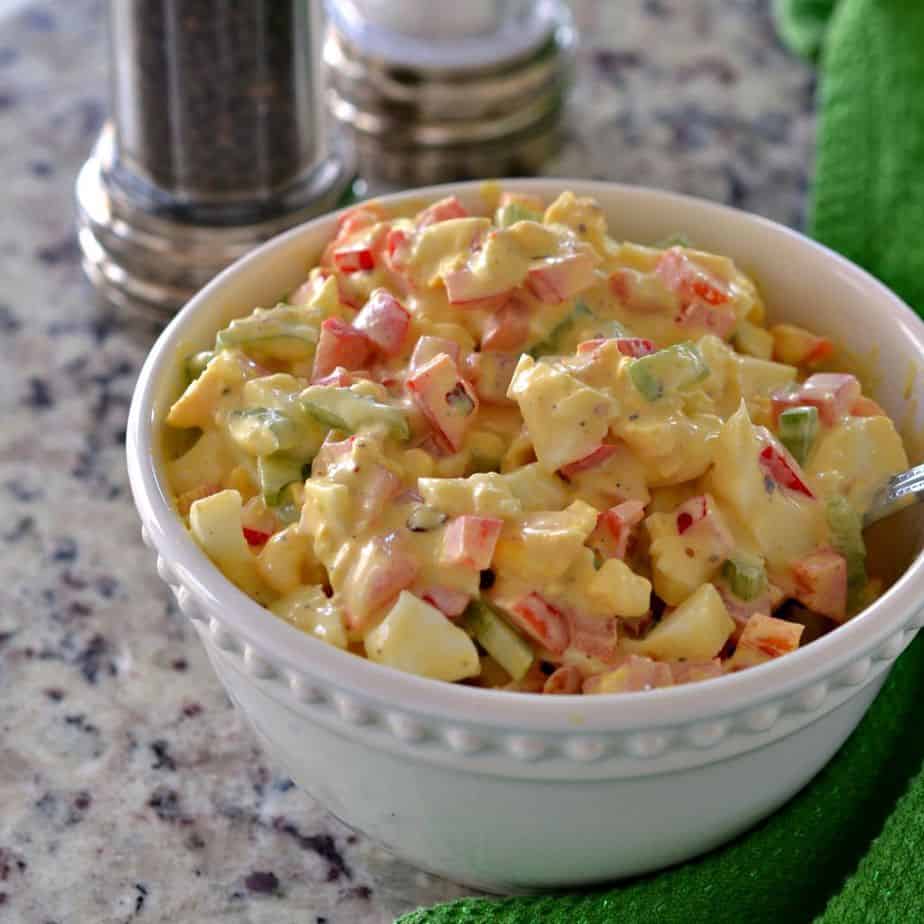 How to make perfect hard boiled eggs
I have hard boiled dozens and dozens of eggs over the years.  There are several steps to successfully cooking hard boiled eggs.
Choosing the right eggs
You want eggs that are as close to expiration as possible.  Not expired but close.  Sometimes the Mom and Pop grocery stores have them as turnover is not as high as the chain warehouses and grocery stores. This is by far the most important point when it comes to peeling them successfully.
Cooking the hard boiled eggs
Add the eggs to a large pot without overcrowding. Fill the pot with cold water to an inch over the eggs,  Add one teaspoon of baking soda. Next bring the eggs to a gentle boil.  Then put the lid on the pan and remove it from the heat.  Allow the eggs to sit in the pan undisturbed for twelve to fifteen minutes.  I use twelve minutes for the medium eggs and fifteen minutes for the jumbo eggs. Remove the pan from the stove and place under very cold running water for several minutes.  The eggs should feel very cold before you shut the water off. Finally let them sit in the cold water for an additional fifteen to twenty minutes.  Store in the refrigerator.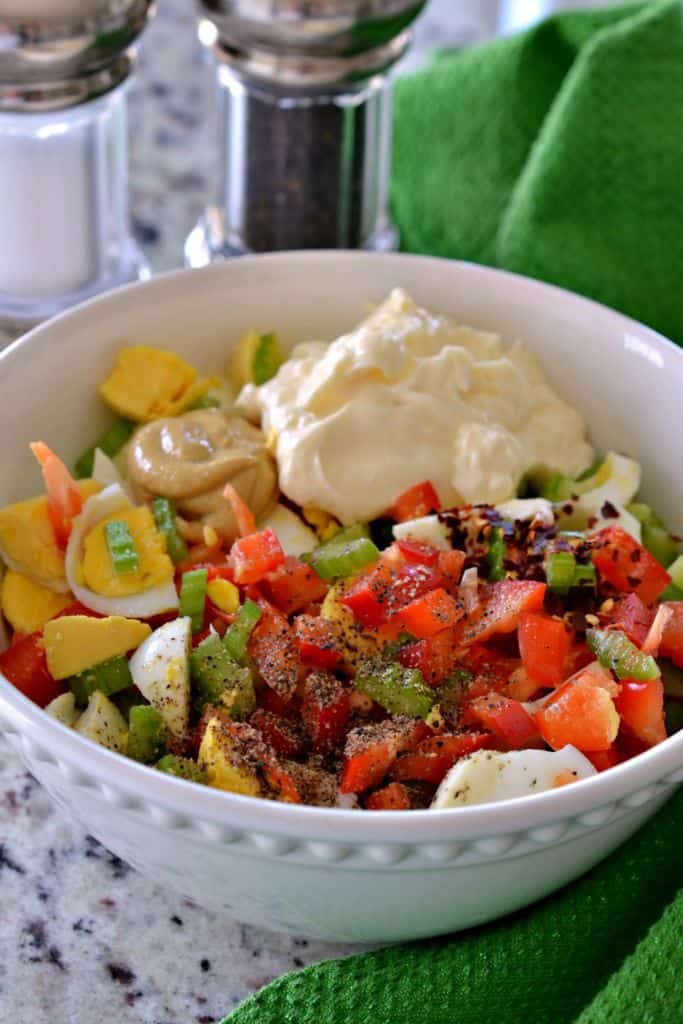 Ways to enjoy Egg Salad!
Serve egg salad for brunch or a light super.
Spoon on multi grain wraps and lightly toasted whole wheat or sourdough bread.
For a change of pace stuff in a sun-ripened tomato or avocado.
Keep it super healthy and spoon over a bed of spring greens.
For extra crunch server on crostini.
Enjoy with melba toast or crispy light crackers.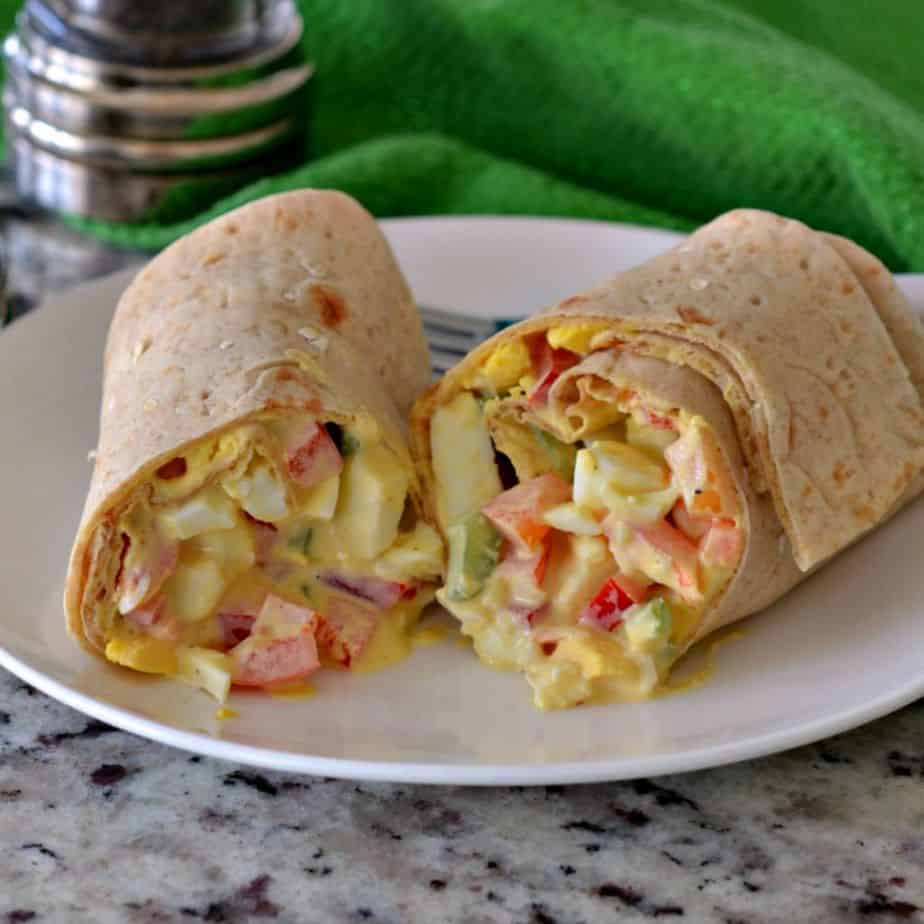 Other egg recipes you will love!
On the hunt for more delicious recipes?  Follow Small Town Woman on Facebook, Pinterest, and Instagram.
This recipe was originally published Oct 27, 2015 and was republished April 6, 2019 with new photos and content.
Print
Egg Salad
Author:
Prep Time: 5
Cook Time: 15
Total Time: 20 minutes
Yield: 4 1x
Category: salad
Method: stovetop
Cuisine: American
6 large hard boiled eggs peeled and coarsely chopped
1/4 cup plus 1 tablespoon mayo
1 tablespoon Dijon mustard
1/2 cup finely chopped red pepper
1 stalk celery thinly sliced
1/4 teaspoon crushed red pepper
Salt & pepper to taste
Instructions
Gently combine eggs, mayo, mustard, red pepper, celery and crushed red pepper. Salt & pepper to taste.
Keywords: egg salad, creamy egg salad, creamy mayonnaise egg salad, egg recipe, brunch
https://www.smalltownwoman.com/wp-content/uploads/2019/05/Beth-1.pdf