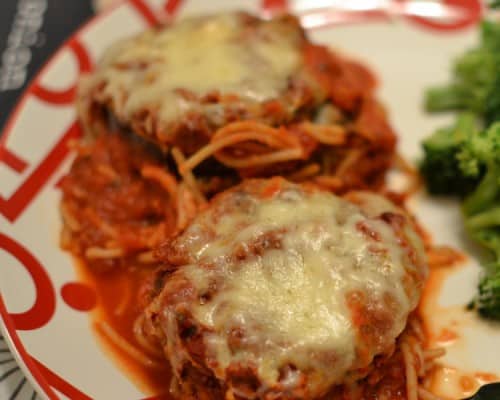 If you have never tried eggplant Parmesan you really should treat yourself. When prepared properly it is a tantalizing treat for your taste buds. This particular recipe is a little more healthy because it is baked instead of fried and you don't have to sacrifice flavor in any way. It is easy to prepare as well.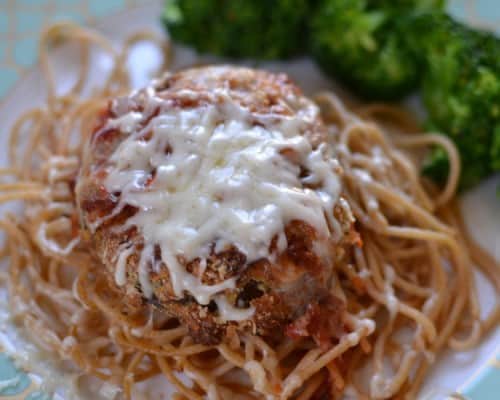 Here is a different view from the window next to the great room. Food bloggers are always fighting this time of year to get enough light to make their food look good. Darn these short days! I am already longing for the days of July & August.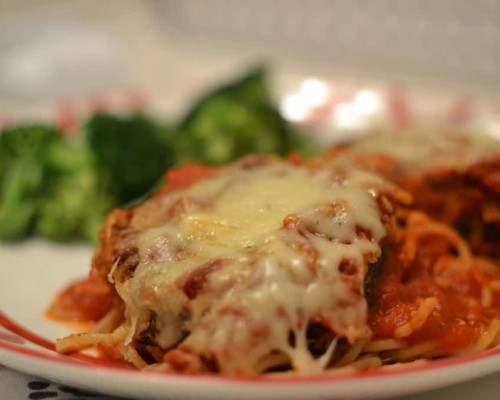 This really is great so do not be intimated by a somewhat unusual recipe. Give it a whirl and you will find that this is a keeper!
Print
Eggplant Parmesan
Scale
Ingredients
1 small eggplant cut in 1/3 inch wide slices
Sea Salt
1/2 cup Italian breadcrumbs
1/4 cup Panko breadcrumbs
1/4 cup dried mashed potato flakes
1/4 teaspoon basil
1/4 teaspoon oregano
1/4 teaspoon garlic powder
2 tablespoons parmesan
2 eggs
2 1/2 cups marinara
1 tablespoon balsamic vinegar
6 ounces spaghetti noodles (almost 1/2 box)
Provel ropes
Freshly grated mozzarella cheese
Parmesan cheese
Instructions
Sprinkle both sides of each piece of eggplant with Sea Salt. Place in colander and allow the moisture to drain for about 30 minutes.
Preheat oven to 350 degrees.
Combine Italian breadcrumbs, Panko breadcrumbs, potato flakes, basil, oregano, garlic powder and 2 tablespoons Parmesan cheese on shallow plate.
Mix eggs in medium bowl.
Rinse eggplant slices gently with cool water and pat completely dry. Dip each slice in egg mixture, then in the breadcrumb mixture, back in the egg mixture and one final time in the breadcrumb mixture. Place on cookie sheet sprayed with olive oil. Repeat with all of the eggplant slices.
Bake 20-25 minutes flipping halfway through.
Mix marinara and balsamic vinegar.
Place baked eggplant slices in greased casserole dish. Cover with marinara and sprinkle with provel ropes, grated mozzarella cheese and Parmesan. Bake for 15-20 or until cheese is melted and bubbly.
Notes
You can use as much cheese as you like. I use about 2/3 cup of provel, 2/3 cup of mozzarella and 1/4 cup grated Parmesan. If you can not find Provel you can use Provolone.
https://www.smalltownwoman.com/wp-content/uploads/2019/05/Beth-1.pdf
Reader Interactions