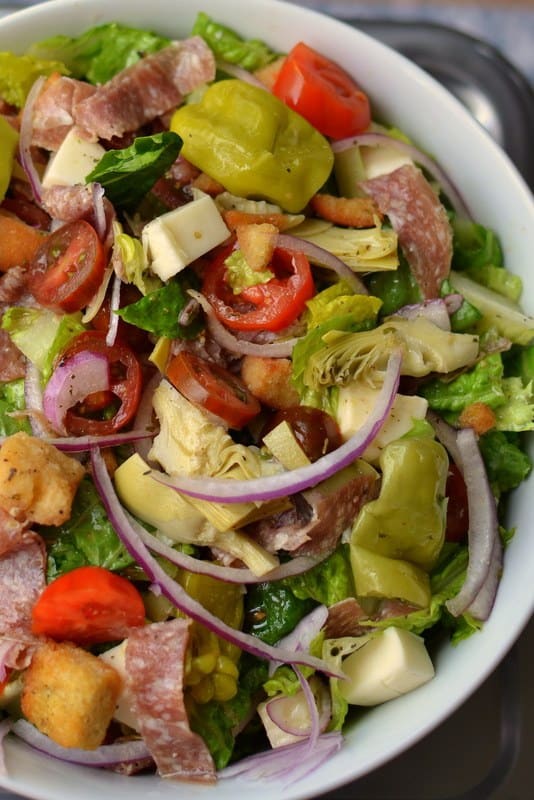 Spring is less than a week away and with it comes wonderful fresh recipes. Don't get me wrong I love stews, pot roasts and meatloaves as much as the next gal but there is just something magical about fresh spring and summer produce. It is just time to move on to fresher, healthier recipes that get our bodies, mind and spirit moving in a super energized way.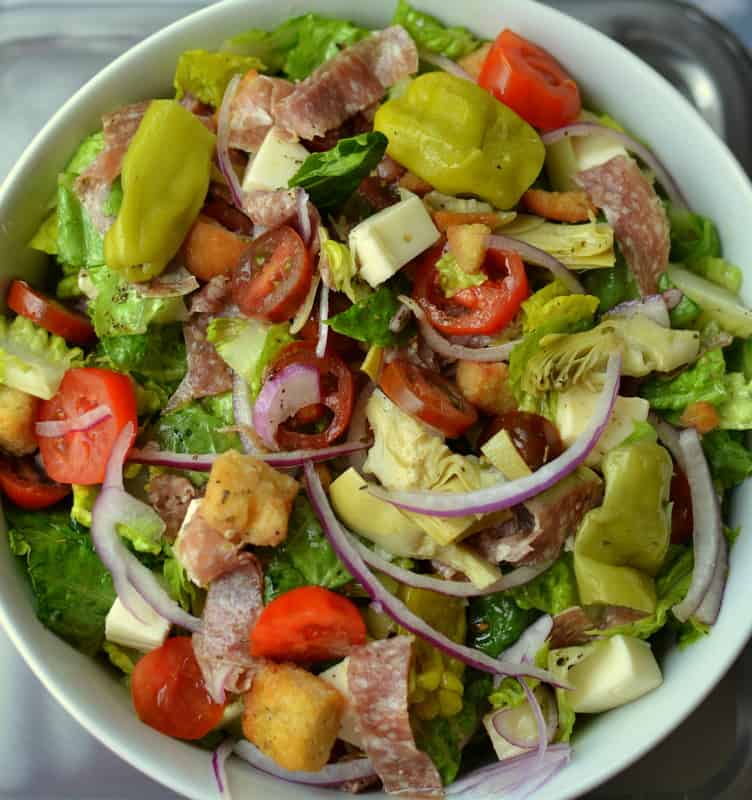 Just look at how beautiful this Italian Chopped Salad with Fresh Italian Dressing is. You are going to love all the fresh flavor packed in this super nutritious salad. It is perfect by itself or served with a small bowl of pasta, bowl of soup, Homemade Calzone Recipe or Stromboli. It is delicious with this Garlic and Spinach Alfredo Chicken Pasta from Will Cook for Smiles. Are you a salad lover? If so let us know what is your favorite salad is in the comments. I love to hear from you.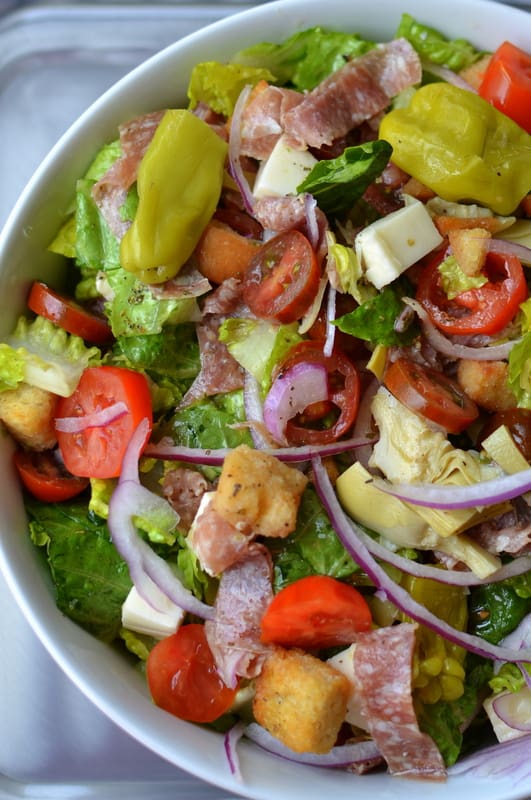 This salad can easily be doubled or tripled for a holiday party, neighborhood soiree, family reunion or potluck. Prepare the dressing ahead of time and save yourself a little bit of inconvenience. Your guests are going to love this and they will be singing your praises.
So if you or your loved ones are hungry for a delectable meal that is power packed with plenty of nutrition then put this Italian Chopped Salad with Fresh Italian Dressing on your rotation for the week.
Other salad recipes you will love
Print
Italian Chopped Salad with Fresh Italian Dressing
This light-yet-filling chopped Italian salad is packed with ALL the best things about Spring: fresh veggies, cheese, crispy croutons, and a fresh homemade Italian dressing.
Author:
Prep Time: 15 minutes
Total Time: 15 minutes
Yield: 6 servings
Category: Lunch
Cuisine: Italian
Italian Dressing
3 tablespoons red wine vinegar
2 cloves garlic crushed
1 1/2 teaspoons sugar
1/2 teaspoon dried oregano
1/2 teaspoon dried basil
1/2 teaspoon salt
1/4 teaspoon fresh cracked black pepper
1/3 cup olive oil
Italian Salad
10 ounces chopped romaine lettuce (about 2 medium or 3 small heads, chopped)
1 cup sliced grape tomatoes
1/3 cup very thinly sliced red onions
1 cup peperoncinis stems removed
1 cup Italian croutons
1/2 cup small cubed whole milk mozzarella (or pearls)
1/4 lb Italian salami sliced in ribbons
1 jar (6 ounce) marinated quartered artichoke hearts drained
Instructions
In small bowl whisk together red wine vinegar, garlic, sugar, oregano, basil, salt and pepper. Slowly whisk in olive oil.
In large bowl combine romaine, grape tomatoes, red onions, peperoncinis, croutons, mozzarella, salami and artichoke hearts. Drizzle with dressing; toss and serve promptly.
Keywords: chopped Italian salad, Italian salad, fresh salad, Italian salad recipe, homemade Italian dressing
On the hunt for more delicious recipes? Follow Small Town Woman on Facebook, Pinterest, and Instagram.
https://www.smalltownwoman.com/wp-content/uploads/2019/05/Beth-1.pdf