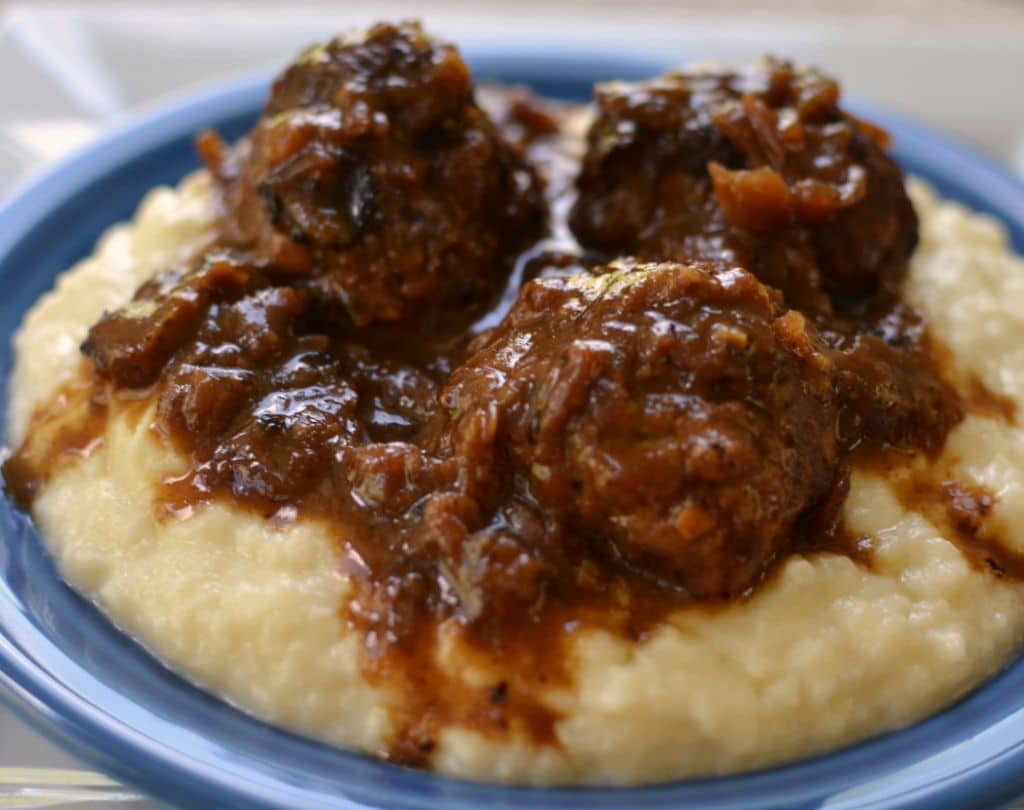 These delectable French Onion Meatballs could not be any easier. They can be whipped up in less than 30 minutes including simmering time which give you a chance to catch up with the little ones or laundry. You can serve this up fresh with asparagus or broccoli. Don't make it too complicated. It is the simple dinners that get all the accolades.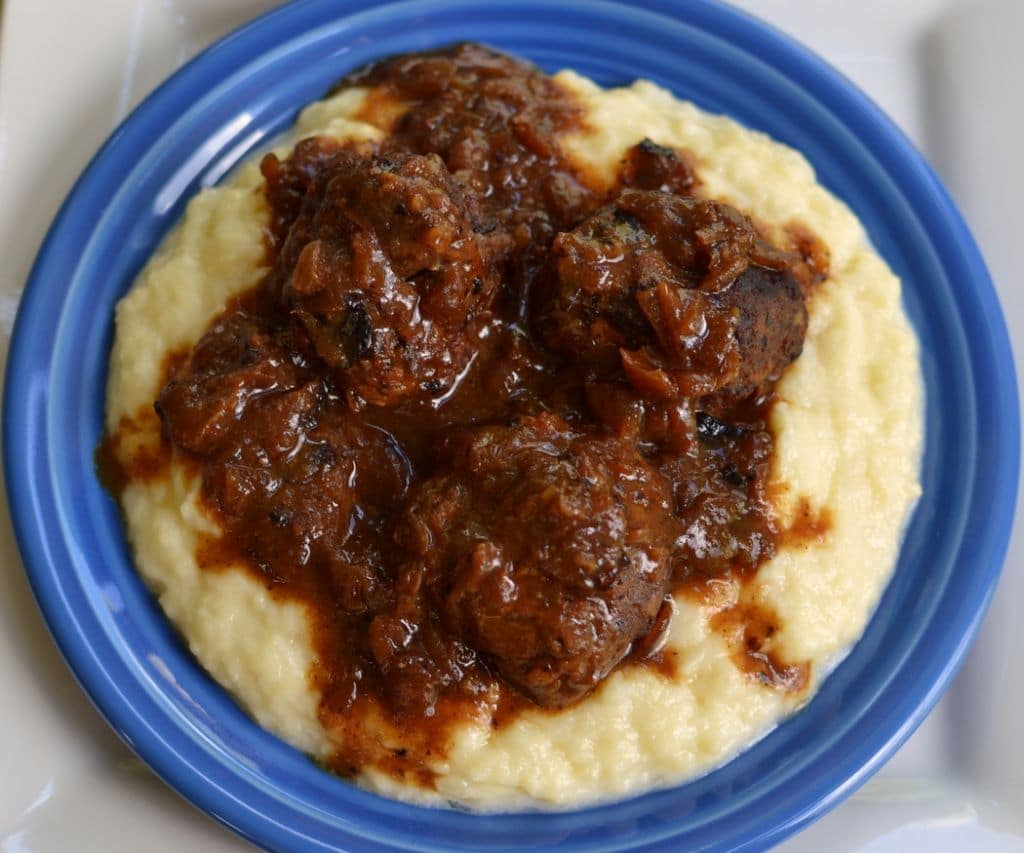 Look at those beautiful meatballs and gravy served on a creamy bed of smashed cauliflower. Who could ask for more?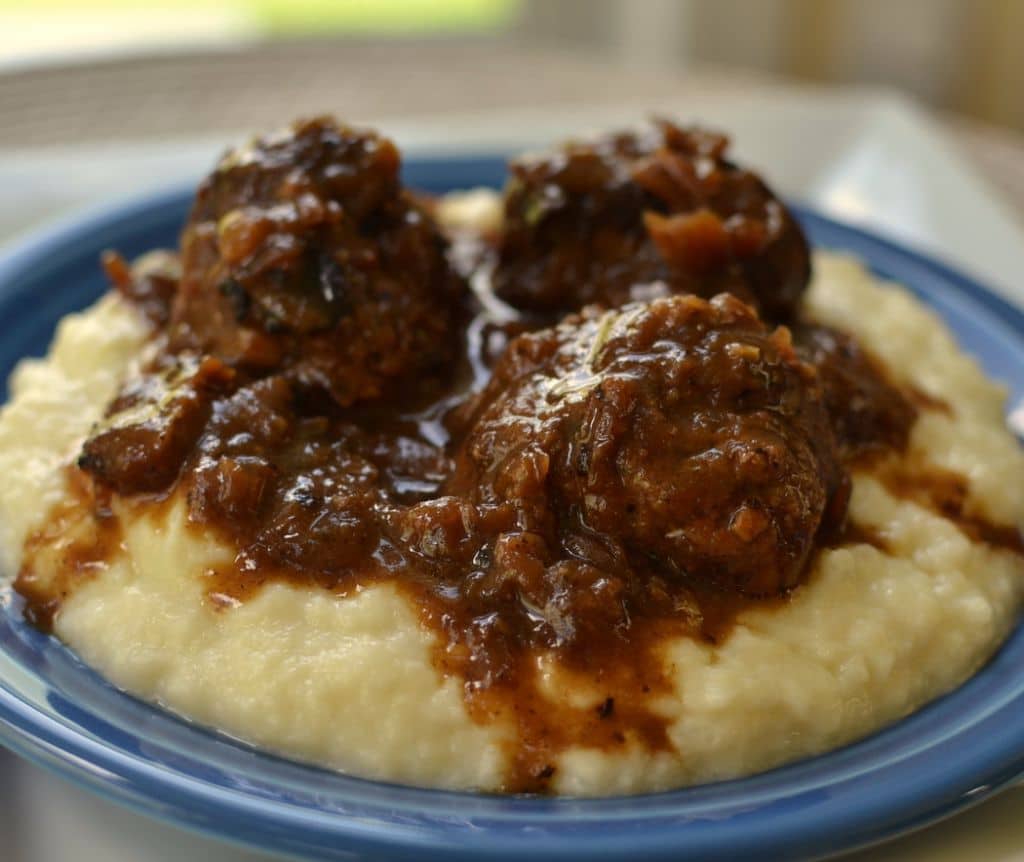 All you need is a few ingredients and a little gusto and you will have a wonderful dinner for yourself and your sweethearts!
French Onion Meatballs & Smashed Cauliflower
Scale
Ingredients
1 lb. ground beef
1/2 cup finely chopped onions
1/2 cup panko bread crumbs
1 egg
2 cloves garlic minced
1 tablespoon dried parsley
1/2 head cauliflower
1 can Campbells French onion soup (10.5 ounce)
1 tablespoon Worcestershire Sauce
1/2 cup low sodium chicken broth
1 tablespoon butter
1 tablespoon Wondra flour
4 slices white American cheese
1/2 cup shredded provolone or provel ropes
Salt & Pepper to taste
Instructions
In medium bowl combine ground beef, chopped onions, bread crumbs, egg, minced garlic and parsley. Roll into one inch meatballs and place in freezer for ten minutes.
While meatballs are cooling; cut cauliflower into large chunk pieces and add to cool water in large saucepan. Turn heat to medium high and bring to low boil. Continue cooking until cauliflower is fork tender; approximately 20 minutes. Drain water from cauliflower and set over warm burner. Drain water several times.
In large saute pan brown meatballs over medium heat; turning to brown all sides of the meatball. Remove meatballs, plate and keep warm. Add French onion soup scraping the pan to remove any onions and browned pieces of meat. Add Worcestershire sauce and chicken broth. Cook over low heat for about five minutes. Melt butter in microwave in small bowl; whisk in flour. Add flour mixture to French onion soup mixture and cook over low heat until thickened; approximately 2 minutes. Add meatballs back to pan and simmer for 5 minutes.
Add white American and provel to cooked cauliflower. Smash with old fashioned potato smasher. Season with salt & pepper to taste.
Spoon smashed cauliflower on to plates; top with meatballs and gravy.
Other delicious recipes you will love!
French Onion Soup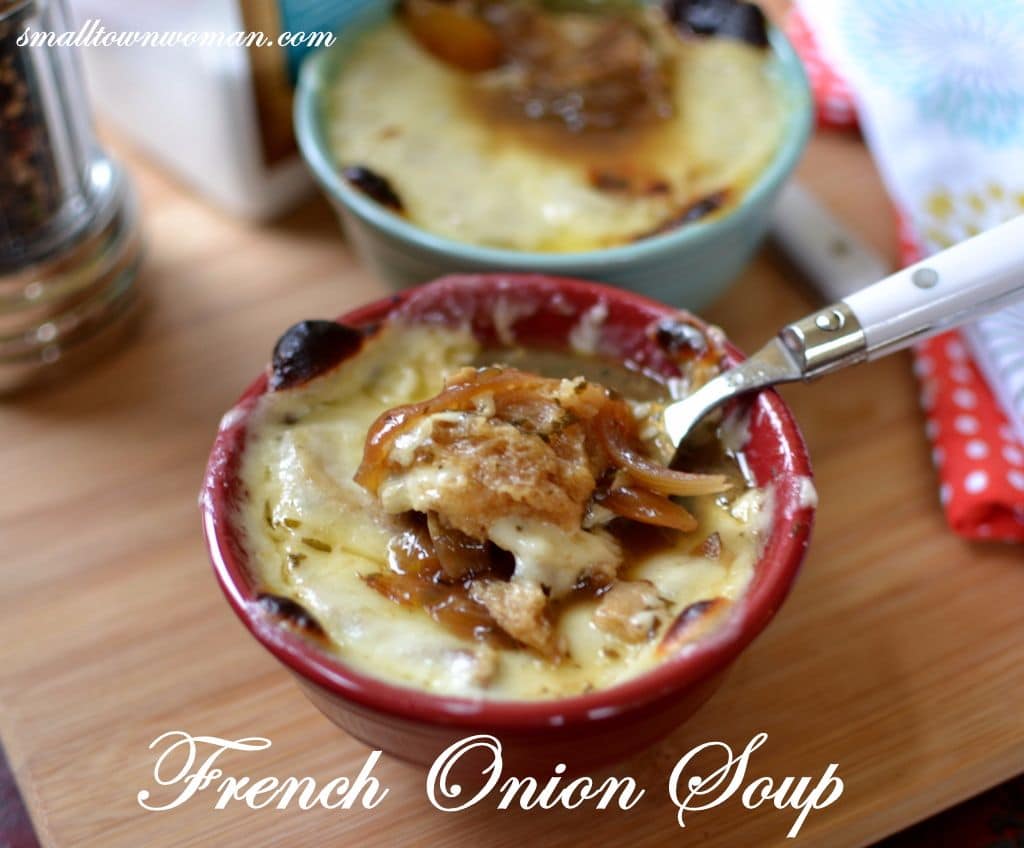 https://www.smalltownwoman.com/french-onion-soup/
Bacon Wrapped Spicy Meatballs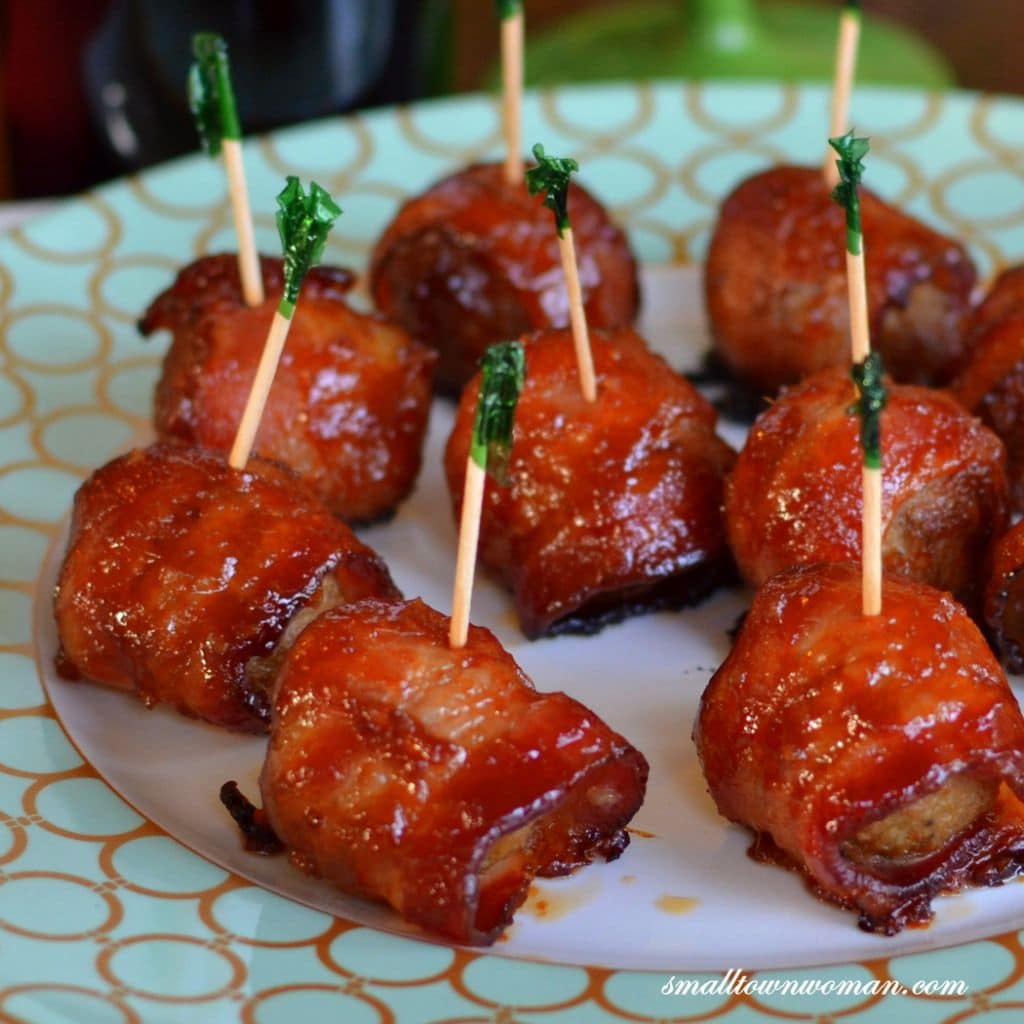 https://www.smalltownwoman.com/spicy-bacon-wrapped-meatballs/
https://www.smalltownwoman.com/wp-content/uploads/2019/05/Beth-1.pdf