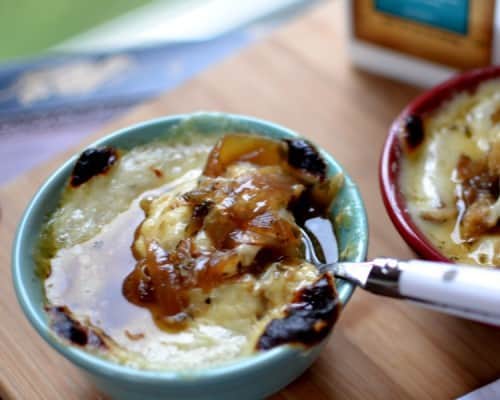 I love french onion soup.  There is just something dreamy about all those onions slow cooked to complete perfection and then simmered in broth and spice.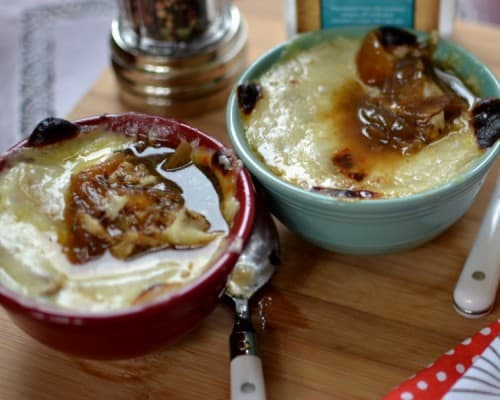 Only to find it topped with french bread croutons and rich cheese!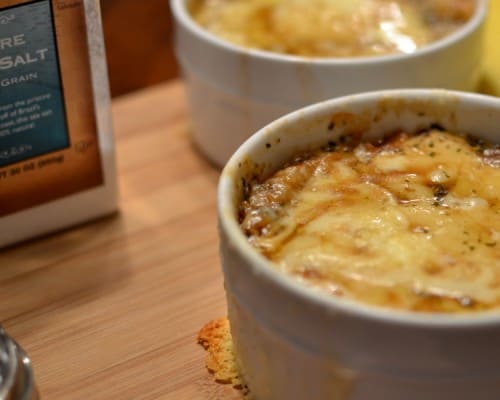 You can use bigger bowls if this is going to be the main part of your meal.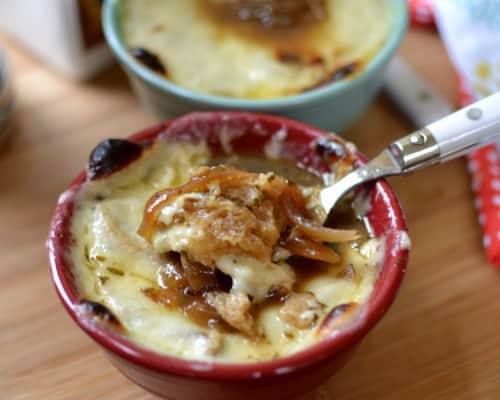 Or smaller bowls if you just want to capture that delicious flavor and spread it around!
Print
French Onion Soup
Scale
Ingredients
3 tablespoons of butter
4 large yellow onions sliced in half and cut from pole to pole in no greater than 1/4 inch slices
2 cloves garlic minced
1 cup wine dry white wine like sauvignon blanc
1 tablespoon dried parsley
2 cups low sodium chicken broth
2 cups low sodium beef broth
1 1/2 cup shredded swiss or Gruyere cheese
Crostinis or large croutons
Salt & Pepper
Instructions
Melt butter in large saucepan. Cook onions on medium low heat until golden brown. This will take between 30-60 minutes depending upon the amount of heat and how golden brown you like your onions.
Add the garlic and parsley. Cook for 1 minute. Add the wine and using a spoon or spatula try to remove as much of the brown glazing from the bottom of the pan as possible. Allow the wine to simmer with the onions for about 5 minutes. Add the chicken and beef broth. Simmer for 20 minutes.
Add the soup to the bowls or cups. Top with crostini and grated cheese. Slip under the broiler for 2-3 minutes.
Notes
This makes three bowls or six cups.
https://www.smalltownwoman.com/wp-content/uploads/2019/05/Beth-1.pdf