Bacon Green Bean Bundles are a super easy delicious side that can be prepped ahead of time, stored in the fridge and loaded into the oven shortly before serving. They are perfect for dinner parties as each guest gets their own neatly bundled serving of green beans!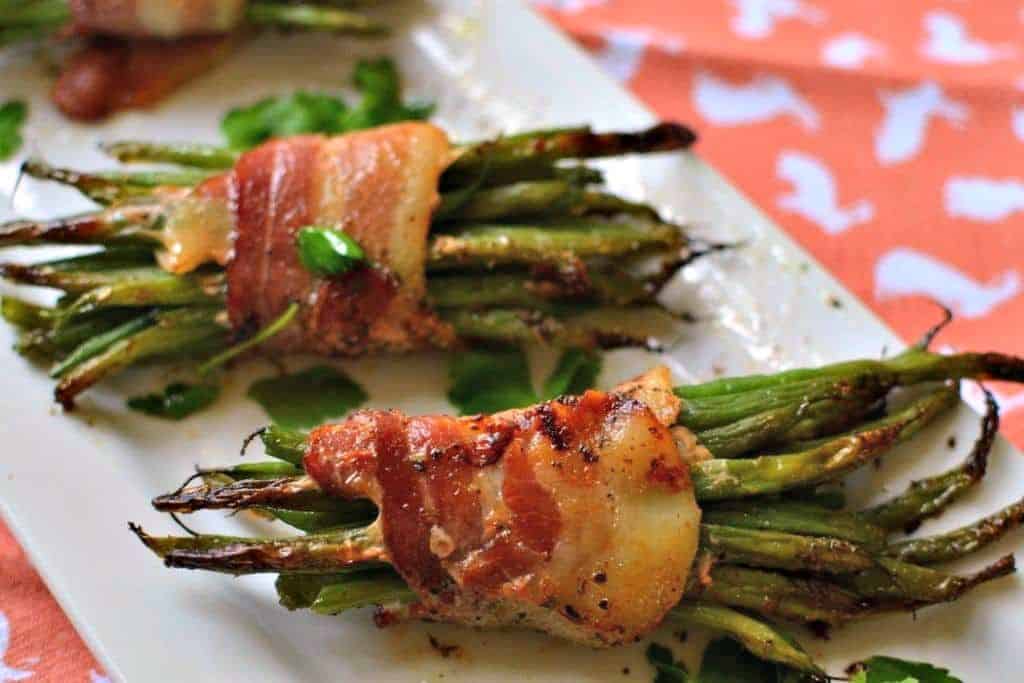 I love green beans and I love bacon. I know what you are thinking!! Who in the world doesn't? Now these little delights are so easy to put together and so perfect for your next soiree.
What kind of green beans are best for bundles.
There are many different types of beans. Green beans, string beans, wax beans, and snap beans are very much a like with the differences being in shape and color. Any green bean can be used in these bacon wrapped bundles however my favorites are Haricots Verts. These French green beans are thin, very easy to cook with, and do not need to be snapped. They wrap up well with bacon and cook just right while the bacon crisps up.
These beans are normally prepackaged and in with the bags of carrots, radishes etc. I have also seen them frequently at Costco. You don't have to exclusively use these beans although they are easier to cook the bundles with. If they are not readily available hand pick your green beans choosing the thin long beans.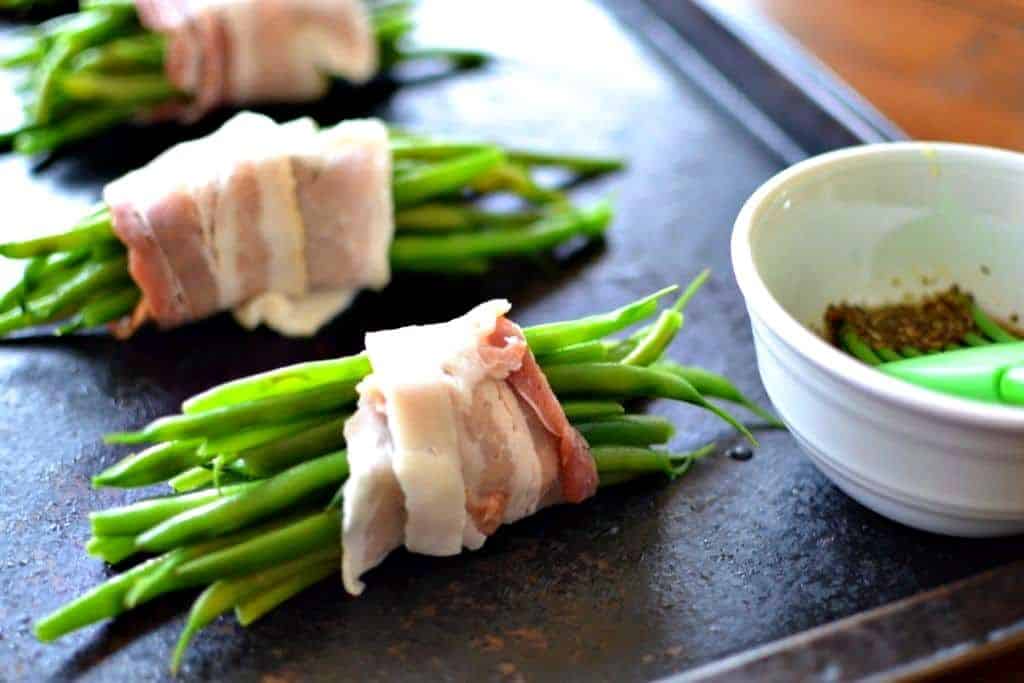 How to make Bacon Wrapped Green Bean Bundles.
First blanch your beans by plunging them in boiling water for two minutes. Drain them quickly and plunge them into ice water to stop the cooking process.
Dry the beans and divide them evenly. Wrap one slice of bacon around each bundle trying to spread it out so that it is not overlapped and cooks through. Place on a cookie sheet seam side down. Mix together olive oil, garlic powder, onion powder, basil, oregano, salt and pepper. Brush over the bundles.
Bake for 15-20 minutes turning on the broiler the last 1-2 minutes of cooking to brown the bacon. If the bacon is holding up well flip halfway through the cooking process.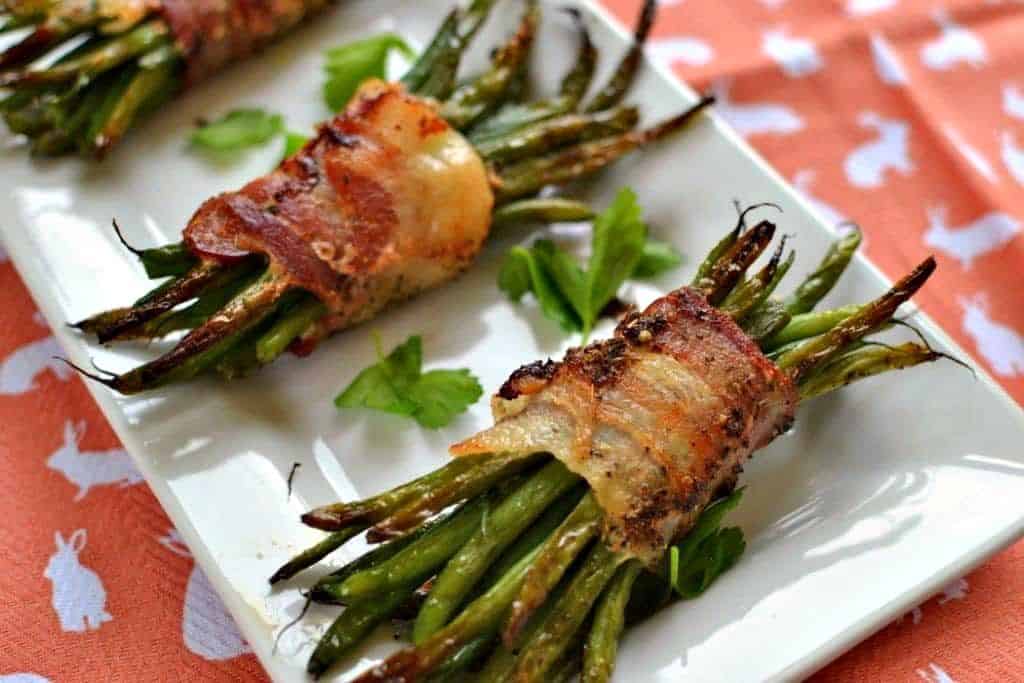 Helpful hints on making Green Bean Bundles.
Always preheat the oven.
Use thin sliced bacon and wrap it around the beans with as little overlapping as reasonably possible.
Use haricot verts (French green beans). If they are not available hand pick your beans for the longer more slender ones.
Place the bacon seam side down.
Turn the broiler on the last couple of minutes (in the baking process) to finish browning the bacon. Stay close by as broilers are unpredictable.
If you prefer not to use your broiler (maybe you have an older stove) precook your bacon for just a few minutes. You don't want it crispy. You want it just barely cooked and pliable. You can cook it on the same cookie sheet and drain any excess grease before cooking the assembled bundles.
If you want a little extra kick sprinkle add a few pinches of cayenne to the olive oil mixture.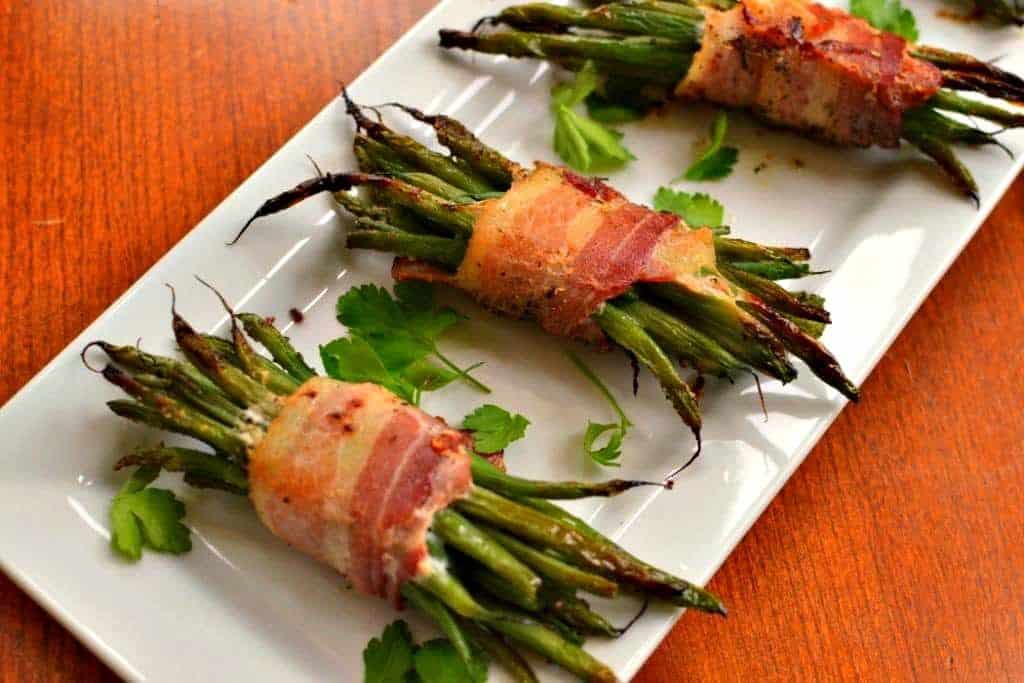 These bacon wrapped veggies are perfect with steaks, burgers, chicken, Thanksgiving turkey or Christmas beef roast. Perfect little rays of sunshine for you and your family! Fancy enough to serve on holidays or dinner parties! Flavorful enough for you to keep serving them time and time again!
Other delectable vegetable recipes you will love!
Print
Green Bean Bundles with Bacon
This delicious and easy side dish comes together quickly.  Blanched green beans are wrapped with bacon, basted with lightly seasoned olive oil and roasted to perfection.
Author:
Prep Time: 5
Cook Time: 25
Total Time: 30 minutes
Yield: 4
Category: vegetable
Method: stovetop and bake
Cuisine: American
1 lb French green beans
1/4 teaspoon salt
4 slices bacon uncooked
2 tablespoons olive oil
1/2 teaspoon garlic powder
1/2 teaspoon onion powder
1 teaspoon dried basil
1 teaspoon dried oregano
1/2 teaspoon sea salt
1/4 teaspoon fresh ground pepper
Instructions
Preheat oven to 375 degrees.
Heat large pot of water to boiling. Add 1/4 teaspoon salt. Add green beans and cook for just 2 minutes. Drain hot water from beans and place in ice water bath to immediately stop the cooking process. Dry the beans.
Divide beans evenly; wrapping in the middle of each piece of bacon to create four bundles.
In small bowl combine olive oil, garlic powder, onion powder, basil, oregano, salt and pepper. Brush over green bean/bacon bundles.
Bake for 15-18 minutes. Turn oven to broil and cook for 2-3 more minutes. Stay close by as broilers are unpredictable.
Keywords: bacon wrapped green bean bundles, green bean bacon bundles, green bean bundles make ahead
On the hunt for more delicious recipes? Follow Small Town Woman on Facebook, Pinterest, and Instagram.
This post was originally published February 27, 2016 and was republished October 31, 2019 with new content.
https://www.smalltownwoman.com/wp-content/uploads/2019/05/Beth-1.pdf