This mouthwatering Grilled Pineapple is marinated in four easy ingredients for about thirty minutes and then grilled to perfection in about ten minutes.  It really is so easy to prepare and tastes absolutely amazing.  I love to serve it with Dry Rub Grilled Pork Tenderloin or Marinated Herb Butter T Bone Steaks.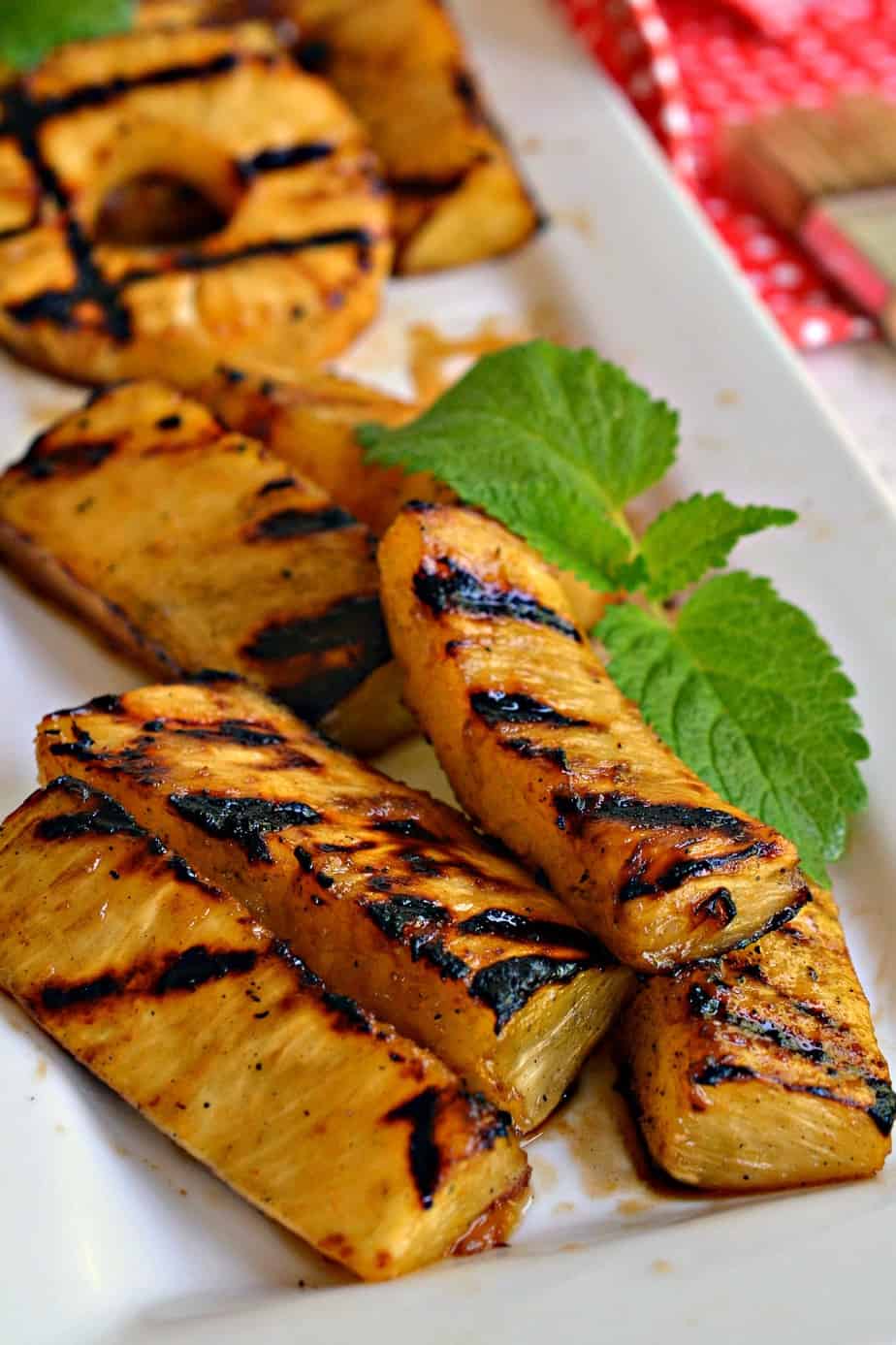 I have always been a pineapple lover.  It just tastes like a little piece of heaven to me.  I love to eat it in cottage cheese, with yogurt, on my Hawaiian Pizza, baked in a cake or hot off the grill.  The ease and deliciousness of this family friendly recipe make it one of my go to recipes in the spring and summer.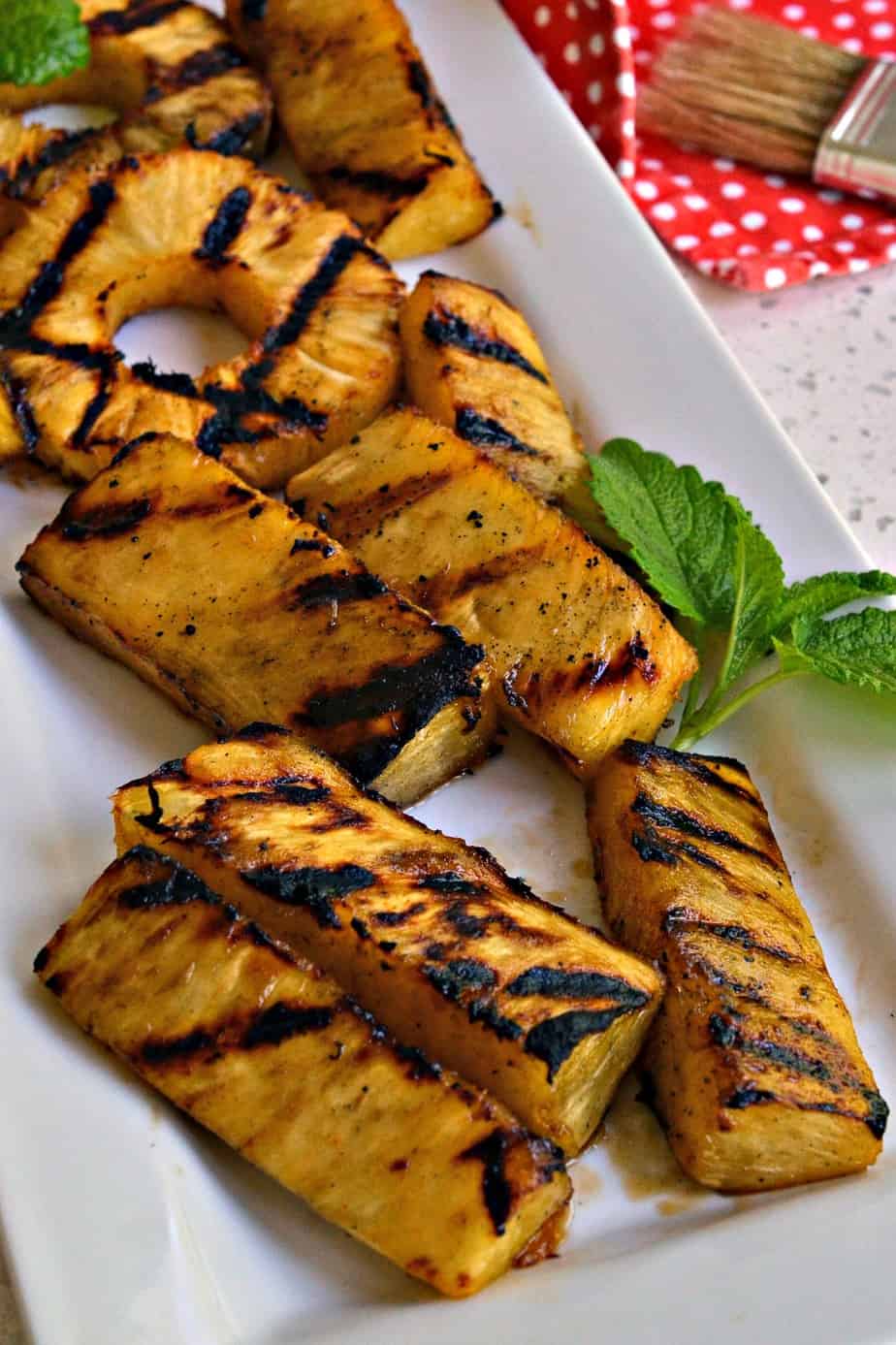 How do you make Grilled Pineapple?
Start by cutting your pineapple.  It is up to you whether you want to spears or rings.  I do find that chunkier meatier pieces do better on the grill so I usually cut mine in at least 1/2 to 3/4 inch thick.  Then combine them in in a large zipper bag with the melted butter, honey, brown sugar and sriracha sauce.  Let it sit on the counter for about 30 minutes and marinate.
Preheat your grill and lightly oil the grate.  Cook for about 6-8 minutes each side or until heated through with grill marks on both sides.  For best results serve promptly while the pineapple is hot and at its sweetest.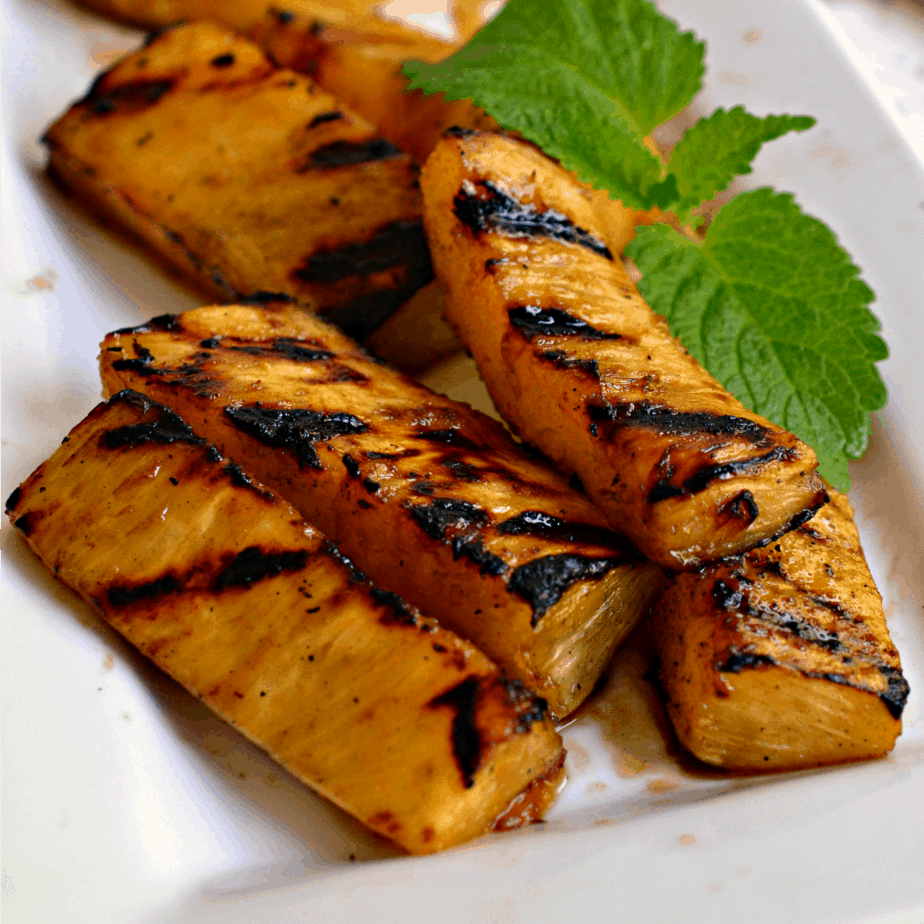 Tips for making Grilled Pineapple
Choose a fresh ripe pineapple.  The rind of the pineapple should be yellow.  If the rind is still green than the pineapple is not ripe enough and if it is dark orange it is over ripe.  Sniff the steam end of the pineapple.  If it is ripe it will put off a sweet smell.  It it does not put off any smell than it is not ripe.
You can cut your pineapple in spears or rings.  It is entirely up to you however do cut them close to 3/4 inch thick so they hold up well on the grill.
If your pineapple is precut than remove it from the refrigerator about 30 minutes prior to starting this recipe.  This will ensure that the butter that does not solidify when marinating.
You can grill the pineapple on a charcoal or gas grill. Brush a little oil on to the grill grate before you get started.
A little patience is necessary to get great grill marks and every grill is a little different so cooking times may vary.
This pineapple is great as a side dish, dessert (with a scoop of ice cream) or even in salsa.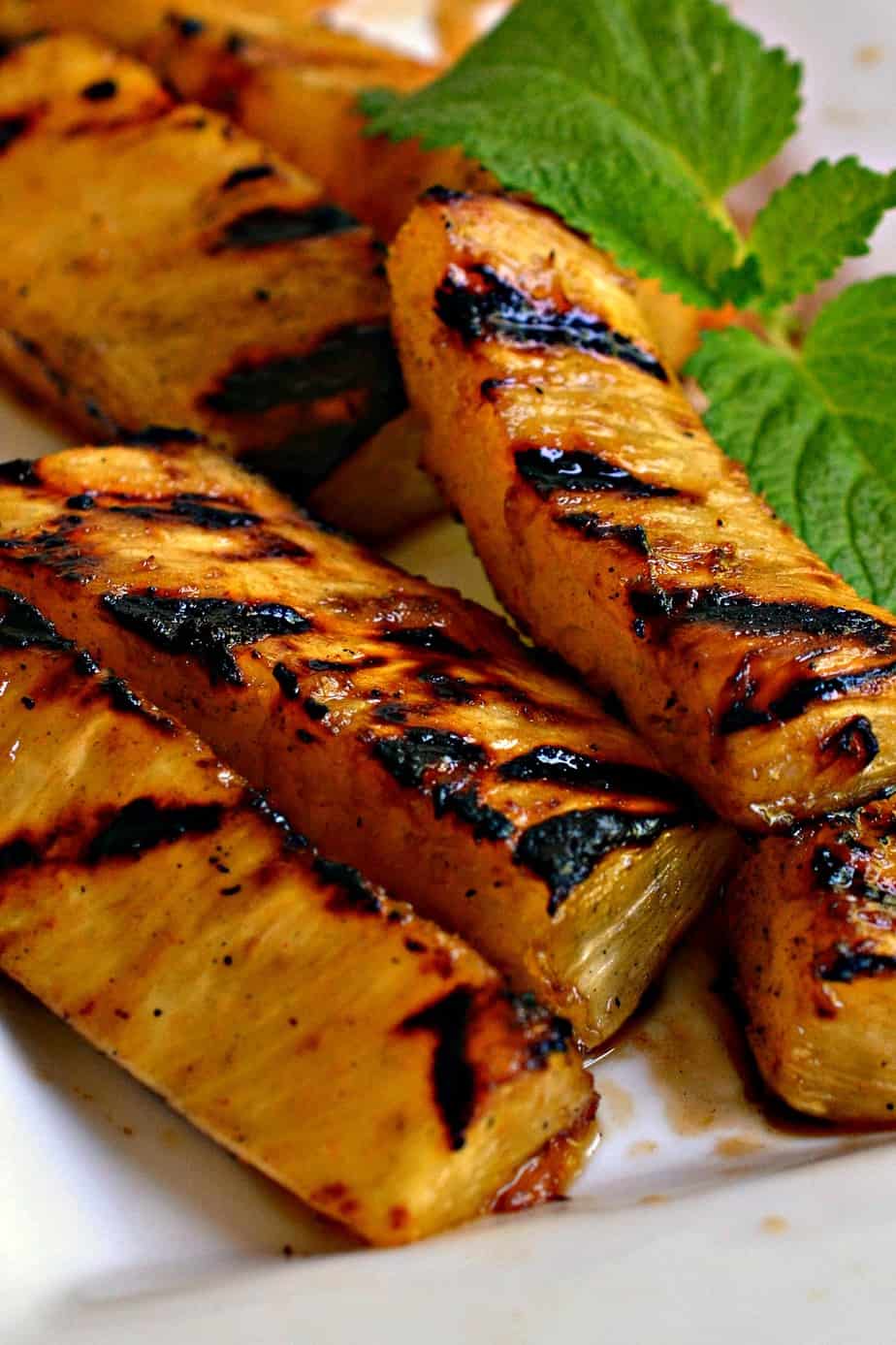 How do you cut a pineapple?
Most stores offer precut pineapple as they have a machine that does it quickly and efficiently however if you find that you need to cut the pineapple here is how you do it!
Using a sharp chefs or German knife cut off the top of the pineapple about 1/2 inch down from where the green meets the flesh.
Now turn the pineapple upside down on a plate for around 30 minutes.  This helps redistribute the juices that have collected at the bottom.
Next trim about 1/2 inch from the other side of the pineapple.
Stand the pineapple up and using a sharp knife remove the skin of the pineapple slicing from top to bottom following the shape of the fruit as close as possible.
Cut the pineapple in half.  Then cut in half once more creating four equal quarters.  Remove the cores by laying the quarters down and slicing at an angle. Slice the quarters again lengthwise.
From there it is entirely up to you whether you would like to leave the slices long, slice them in half or slice it all into chunks.
If slicing in rings after step #4 simply slice in rounds and use a 1 1/2 inch biscuit cutter or sharp paring knife to remove the core.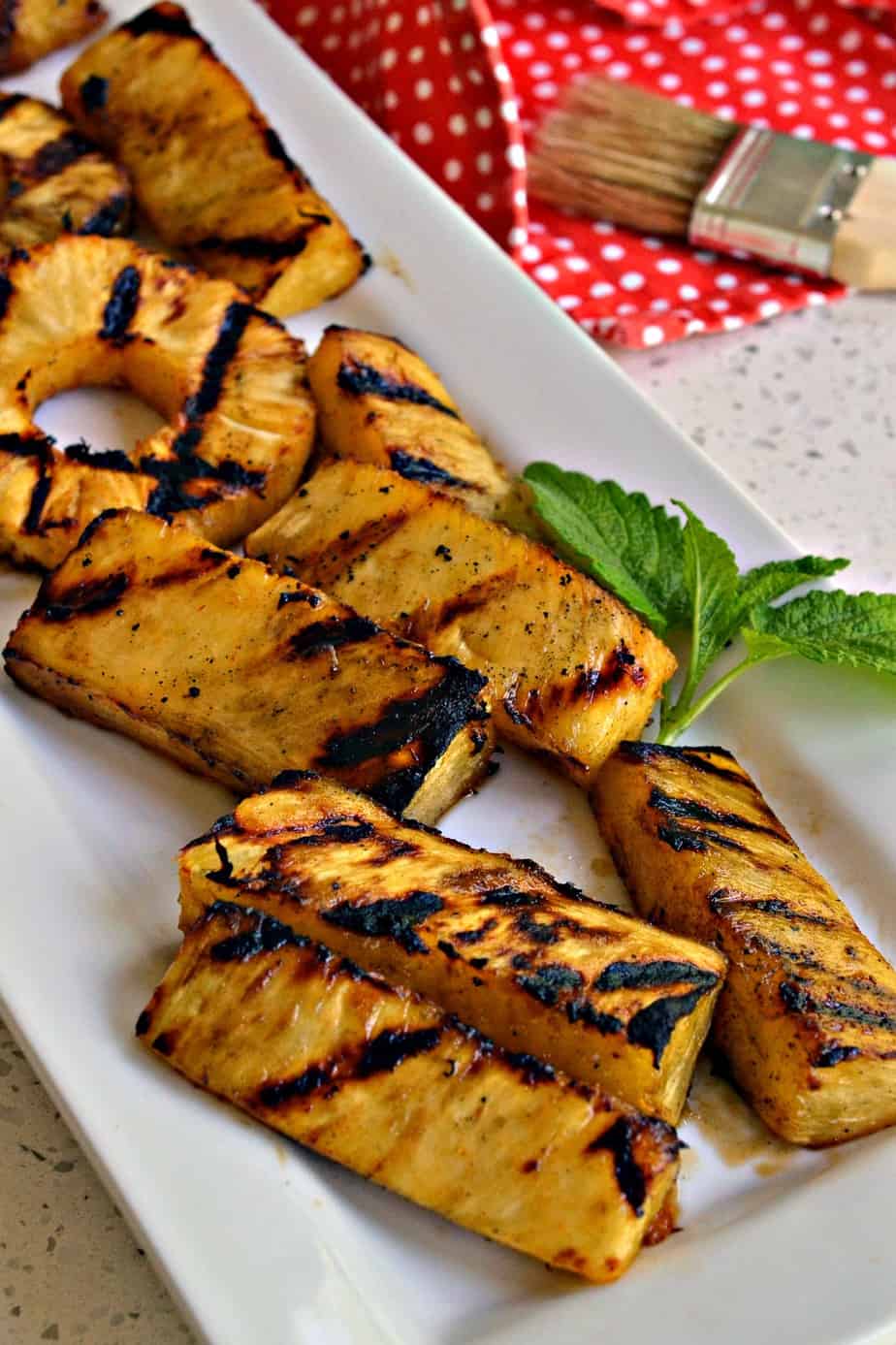 More pineapple recipes you will love!!
Print
Grilled Pineapple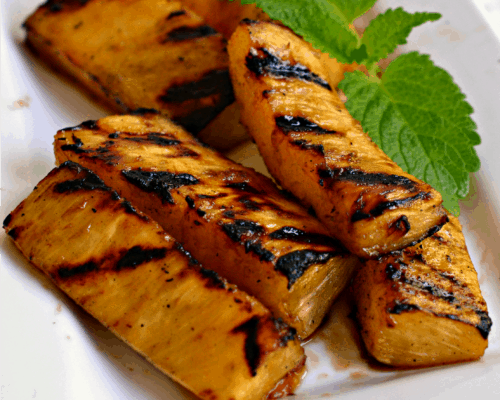 Delicious and simple this five ingredient Grilled Pineapple makes for the perfect side or dessert for all your spring and summer meals.
Author:
Prep Time: 5 minutes
Cook Time: 8 minutes
Total Time: 13 minutes
Yield: 8 servings 1x
Category: side
Method: grill
Cuisine: Southern
Scale
Ingredients
1 fresh pineapple cut into 3/4 inch wide spears or rings
1/4 cup butter melted
1 tablespoon honey
2 tablespoons brown sugar
1 teaspoon sriracha sauce (see notes)
Instructions
Combine pineapple, melted butter, honey, brown sugar and sriracha sauce in a large zipper bag.  Marinate for 30 minutes.
Preheat grill and lightly oil the grate.  Cook for about 6-8 minutes each side or until heated through with grill marks on both sides.  For best results serve promptly.
Notes
If you have a low tolerance for heat (even though this is fairly mild) decrease to 1/2 teaspoon sriracha.
If you don't have sriracha or don't want to purchase a bottle substitute an equal amount of sambal oelek or simply a couple pinches of ground cayenne pepper.
Keywords: grilled pineapple slices, how to grill pineapple, how long to grill pineapple, how to slice a pineapple
https://www.smalltownwoman.com/wp-content/uploads/2019/05/Beth-1.pdf