Hamburger Steaks with Country Gravy are a quick inexpensive ground beef recipe that is prepared in one skillet.  It makes a perfect weeknight comfort dinner and is super kid friendly.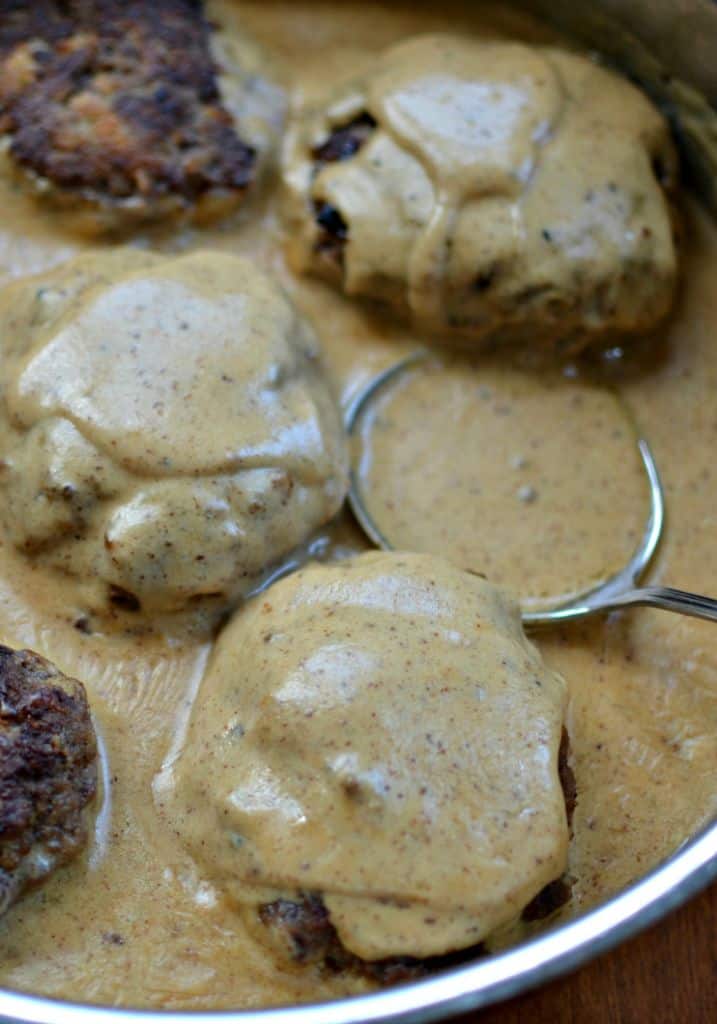 School started this morning so the race has begun.  I was up earlier this morning trying to make sure that the kids got to school on time and hubby made it to work on time.  Summer vacation is over and now every minute of every day counts more than ever before.  This lip smacking good Hamburger Steak with Country Gravy is so quick to come together.  These Hamburger Steaks with Country Gravy are a family favorite and even my picky son loves it.
Are you finding yourself stretched thin already?  Have you tried any of my other easy quick recipes? 30 Minute Stuffed Pepper Soup, Ham Swiss Parmesan Crescents and One Skillet Savory Beef Tips and Gravy are just a few on my favorites.  You can also sign up for recipes via e-mail.  On my home page at the bottom is a follow button.  Enter your e-mail and you will receive my new recipes via e-mail.  This may help you stay on track this school year.  No worries, I got this covered.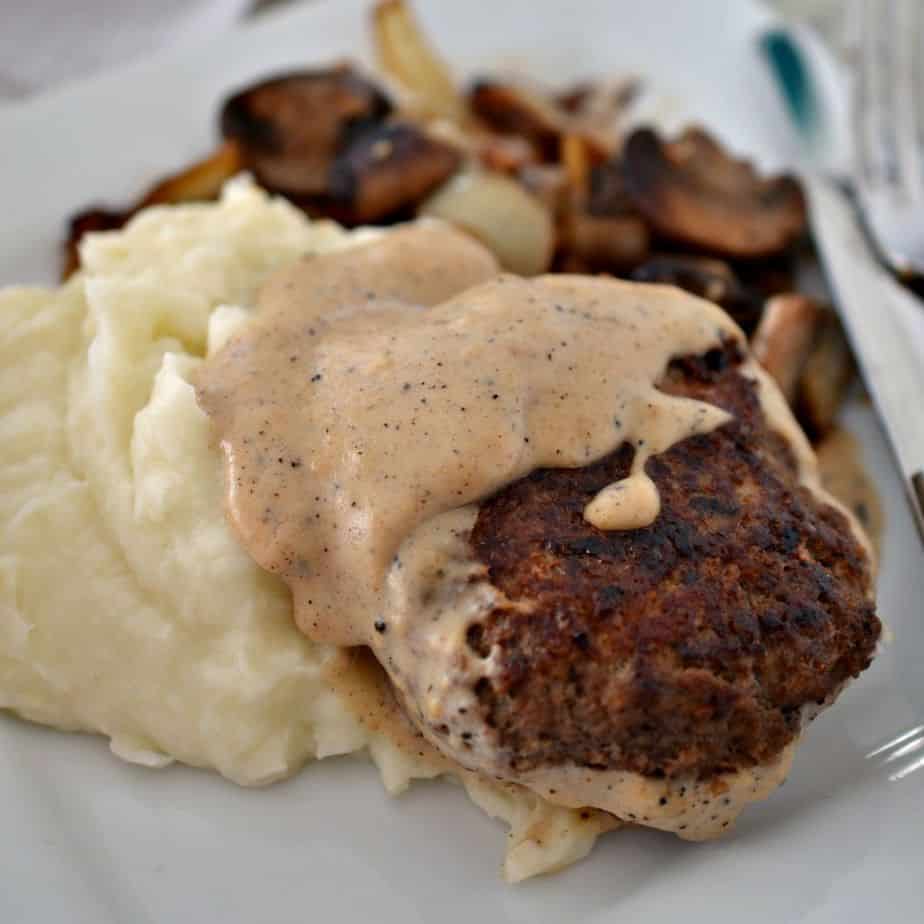 What are Hamburger Steaks?
This delectable Hamburger Steak with Country Gravy combines ground beef patties, bread crumbs and a perfect blend of spices in creamy country gravy.  These patties are onion free making them super kid friendly however if you like onions please feel free to add them.  This recipe comes together in about thirty five minutes making it a weeknight doable recipe.  I like serving it with mashed potatoes but Amish egg noodles are delicious as well. You can also serve right on hamburger buns or with soft rolls on the side.
How do you prepare Hamburger Steaks and Gravy?
These are so easy to prepare.  You are going to mix your ground beef, bread crumbs, egg,  Worcestershire sauce and spices in a big bowl.  Shape into patties and cook in a large skillet with a little oil.  Once browned remove to oven proof plate and place in oven to finish cooking while you make the gravy.
In same skillet over low heat melt enough butter to have four tablespoons of fat.  Whisk in flour and spices. Cook until browned and fragrant; whisking continuously.  Whisk in milk and simmer for a few minutes until slightly thickened.  Add patties back to the pan and warm.
It is just that simple and delicious! It is the perfect family meal and a great recipe.
What types of ground beef are best for Hamburger Steaks?
Any type of ground beef will work but I like to cook with either the ground chuck or ground sirloin.  Both chuck and sirloin work as the patties will not stick to the skillet and they do not produce an excess amount of fat.  Butter works best with the flour when making a roux so keeping the beef fat to minimum works best.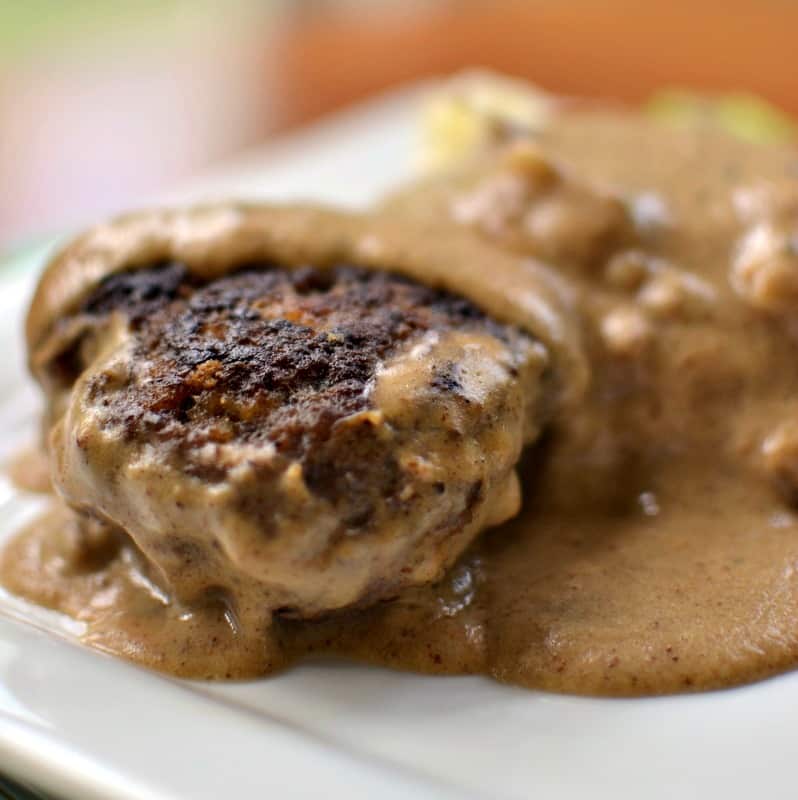 So if time is becoming very precious yet you love the idea of making home cooked delicious lip smacking good recipes for your family than this Hamburger Steak with Country Gravy is right up your alley.  Your family will be singing your praises and asking for more.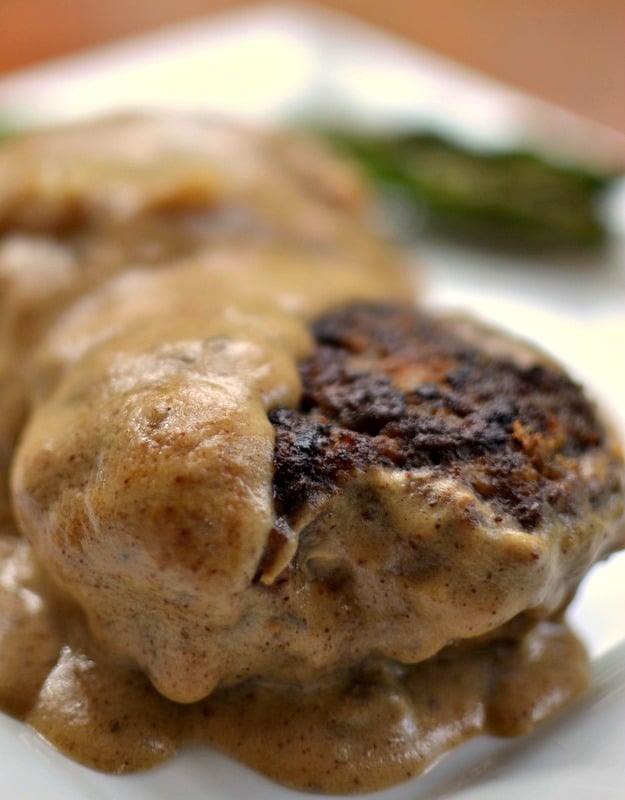 Ground beef is a staple around here.  It is relatively inexpensive, versatile and easy to work with!
Other hamburger recipes you will love!
This post was originally published August 16, 2017 and was republished March 3, 2019 with new content.
Print
Hamburger Steak with Country Gravy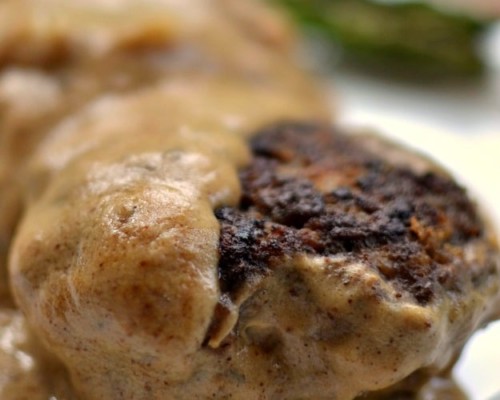 A one skillet family friendly dinner that combines ground beef patties with a delectable creamy pan gravy.  For a complete meal serve over mashed potatoes with Southern Green Beans.
Author:
Prep Time: 15
Cook Time: 30
Total Time: 45 minutes
Yield: 6 patties 1x
Category: main meal beef
Method: stove top/bake
Cuisine: American
Scale
Ingredients
Beef Patties
1 1/2 lbs ground beef
1/2 cup bread crumbs
1 egg
1 1/2 tablespoons Worcestershire sauce
1/4 teaspoon ground black pepper
1/4 teaspoon salt
1/4 teaspoon onion powder
1/4 teaspoon garlic powder
1 tablespoon canola oil
Country Gravy
4 tablespoons butter (please see notes)
1/4 cup flour
Pinch ground cayenne pepper
1/4 teaspoon garlic powder
1/4 teaspoon onion powder
3 cups milk
Salt and pepper to taste
Optional: Egg noodles or mashed potatoes
Instructions
In large bowl mix together beef, bread crumbs, egg, Worcestershire sauce, black pepper, salt, onion powder and garlic powder. Shape into 6 patties. Heat oil in large skillet over medium heat. Brown patties on both sides; approximately 4-5 minutes per side. Remove patties to oven proof plate and place in oven at 300 degrees for 15 minutes.
In same skillet over medium low heat melt butter. Whisk in flour, cayenne, garlic powder and onion powder. Continue whisking until golden brown and fragrant; about 7 minutes. Slowly add milk whisking continuously. Simmer until slightly thickened; approximately 2-3 minutes. Gravy will thicken more upon cooling. Season with salt & pepper to taste.
Add patties back to the pan and simmer for 2-3 minutes. Serve over mashed potatoes or egg noodles.
Notes
For the gravy add enough butter to the skillet to have 4 tablespoons of fat including the fat from the hamburger.
Keywords: Hamburger Steak with Country Gravy | Hamburger Steak | Ground Beef Recipe, One Skillet, One Skillet Dinners, Dinner, Easy Ground Beef Recipe, Gravy Recipe, Steak with Country Gravy
https://www.smalltownwoman.com/wp-content/uploads/2019/05/Beth-1.pdf