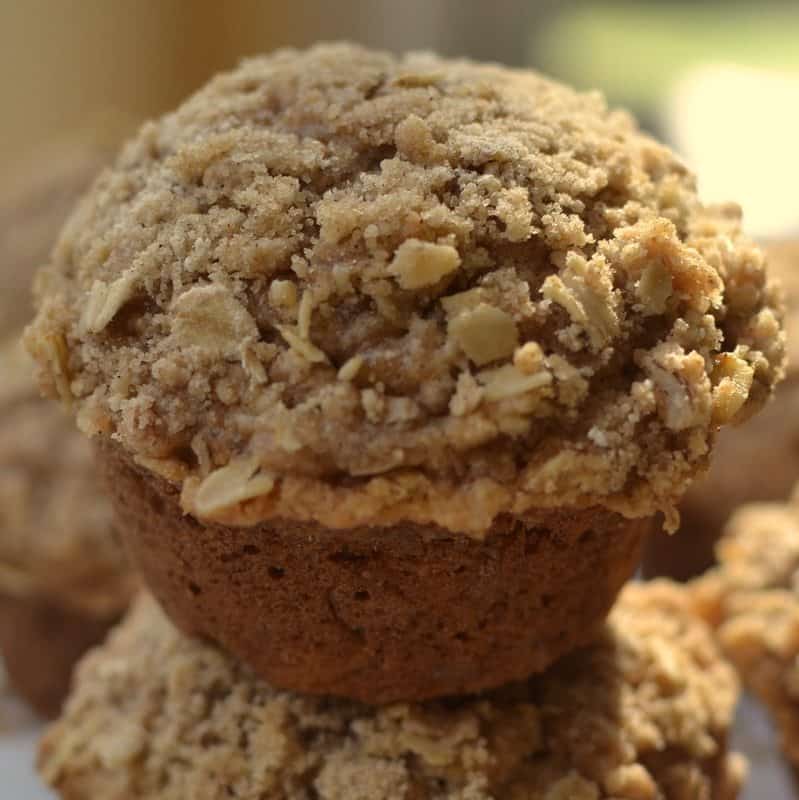 These Homemade Apple Spice Crunch Muffins are absolutely amazing.  My family loves them. I mean who wouldn't love a sweet fluffy spice muffin coated with a crunchy oat cinnamon topping.  This my friends is my idea of heaven.  Baked these again yesterday and the kids are trying to get at them even before the photographs are shot.  These little beauties would make a perfect breakfast with a fresh fruit cup and a hot cup of Joe.
Did you ever wonder where the phrase cup of Joe came from?  According to Wonderopolis Why Is Coffee Called "A Cup of Joe'  there are are several interesting theories. "Some believe that the origin of "cup of joe" stems from a 1914 ban on alcohol on U.S. Navy ships imposed by the Secretary of the Navy Josephus "Joe" Daniels. After his order, imposed near the beginning of World War I, the strongest drink a sailor could get on a ship was black coffee."  "Another theory holds that coffee came to be known as joe, because joe itself is a slang term for a common fellow, guy, or chap. In other words, coffee became a cup of joe because it was considered the common man's drink. " Check out  More theories on why is coffee called a cup of Joe at Wonderopolis. 
Have you tried any of my other delicious apple recipes?  Apple Caramel Cream Cheese Bundt Cake, Apple Fritter and Apple Dumplings in Caramel Sauce are just a few of my favorites.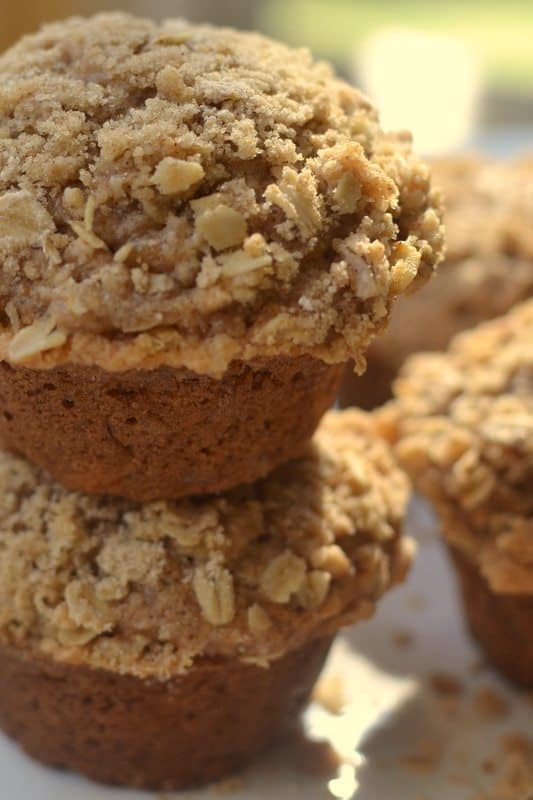 These sweet Homemade Apple Spice Crunch Muffins are easy to prepare and cook in about 25 minutes.  You can use muffin/cupcake wrappers sprayed with nonstick cooking spray but I personally like the way the sides brown and crisp when exposed directly to the pan.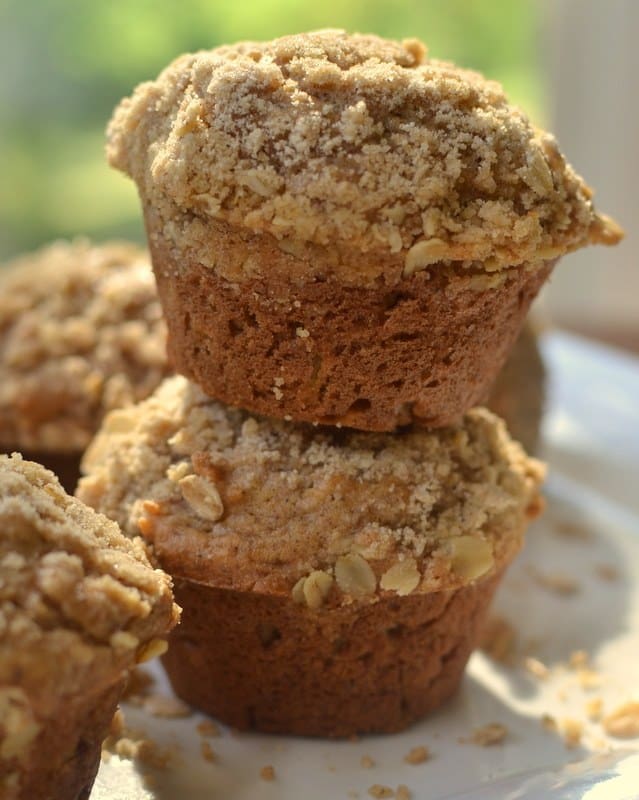 They can be kept in an airtight container on your counter for up to three days. Individually wrap and place in freezer bags for up to two months. When thawing remove completely from the packing so the condensation does not damage the muffins.  The topping will turn into more of a streusel topping and will lose its crunch but is still equally delicious albeit a little different.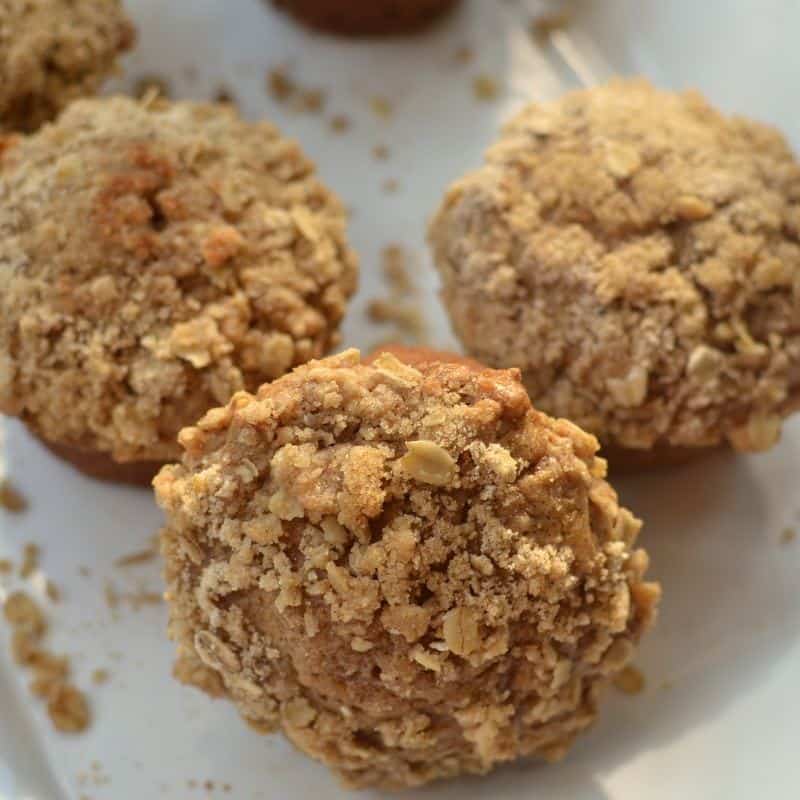 Bake a batch of these Homemade Apple Spice Crunch Muffins for your loved ones.  The smell from the oven while they are baking will make them crazy.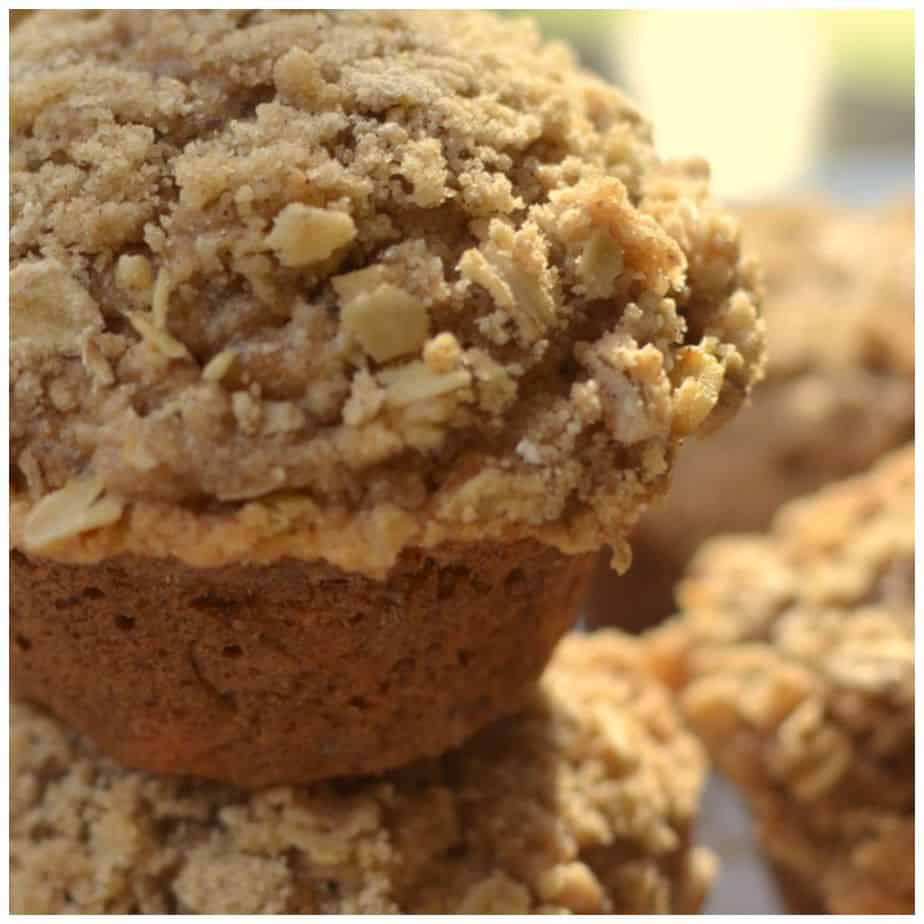 Print
Homemade Apple Spice Crunch Muffins
Muffins
2 cups all purpose flour
1 teaspoon baking powder
1 teaspoon baking soda
1/2 teaspoon salt
1 tablespoon cinnamon
1/4 teaspoon nutmeg
1/4 teaspoon cloves
1/2 cup butter softened
1/2 cup sugar
1/4 cup brown sugar
1 large egg
2 large Pink Lady or Granny Smith apples peeled and shredded
1/2 cup sour cream
1/2 cup buttermilk
Topping
1/4 cup flour
1/4 cup brown sugar
1/4 cup old fashioned rolled oats
1/4 teaspoon cinnamon
3 tablespoons butter
Instructions
Preheat over to 375 degrees. Spray standard size 12 count muffin pan with nonstick baking spray.
In medium bowl whisk together 2 cups flour, baking powder, baking soda, salt, 1 tablespoon cinnamon, nutmeg and cloves.
In stand mixer cream 1/2 cup butter, sugar and 1/4 cup brown sugar. Turn mixer to low and add egg and mix just until incorporated; scraping down the bowl and beater. Remove bowl from mixer and stir in apples. Stir in sour cream, buttermilk and flour mixture; alternating between them.
In medium bowl combine 1/4 cup flour, 1/4 cup brown sugar, rolled oats and 1/4 teaspoon cinnamon. Using pastry knife cut in butter until mixture is crumbly.
Spoon muffin mixture into muffin pan dividing equally. Sprinkle with heaping tablespoon of crumb mixture. Bake for 22-25 minutes or until lightly browned.
Notes
You can make your own buttermilk by adding 1 teaspoon of lemon juice to a 1/2 cup of milk.
https://www.smalltownwoman.com/wp-content/uploads/2019/05/Beth-1.pdf