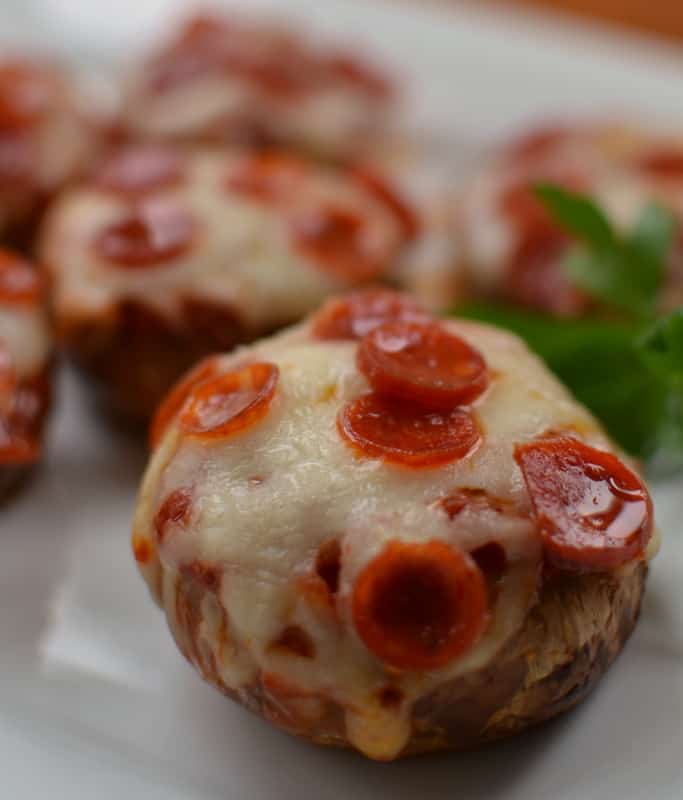 Now that the holidays are over are you trying to be a little more conscientious of the food and calories that you are sticking in your mouth.  If so then you are not alone.  I have packed on a few pounds myself and I have every desire to get it off especially before short and swimming suit season rolls around (no pun intended).   These Low Carb Easy Pizza Mushrooms are the perfect answer to your lunch or dinner low carb dilemma.  This recipe calls for six large white button mushrooms but it can easily doubled or even tripled to accommodate your families hunger needs.  They are so simple to make and can be on the table in about twenty-five to thirty minutes.  I know what you are thinking how much flavor can a mushroom have.  You season those babies up and fill them with marinara, top with mozzarella and miniature pepperonis and they are busting at the seams with gusto.  Did you know that a full cup (70-gram) serving of raw white mushrooms has 2.3 grams of carbs?  Cooking adds a few more carbs, taking it to 8.3. Still extremely low and considered a low carb food!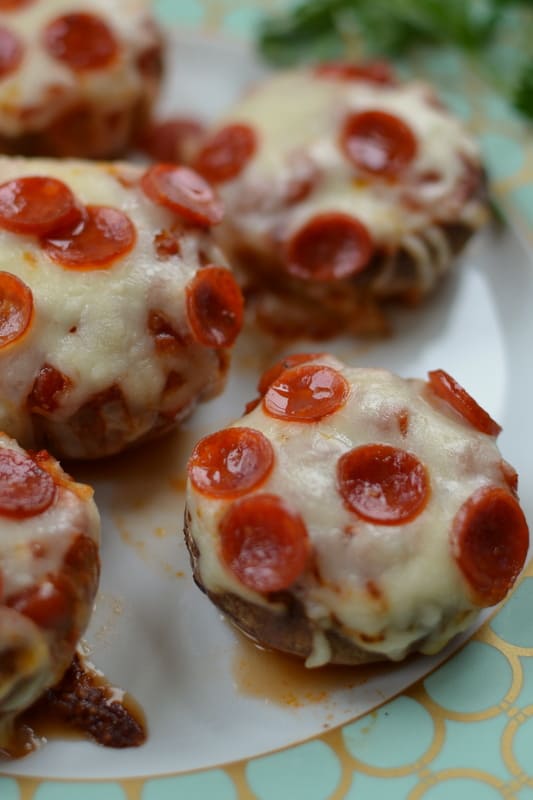 Have you tried any of my other low carb foods? Easy Low Carb Egg Roll in a Bowl, Philly Steak & Cheese Skillet and Cabbage Bacon Sausage Stir Fry are just a few family, friend and reader favorites.  We absolutely love this Pizza Stuffed Chicken from Dinner at the Zoo.
I am telling you these beauties are so tasty that I am almost ate all six of the them for my lunch but I decided to save a few for hubby.  Low Carb Easy Pizza Mushrooms are best served right away and do not make the best leftovers although I have eaten them reheated.  Then again I will eat cold pizza.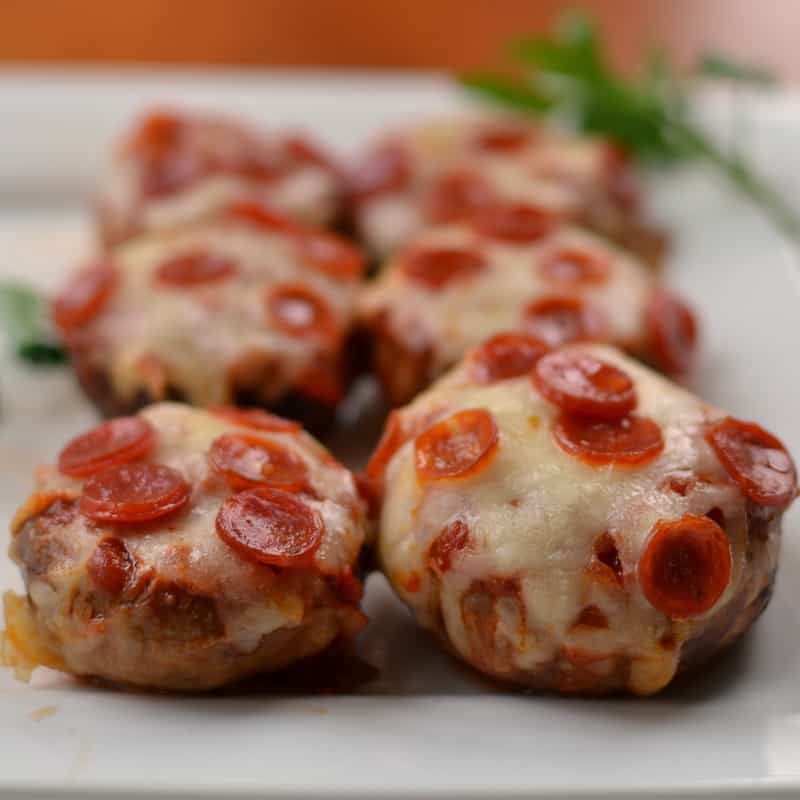 If you are trying to watch your carbohydrate count and your waistline then put these delicious, easy and dependable Low Carb Easy Pizza Mushrooms on your to try list.  They will become a regular in your house and you will be ticked pink that they did.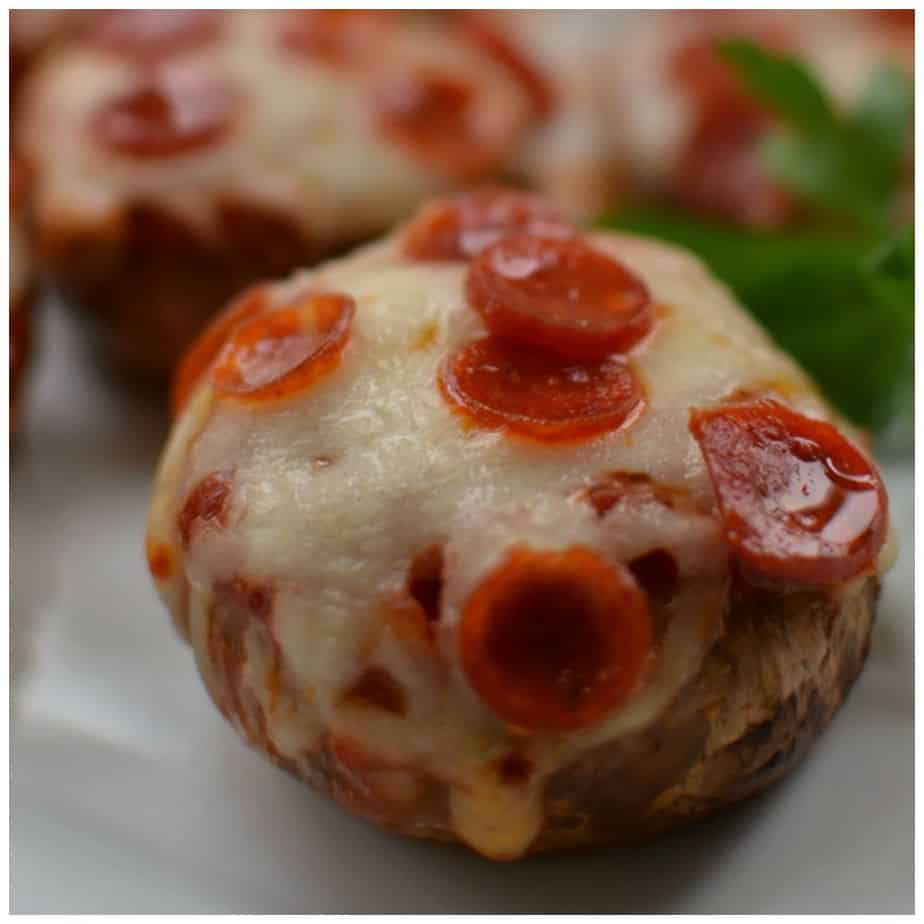 Print
Low Carb Easy Pizza Mushrooms
These tender, flavorful pizza mushrooms are a simple, poppable appetizer that's perfect for parties. Just a few ingredients makes this an easy recipe to pull together in minutes.
Author:
Prep Time: 10 minutes
Cook Time: 20 minutes
Total Time: 30 minutes
Yield: 6 servings
Category: Appetizer
Method: Bake
Cuisine: American
Olive oil
3–4 pinches of garlic powder
Salt & Pepper
6 large white button mushrooms
1/3 – 1/2 cup marinara (depends on the size of the mushrooms)
2/3 – 3/4 cup mozzarella grated (depends on the size of the mushrooms
2 tablespoons mini pepperoni
Instructions
Preheat oven to 375 degrees.
Wash mushrooms, discard stems and dry thoroughly with paper towels. Spray or rub tops and bottoms of mushrooms with olive oil. Sprinkle both sides with garlic powder and salt & pepper. Place them on a cookie sheet with stem removed side up. Fill the cavity with marinara, top each with grated mozzarella and mini pepperoni.
Bake for 20 minutes.
Keywords: stuffed mushrooms, pizza mushrooms, appetizers, party appetizers
https://www.smalltownwoman.com/wp-content/uploads/2019/05/Beth-1.pdf