These easy Mashed Potato Cakes are made by combining leftover mashed potato cakes, eggs, cheddar, Parmesan. sour cream and a handful of spices that you probably already have on hand. They are perfect for holiday parties, potlucks, neighborhood shindigs or just because you have leftover mashed potatoes.  I love to serve them with Oven Baked Beef Brisket and Dry Rub Grilled Pork Tenderloin.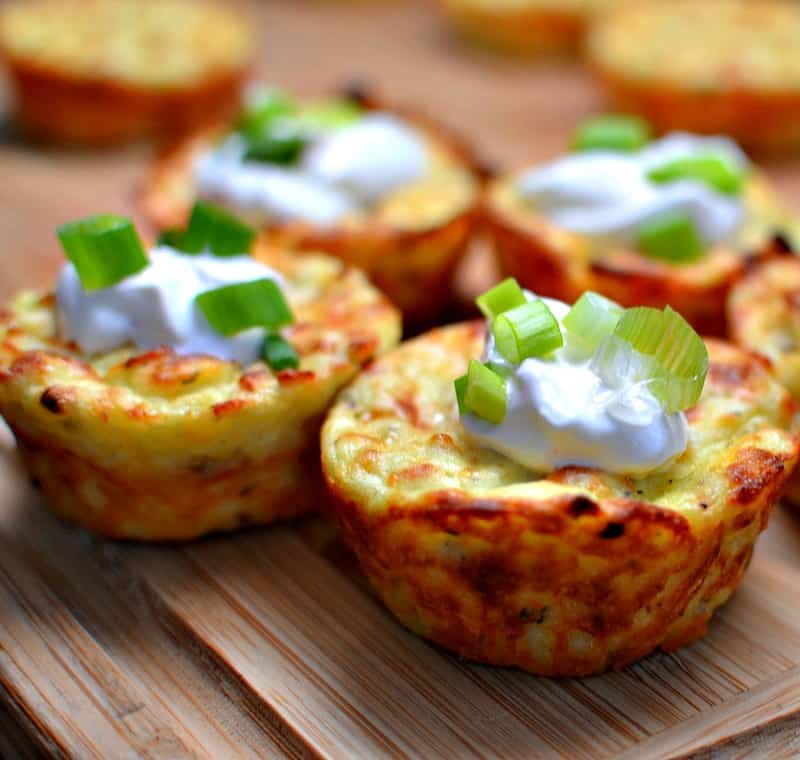 These are little bundles of absolute joy.  They are easy, delectable and just perfect with a steak, chicken or juicy cheeseburger! You can use leftover mashed potatoes or you can cook some fresh ones.   If you are using fresh ones go ahead and add the things that you normally do like milk and butter.  I just love them topped with a little bit of sour cream and some thin sliced scallions.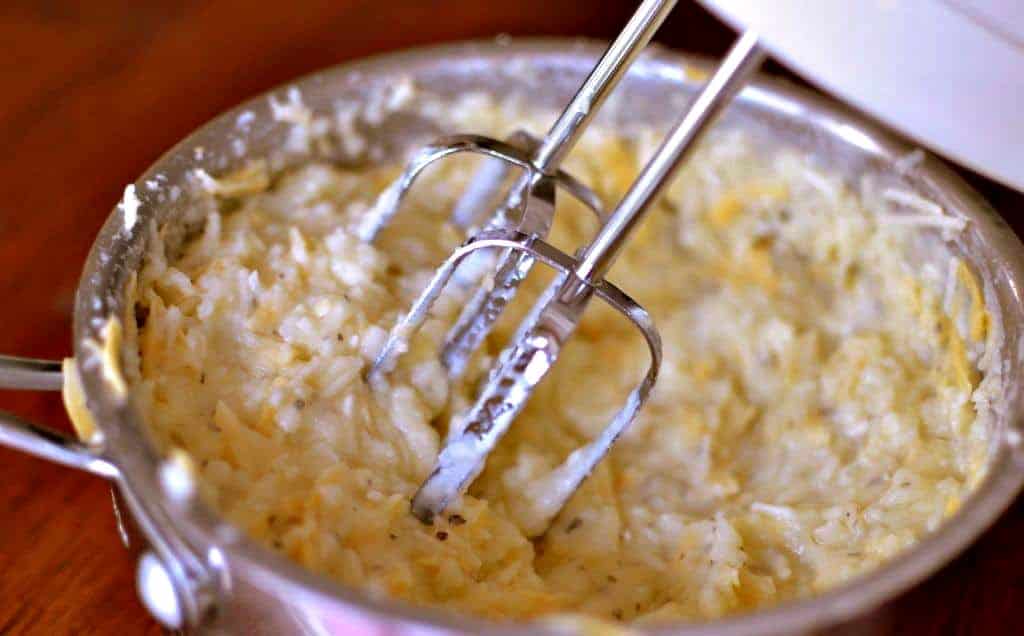 How do you make Mashed Potato Cakes?
I thought you would never ask! It really is incredibly easy. First and foremost grease the cupcake pan really well.  Now combine your mashed potatoes, eggs, cheddar cheese, Parmesan cheese, sour cream, garlic powder, basil and oregano.  Now divide evenly in the cupcake pan.
Bake for 25 minutes turning on the broiler for the last 1-2 minutes.   Make sure you stay close by as I have always found broilers to be unpredictable.  Top with a dollop of sour cream and thinly sliced scallions.  For best results serve promptly.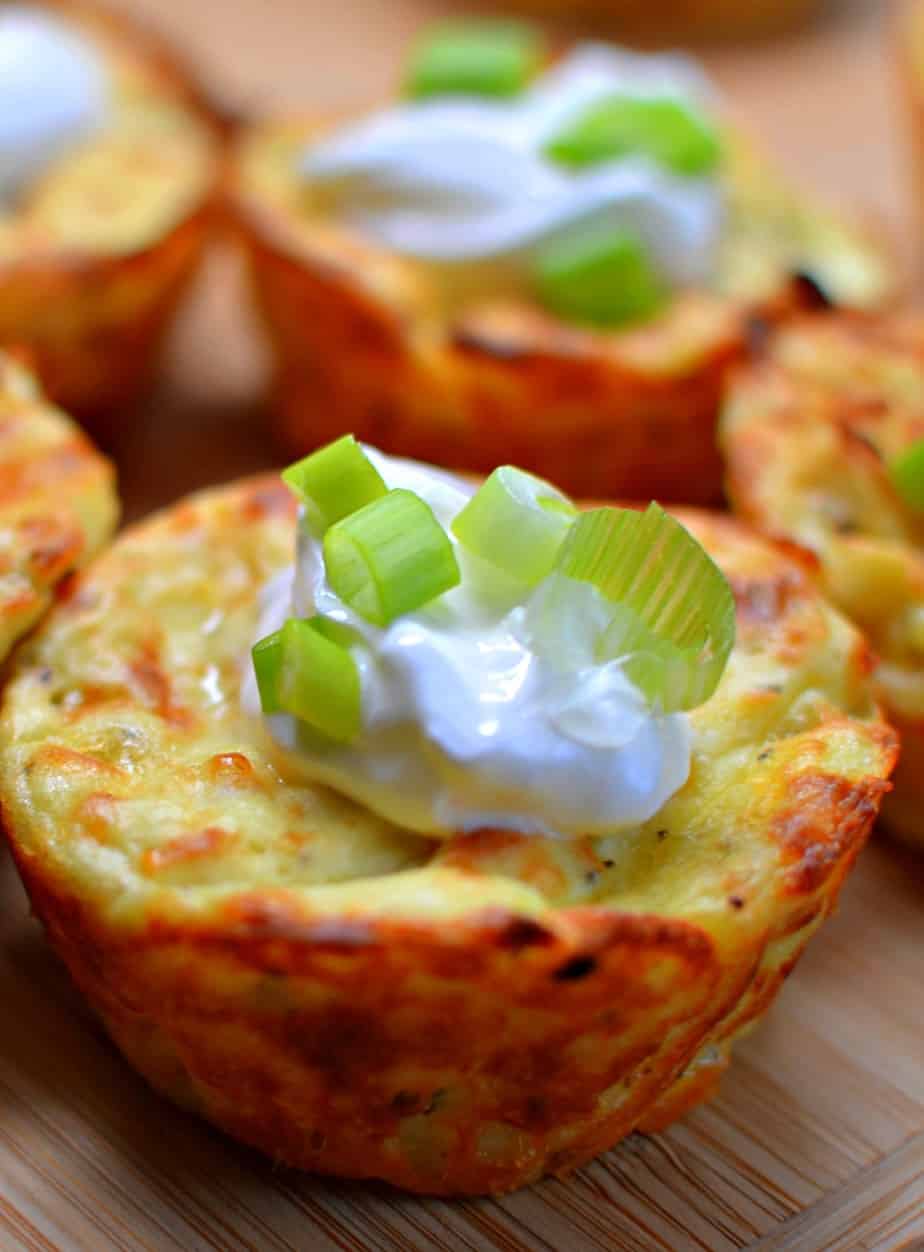 Helpful tips for making Mashed Potato Cakes
Grease the cupcake pan really well so your scrumptious cakes don't stick.
You can use leftover or fresh mashed potatoes.  If using fresh mashed potatoes add the milk and butter that you normally do however they should be a little stiff. Let them cool in the refrigerator for at least 1 hour.
You can substitute cheeses with pepper jack and Monterey Jack or Swiss and Provolone for a change of pace.
Add spice with a little bit of kick like a few pinches of crushed red pepper or cayenne pepper.
Turn on the broiler the last 1-2 minutes of cooking to lightly brown the tops of the cakes but stay close by as I have always found broilers unpredictable.
These potatoes are best served promptly while the edges are slightly crispy.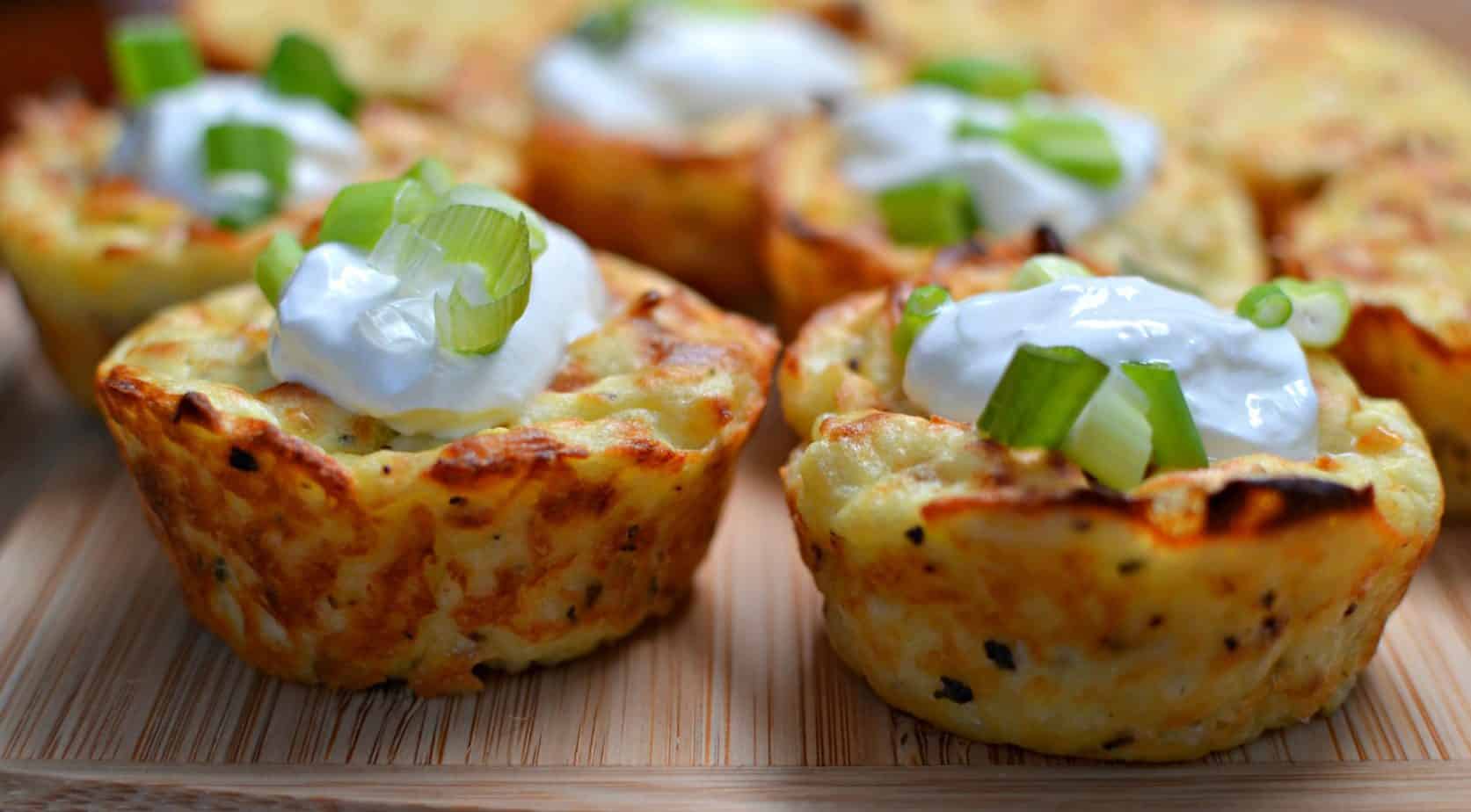 More potato recipes you will love!
This post was originally published September 30, 2015 and was republished February 13, 2020 with new content.
Print
Mashed Potato Cakes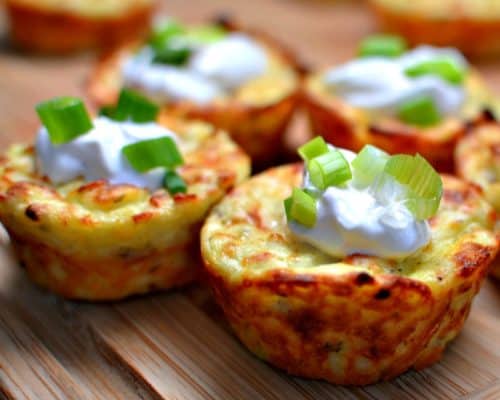 These cheesy Cheddar and Parmesan potatoes are made easy utilizing leftover mashed potatoes and a standard muffin pan.
Author:
Prep Time: 10 minutes
Cook Time: 25 minutes
Total Time: 35 minutes
Yield: 12 cakes 1x
Category: side dish potatoes
Method: bake
Cuisine: Southern
Scale
Ingredients
2 cups mashed potatoes
3 large eggs, beaten
1 cup grated cheddar cheese
1/2 cup grated Parmesan cheese
1/2 teaspoon garlic powder
1/2 teaspoon dried basil
1/2 teaspoon dried oregano
2 tablespoons sour cream plus more for garnish
Salt and freshly ground pepper
Sliced scallions
Instructions
Preheat oven to 375 degrees
Spray cupcake pan well with nonstick spray.
Combine potatoes,eggs, cheddar cheese, Parmesan, garlic powder, basil, oregano, 2 tablespoons sour cream and salt and pepper to taste.
Divide evenly in the cupcake pan. Bake for 25 minutes turning the oven to broil for the last two minutes to turn them golden brown.
Let cool for 10 minutes. Using knife carefully remove from pan. Garnish with sour cream and scallions.
Keywords: potatoes, recipes using mashed potatoes, potato cakes, leftover mashed potato cakes, how to make mashed potato cakes, how to make potato cakes from leftover mashed potatoes
https://www.smalltownwoman.com/wp-content/uploads/2019/05/Beth-1.pdf