A super easy family friendly Oven Baked Barbecued Beef Brisket made with ingredients commonly found in your pantry. Is your weather way too cold to grill outside.  No worries! This tender beef recipe is so versatile and perfect with so many sides.  I love to serve it with  Grandma's Creamy Dill Pickle Potato Salad and Baked Spicy Smoky White Beans.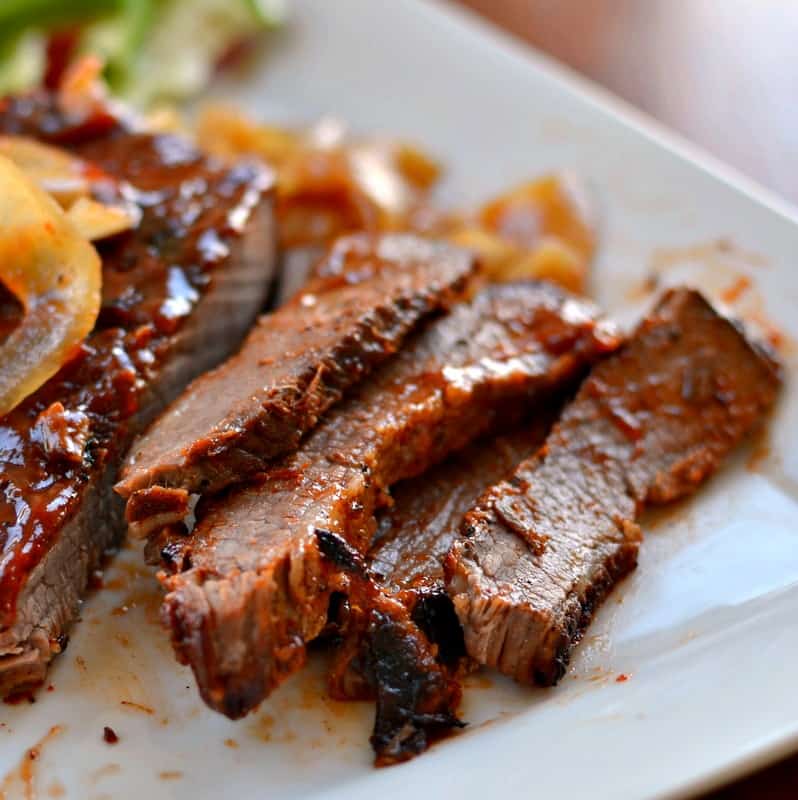 Do you love barbecue?  Do you love a good tender beef brisket but hate grilling or smoking meat in the winter?  I can't blame you.  Some days are just too darn frigid for all of that.  I mean honestly your grill or smoker might even be covered with six inches of snow right now.  This brisket recipe is a combination of sweet onions, barbecue sauce, a little beer and a few easy seasonings that you probably have on hand. You can serve this with potatoes or on fresh baked rolls with a garden salad on the side.  On a low carb diet?  Skip the bread and just put your brisket right on your salad.  Delicious and simple!!
How do you make Oven Baked Barbecued Beef Brisket?
Start with a trimmed beef brisket known as the flat. Usually there is a small amount of fat left on the cut for flavor and to help keep it moist while cooking.   Next gather your spices and mix them together in a small bowl or shake them together in a zipper bag.  Now rub the spices all over the brisket on both sides. Let the brisket sit for about 30 minutes.
Now place it in large roasting pan fat side down. Cover the brisket with onions, beer and barbecue sauce.  Cover and cook on low heat until fork tender.   Let it rest loosely covered for 20-30 minutes before slicing.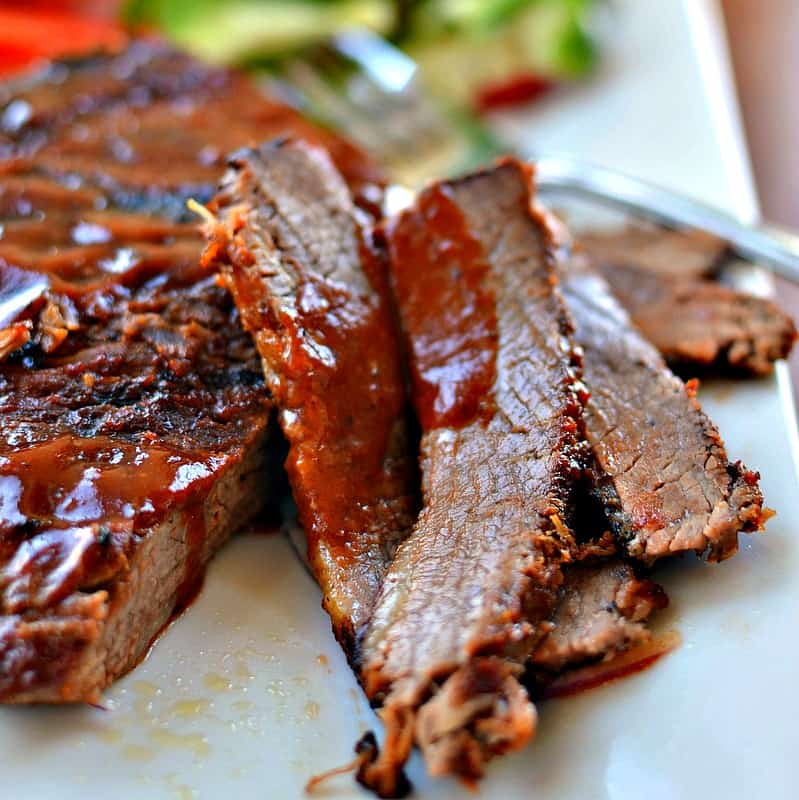 Helpful tips for making Oven Baked Beef Brisket
Use fresh good quality spices and take your time rubbing them into the meat.
Let the meat come to room temperature for about 30 minutes with the rub on it.  If you are worried about anything getting on it simply cover it with a couple sheets of paper towels.
Do not use flavored micro-brews that would not complement this.  For example I don't think a blueberry or pumpkin beer would go well with this.
Cook it until it is fork tender.  Pick a spot close to the edge of the brisket and stick a fork in it. If you can easily pull away a piece of meat with the fork than it is done.
Let the brisket rest loosely covered for 20-30 minutes before slicing.
It is best to slice your brisket right before serving so it stays moist and does not dry out. Always slice against the grain so you don't have stringy pieces and so that the slices stay together.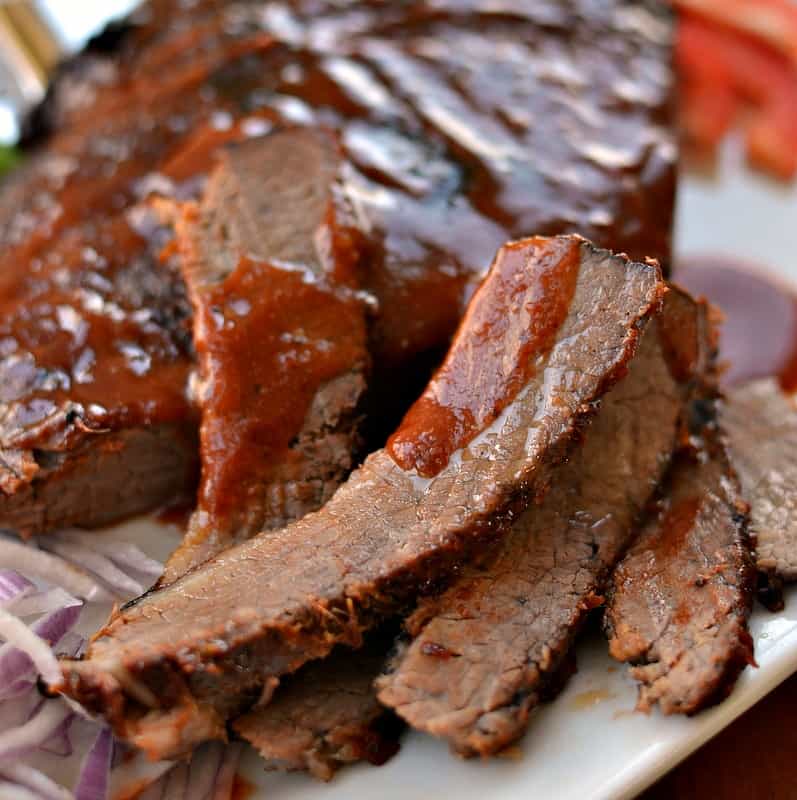 Oven Baked Barbecue Beef Brisket is perfect for parties, game day or just a fantastically easy Sunday meal.  Bake some today and bring a little sunshine indoors.
Other beef recipes you will love!
This post was originally published January 19, 2018 and was republished February 3, 2020 with new content.
Print
Oven Baked Barbecued Beef Brisket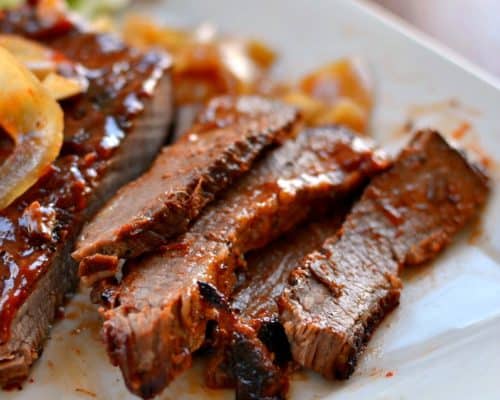 This easy oven baked brisket recipe is perfect for those days when grilling or smoking outside is not an option.  This tender yet flavorful brisket requires only 15 minutes of hands on prep work.
Author:
Prep Time: 15 minutes
Cook Time: 3 1/2 hours
Total Time: 3 hours 45 minutes plus resting time
Yield: 8 servings 1x
Category: main meal beef
Method: bake
Cuisine: American
Scale
Ingredients
1 1/2 tablespoons packed light brown sugar
1 1/2 tablespoons paprika
1 tablespoon cumin
1/2 teaspoon ground black pepper
1/2 teaspoon salt
1/2 teaspoon onion powder
1/2 teaspoon garlic powder
4 lb beef brisket trimmed
2 large onions thick sliced
3/4 cup beer (not flavored)
1 cup barbecue sauce (your favorite)
Instructions
In small bowl mix together brown sugar, paprika, cumin, black pepper, salt, onion powder and garlic powder. Rub all over the brisket on both sides and let sit for 30 minutes.
Preheat oven to 300 degrees. Place brisket in large roasting pan (with fat side down) and cover with sliced onions. Pour beer and barbecue sauce over the top. Cover well with aluminum foil and bake for 3 1/2 – 4 hours. You can check to see if the brisket is done by slicing off a small piece of the edge and seeing if it comes apart with a gentle tug. Remove from pan and trim any excess fat away. Brush with any extra sauce and place under broiler or on grill for 1-2 minutes. Flip and repeat for the other side. Stay close by as broilers are unpredictable.
 Cover and let rest for 20-30 minutes.  Slice against the grain at a perpendicular angle. If desired serve with extra barbecue sauce.
Keywords: barbecued beef brisket, beef brisket, brisket in oven, how long to cook brisket in the oven, how to cook brisket in the oven
https://www.smalltownwoman.com/wp-content/uploads/2019/05/Beth-1.pdf